Stocking up foods at home certainly brings a lot of benefits for us. We do not need to go shopping every day if we already have foodstuff at home. We just have to store them in a refrigerator or freezers.
It is fine to store vegetables or other food in a refrigerator. But for fish and meats, you better use freezers to keep them fresh. At one glance, all freezers just look the same. But in fact, there are many types of freezers according to the way how to use them.
Generally, freezers are divided into four. Based on their different purposes, here are the 4 types of freezers you have to recognize:
Upright Freezers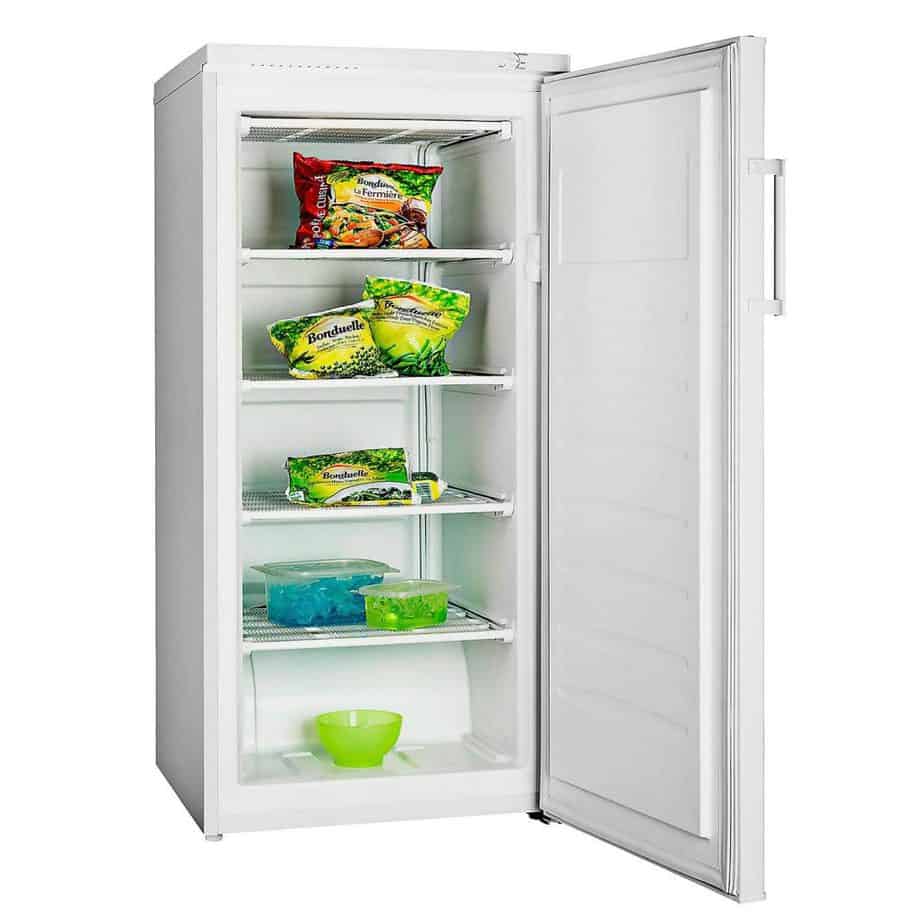 The upright freezer has similar look with refrigerators, but it is more compact and smaller. If we compare an upright freezer with other types of freezers, this one could be the most expensive. Probably due to its auto defrosting feature that worth the high cost.
Auto Defrosting Feature
Freezers with system auto defrosting enable them to clean up the ice. Process of defrosting is by taking advantage of heater in the freezer that will periodically warm up the appliance. In a certain defrost cycle, the heat will activate to do the process.
The defrosting cycles vary among all types of freezers. Once the defrosting cycle comes, the heat will make the ice melts. The water will drain into the base of cabinet and it will be collected at a platter behind before it evaporates.
Chest Freezer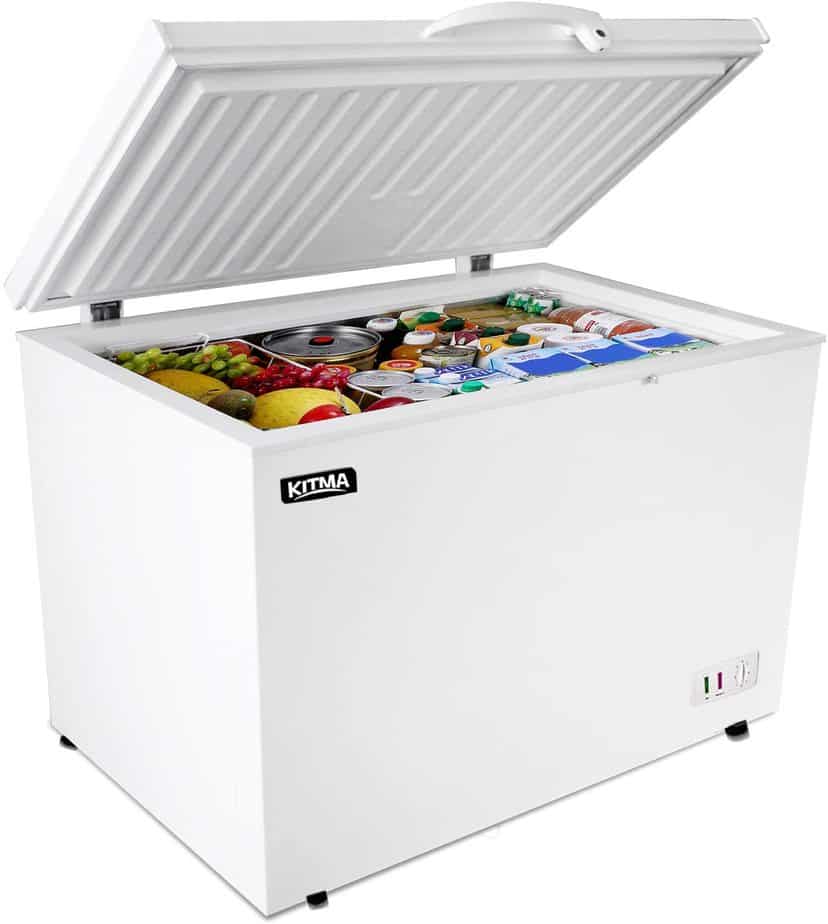 If you low on a budget, chest freezers will be a good choice. You can compare with other types of freezers, and surely there is none cheaper than chest freezers. No wonder, most of people tend to use the chest freezer.
Why is it called a chest freezer? It might be due to its large shaped box with a hinged lid on the top that makes it look like a chest. This one is commonly used for commercial since it has spacious space so it can store frozen foods in a large number.
Additional Basket Feature Providing More Space
Most of chest freezers are supported with additional baskets. So, you can freely organize the items inside the baskets and access them easily. The additional basket of this freezer becomes the main point to provide large capacity.
The bottom space of the chest freezer is typically cooler since capacity of cold air at the bottom is higher. It is better to store the meats at the lower space, so they will be more well preserved with a colder temperature.
You might be wonder why the bottom space has a lot of colder air then the upper space. Chest freezer is one of types of freezers with the top hinged lid. Since the lid can be opened upward anytime the hot air from outside will easily get in.
While the bottom space is rarely exposed to the warm air from outside. The items stored at the upper space tend to be exposed with the outside air. These items indirectly function as a shield to protect the lower parts from the air outside.
Portable Freezer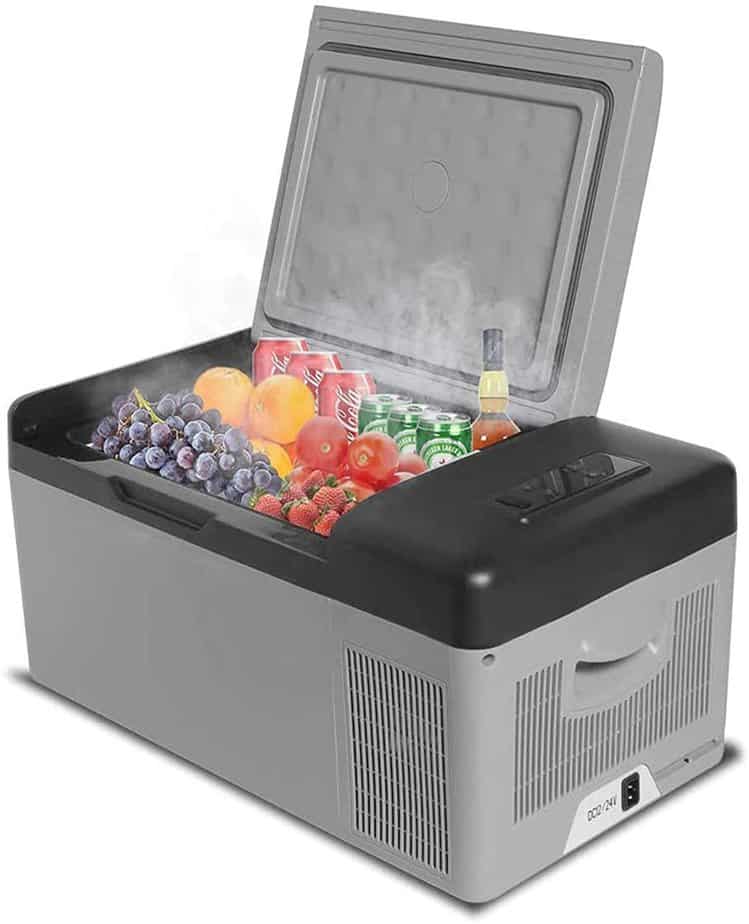 The portable freezer is the most appropriate appliance to furnish your apartment or condo with a limited space. Its small size and compact shape enable you to move the portable freezer easily. Even, you can do it alone.
Save Your Space with A Compact Shaped Portable Freezer
The portable freezer belongs to types of freezers for domestic or office use only. An office, especially the small one is frequently facilitated with a portable freezer. It will not take up space in your room.
Considering its small size, of course you will not be able to store a large number of frozen foods. That is why it is not recommended for commercial. The benefit of having portable freezer is you can even bring it for traveling to keep the food items frozen.
The Portable freezer is one of types of freezers that is powered with DC or AC. Some of them are enhanced with both DC and AC power. Even, there is portable freezer which can be powered with a car's cigarette lighter socket. It is suitable for picnic or outdoor activities.
Drawer Freezer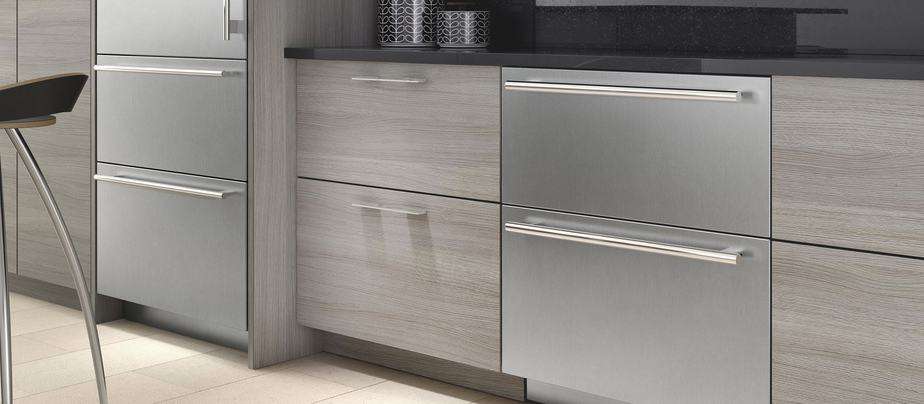 Beside the chest freezer, the drawer freezer is also categorized into the types of freezers for commercial use. This kind of freezer is often found in a huge pantry or gourmet kitchens to allow the cooks preserved bulk of foodstuffs they need to prepare dish.
Most Flexible Freezer to Fit in Cabinetry
The drawer freezer is usually crafted with stainless steel wood finishing. You can custom which drawer freezer model that suits your kitchen style. The drawer freezer is usually designed as high as the kitchen cabinet. Hence, it is flexible to be blend with your cabinetry.
This drawer freezer is able to store a large number of items. It consists of several drawer to ease you arrange where you will store distinct foodstuff. Some of drawer freezer is equipped with finishing top that enables you to use it as an extension of kitchen countertop.
It is okay to place the drawer freezers anywhere you like just like the other standalone freezers. However, it will be more compatible and neater if you match the drawer freezer with the kitchen cabinet or blend it with the kitchen countertop.
If you are going to blend the drawer freezer with the kitchen cabinet, probably you need to expense more budget. All custom appliances sure cost higher than the common one. But if the custom drawer freezer can perfectly match with your cabinetry, so it worth the price.
So, they are the most common types of freezers that can be used as references for you who are looking for the best freezer that fits in your preference and need. Probably you will see a large number of freezers in department store.
No matter how many freezers displayed at the store, you only need to know the four types of freezers. Even though freezers come in various models, these are the basic types of freezers for different purposes.