So many bathroom countertop ideas and materials come with different pluses. And minuses of course. You need to find the best one for your bathroom, don't you? That's why you're here now because you need the details we have about the best one of various countertop for your bathroom.
Bathroom Countertop Ideas
1. Laminate bathroom countertop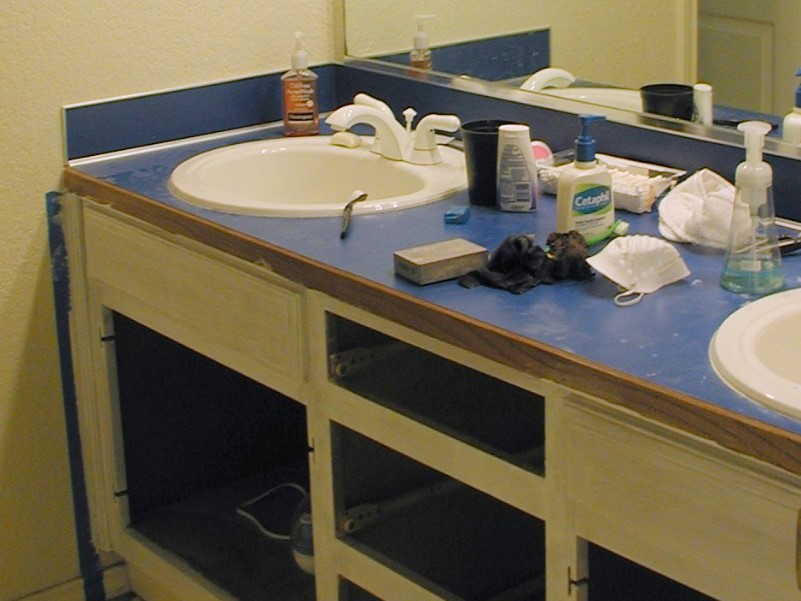 Laminate countertop is inexpensive, perfect for those who have limited budget. Laminate countertop also comes in assorted patterns and colors. If you want to DIY your bathroom countertop, prefabricated countertop is the best option.
2. Porcelain or ceramic bathroom tiles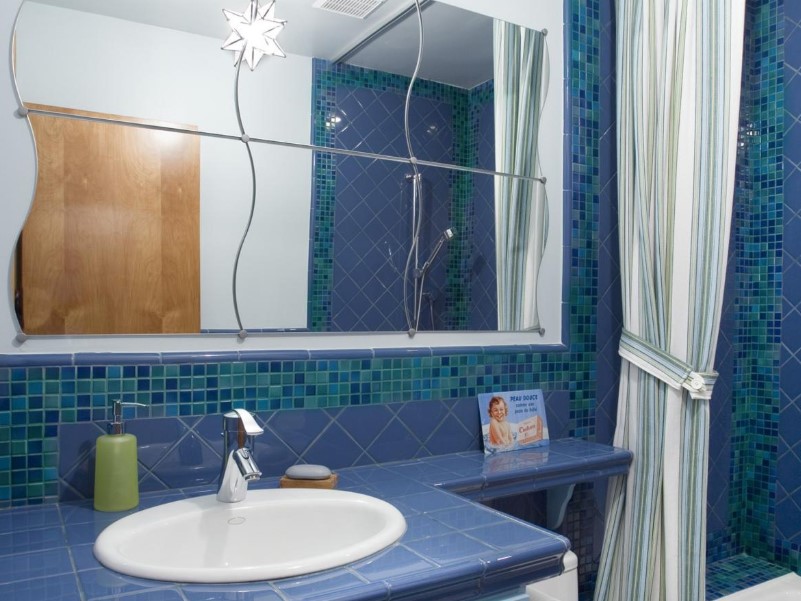 Glass tiles are also recommended for those who love to DIY everything. Compared to the other premium bathroom countertops, ceramic countertops are relatively affordable. Besides, porcelain bathroom countertops come in hundreds design options.
3. Bathroom countertop with solid surface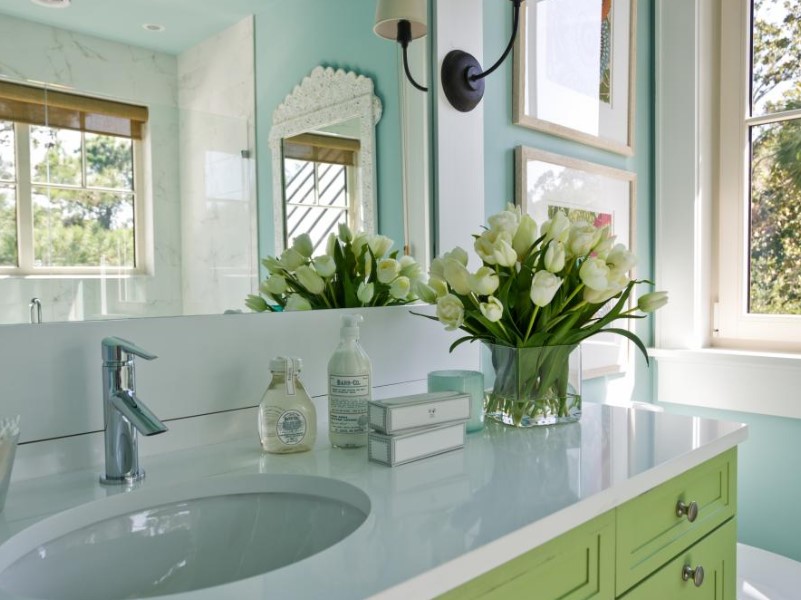 This is made from blend of polyester and acrylic particles that are all bonded together using resins. It is very easy to care this countertop. It is also easy to repair any broken solid surface countertop simply by sanding it. The pattern and coloring of this countertop is truly consistent so you won't find any problem in matching the pieces.
4. Soapstone bathroom countertop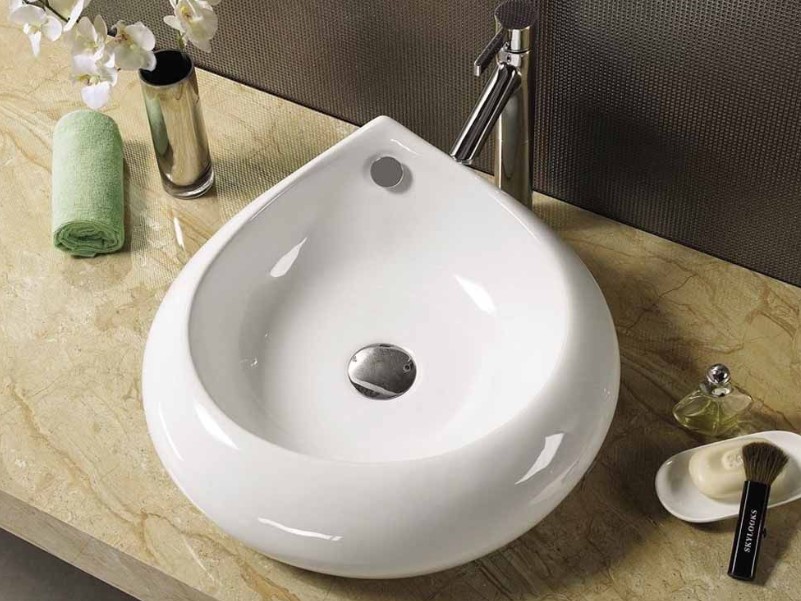 Soapstone countertop usually comes in grey or white shades. If you're looking for stone that is non porous, this one is for you. You can care for this kind of bathroom countertop very easily, much easier than caring for marble and granite countertop.
5. Slate bathroom countertop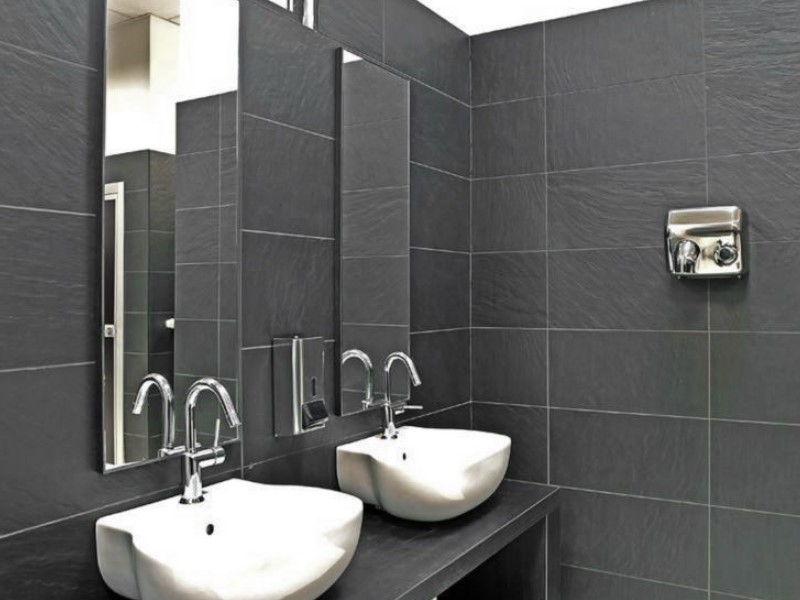 Compared to marble and granite countertop, slate bathroom countertop is less porous that means it resists stains. Unlike soapstone, slate bathroom countertop comes in green, black, and grey shades. This one is even cheaper than soapstone bathroom countertop.
6. Travertine bathroom countertop or limestone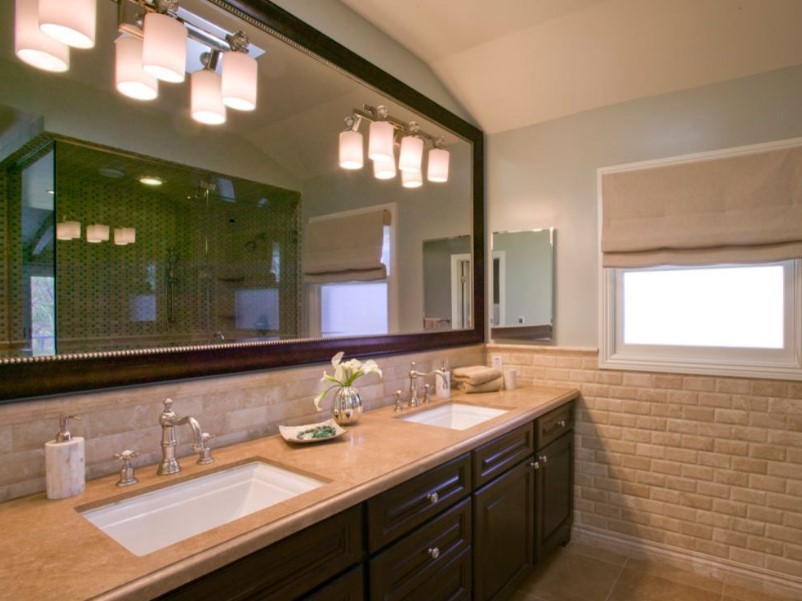 Both travertine and limestone bathroom countertops require you to seal them repeatedly and carefully. Most limestone and travertine bathroom countertops today are from tiles. The slabs version available but the price may be higher.
7. Granite bathroom countertop ideas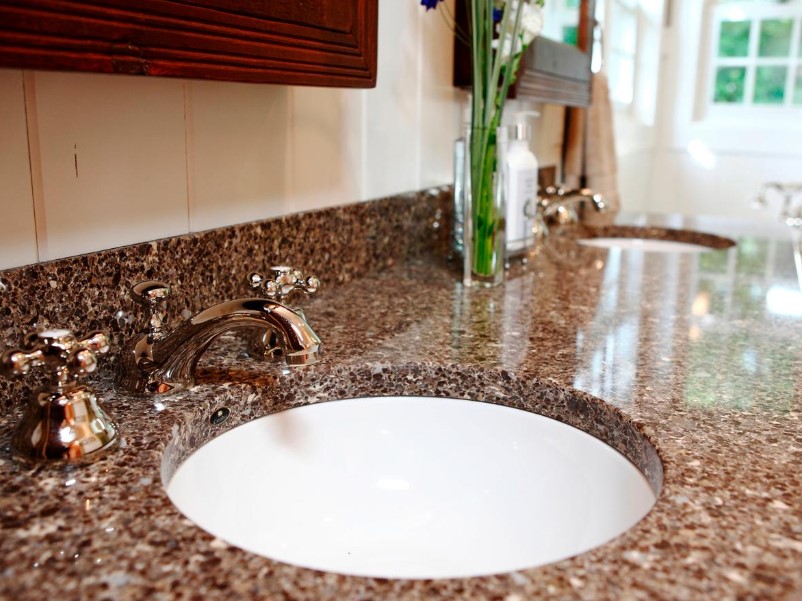 Granite is most popular material used to make bathroom countertop. But it doesn't mean that all granite countertops look just the same. Granite bathroom countertop today has assorted designs, patterns, and colors. Pick one that suits your bathroom style the most.
8. Marble bathroom countertop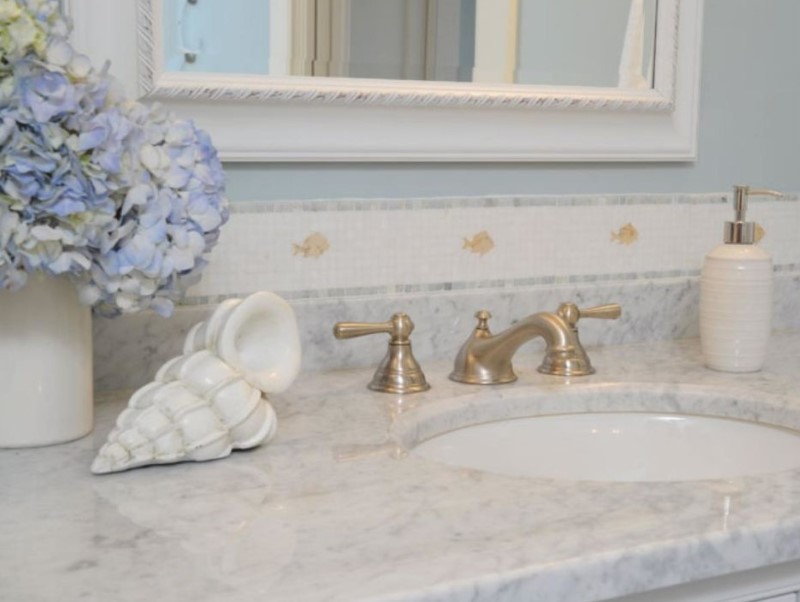 This one is the most expensive choice of bathroom countertop. The patterns and colors variety is infinite. The marble material itself is soft and porous so you better be ready to seal it every year to keep it looks beautiful in your bathroom. This is the only stone that brings you elegance.
9. Concrete bathroom countertop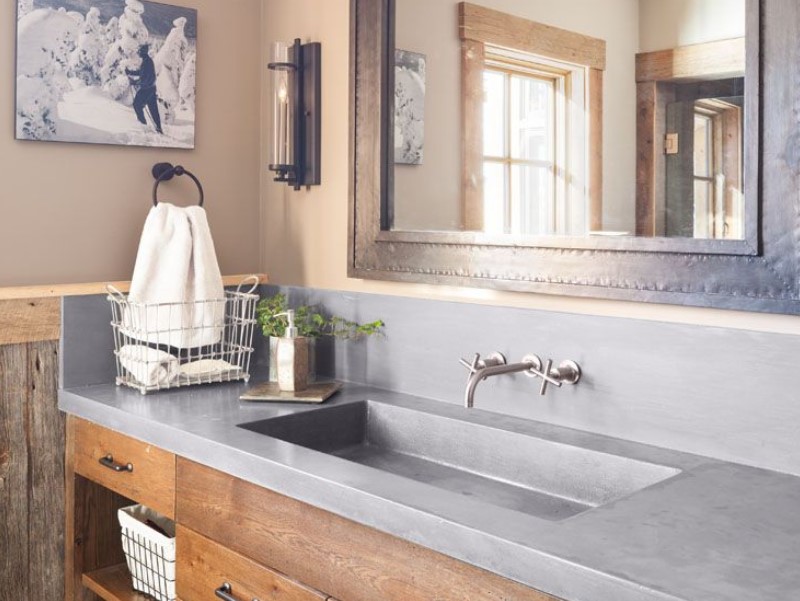 There is nothing better than concrete countertop if we're speaking about very strong and durable material. This countertop material is now trending and is ready to bring updated look to your bathroom. Are you ready to get one for your modern bathroom?
10. Crushed glass bathroom countertop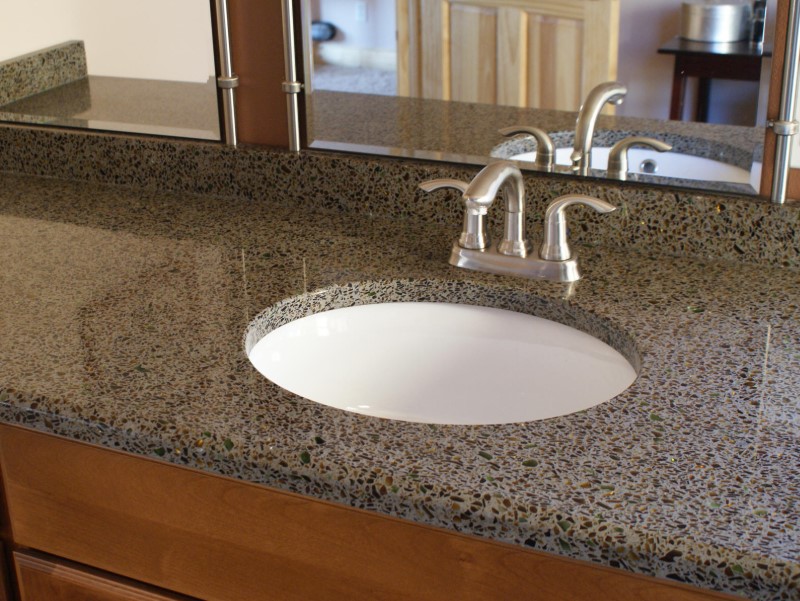 The name told us that this bathroom countertop is made from crushed glass that is getting more and more famous today. That's so special about this countertop is no two countertops made from crushed glass look alike. There is traditional crushed glass countertop and modern one.
11. Quarts bathroom countertop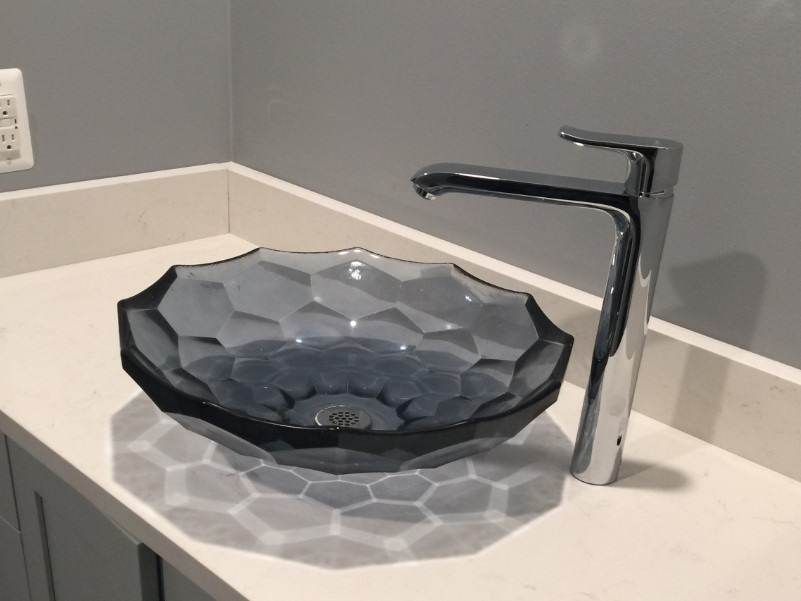 This one is made from engineered stone which contains 90% ground up quarts combined with another stone material. They then blend with pigments and resins. Many styles and colors available. This countertop is also less brittle but stronger than the natural stones.
12. Wooden bathroom countertop for vintage styled bathroom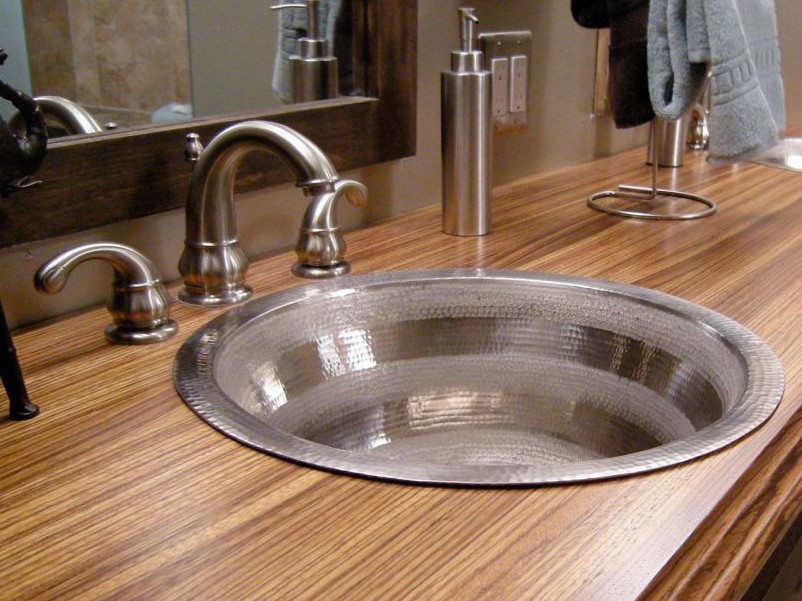 Antique bathroom cabinetry and vintage bathroom furniture will look flawless with wooden countertop. Wooden countertop today is designed to withstand splashes while being style statement at the same time. Get this one to perfect your rustic bathroom.
13. Glass countertop for luxuriously modern bathroom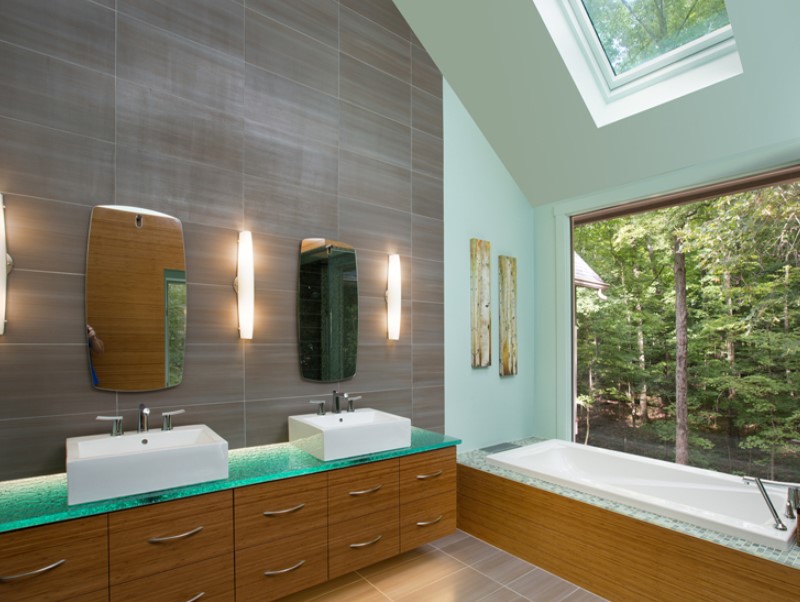 Small bathrooms will be awesome with this countertop. Glass countertop amplifies the light and then expand the spatial perceptions. Contemporary and modern bathroom is the best house for this bathroom countertop.
14. Terrazzo countertop for midcentury modern bathroom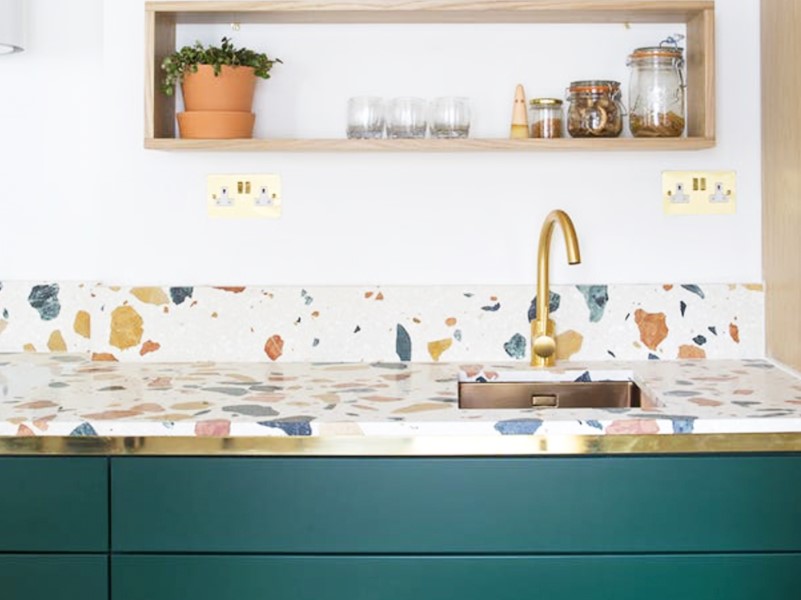 Terrazzo countertop in light color with dark stains pattern on it will be extraordinary choice for bathroom with midcentury modern interior design. The dark pattern of the countertop will perfect the wooden bathroom cabinets. Then the light color of terrazzo countertop will blend white wall perfectly. Your bathroom countertop is not only functional but also artistic as well.
15. Stainless steel countertop for industrial bathrooms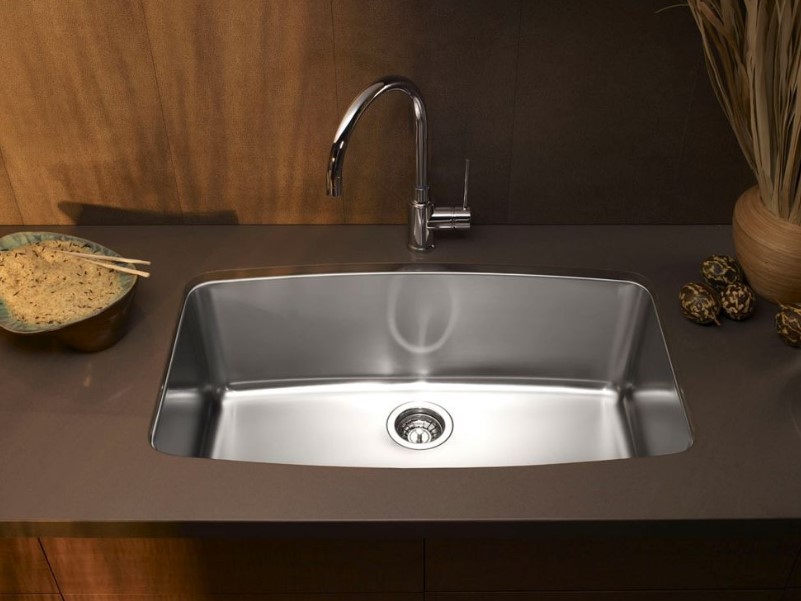 Best friend for industrial themed bathroom is stainless steel countertop. This countertop is resilient to many things and is extremely durable. The look of this countertop is also elegant. Besides, it is able to make your bathroom feels larger because this material is going to reflect various surfaces inside your bathroom then create illusion so the room will look brighter.
Each bathroom countertop above has its own pluses and minuses. Which one between those ideas you want to apply in your own bathroom?