When we design our home, the bathroom is often an afterthought. And yet, with only small touches here and there we can transform a dull bathroom into an interesting one. This time, we will give you some interesting kids bathroom ideas you can implement. No need to worry, no renovation is needed.
There are many ways to design the kids' bathroom. What makes designing a kids' bathroom fun is that you can experiment with many colors, shades and even themes, unlike adults' bathroom with which we tend to focus on a single theme or design. If you don't know where to start, you can use our kids bathroom ideas below as an insight.
Kids Bathroom Ideas
1. Adding a Long Bench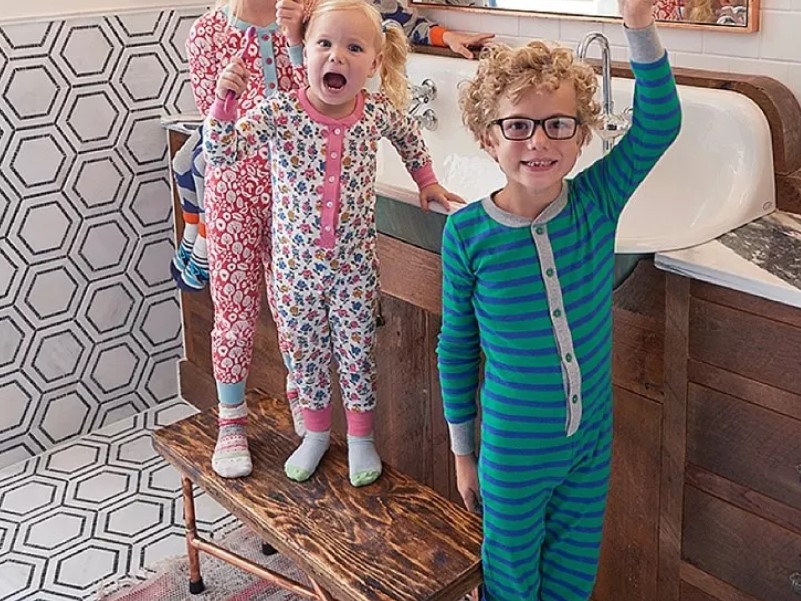 Kids have lots of stuff. Towels, bath toys, soaps, shampoos, and so on. Because of this, adding a long landing place like a long bench will allow everyone a place to sit. Not only that, if chosen properly a long bench can also complement the look of the bathroom as well.
2. When in Doubt, Use Yellow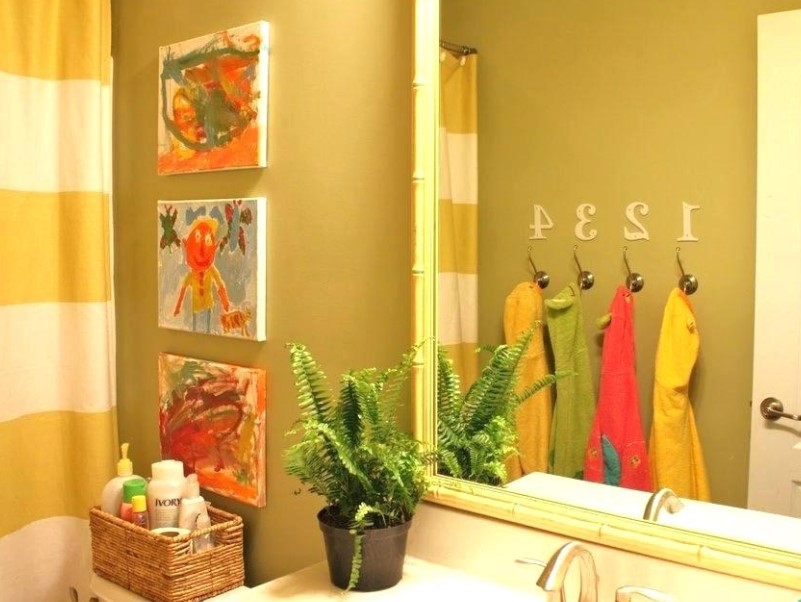 Even when the other parts of the bathroom are grown up, a wall in bright yellow will bring a fun and fresh vibe to the room. It doesn't matter whether the house is designed in a traditional or modern theme, a yellow will complement it.
3. Use Decals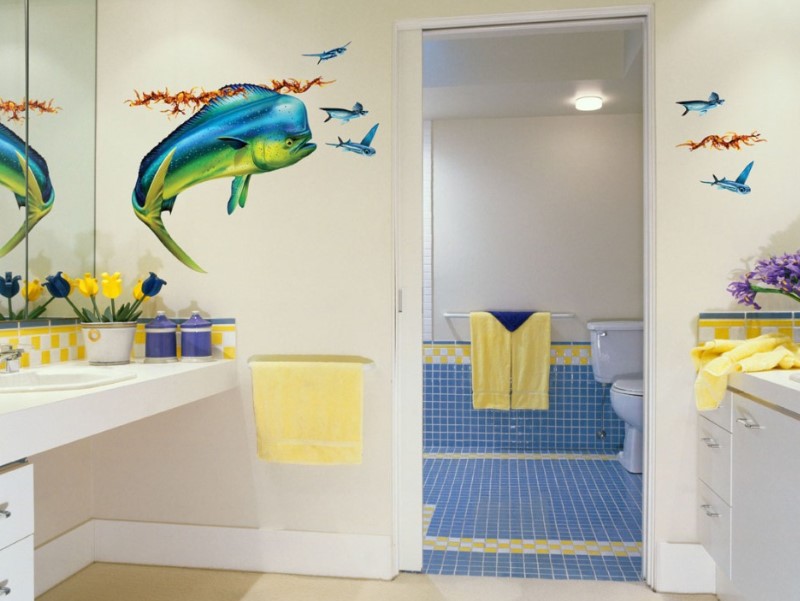 Perhaps the bathroom walls are tiled. Or maybe you just don't want to paint. Yet, you still want to decorate your kids' bathroom. If that is the case, consider using decals to decorate the bathroom. Decals are a great choice because they will change the look of the bathroom while at the same time not damaging the tile.
4. A Simple Green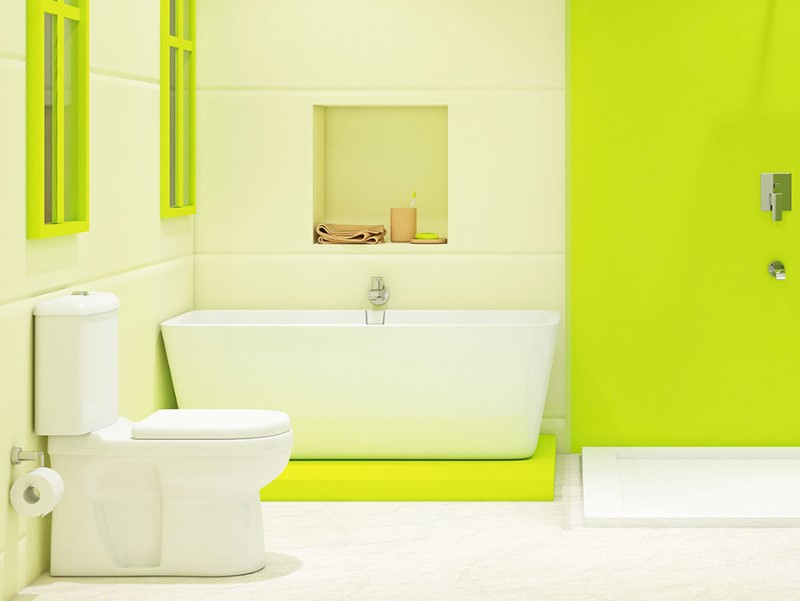 Simple does not mean dull or boring. In fact, simple design like a simple green bathroom looks great. It has a fresh, fruity vibe to it. It is also a good choice if the bathroom is small and narrow as the bright green makes space appear larger and not cluttered.
5. Color It Blue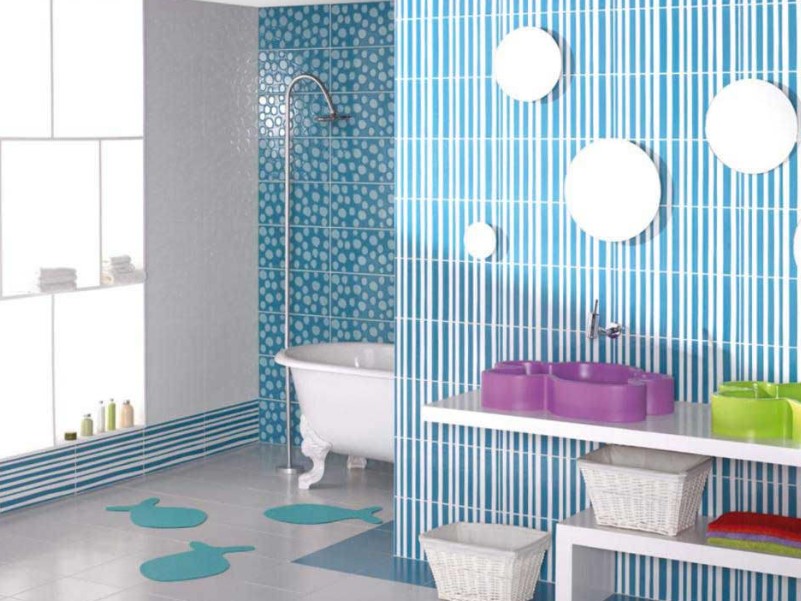 Do your kids like blue? If so, why not paint the bathroom in light-blue? Light-blue makes the bathroom look interesting, sweet, and monochromatic. Not only that, but the color also brightens the room and visually expands the space and thus, making the room appears larger than it is.
6. Marine Themes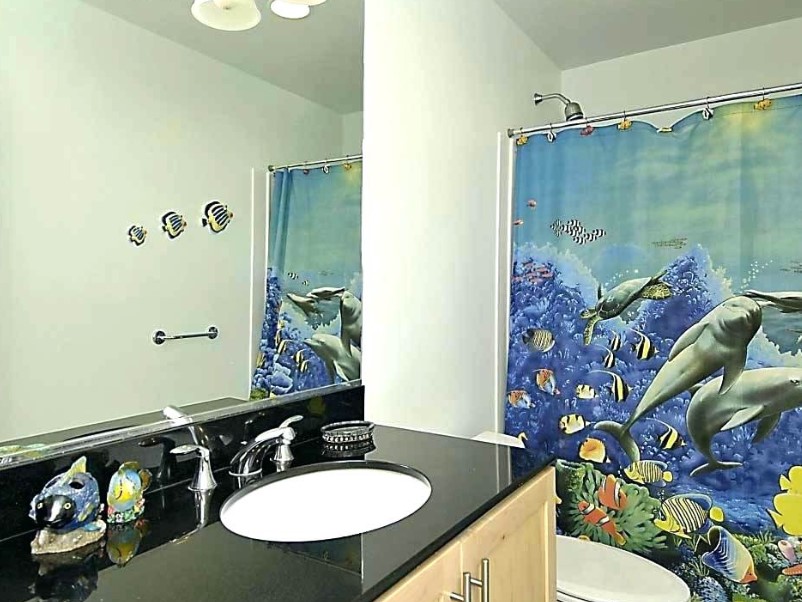 Marine themes are always a good idea for kids' bathroom. A marine-themed bathroom will be especially good if your kids love ocean life. You can start by adding a curtain with marine life images. You can also add hooks with the images of your kids' favorite animals, for example.
7. Brighten the Bathroom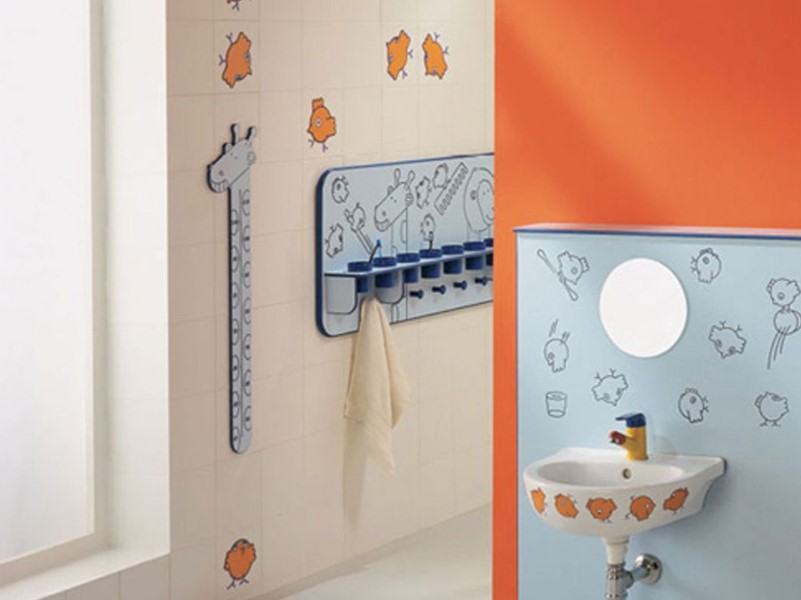 Kids love bright colors. Why not brighten the bathroom with colors like light-orange? Light-orange will give a fun and cheerful vibe to the room. Better yet, it doesn't take much to get that effect. A single wall colored in bright orange will do wonder.
8. Clean and Modern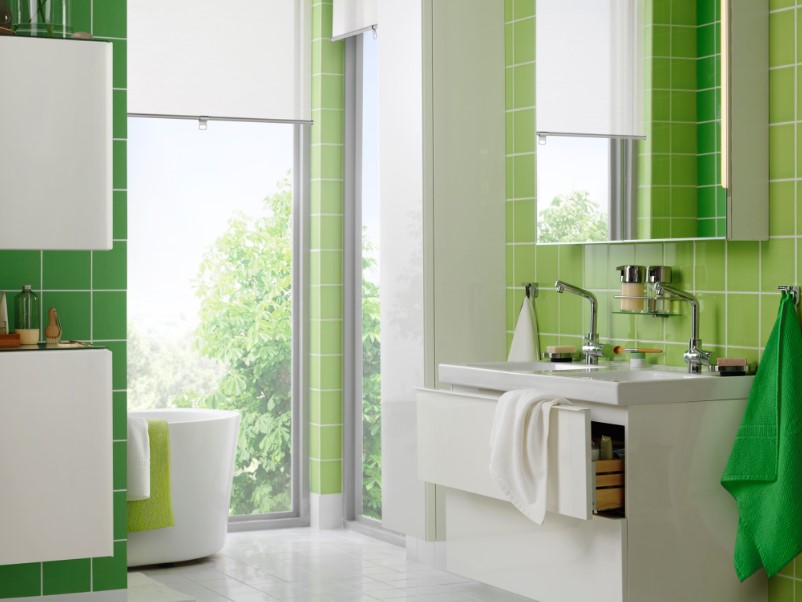 A kid's bathroom doesn't have to be themed with cute things or colors. You can design your kids' bathroom in a clean and modern theme. The clean and organized lines will make a great counterpoint to the clutter that kids tend to make.
9. Space for Everyone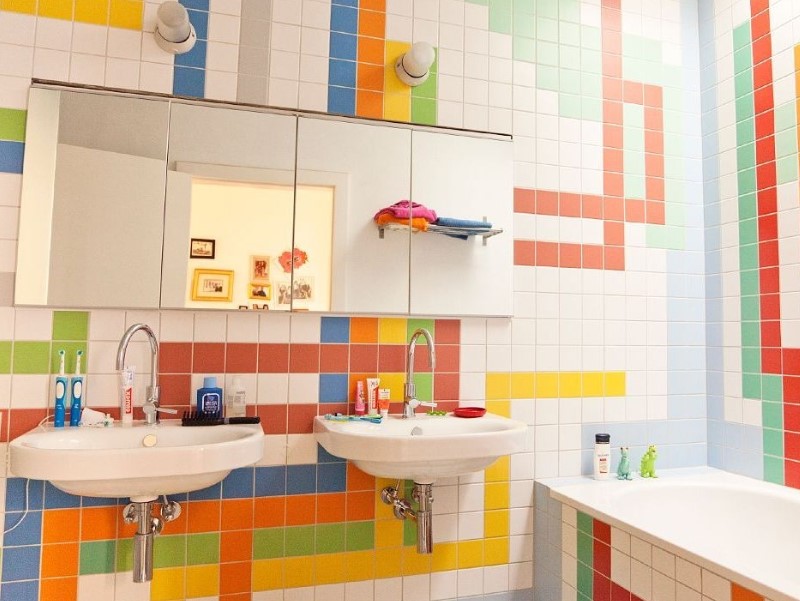 If you have multiple kids, it will be great if you design the bathroom in a way that it can accommodate your kids. The bathroom should have enough room for everyone. For instance, it should have two mirrors (or a long one), two sinks, and two bathroom steps.
10. Supervising Seat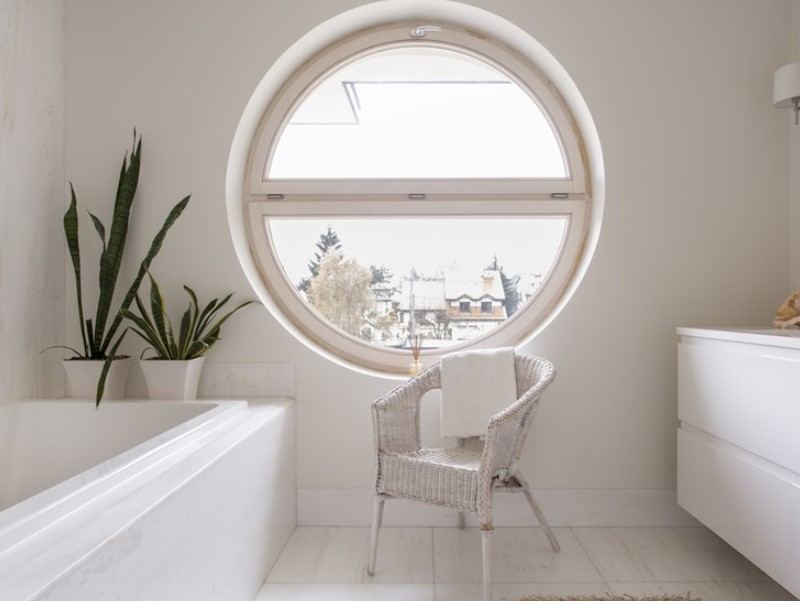 If you have younger children, they will need supervising. To make things easier, you can add supervising seating in the bathroom. If you want to complement the look of the room, you can choose a supervising seat that matches the theme of the room.
11. Red, White, and Blue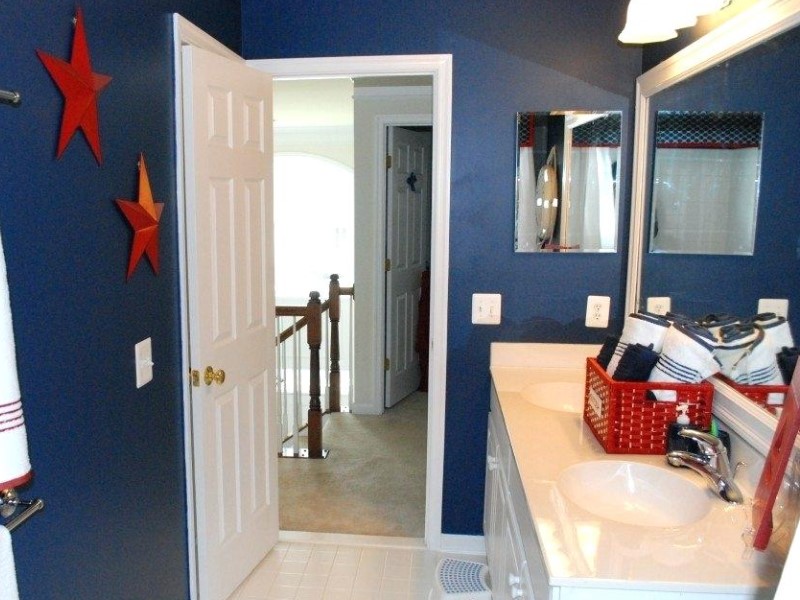 Red, white, and blue is a common color combination. This simple color combination is a good choice because it suits both adults and kids bathroom.
12. Beach Chic Bathroom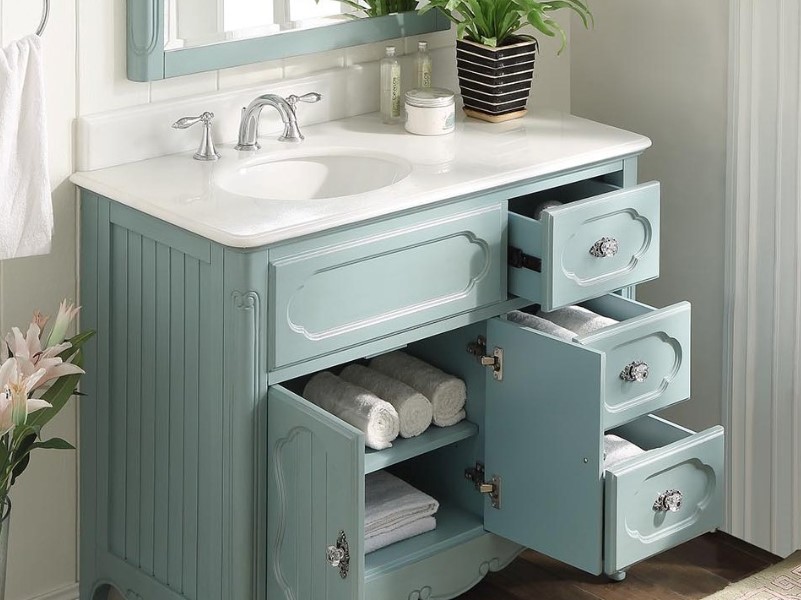 To make the bathroom look cozy and calm, you can try beach chic. Beach chic does not use bold colors. Rather, it uses tranquil and soothing color like pale-blue.
13. Non-slip Mat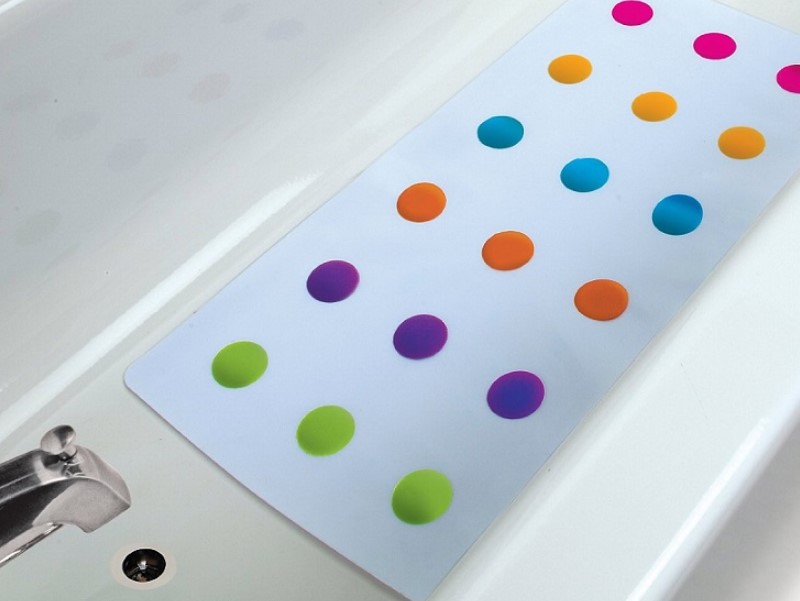 To avoid slipping, you can add non-slip mat in the bathroom. Since there are many colorful non-slip mats you can choose, you will find one that fits the overall theme of the bathroom.
14. Bath Toy Organizer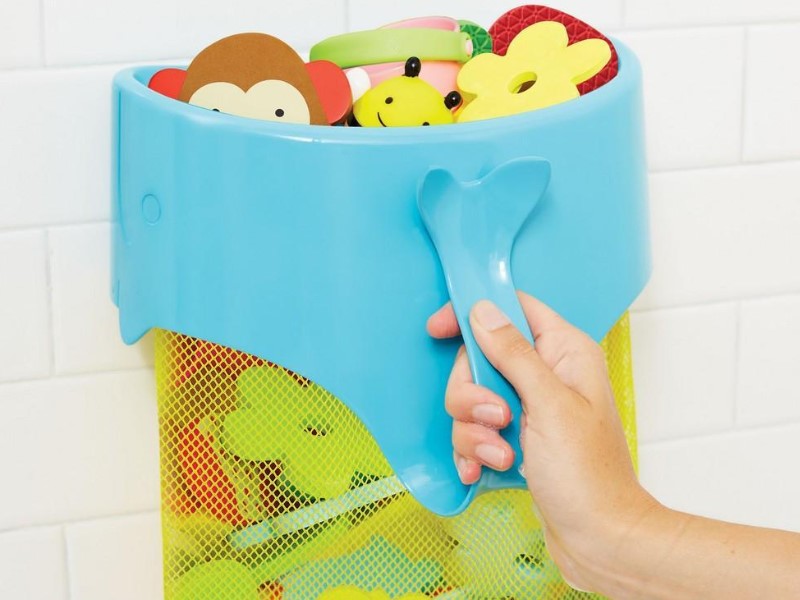 Kids tend to make things messy. To ensure the bathroom is not cluttered with bath toys, you can add bath toy organizer.
15. Toothpaste Dispenser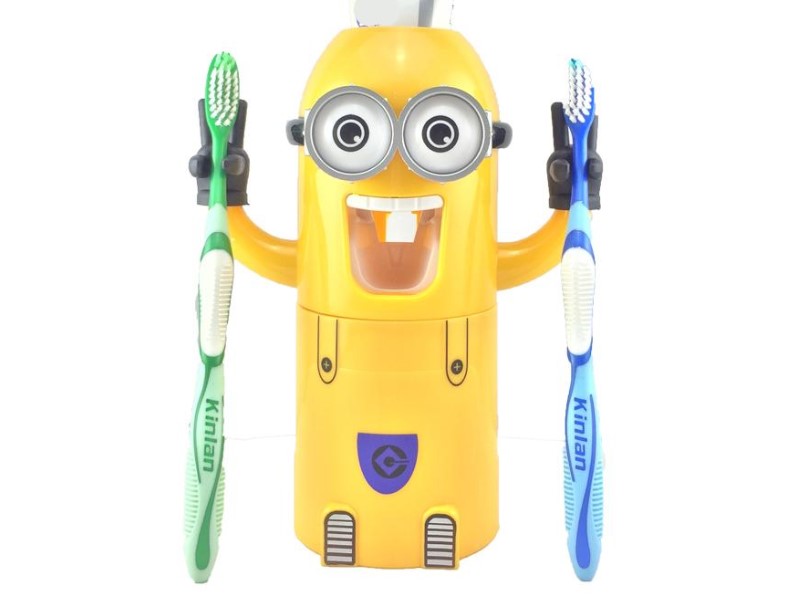 There are many kid-friendly toothpaste dispensers. Consider adding one to make tooth-brushing a fun activity for your kids.
What do you think about our kids bathroom ideas above? Which one of these ideas do you want to try? Whichever it is, we hope they inspire you to design your kids' bathroom.