There are lots of people who like modern bathroom designs. This happens for a reason. Modern bathroom designs are simple and minimalist. However, their simplistic nature does not mean they are dull. On the contrary, they give a clean, comfortable, and modern vibe. Below, we have some modern bathroom ideas to inspire you.
Modern Bathroom Ideas
Creating a bathroom in modern design isn't difficult. There is no renovation needed, either. In fact, some small touches can make the room look modern. If you are still unsure on how to design your bathroom in a modern design, you can use our modern bathroom ideas below as inspiration.
1. Add a Rug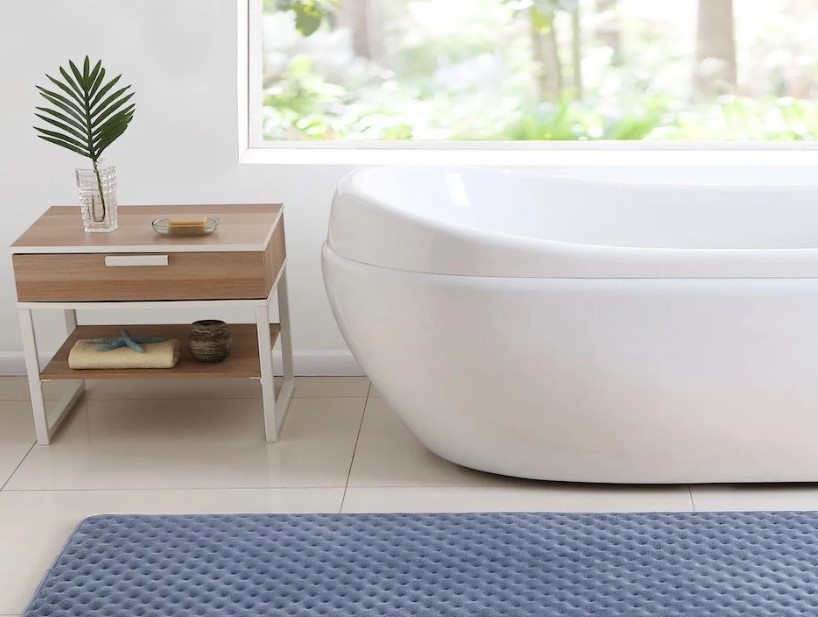 A rug is a good addition to a bathroom. It will make the bathroom more inviting. For a more modern look, add a rag with a colorful or bold look. You can also add a nonslip rag as well for safety purposes.
2. Get a Potted Plant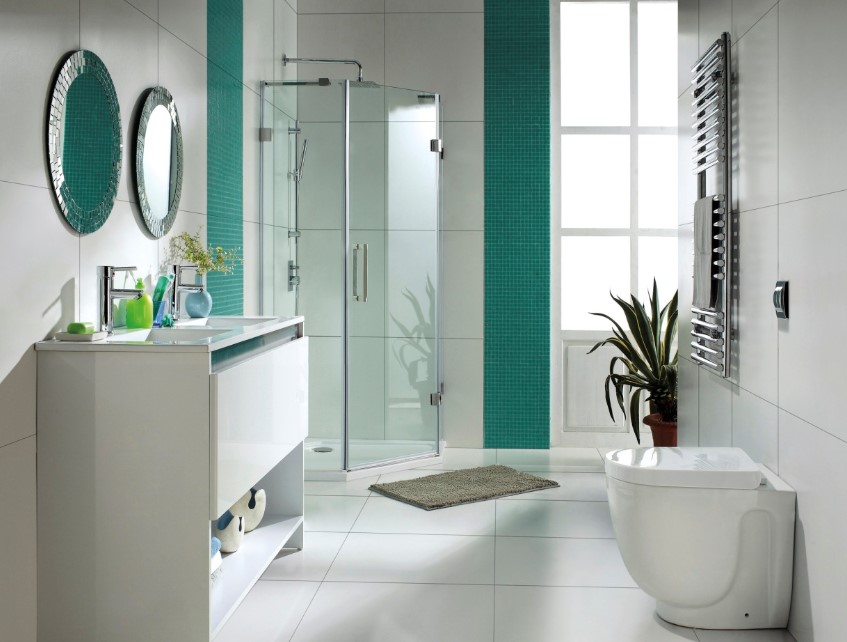 Modern design doesn't mean the bathroom has to be lifeless. On the contrary, by adding a potted plant you will make a modern bathroom looks more interesting. It can also be a focal point as well, especially if the pot and the plant have bold colors and the room is mostly white.
3. Incorporate Bright Accents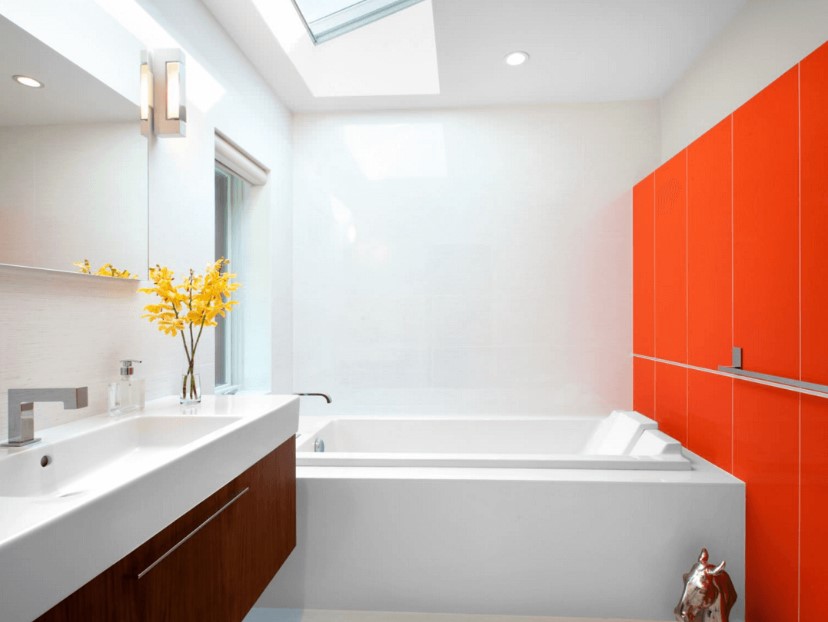 Modern bathrooms often seem to be colorless. That is not true, though. You can incorporate bright accents to a modern bathroom. Bright accents, such as orange, will complement the look and make the bathroom look more interesting.
4. Install a Large Mirror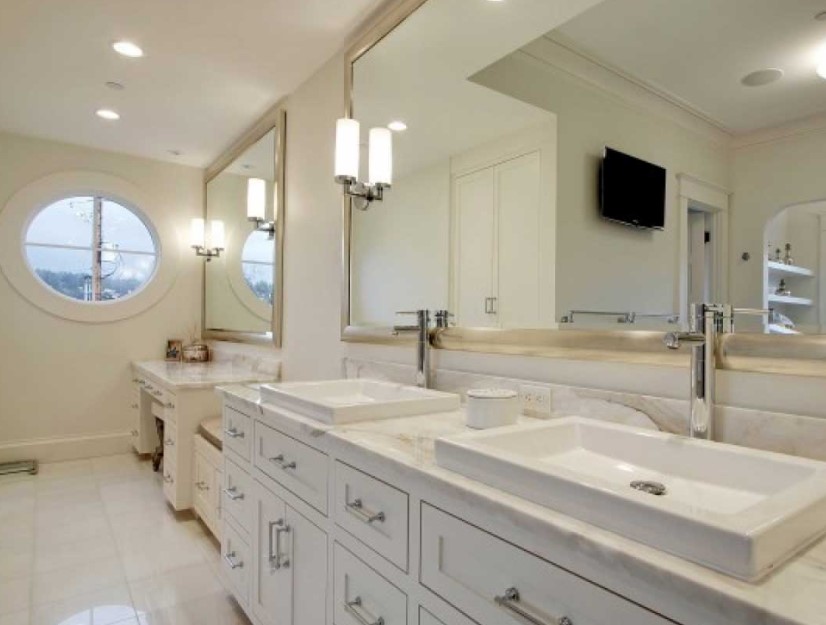 A large mirror is one of the most important elements in a modern bathroom. Adding a larger mirror to a bathroom will not only make it more modern, but it will also brighten the space and make it appear larger.
5. Let There be Light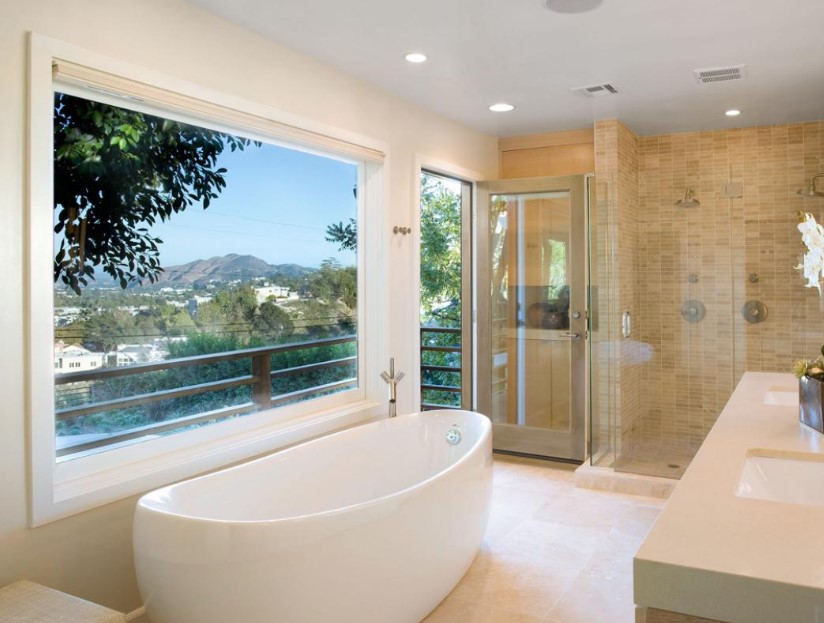 All modern bathrooms have proper lighting. For a modern bathroom, using sunlight is a good idea to give the room proper lighting. For this, you will need large windows so the light can enter the room. Reflective surfaces like a mirror will help as well.
6. Tiles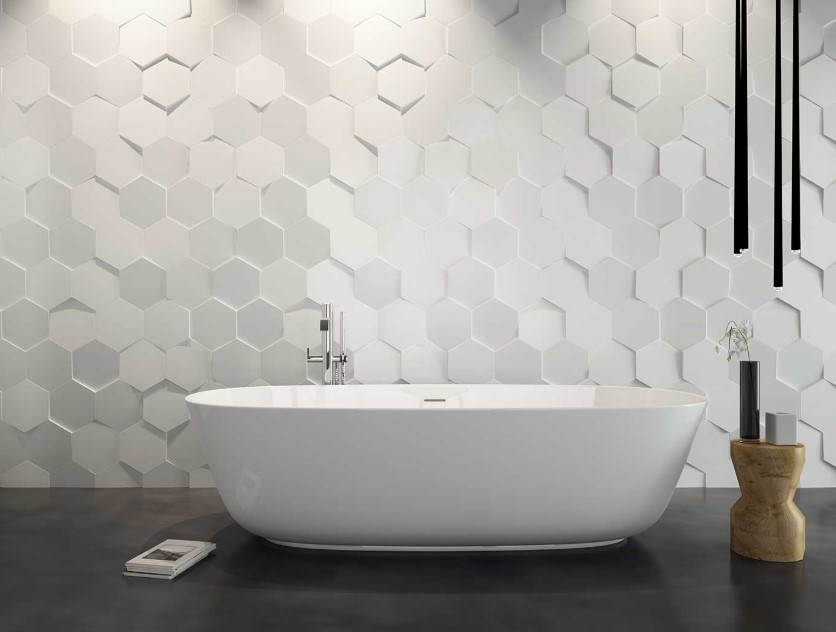 Tiles can make or break the design of a bathroom. Tiles that are compatible with modern design are ceramic, slate, quarry, and pebbles. Not to mention these materials also have non-slip property as well. So, if you are still unsure what tiles you want to use, consider using those tiles.
7. Interesting Tub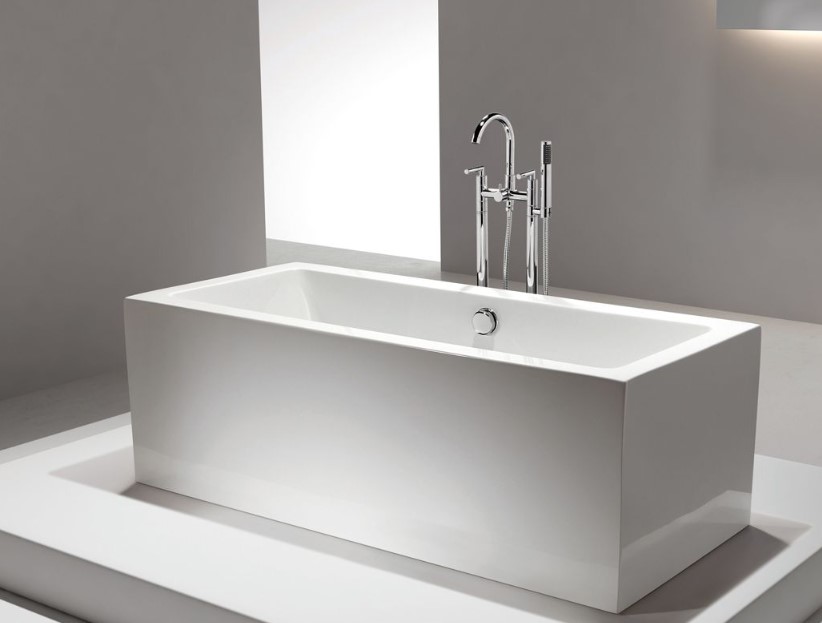 Since modern bathrooms are typically simplistic, there are lots of ways you can add a focal point to the room. One of the most common focal points is the tub. A modern bathroom with a square or sleek tub will be very interesting to look at.
8. Warm and Modern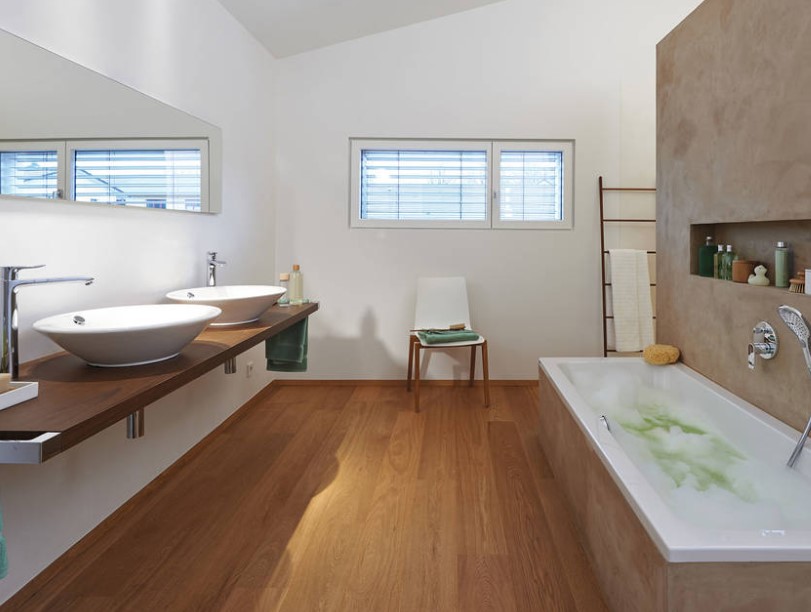 A bathroom needs not to be sterile and cold to be modern. On the contrary, a warm bathroom can also be modern as well. A warm, neutral color scheme mix well with other features of modern bathrooms like sharp lines, squares, and rectangles.
9. Dark and Modern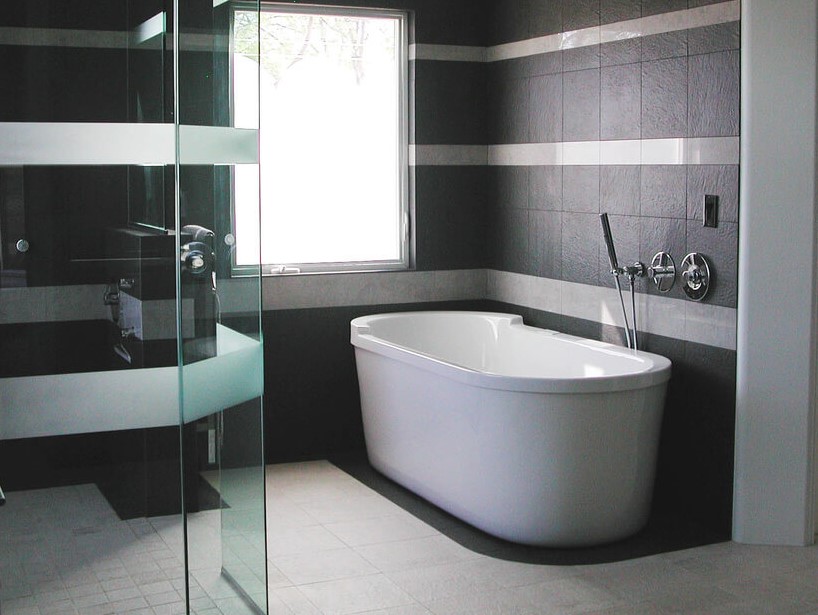 Dark colors can also be modern. If you want to create a dark and modern bathroom, the key is to provide balance. You can do so with adding light colored furniture. Don't forget to incorporate lines, squares, and rectangles, too.
10. White and Minimalist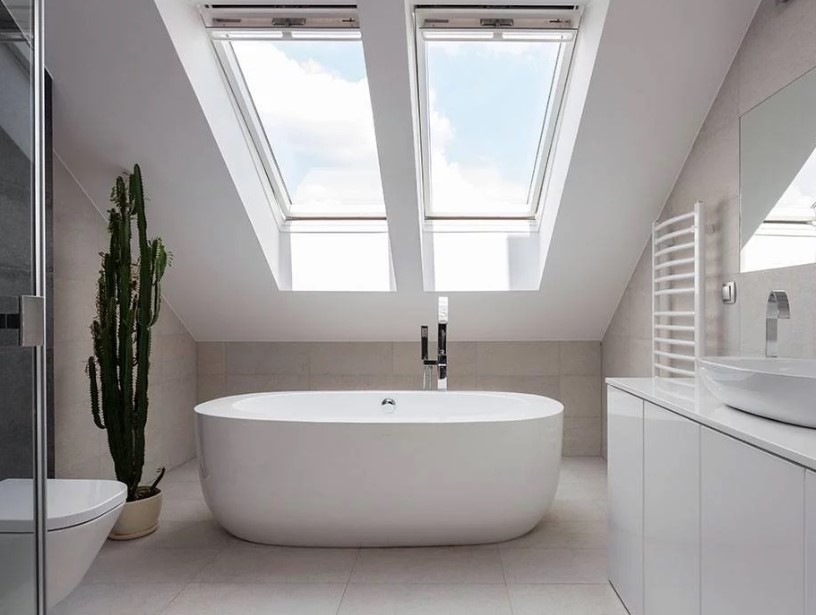 Being simple and minimalist is one of the characteristics of modern bathroom designs. If you want a minimalist modern bathroom, use a white palette for the room and furniture with simple geometric shapes like square or rectangle. To avoid the room from being dull, be sure to add a focal
11. Black and White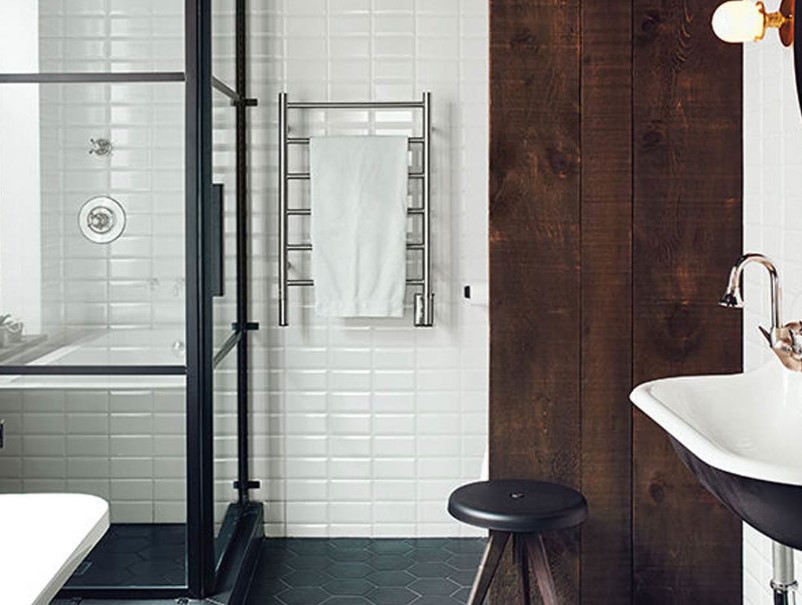 You can use black and white color scheme and still make the bathroom look modern. The most important thing about this color scheme is that you need to create a balanced look. A neutral color is also welcome into the mix.
12. Simple Design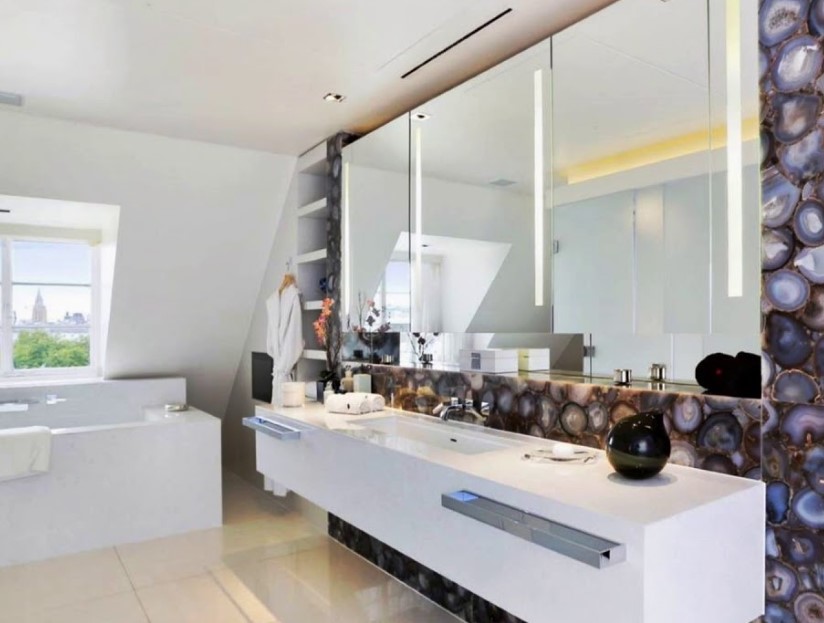 Modern bathrooms use a simple design. So, take advantage of it. Use simple geometric shapes such as squares and rectangles. Mirrors, backsplash, and tub with squares and rectangles shape may seem simple, but they do make a statement.
13. Compact Bathroom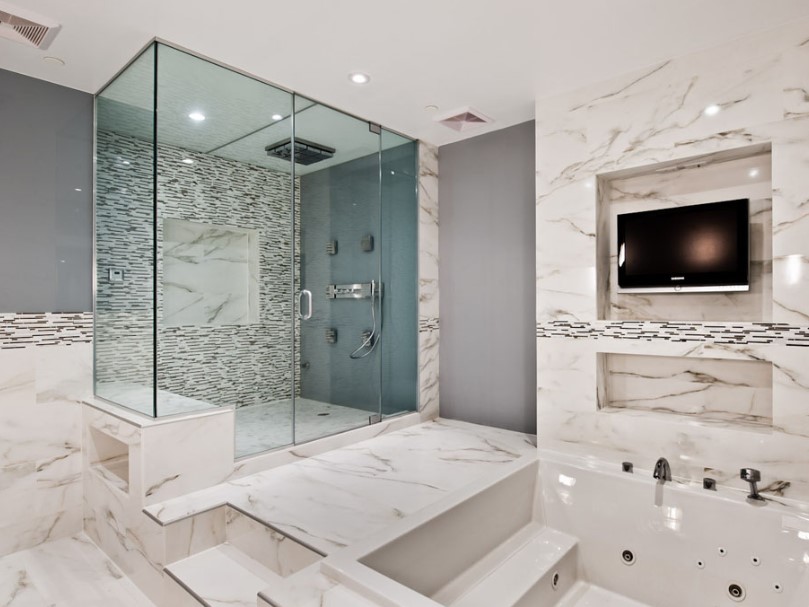 In case you have a small bathroom, you can still go for a modern look. Try creating a compact bathroom. A compact bathroom may not be that large, but it can still give a modern vibe if you incorporate modern features such as sharp and straight lines. White palette works well as well.
14. Open Plan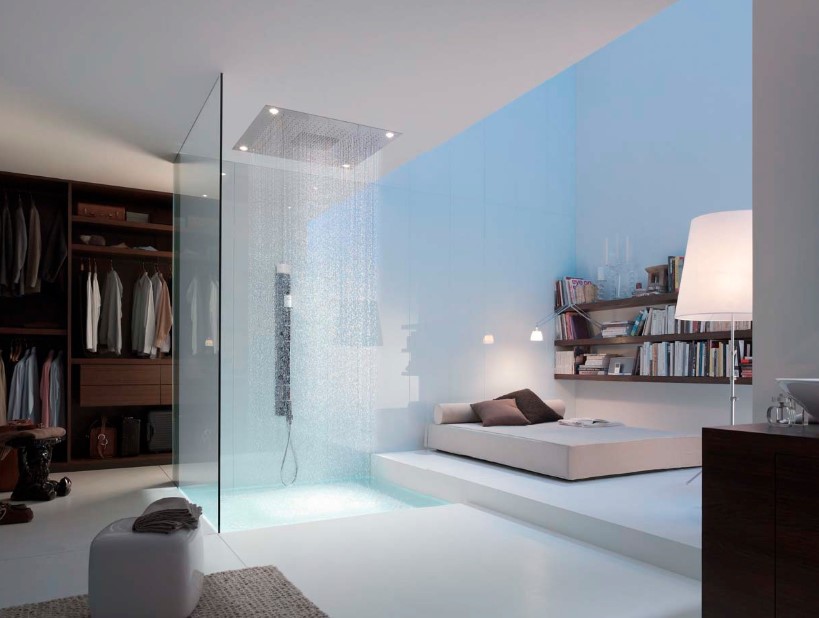 A walk-in shower surrounded by transparent, glass walls is also a good option for a modern bathroom. This will work especially well if the room is monochromatic.
15. Ultra-modern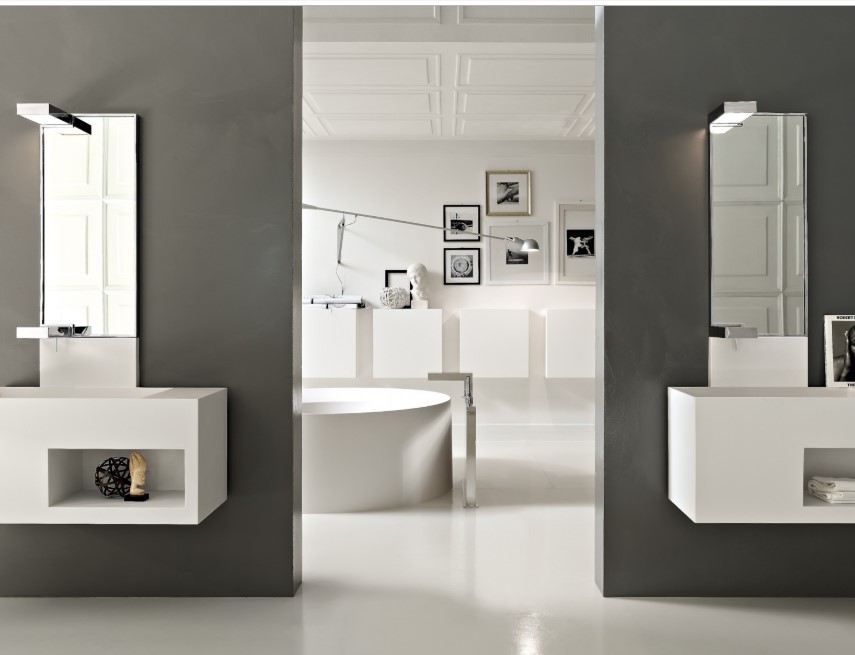 Want to go even further? Try ultra-modern. Ultra-modern incorporates more squares and rectangles as well as monochromatic colors. For the best effect, use furniture that has a minimal presence like a floating vanity or sink.
What do you think about our modern bathroom ideas above? Which one of those ideas are you going to try? Whichever it is, we hope our ideas above give you inspiration.