One of my favorite colors is blue and I love everything in blue. You're here to find ideas about beautifying your rooms with blue and some other colors that support it. Lucky you, we'd love to help you understand what colors that go with blue. Pay attention then start redecorating.
Blue Goes Well with What Color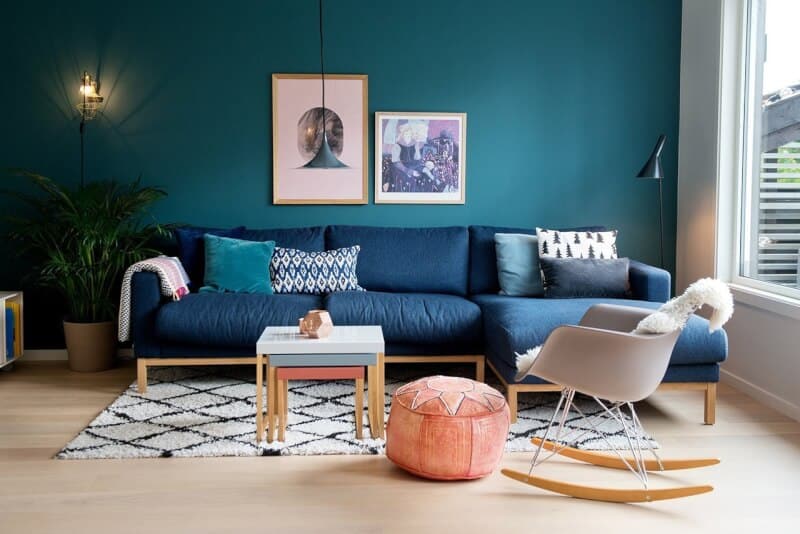 Let's start with living room. Peach is the first color you can use in blue living room. If there's lot of blue, add a little peach like on the coffee table and ottoman.
Black and white could also be nice additional colors to blue living room. Plaid black and white pattern on furry rug keep everyone feels comfortable when they sit on your cozy blue sofas.
Some other neutrals like beige, light brown, and cream can be simple ornaments for blue room. Apply those neutrals on accent chair, window frames, and floor. This combination gives you modern room.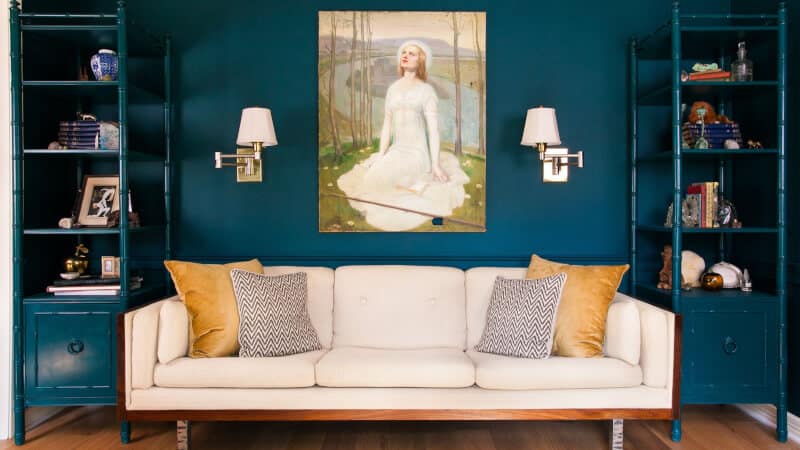 If you dare enough, consider adding gold to the blue living room. This is an excellent idea if your living room has dark blue shades like royal blue or navy blue.
But don't spread too much gold or else you'll create a weird living room. If dark shaded blue has been applied on the walls and shelving, spread gold on your living room ornaments.
For example, complete your ivory or white sofa with two cushions in gold color. Gold framed wall painting on blue wall will also enhance the luxury of the room. Add white sconces to light the painting.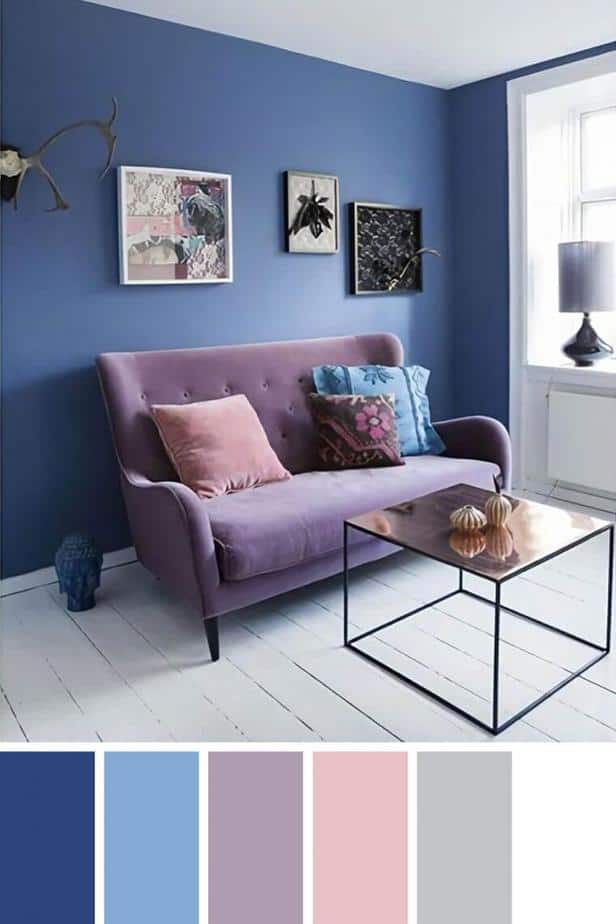 Lavender, lilac, and the other pastel purples are next colors that go with blue room. Lavender sofa and lilac cushions in front of blue wall will be your room's focal point.
Since the main color of your living room should be blue, apply dark blue or navy blue to your living room walls. Use white for window frames, ceiling, and flooring.
Pastel purples on sofa and cushion must be balanced with light blue cushion on the sofa. That blue cushion matches the wall and keep the furniture and walls united. Simple but elegant coffee table perfects everything.
Colors That Go with Blue Interior Design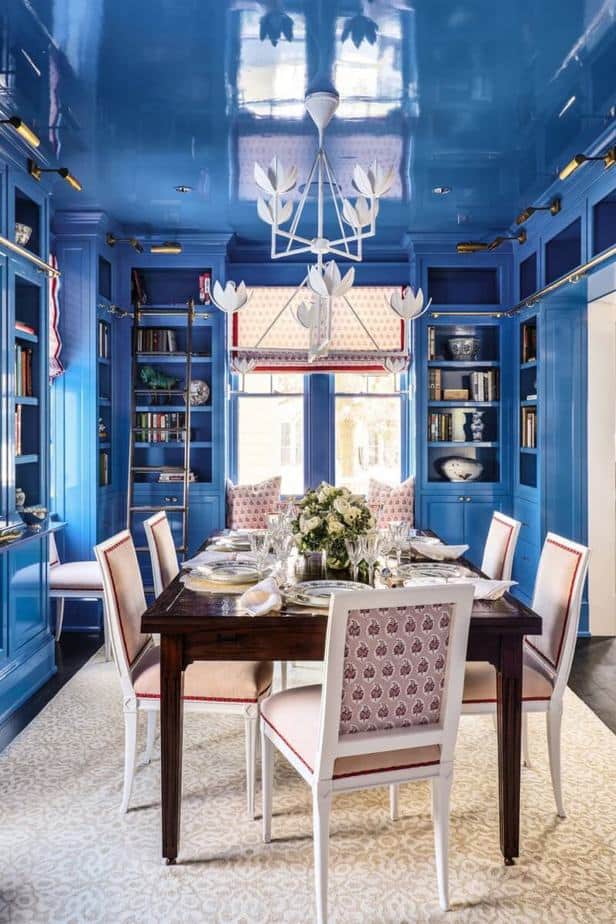 White never dies, and it's the best option for blue dining room. If you have spread blue in all elements of room, you need white to make it looks classy.
Bright blue that covers ceiling and walls of dining room looks contrast with the dark wooden flooring. So, cover the floor with neutral colored carpet like khaki or beige.
Hang white pendant lamp on ceiling to match the neutral on the floor. Complete your dark wooden dining table with fresh colored chairs that match the blinds that cover the glass windows and the cushions for bay window.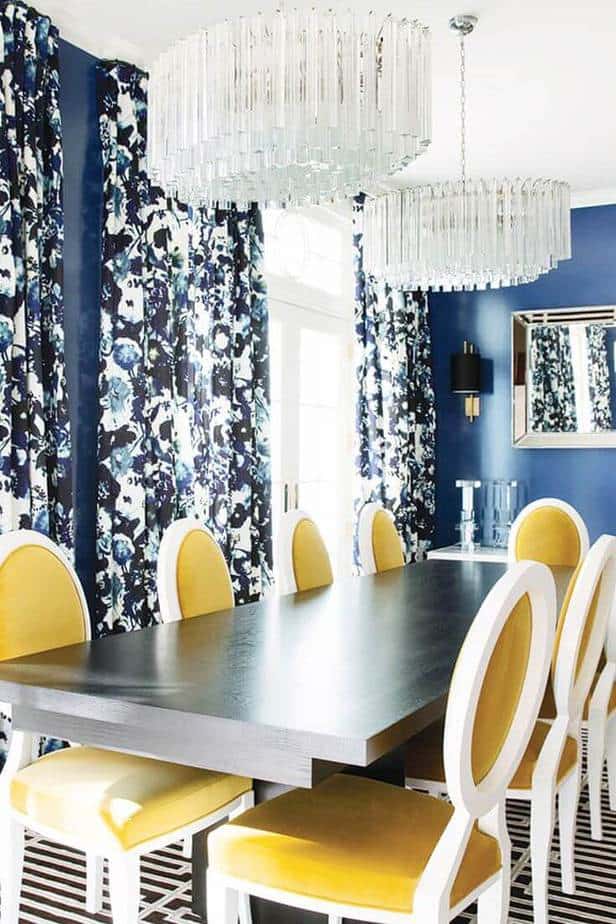 For dining room in navy blue, something fresh like yellow is the best. It makes dining room looks brighter and it is good since bright room creates bigger room effect.
Navy blue walls need white ceiling and white window frames. To cover the windows, hang some curtains with any motif you want but still in navy blue shade. Make them match your blue walls.
Then apply yellow on your dining chairs. White framed yellow dining chairs around wooden dining table are adorable centerpiece of the room. Hang crystal pendant lamps to enhance the elegant touch of dining room.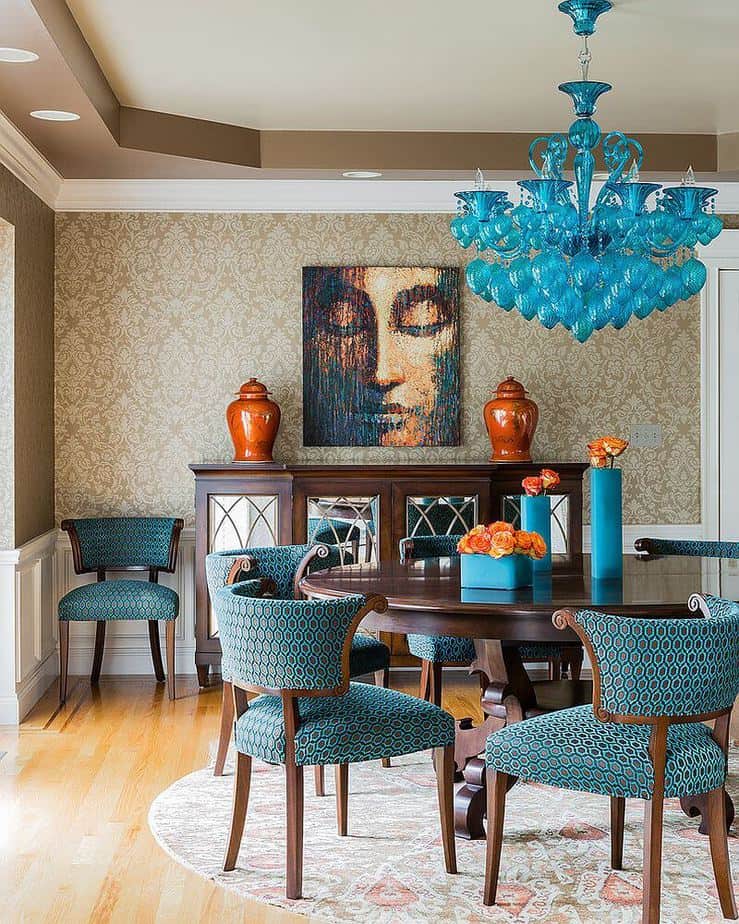 As another version of yellow, orange will also refresh a small blue dining room. But don't use orange on dining chairs. Instead, us orange ornaments to complement the blue colored furniture.
But first, cover your dining room walls with neutral wallpaper. Apply the same neutral color on your dining room ceiling. Natural wooden flooring is also a nice choice for simple but beautiful dining room.
Now it is time to furnish the room. Dark wooden dining room furniture that meets blue dining chairs and pendant lamp will be brighter with adorable orange flowers and vases on wooden furniture.
Colors That Go with Blue Kitchen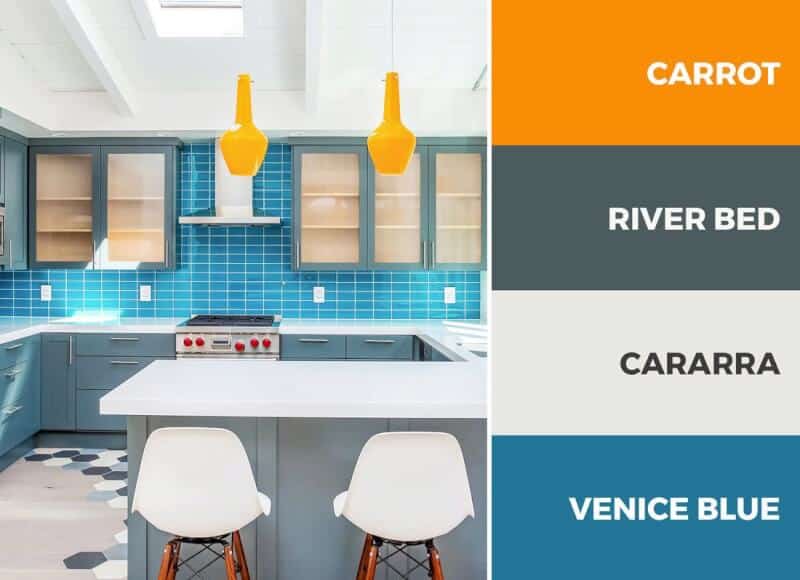 Kitchen needs to look fresh yet inviting so that you'll feel enthusiast to cook. So, combine blue with some refreshing colors that go with blue such as orange and neutrals.
Pick Venice blue or the other blue shades you desire for the backsplash of your kitchen. Blue backsplash is really soothing and will help you relax while cooking and washing your dishes.
Then spread carrot color on the ceiling: hang orange colored lamps on the ceiling, above the breakfast bar. Grey colored cabinets and white countertops along with white barstools keep the room simple but comfortable enough.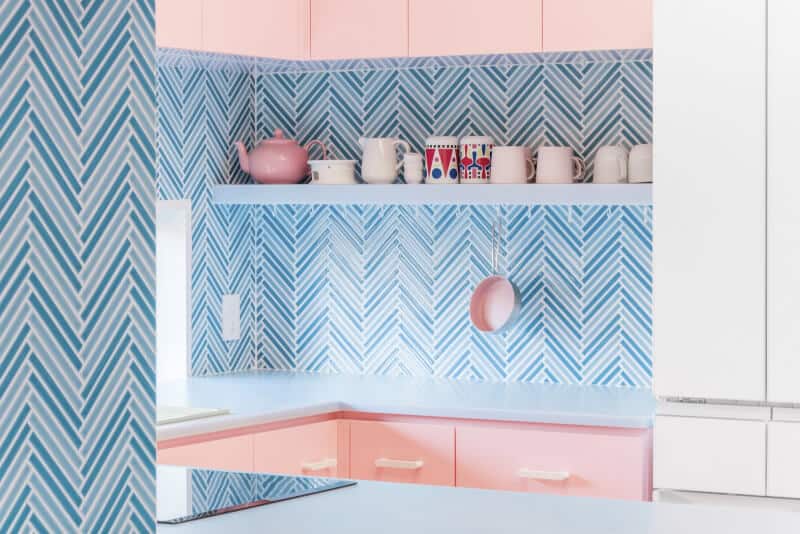 Or, try peach which is a soft color to complete your pale blue kitchen. But both colors shouldn't be used alone. Add some neutrals like ivory and white shades to your cute blue and peach kitchen.
Blue backsplash tiles on kitchen walls look so cute. Find one with your own favorite motif or pattern. Also use pale blue countertops for the kitchen that match the backsplash tiles.
Now complete your cute kitchen with peach cabinets. Ivory chinaware and ornaments on the floating rack will perfect your pastel themed kitchen. Choose white fridge that matches the white chinaware.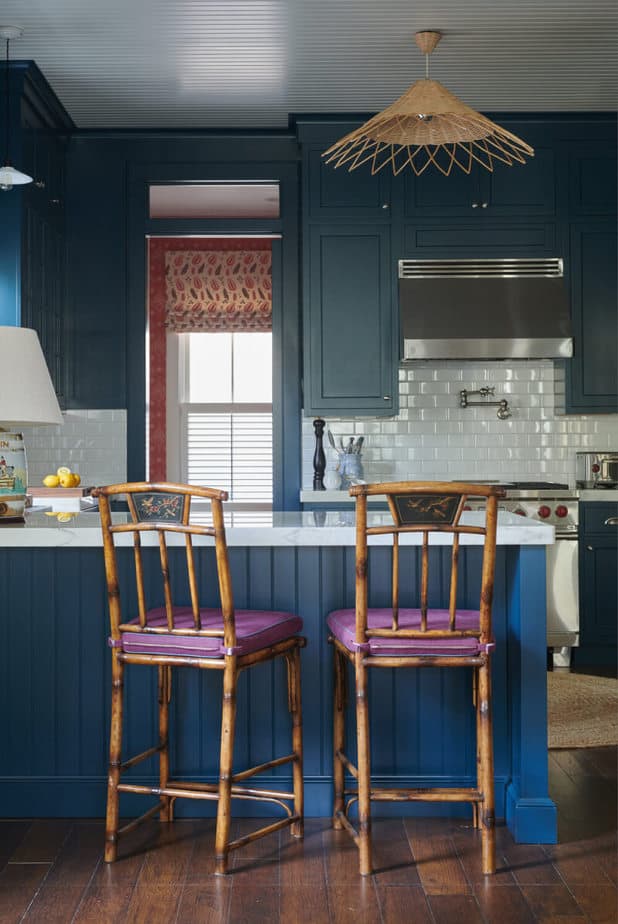 Blue goes well with purple. If you have decided to color your cabinets with blue, pick rattan framed barstools that have purple seat. This brings elegance to your blue kitchen.
But since the colors of your barstools and kitchen cabinets have dark tone, you'll have to pick something fresh for the other kitchen elements. Like the light brown pendant lamp matches the rattan barstools.
White can be applied to the countertop, desk lamp shade, and backsplash tiles of your kitchen. Applying white on the ceiling is also a brilliant idea to spread the lights through every kitchen corner.
Blue Goes Good with What Color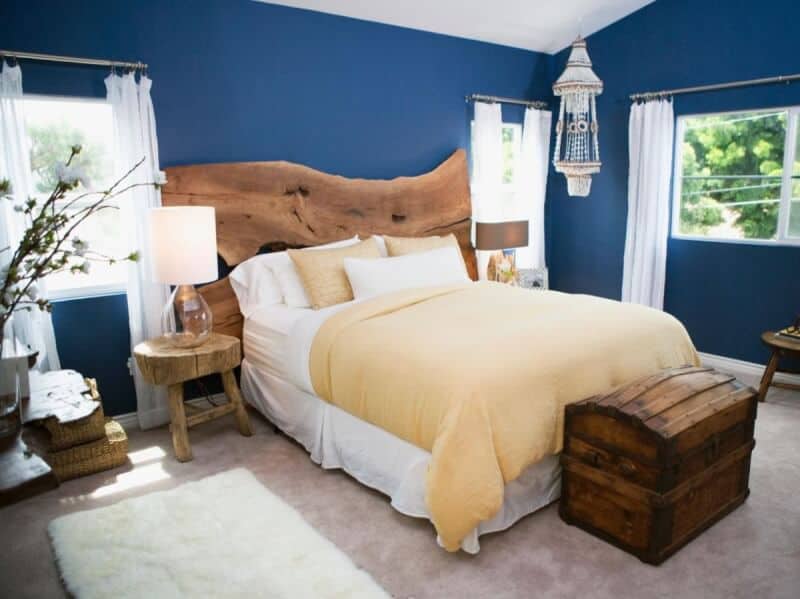 Since blue can help us relax, it is good to be used in bedroom. Paint your bedroom walls in blue, so wherever you see you'll stare at the most refreshing color and feel relax immediately.
And then cover your bed with white and beige bedcover. White bedsheet, beige bedcover, and beige pillows look so soft and inviting. You'll always love going to your bed every time you enter the room.
Pick white and natural wood color for the rest of your bedroom. For example, use white curtains, rug, and lamp shade around wooden headboard, bedside table, and storage.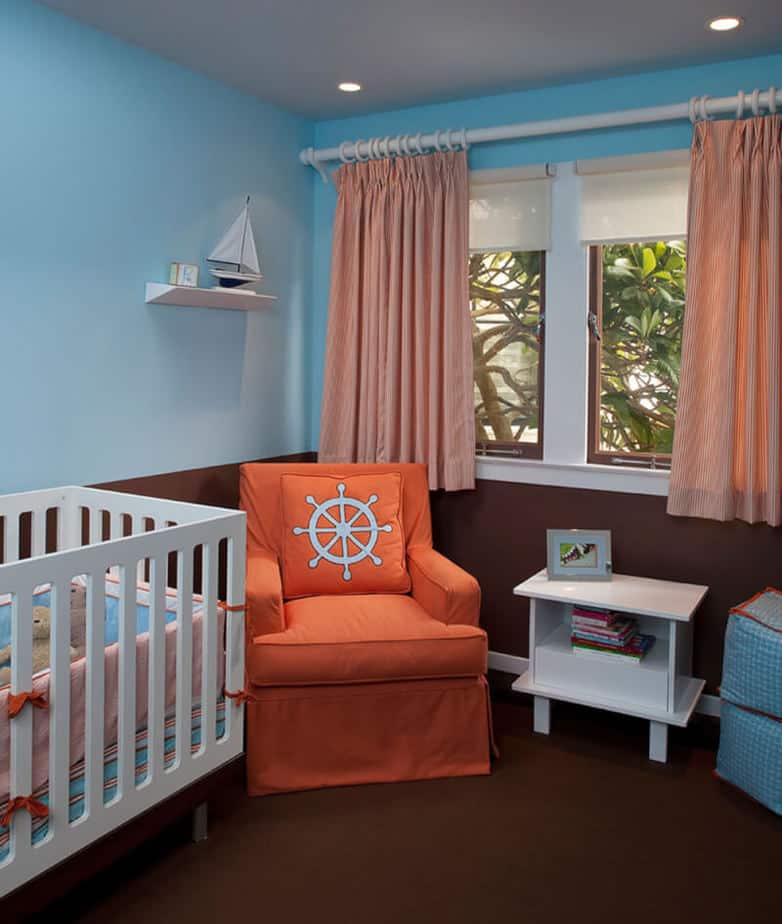 You sure can add another color to blue bedroom. Try fresh orange color that's going to balance the cold feelings brought by blue walls. Yep, orang is one of awesome colors that go with blue.
Coral on the curtains covering white windows and their blinds will match the coral on the bed. Then add bright orange armchair on the corner of bedroom, next to white table.
Those fresh colors will make this blue bedroom that has chocolate brown flooring looks much sweeter and cute. Use white for the floating shelf and bedframe in your kids' room and master bedroom.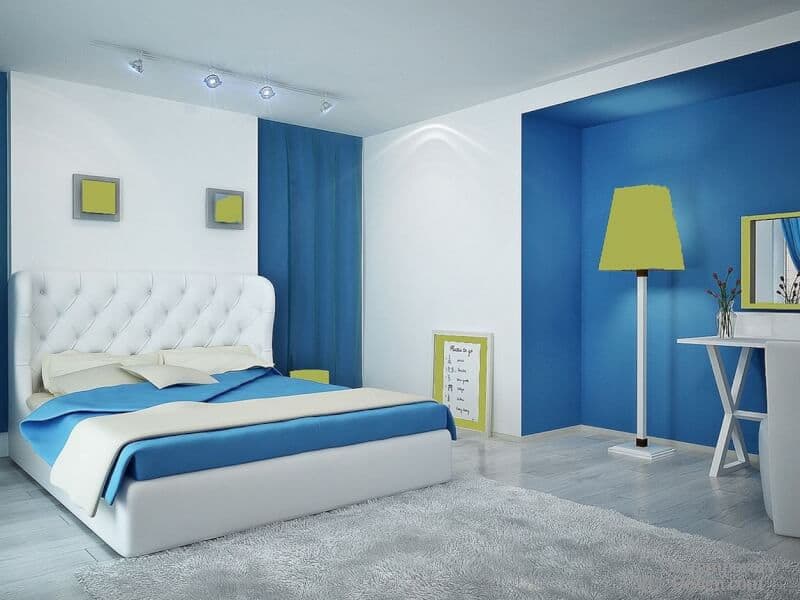 Lime green is another recommended color to refresh your blue bedroom's look. Unlike the previous bedroom inspiration with orange, use lime green on lampshades and ornaments of blue bedroom only.
However, you must first combine blue with white before bringing in the lime green. Spread white on the ceiling and some of the walls. use blue on the accent walls and door.
Now add some lime green touches on the lampshade of your floor lamp, on wall ornaments, and bedside table. Lime green mirror frame on the walls will refresh your white dressing table. Cover the floor with grey.
Blue Goes with What Color
Almost all bathrooms have blue interior. But yours can be different, by adding a little yellow in shower area. Yellow is bright color that helps making tiny bathroom feels wider.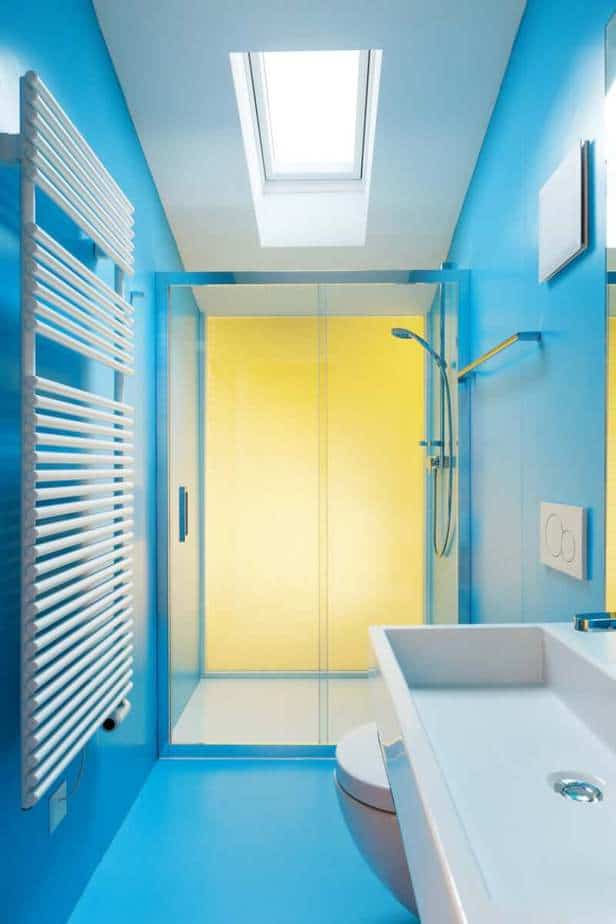 But what's better than yellow is white. It helps the tiniest bathroom looks wider. So, complete your blue painted bathrooms with white bathroom furniture and white ceiling, as well as white ornaments.
Add yellow only on shower area as an accent. It makes people focus on the yellow so they will forget measuring the width of your bathroom. You will instantly forget that you own a tiny bathroom.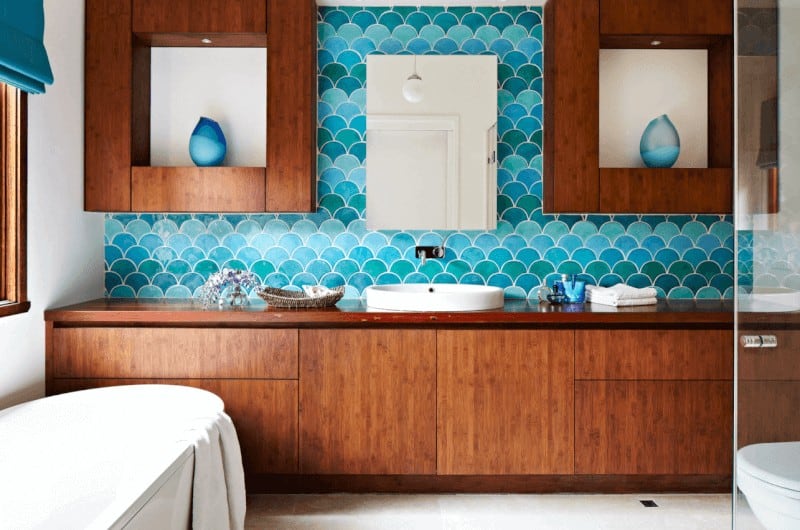 For bigger bathroom, wooden vanity in its natural color is highly recommended. This wooden vanity needs spacious area since it shouldn't be touched by water from bathtub and shower area.
Complete your huge wooden bathroom vanity with blue backsplash tiles on the walls. Some blue vases on your vanity would also be a gorgeous ornament. Don't forget to cover your window with blue blinds.
Then leave the other elements in the bathroom like bathtub, toilet, walls, floor, and ceiling in white. Brown and white are excellent colors that go with blue perfectly.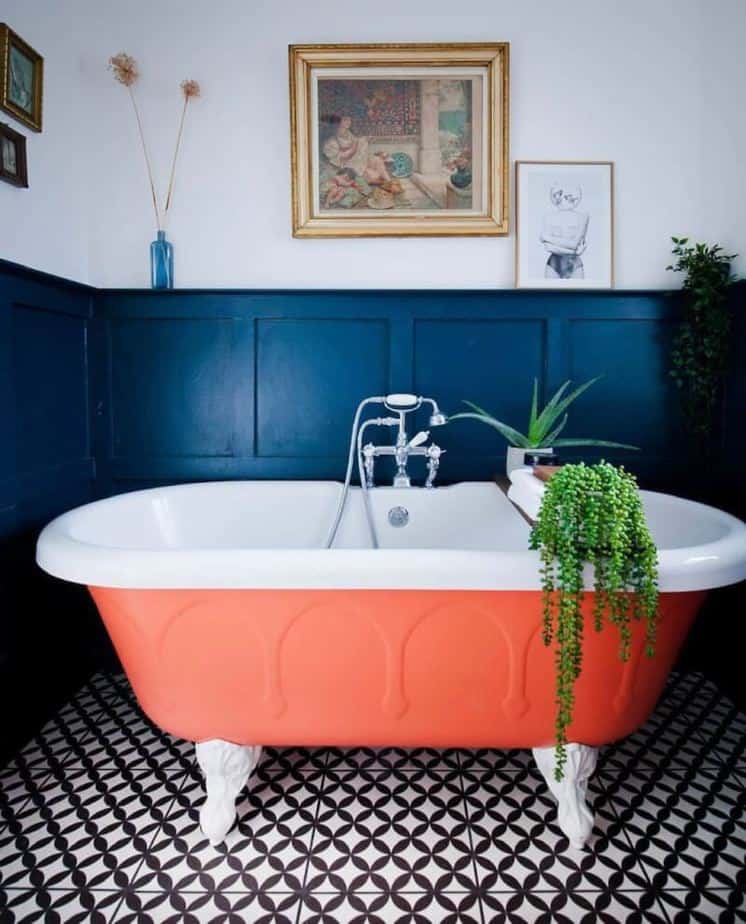 Looks so fresh, isn't it? You can also make your bathroom looks as fresh as this one by adding some peach splash to your blue bathroom. Peach bathtub is enough.
As an alternative for peach, you could use coral bathtub inside navy blue bathroom. Use that bathtub as focal point so use other darker colors around your coral and white traditional styled bathtub.
For example, use brown and white tiles for your bathroom floor. White upper walls and blue lower walls will be nice with clear blue vase and monochrome wall art. Add something green to beautify your bathtub.