Green is a refreshing color but it doesn't mean you can use only green in all rooms. You have to know what colors that go with green so you'll get the most refreshing and relaxing interior that welcomes you every time you open the door. Ready to learn about it?
Colors That Go Good with Green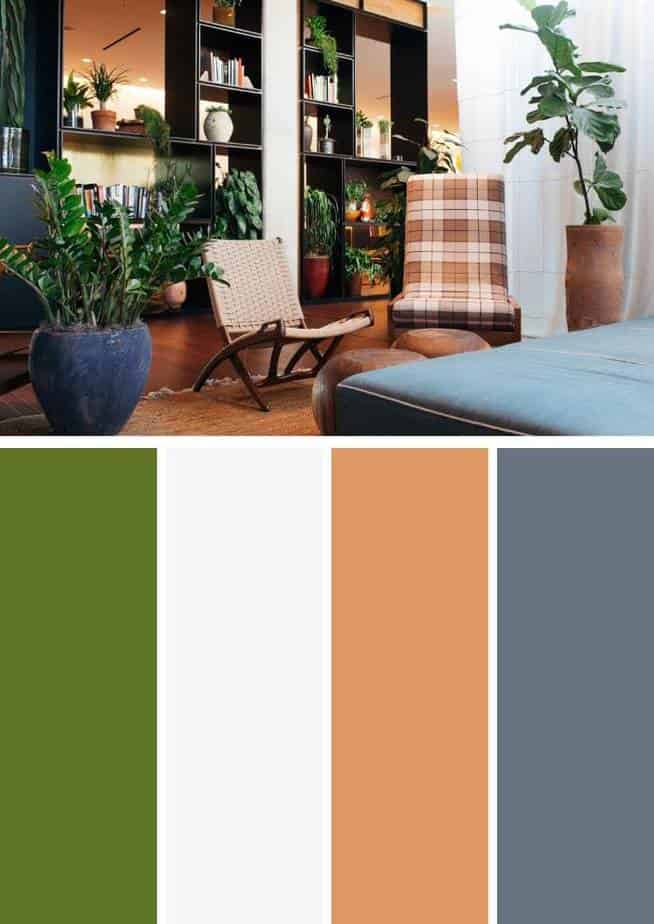 Where do you apply sage green? If it's the color of your living plants, your living room is going to need nature color like browns on floor, chairs, and ottomans.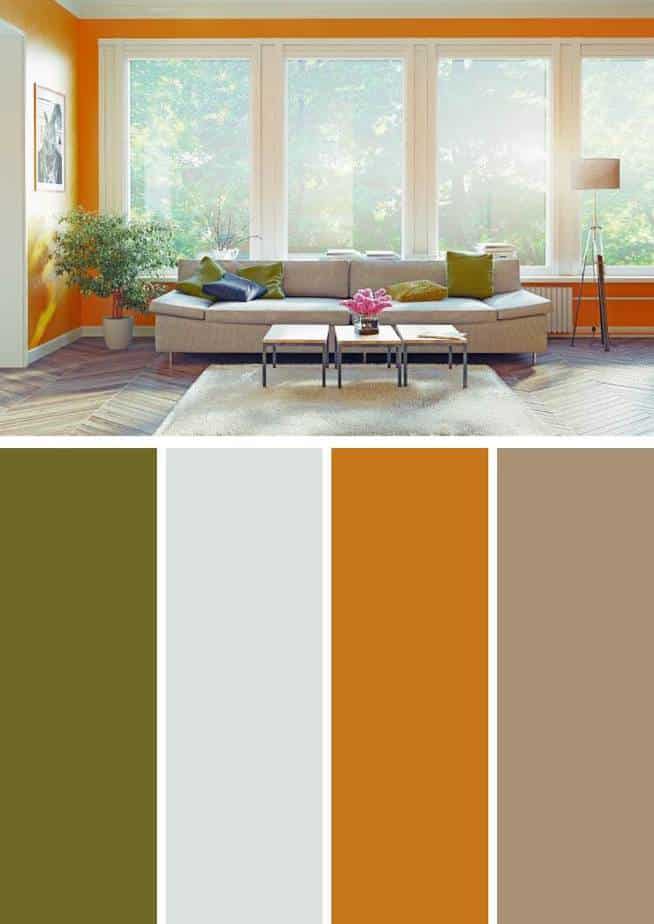 The green living plants and sage green cushions on light grey sofa will need fresh color as complement. Choose orange to paint the walls around the boring white window frames.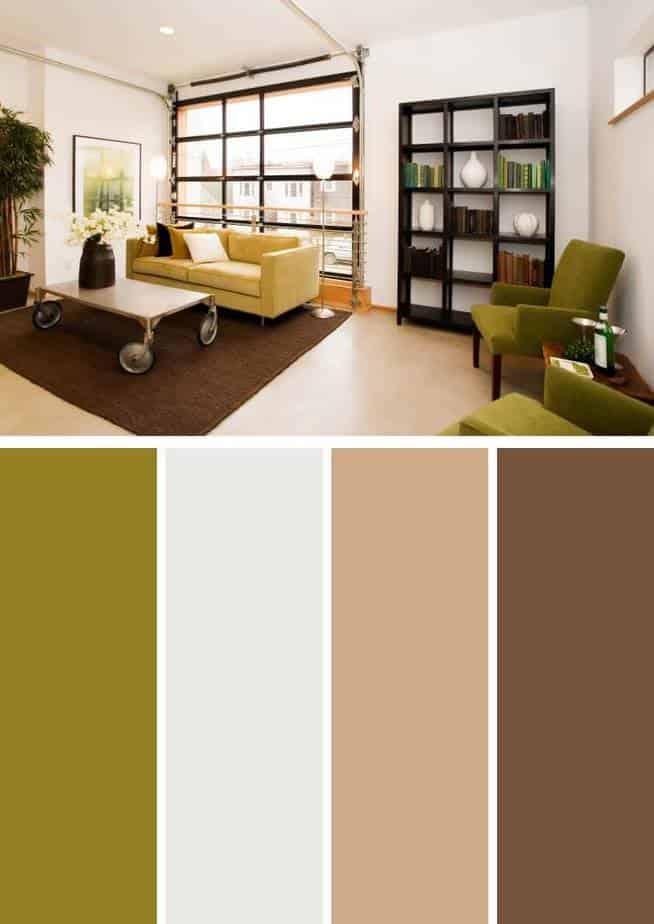 Sage green armchairs might be placed right next to white walls, but they're more stunning than ivory sofa on brown carpet. Neutral colors can never beat green but complete it.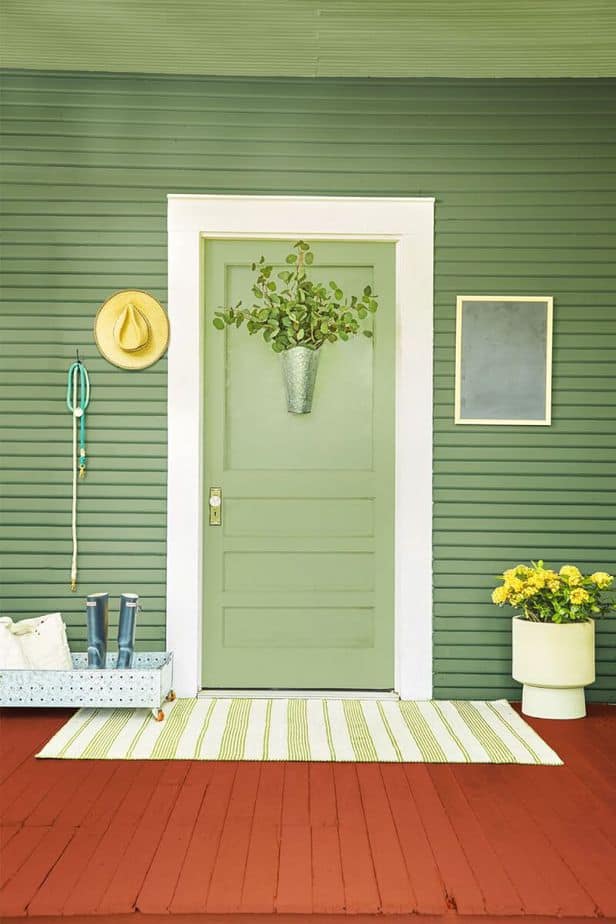 This inspiration can also make your living room feels fresher. Spread green in different shades, then add yellow flowers in white pot. Brown brick or wooden floors enhance natural look.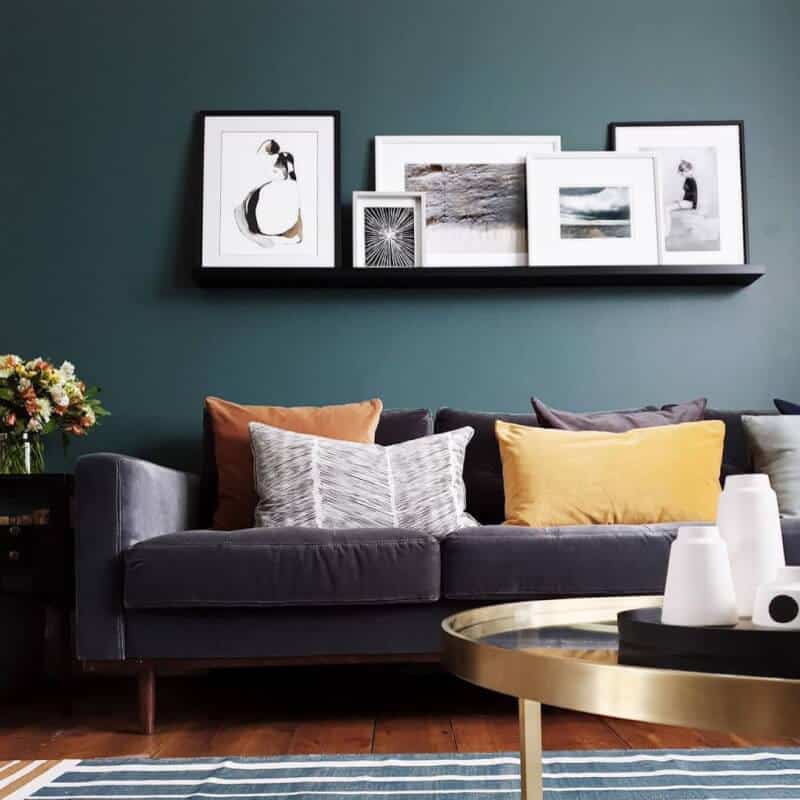 Your forest green living room wall will look awesome with elegant colors like gold. Gold table frame and gold cushions improve the elegance of the room along with monochrome colors.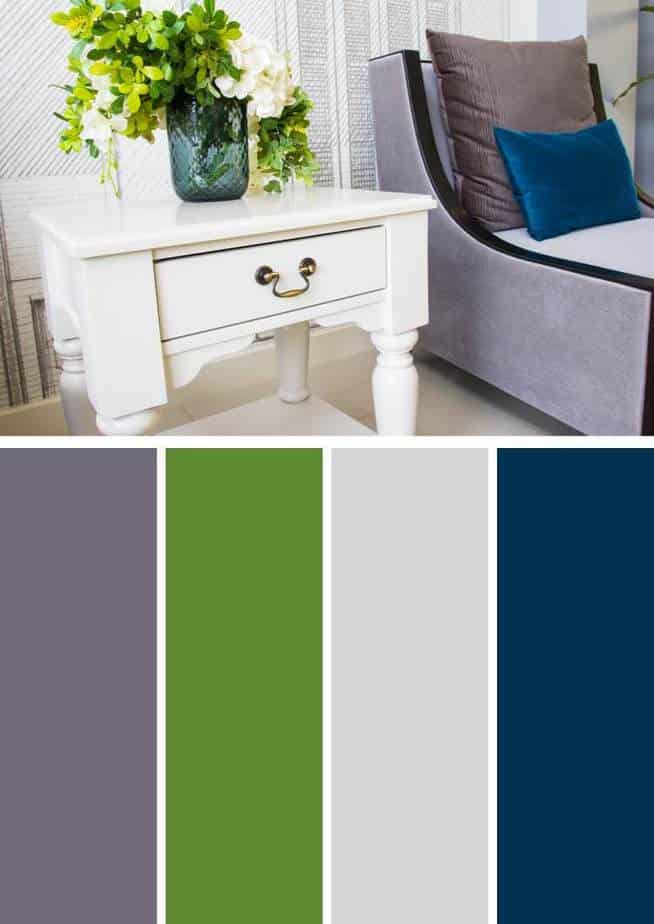 Green crystal vase holding fresh living plants with flower will be perfect when it meets neutrals like grey and white. Add royal blue to enhance the luxury of crystal vase.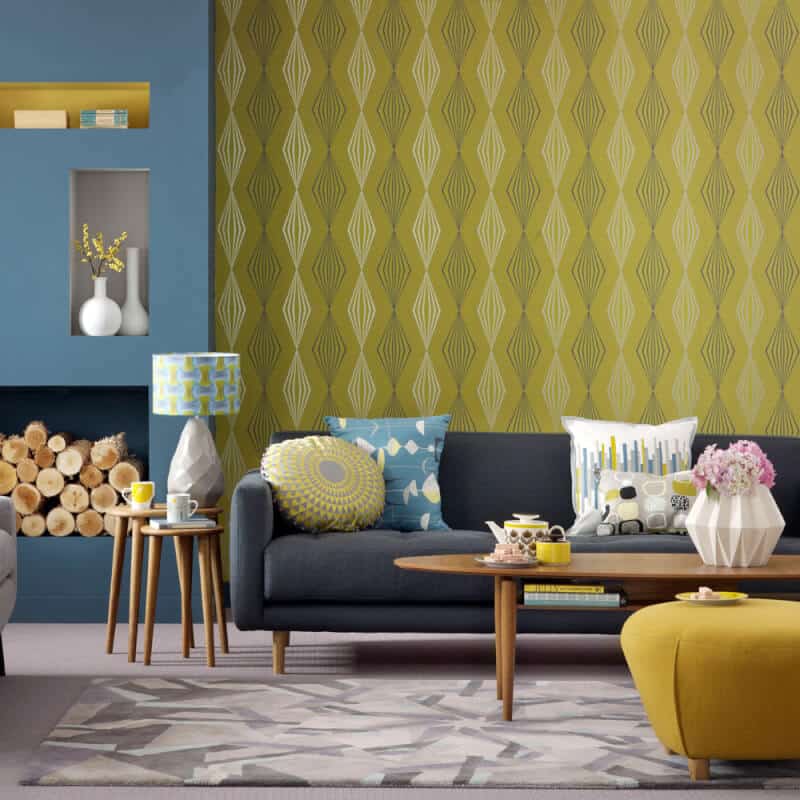 Yellow is one of beautiful colors that go with green. Cover the walls with any green shade you desire. Then complete that green wall with yellow ottoman that brings freshness.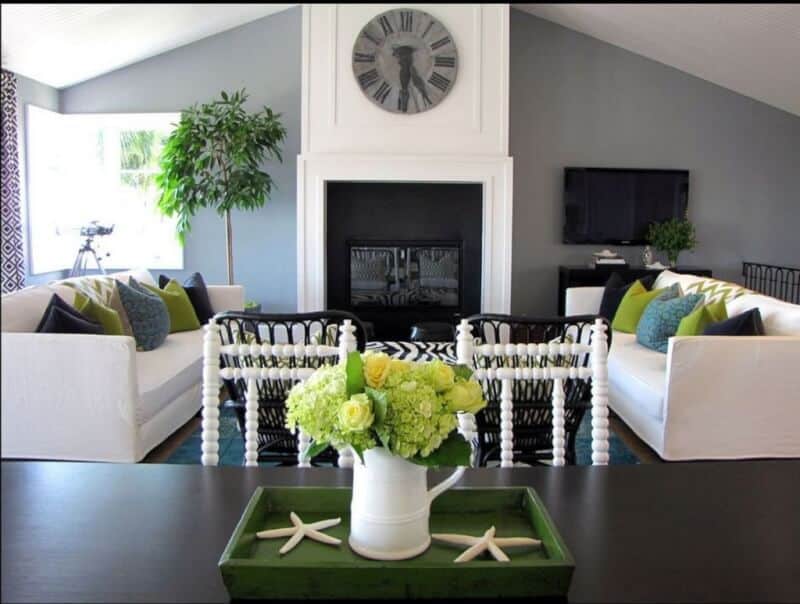 Not only with green, black and white are perfect for the other colors. Black and white living room looks boring with no green. Spread green on sofa and as ornaments.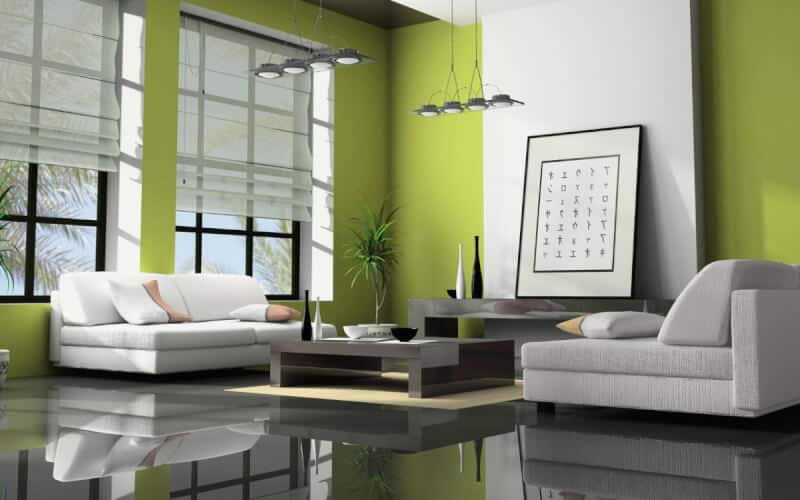 Or spread lime green on the walls of living room. Place white sofas and grey coffee table on black flooring. This is a brilliant decorating idea for modern living room.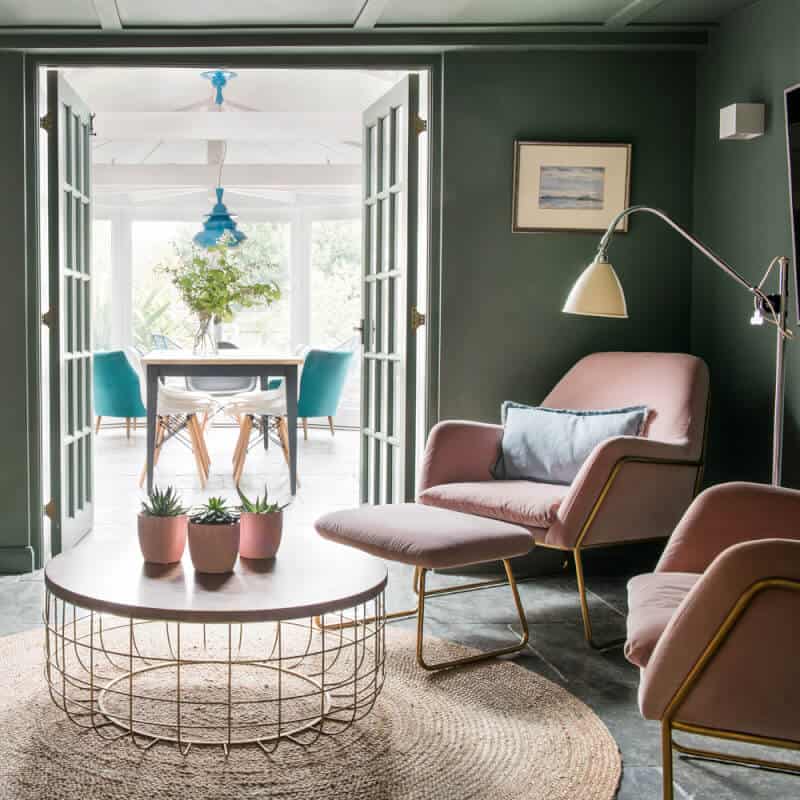 Do you know that sage green goes well with peach? You should try this. Green painted walls will be fresher with peach armchairs and ottoman in front of the walls.
Good Colors That Go with Green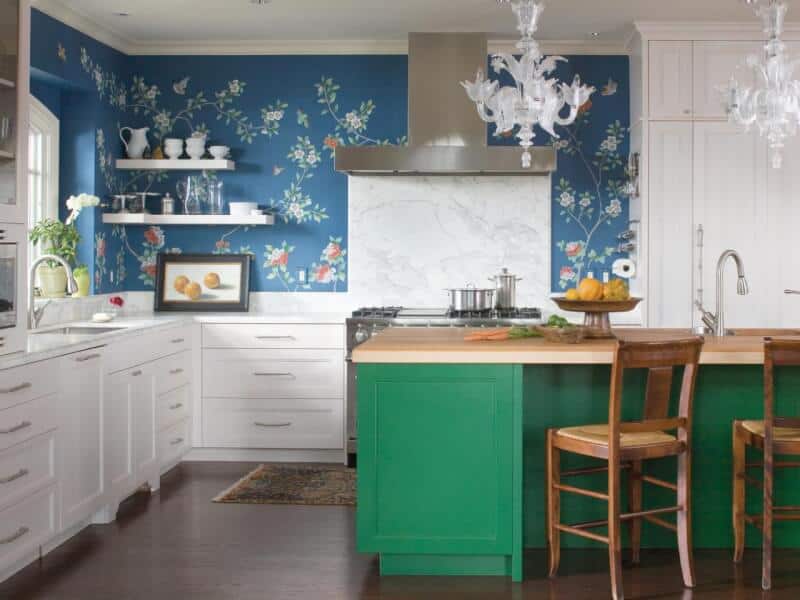 Let's move to dining room. If your dining room also has green wooden table like this, complete it with wooden chairs in natural color. They'll make the room feels fresher.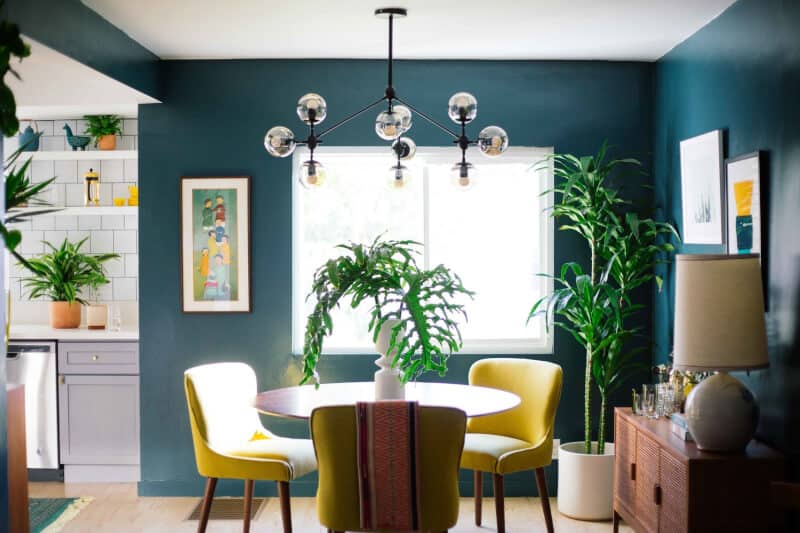 Yellow and brown are two colors that go with green, especially forest green. Forest green painted walls, yellow dining chairs, and brown colored wooden furniture create jungle themed dining room.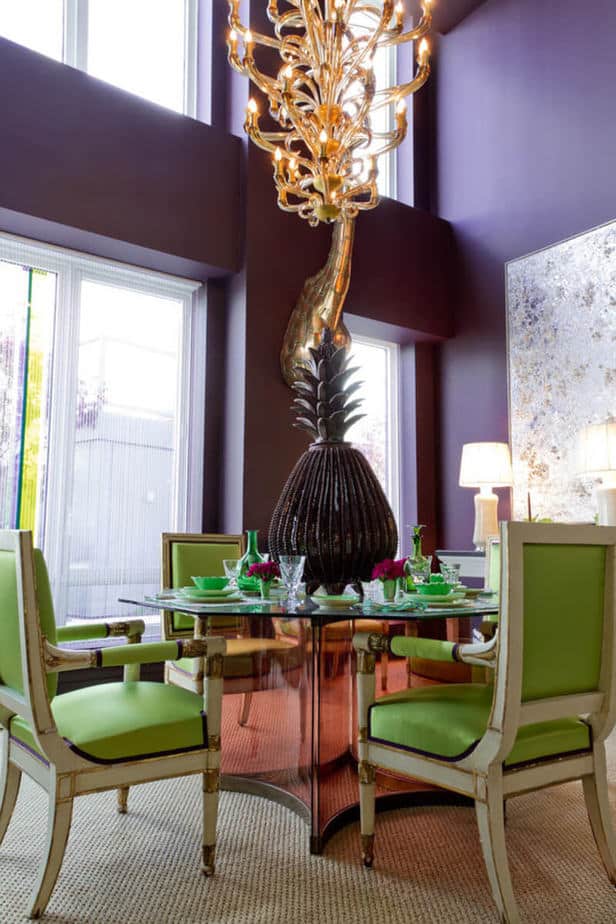 Here comes another jungle themed dining room. Light green wooden chairs are making the room feels natural when they meet natural themed ornaments in black and branches styled pendant lamp.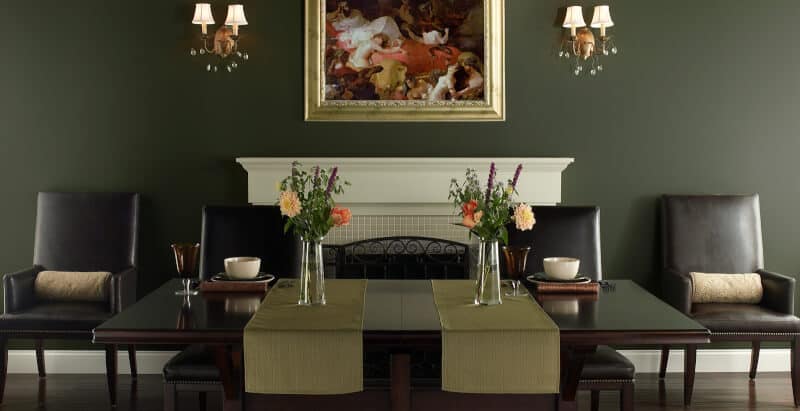 When decorating a modern dining room, dark grey on walls is a must. Then add black colored furniture in the middle of room. Sage green touch on table perfects everything.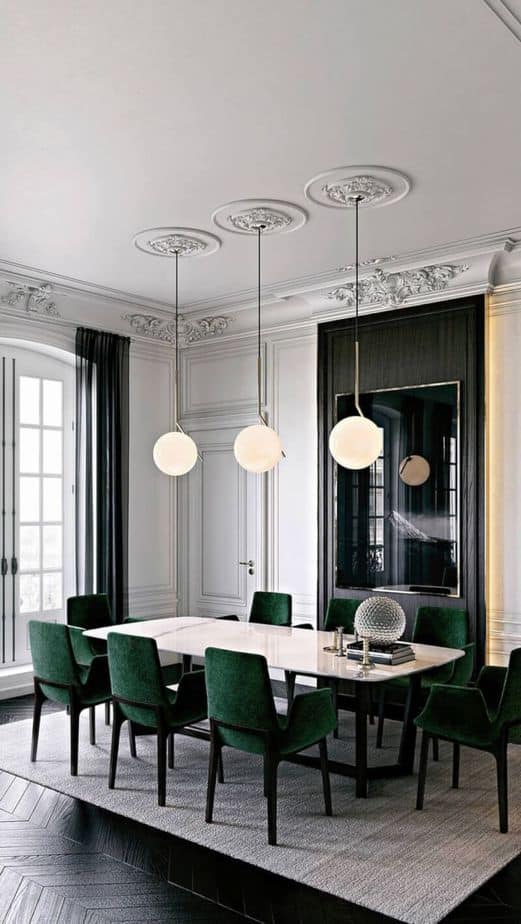 But for smaller dining room, white walls are the best. White dining table surrounded by emerald green chairs would be nice over black wooden floor. Make sure there's enough lights.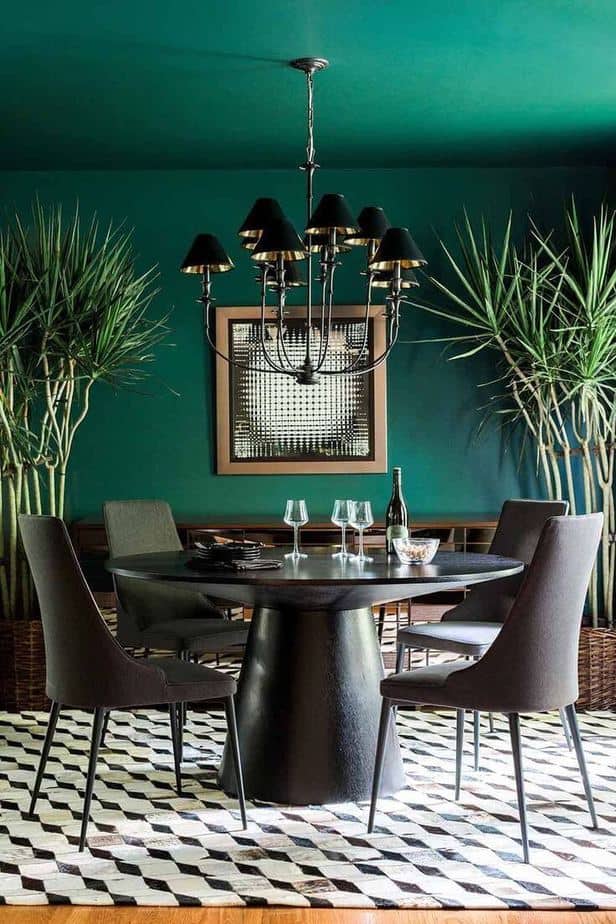 Consider charcoal grey to complete your beautiful green walls and ceiling. Charcoal color on dining table set that's being neutralized by monochrome carpet is best friends for fresh green color.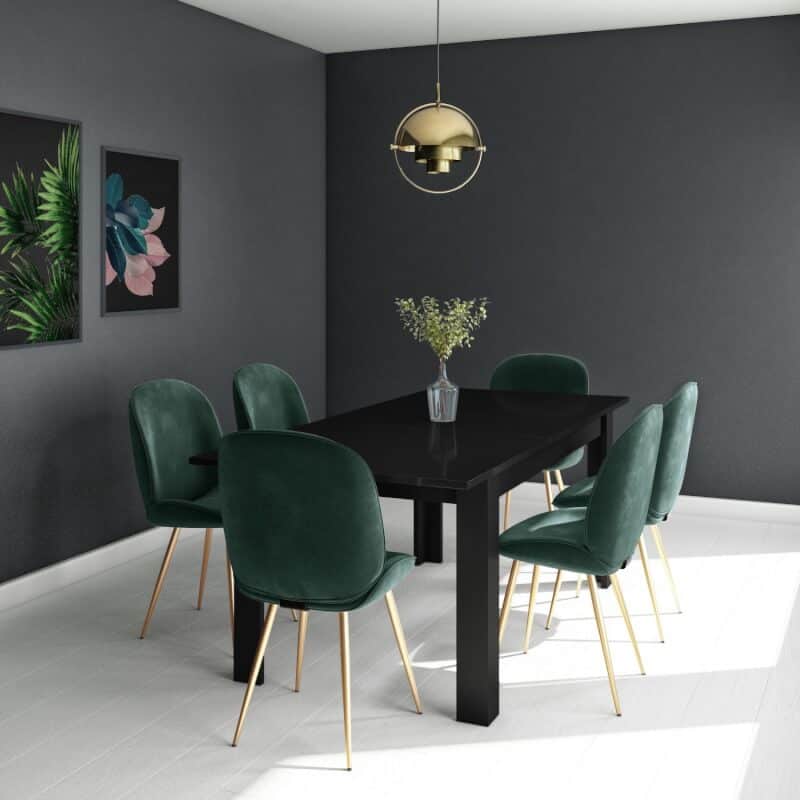 Black and white are undoubtedly best friends of forest green. But there's also gold. Simply hang gold pendant lamp on white ceiling and let it beautify your simple dining room.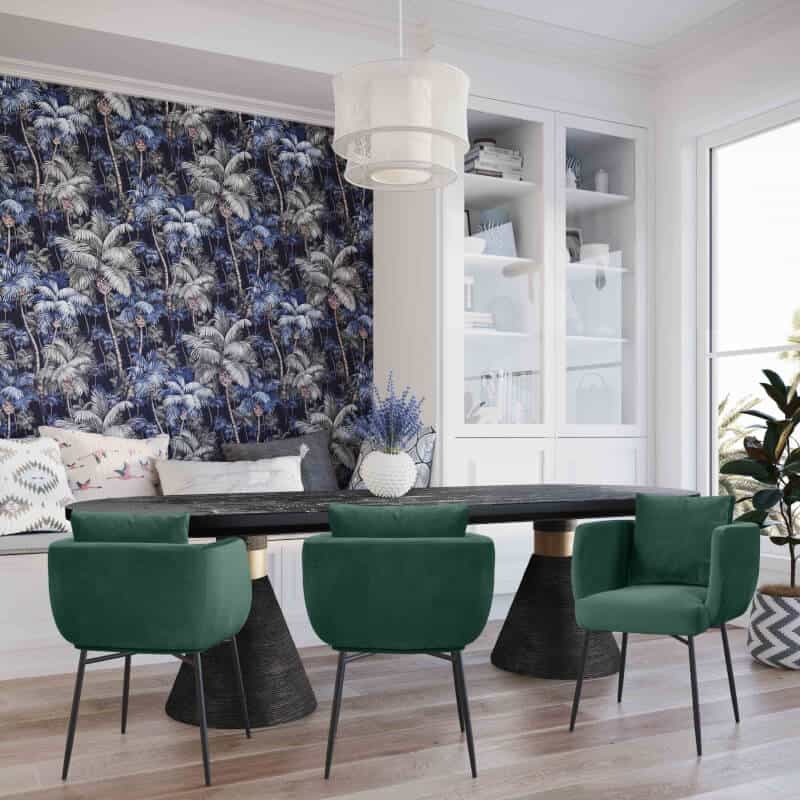 Don't forget blue, it's a beautiful complementary color if you want your dining room looks like the nature. Blue and green are the colors of earth so use them together.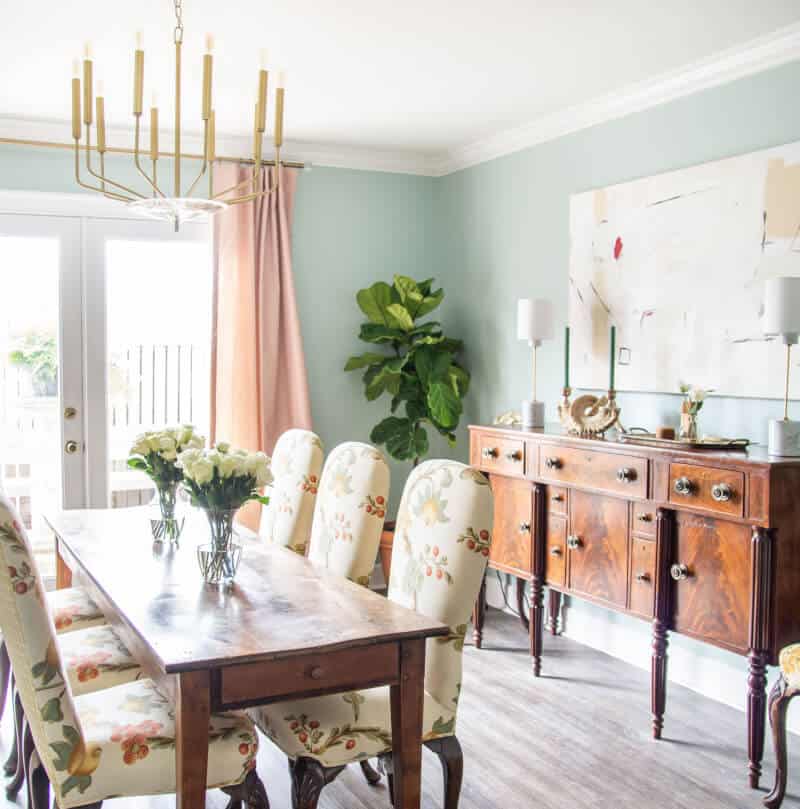 For me, the best green shade is the pastel one. Make your shabby chic dining room feels better with pastel green on walls and floral motif for the dining chair.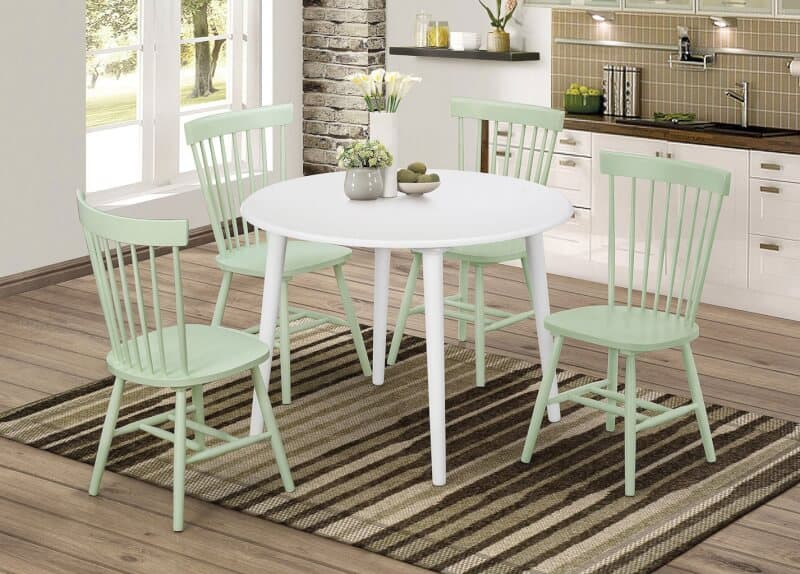 Or spread pastel green on wooden dining chairs. Then place them around white dining table above brown striped rug for extra cozy dinner every night. Don't forget the ceramic centerpiece.
What Colors Go with Green in Bathroom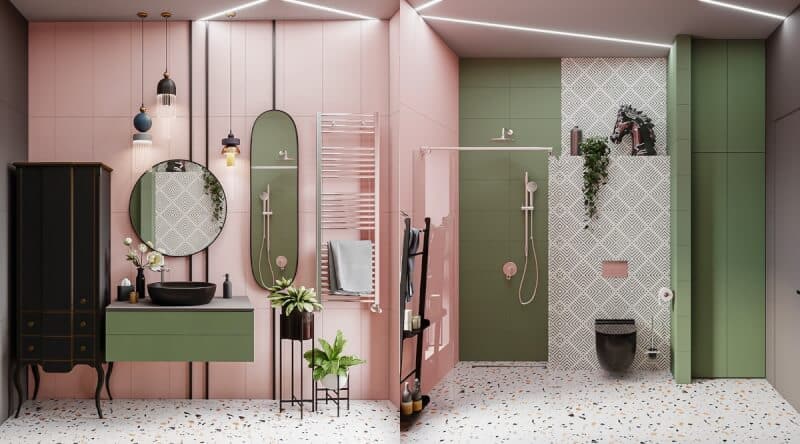 Can you imagine how your bathroom looks like when you blend green and pink together? Chic and marvelous. Cover walls with pink and use green furnishings with some brown touches.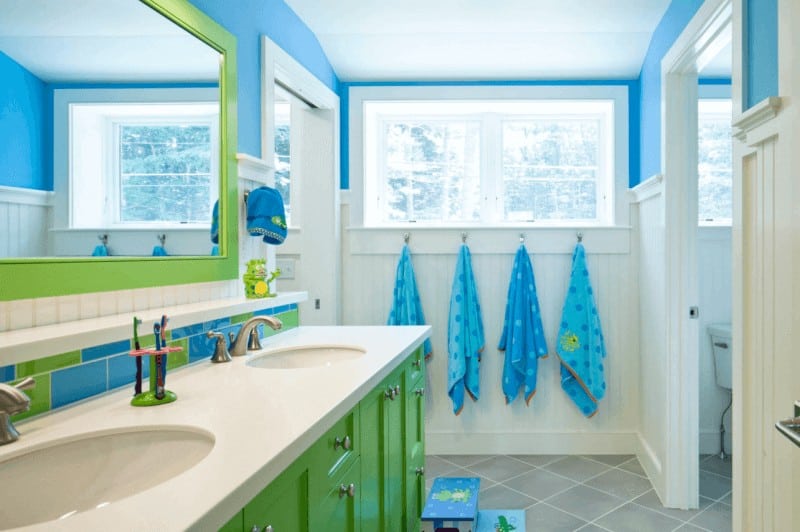 If you don't want it too feminine, complete your green bathroom with blue. Spread blue and white on bathroom walls then use green for vanity set. Grey floor neutralizes them.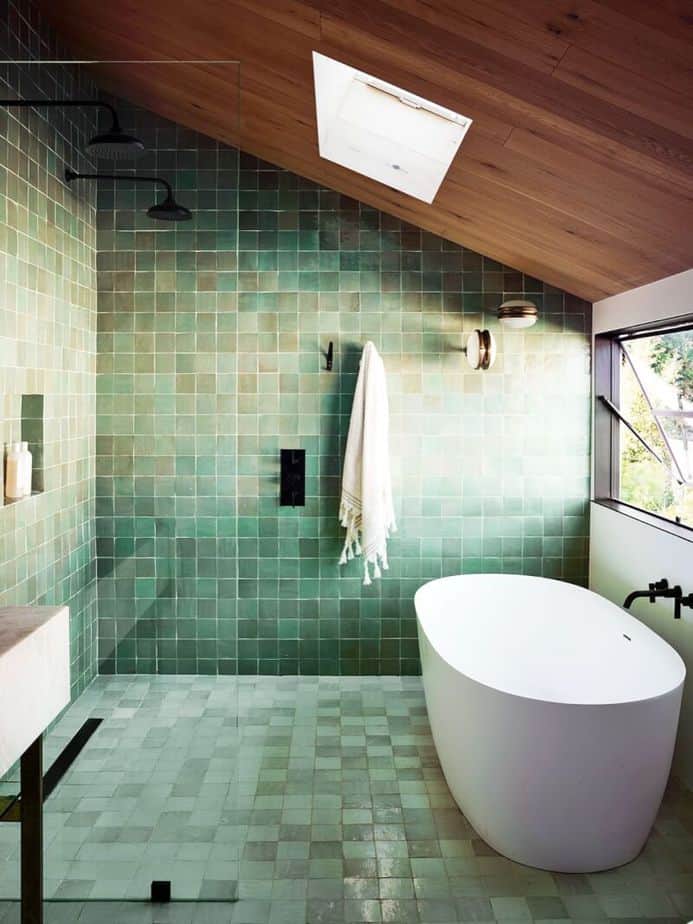 For those who want their bathroom to feels more natural, completing bathroom with brown wooden ceiling is the best idea. It matches the pale green tiles on walls and floor.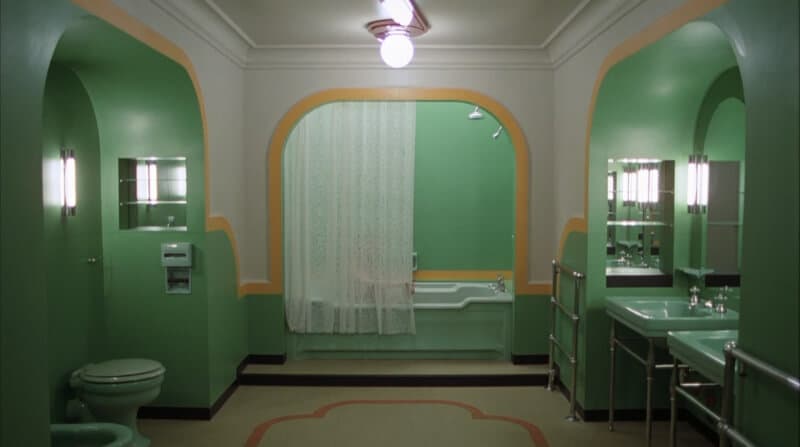 The presence of yellow makes bathroom looks more adorable. Even though the yellow is just separating the white and green parts of bathroom walls, it's enough to recolor the room.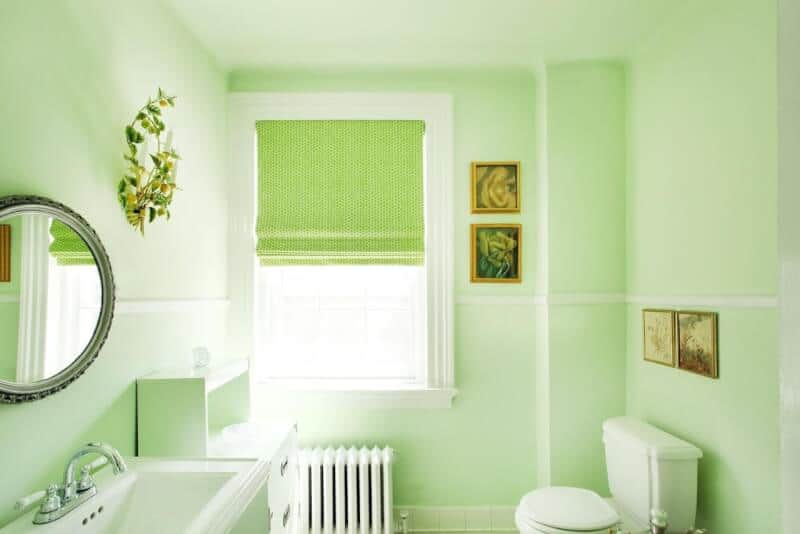 Two other colors that go with green you have to try are silver and gold. Use them as wall mirror's and décor's frame. They're going to look awesome between greens.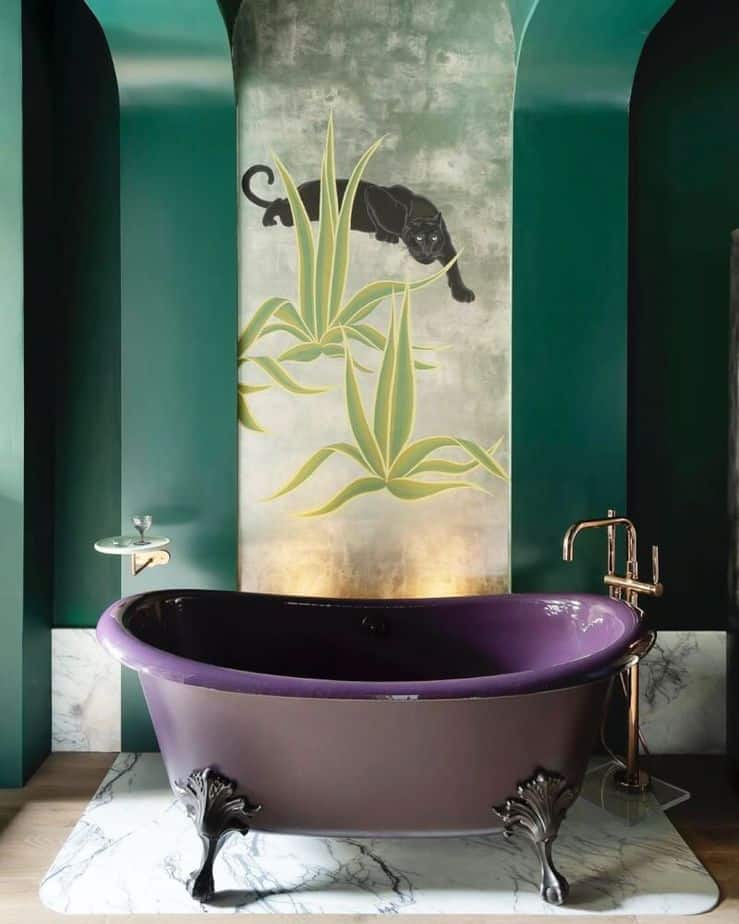 Forest green on the walls with a unique accent wall makes you feel like you're relaxing in the jungle. Complete it with luxurious purple bathtub with gold colored water faucet.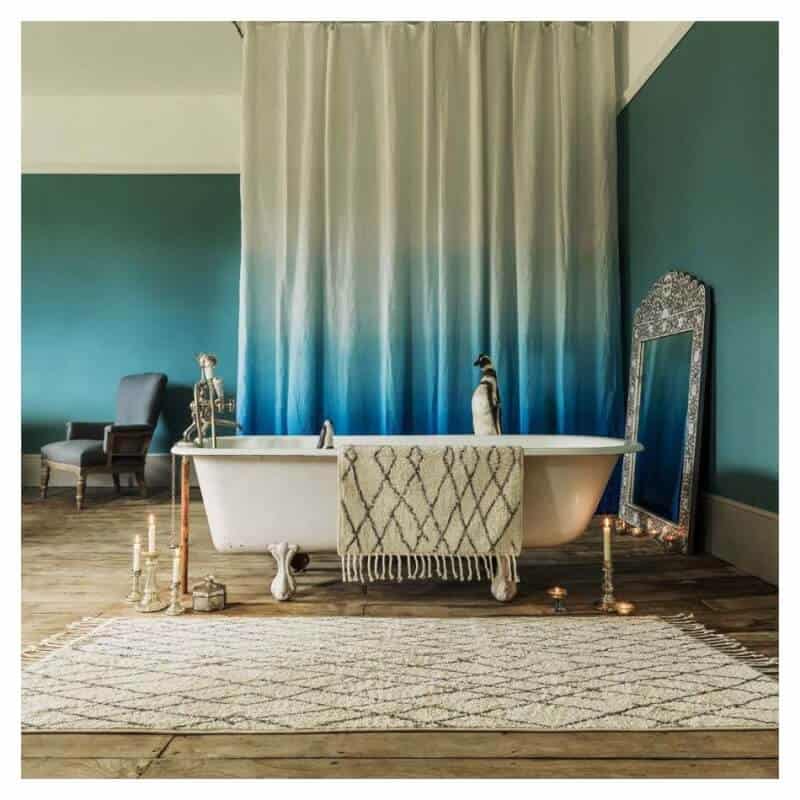 What a beautiful gradation, isn't it? I love how white meets blue and separating white tub from green walls. Add more ivory on floor to make bathroom looks more marvelous.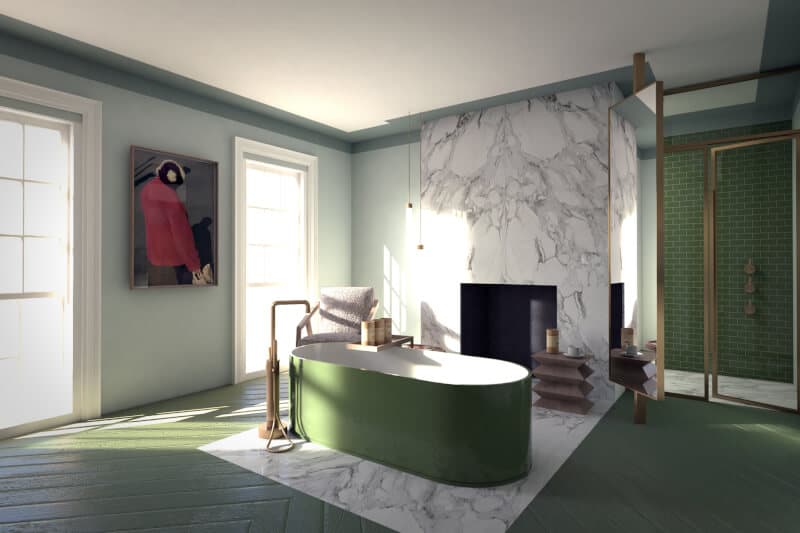 Red can also be a nice friend for your green bathroom. But don't spread it too much. Hang a simple red ornament on the wall above the green bathroom floor.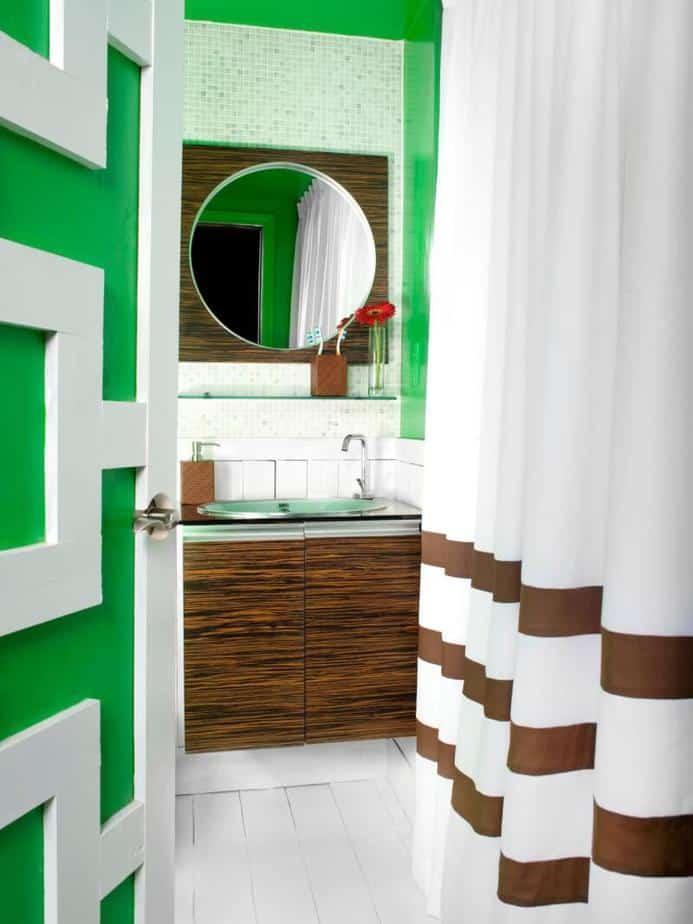 Wants something natural for bathroom? Combine leaf green color with brown. Spread a little brown on bathroom vanity and on the shower curtain along with white. Make it balances green.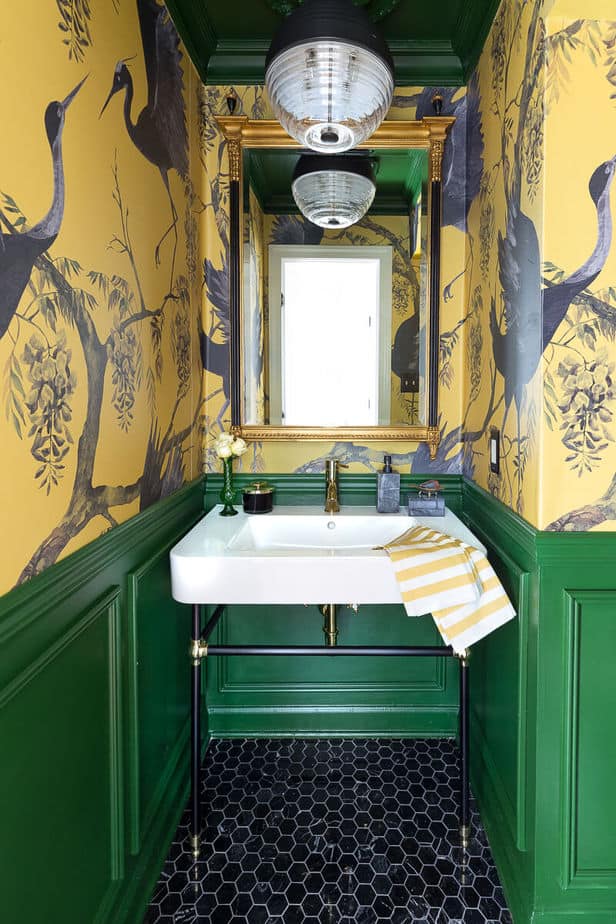 Combining everything together is a brilliant idea. Try using green and yellow together. Then add charcoal wall decal and gold mirror frame to make your green bathroom looks more special.
Colors to Go with Green in Bedroom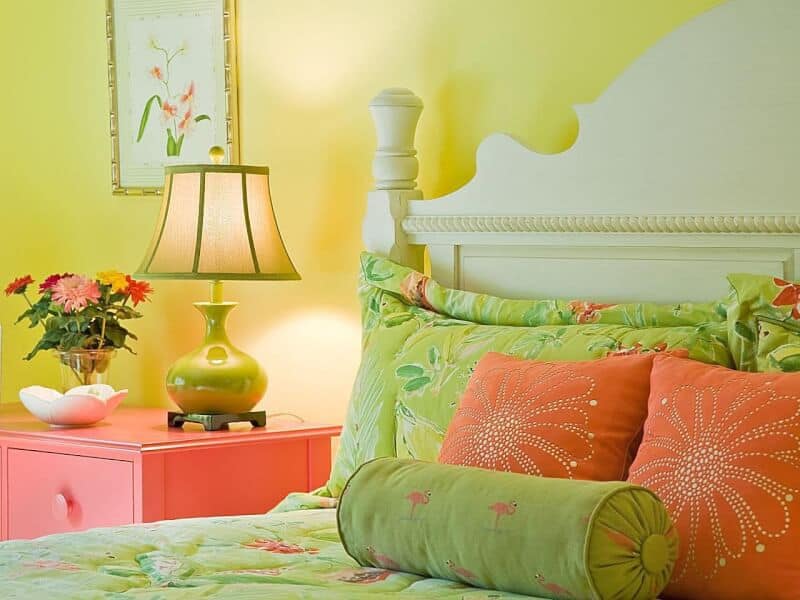 Bedroom color must be chosen really carefully. If you're decorating your girl's bedroom, consider combining green with peach. This combination with some white touches creates a fresh room for her.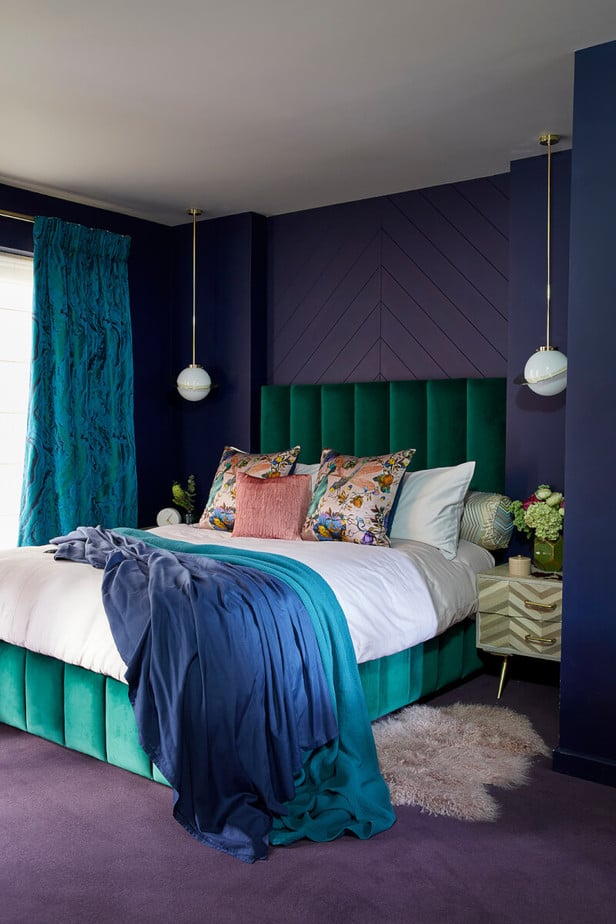 When it comes to redecorate master bedroom, consider combining green with dark purple or royal blue. Those colors spread luxury to your master bedroom. Use white in order to neutralize.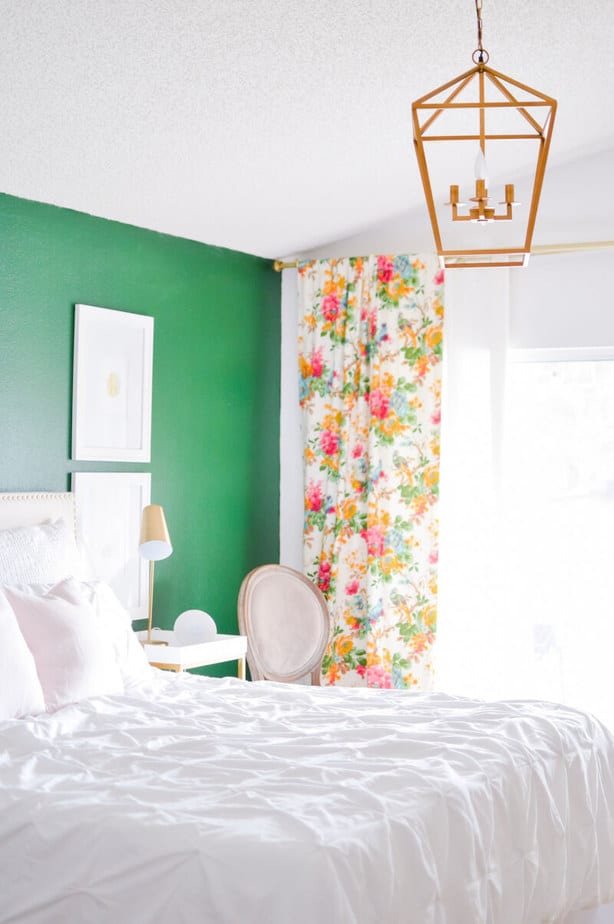 Tiny bedroom needs white everywhere. But you can still paint the accent wall in green. Then cover white window with colorful floral curtain to make the room feels like garden.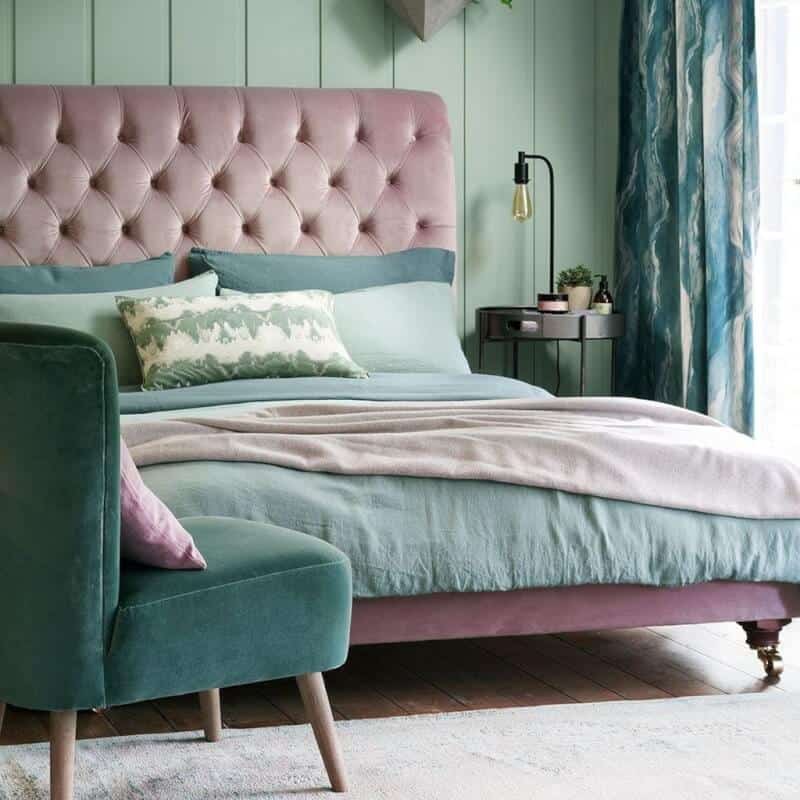 Soothing master bedroom can be yours now, with pastel green on walls, bed cover, and chair. Use pale pink bed and cushion to make the room feels even more calming.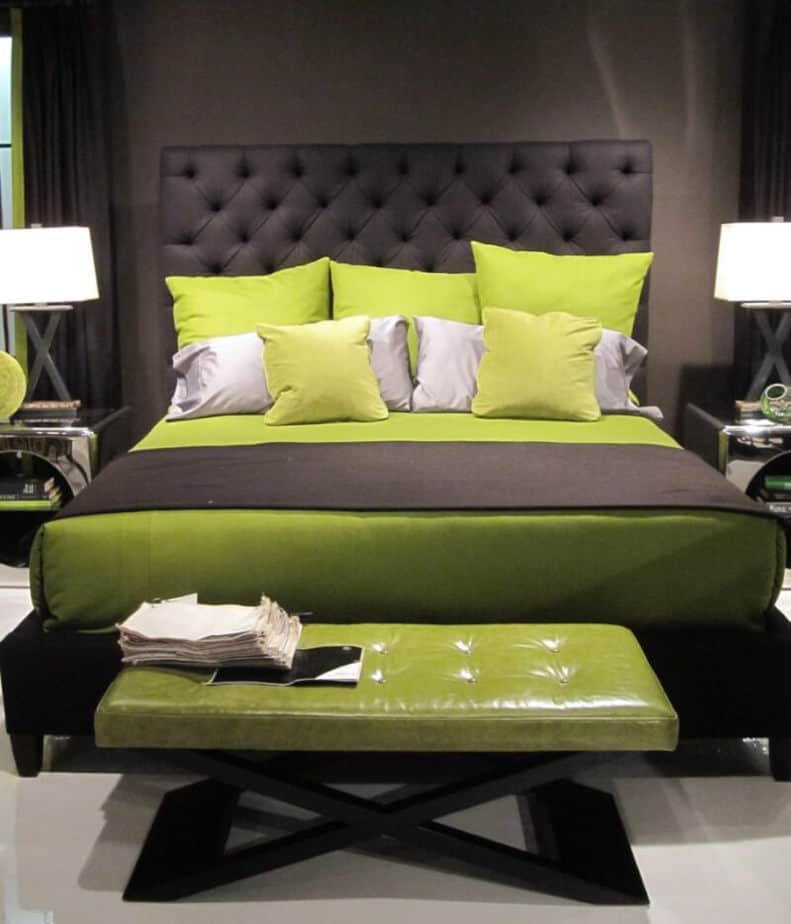 In order to create masculine styled bedroom, cover your bed with lime green bedsheet. Leave the bedframe and other elements in the room in dark grey for more mysterious accent.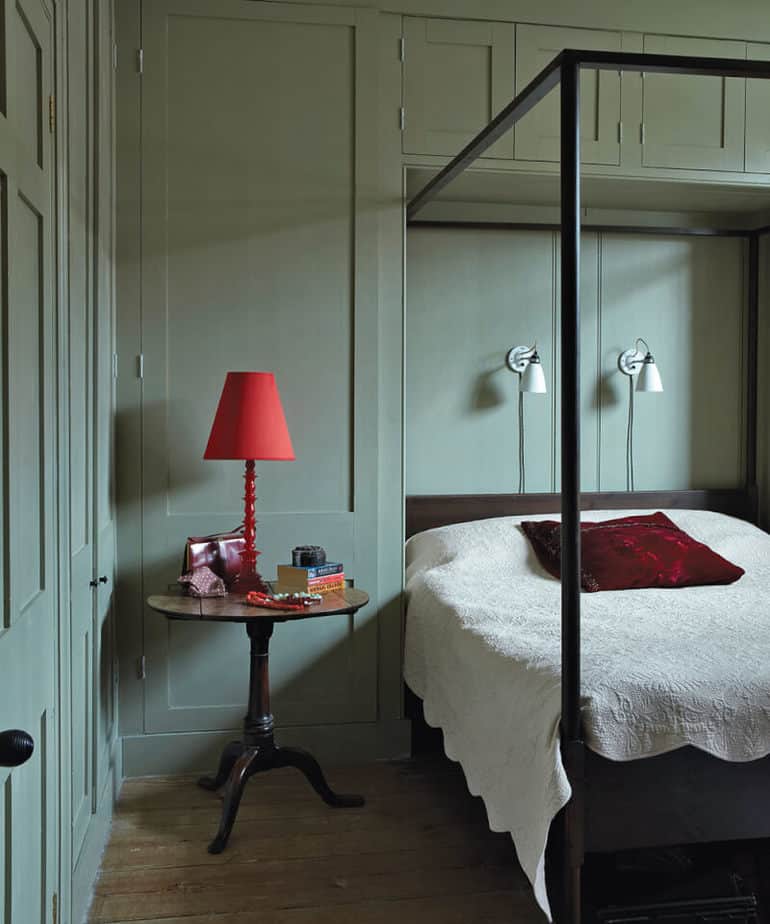 One of adorable colors that go with green is red. Paint the entire walls in sage green then add some touches of red like adding red pillow to white bed.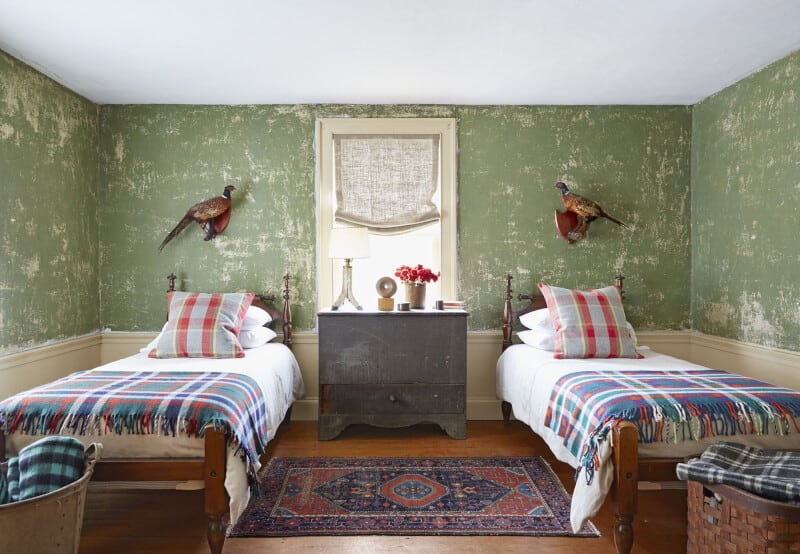 Green can also be matched with various motif. For example, add plaid to the bed and unique patterned rug on wooden floor. Hang natural wall décor on green bedroom walls.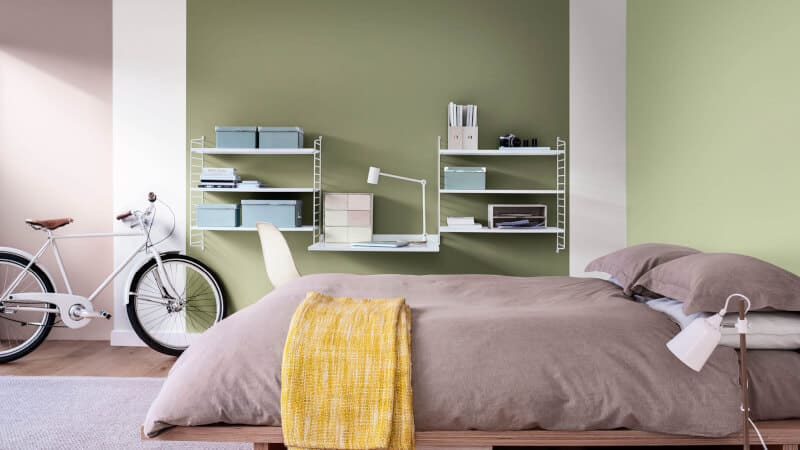 Khaki is the other awesome partner for green bedroom. Cover your bed with khaki bedsheet and let it blends with pastel green walls. Fresh yellow blanket creates an inviting atmosphere.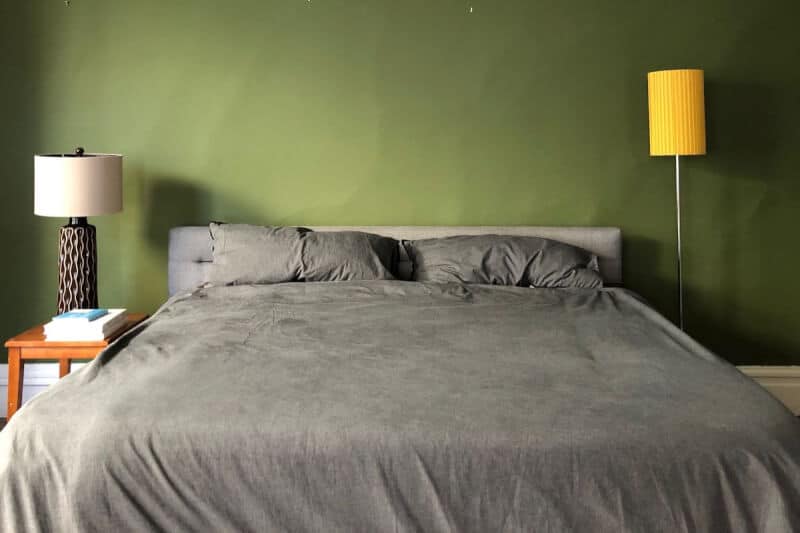 Or you can replace the khaki with light grey color. But leave the walls in green. Then instead of throwing a yellow blanket on bed, place a yellow floor lamp.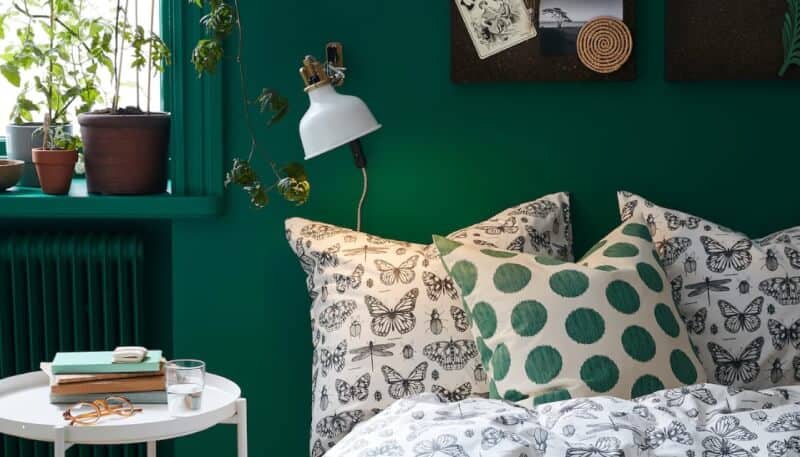 Green bedroom walls need something neutral for the bed. Fill your green bedroom with monochrome bedsheet and pillows in your favorite motif. This room owner loves butterflies more than anything.
Colors That Go with Green Kitchen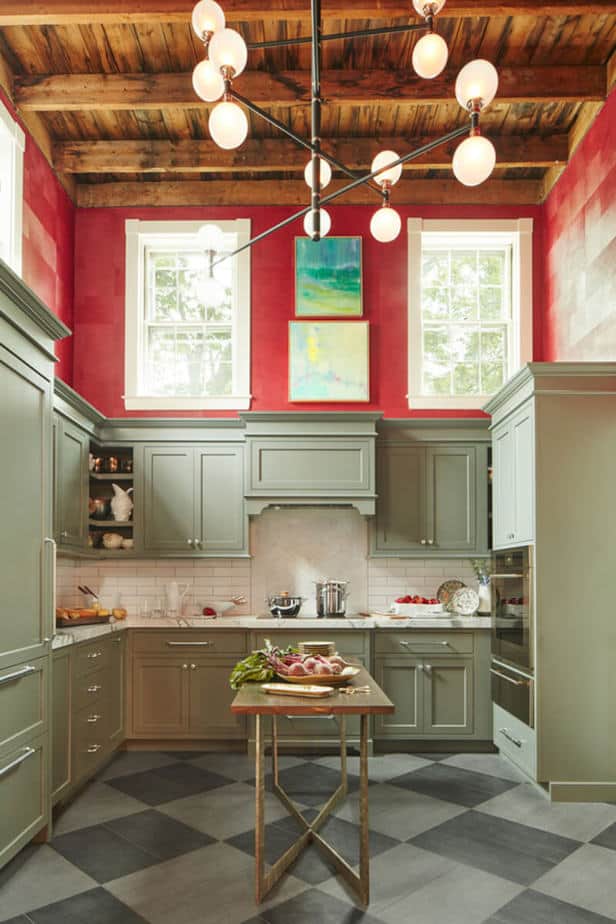 Make a unique kitchen by combining three different colors. First, sage green for cabinets. Then use red for the walls. Finally, natural wooden color on the ceiling. You'll love this.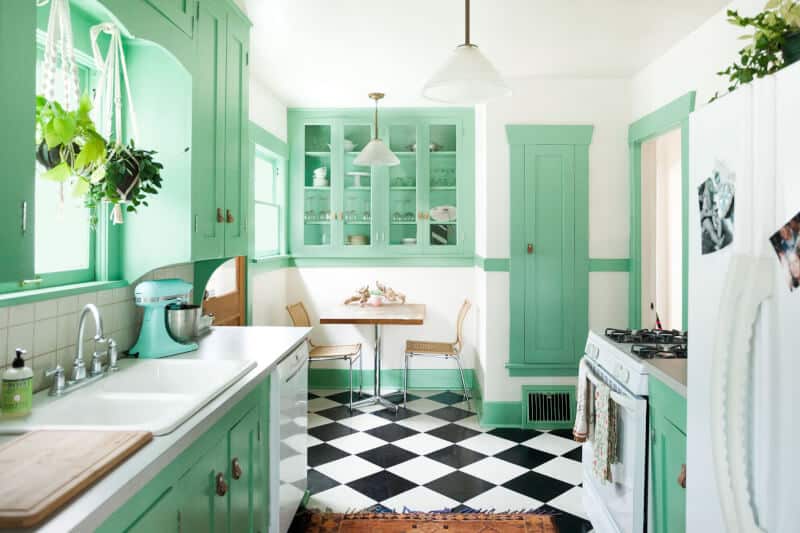 Just like many other rooms, your green kitchen would be simpler yet more adorable when it meets monochrome. Black and white checkered flooring goes well with pastel green kitchen cabinets.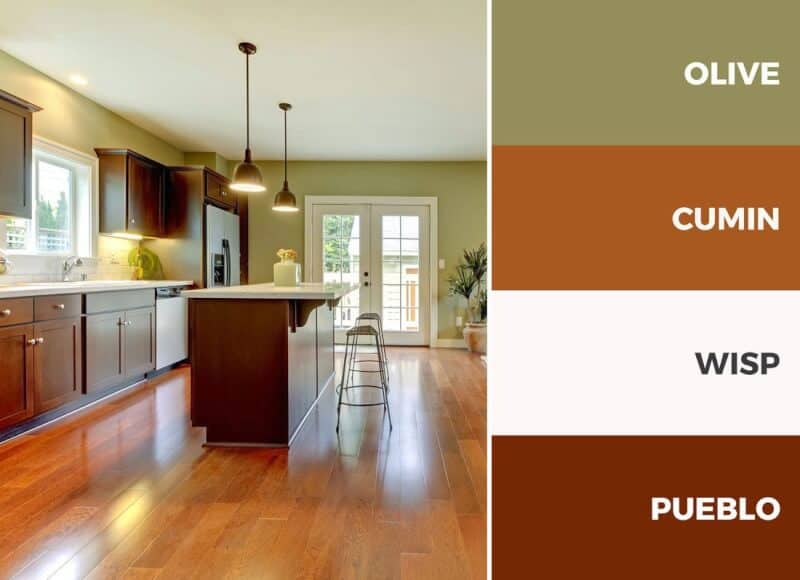 There are three colors that go with green you have to try. They're pueblo, wisp, and cumin. They'll make your kitchen looks natural, especially if it has olive green walls.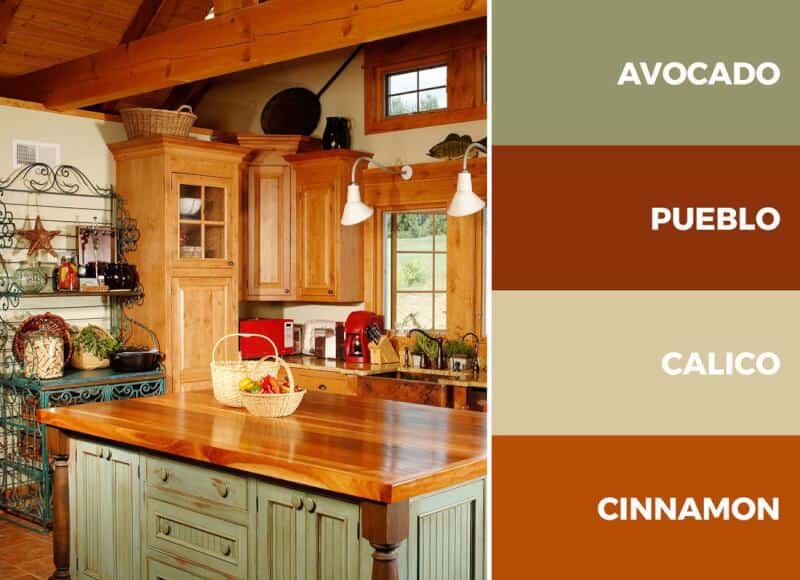 Or if your kitchen has avocado green colored kitchen island, make it looks more stunning by using some natural colors like cinnamon, calico, and pueblo. They will create unique kitchen.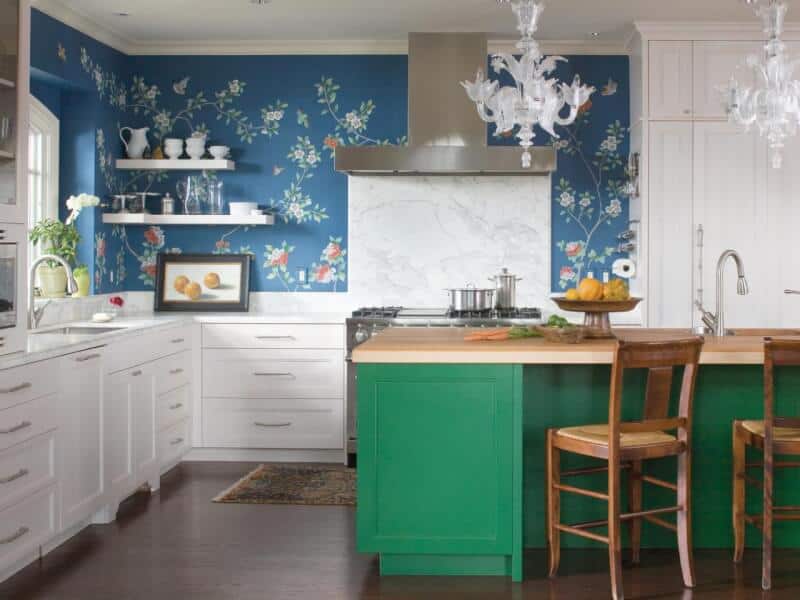 Green kitchen island needs something fresh for kitchen walls. And there's nothing fresher than blue. Get wallpaper in cute blue to cover your kitchen walls. Leave the others in white.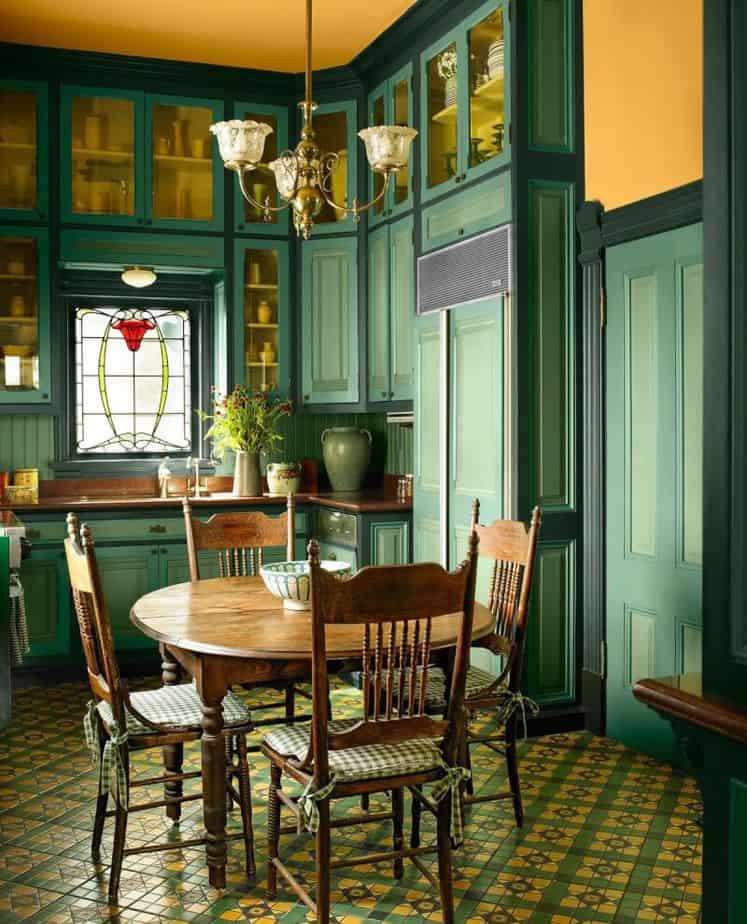 Tinier kitchen needs to combine green with light colors like yellow. Spread yellow on the walls and ceiling of your kitchen, also on the floor. Use green only on cabinets.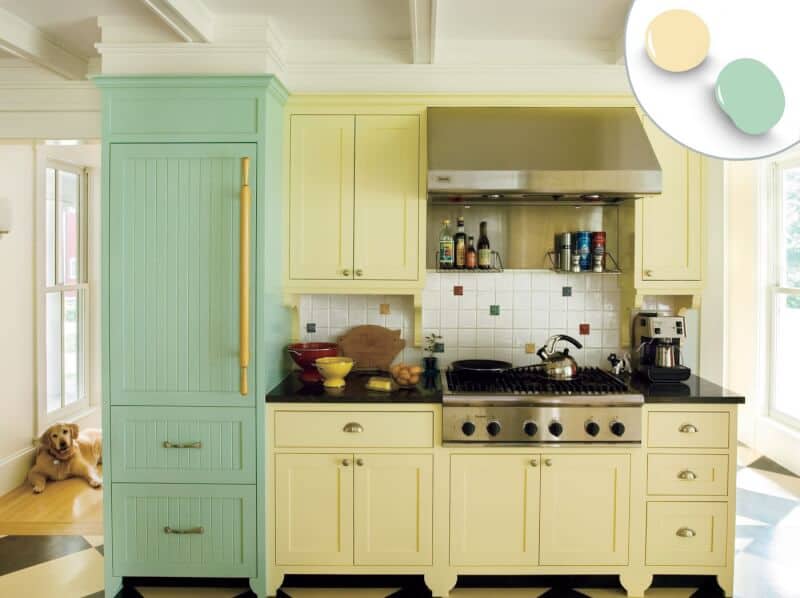 There are two colors that will give you the chicest kitchen ever: ivory and pastel green. In this case, use pastel green only as centerpiece. Use ivory for other cabinets.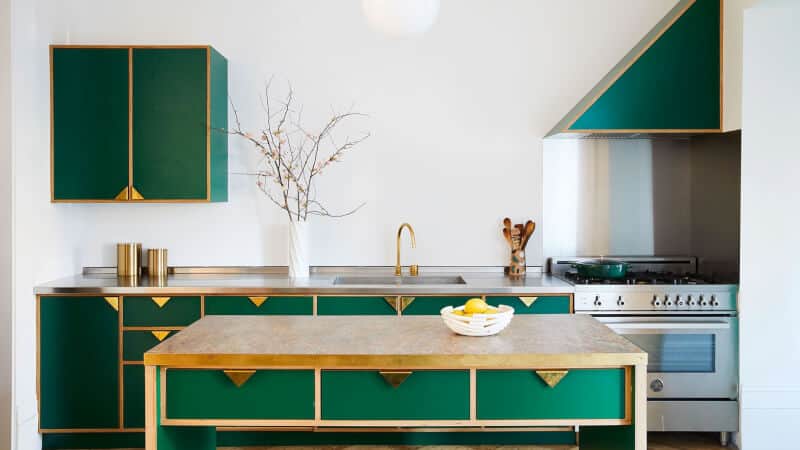 Luxurious kitchen would be yours if you're brave enough combining green with gold. Frame all your green cabinets with gold lines. They'll look stunning in front of white kitchen walls.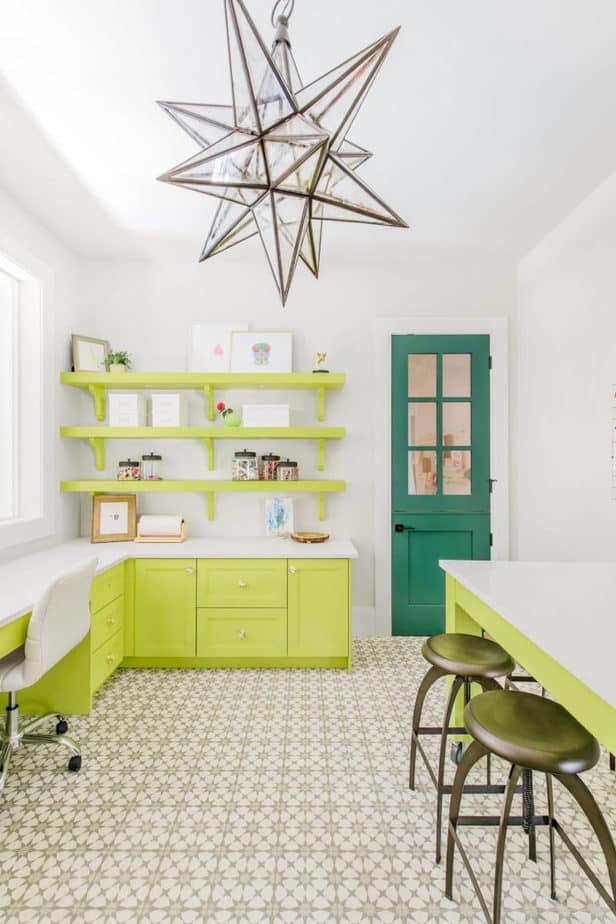 Industrial styled kitchen needs not only fresh colors like white and lime. Add something shiny like bronze pendant lamp and stools for breakfast bar or kitchen island. This looks unique.
Use green in assorted shades to make your kitchen looks colorful. For example, add barstools in different shades of green. Then install backsplash in another green shade for unique kitchen.