When you need to cherish everyone who enters the house, you need to spread orange. It makes everyone happy instantly. However, too much orange is going to hurt our eyes. So, pick one or some of colors that go with orange and apply them in all of your home interior.
Colors That Go with Orange Color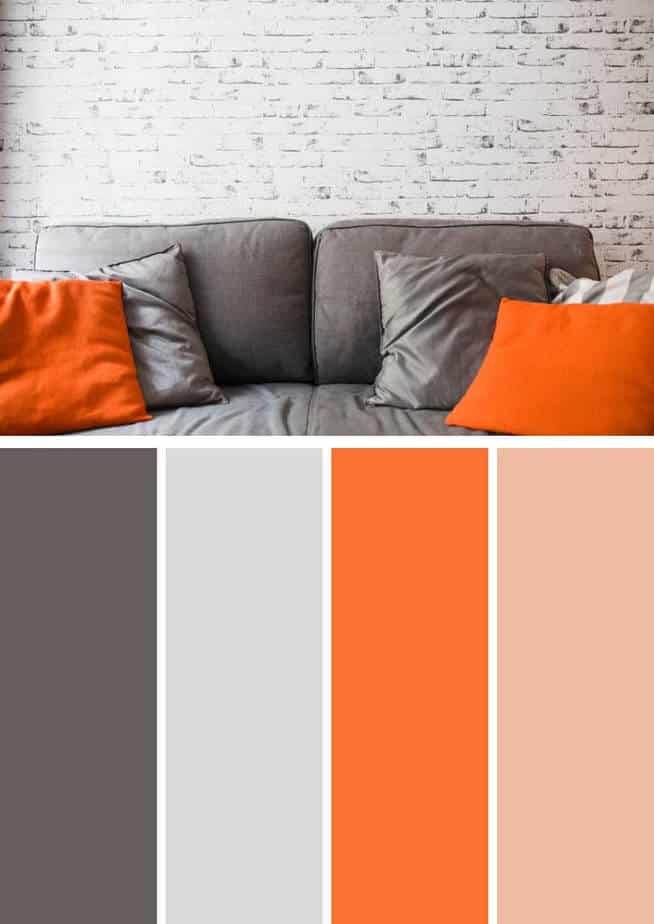 First space our guests would see is living room. Welcome them with the fresh orange and some grey shades. Grey will maintain the minimalist design where orange ornaments are placed.
Leave your living room walls in lightest grey. It brings the minimalist look to your modern living room. Then place huge sofa in darker grey color. Both grey shades are colors that go with orange.
Fresh orange color on cushions will change everything. Those simple cushions refresh the room's atmosphere and attract everyone to come and sit on the grey sofa. Add some coral touch if you want.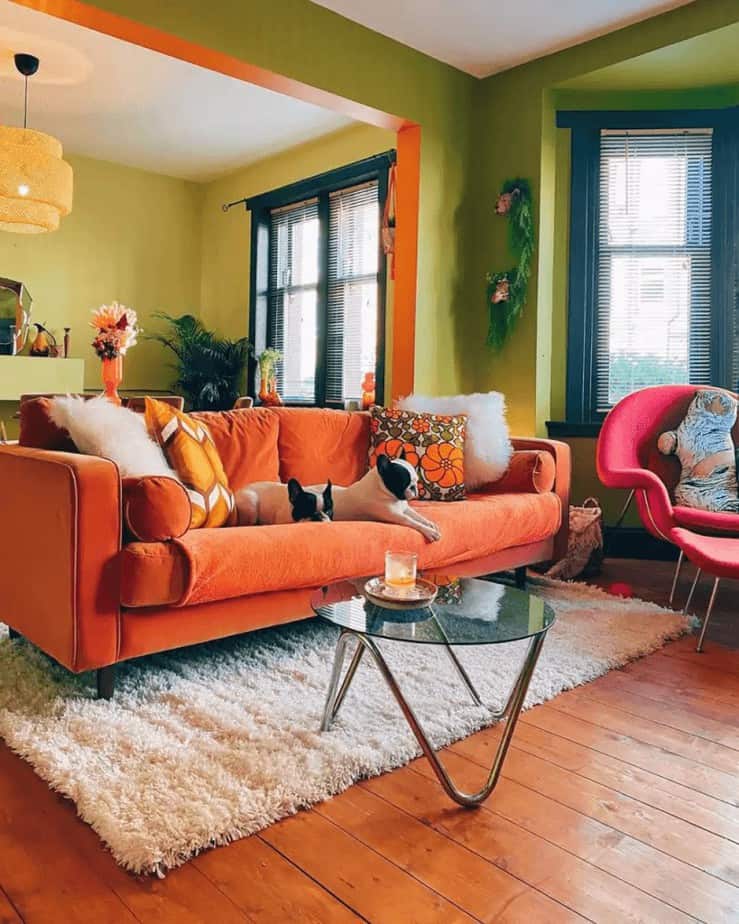 This room reminds me of fruits. It has fresh orange color on the long sofa complete with white furry cushions and orange colored cushions with unique prints.
It also has green colored walls around the room. Green has a special effect to sooth you. So, spread it on walls and hang a darker green ornament on the wall.
Place an armchair in hot pink that looks contrast with the blue window frame behind the armchair. Ivory rug on the floor and metal colored coffee table match the woods on living room floor. Your guests won't get bored here.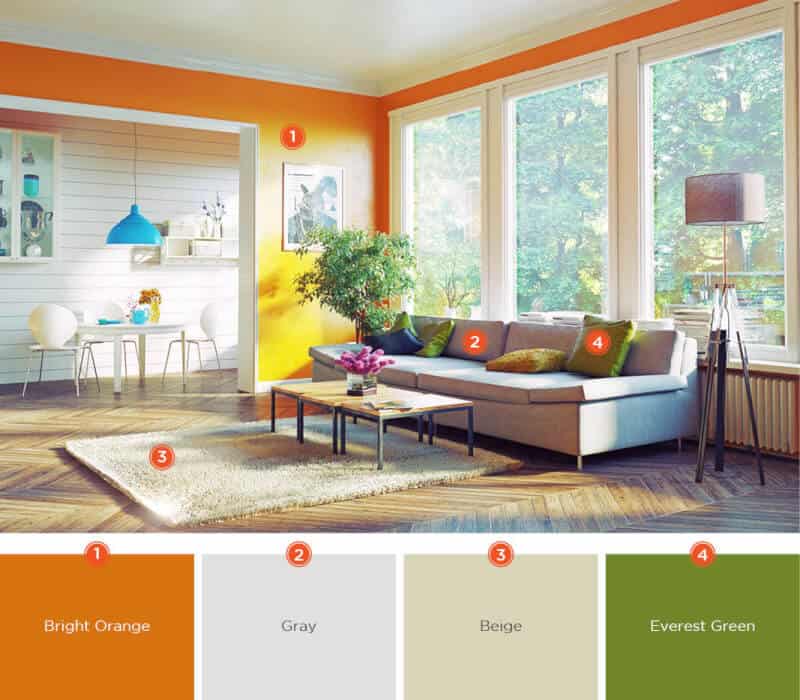 Or you can reverse the way. Paint your living room walls with bright orange color. Since the walls are so bright, frame them with white ceiling and white window frames.
Then add a long grey sofa into the room. Complete your grey sofa with Everest green cushions, blue cushion, and mustard yellow cushion. Those cushions refresh the pale color of the sofa.
Cover your wooden wall with beige colored rug and wooden coffee tables. Some green living plant on the corner and purple flowers on the table in living room makes your living room looks alive.
What Color Goes with Orange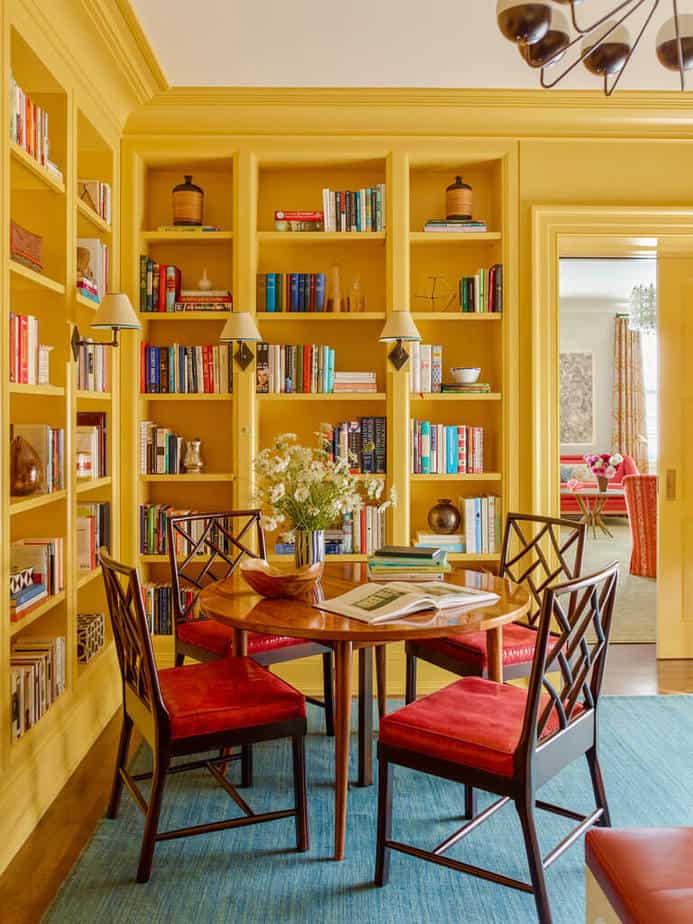 Don't hesitate using both yellow and orange in one room. You'll love how incredible your dining room is with yellow on the walls and orange on the dining table set.
Pick light yellow for the walls of your dining room, under the white ceiling. Complete those yellow walls with minimalist wall sconces. Then cover your floor with unique contrast color like blue carpet.
Place a round wooden dining table on the carpet along with orange dining chairs framed with brown woods. An elegant pendant lamp that matches the sconces will create a wonderful dining room.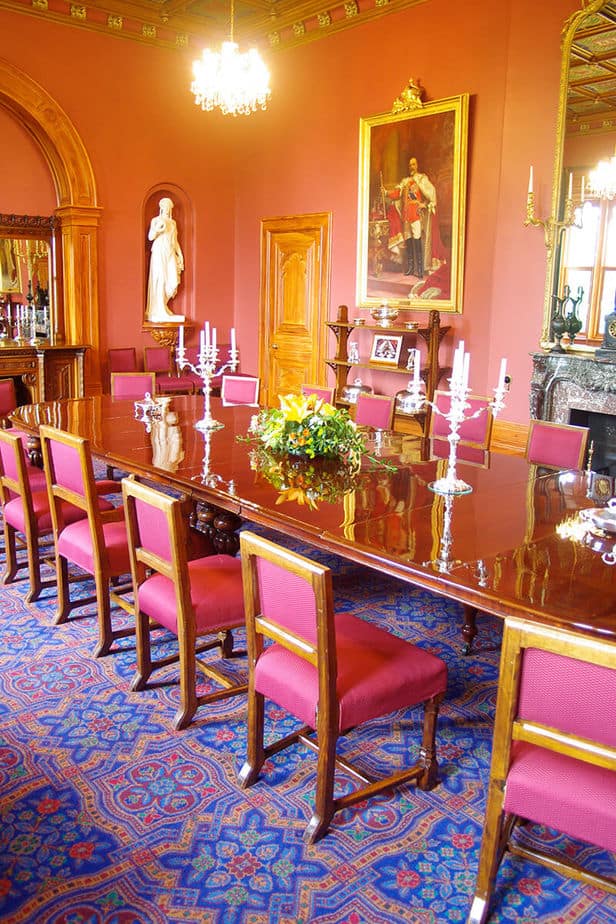 Interested to have an extra cute dining room where you can welcome your lady friends? Use the cutest colors that go with orange, such as pink. How to combine orange and pink together?
First step is painting the walls with coral. Then fill your dining room with a long wooden dining table. Next, complete the wooden dining table with cute pink chairs. Wait, this isn't enough yet.
Now cover the floor with an eccentric carpet. Pick a carpet that has the most unique motif and colors like blue and pink and yellow. You're going to love the crowded look.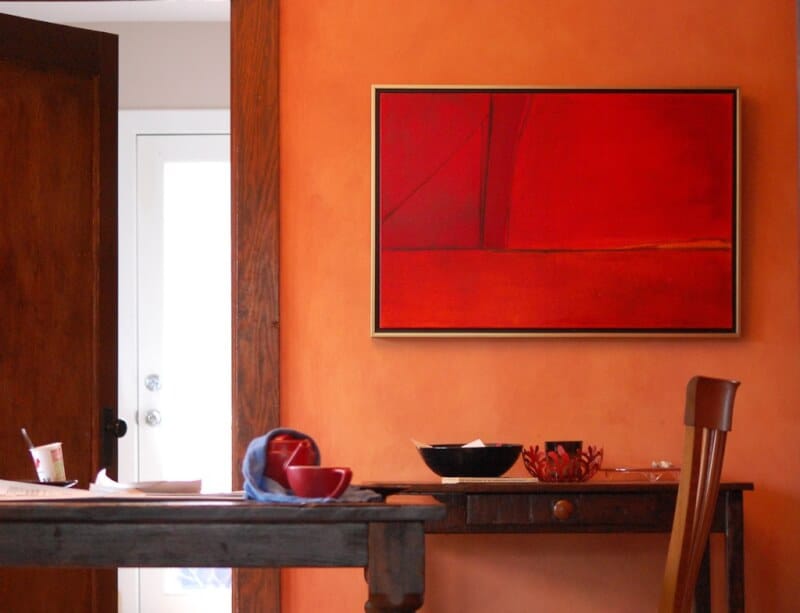 Orange also goes well with red. When it is time to redecorate your dining room, try painting its walls with orange. Pick bright orange instead of orange in dark or pastel shade.
Then bring in some red. A simple red wall art hung on the wall would be a bold centerpiece of your dining room. Some red ornaments on wooden table are also beautiful.
Since there are enough bright colors, natural wood color on the table, chairs, and door will neutralize them and unite the room. Woods also add some natural atmosphere to your dining room.
Colors That Go Good with Orange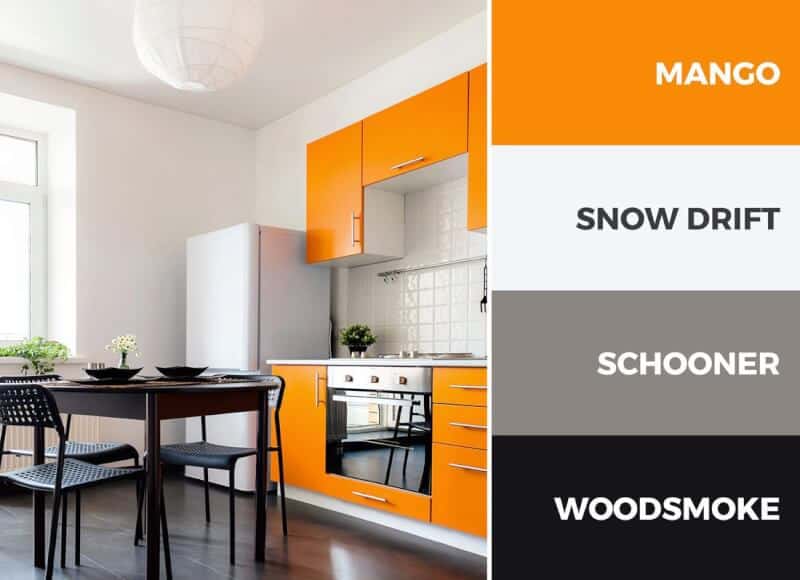 There are lots of colors you can spread in the kitchen. But the right one to perfect mango colored kitchen is black. Add a black table set as kitchen island to create modern look.
Then for the mango, apply this color only on kitchen cabinets. With white backsplash tiles, walls, and ceiling surrounding, your orange cabinets will be eye catching.
Grey tiles on kitchen floor is accentuating your adorable kitchen. It matches the modern style of cabinets, black color of table set, and minimalist pendant lamp. Add green plants to decorate the window and dining table.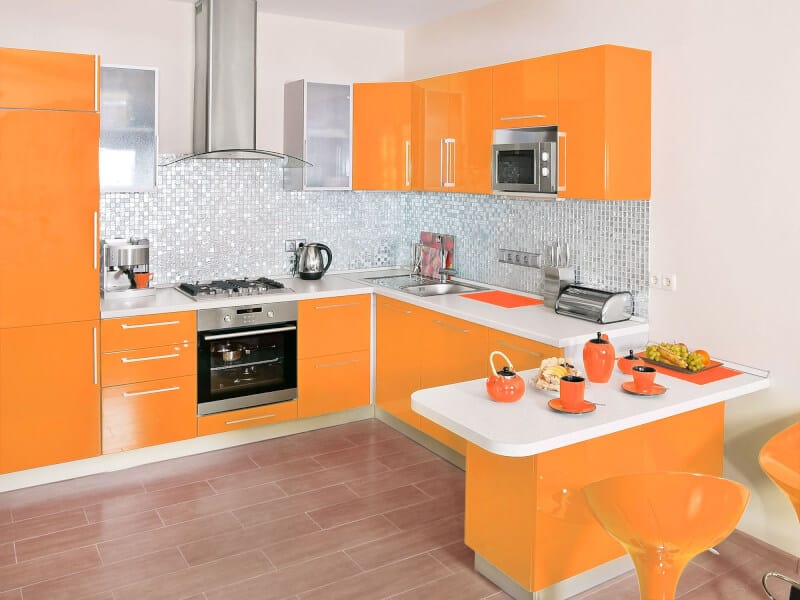 If black is too dark for your orange kitchen, pick white and beige. White walls and white countertop will perfect the orange kitchen cabinets and barstools in the breakfast bar.
Cover your kitchen floor with beige tiles so that your modern kitchen won't look boring. When it is time to replace the backsplash tiles, use sparkling white tiles instead of classic white subway.
And since metal is one of extraordinary colors that go with orange, metal kitchen tools look awesome when they're framed with orange kitchen cabinets.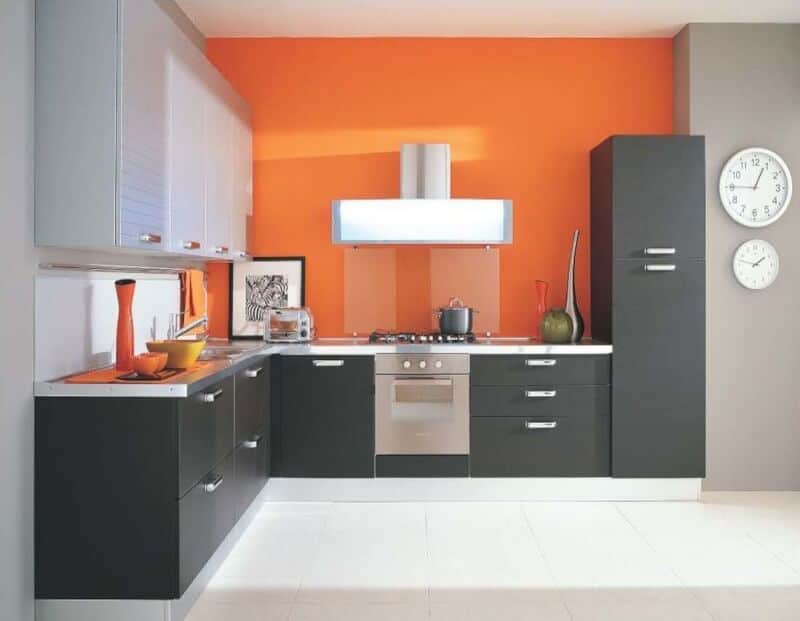 Or consider using grey that's in between black and white. Grey is making your kitchen looks classy while the orange wall eliminates the spooky look brought by grey modern cabinets.
When redecorating your kitchen in grey and orange, use dark grey for modern kitchen cabinets. If there's an accent wall, color it with medium grey that becomes excellent background for white wall clocks.
Also use metals which are the shade of grey for kitchen tools. White for floor and ceiling will be awesome around bright orange kitchen wall. Place some kitchen utensils on your metal countertop.
Good Colors That Go with Orange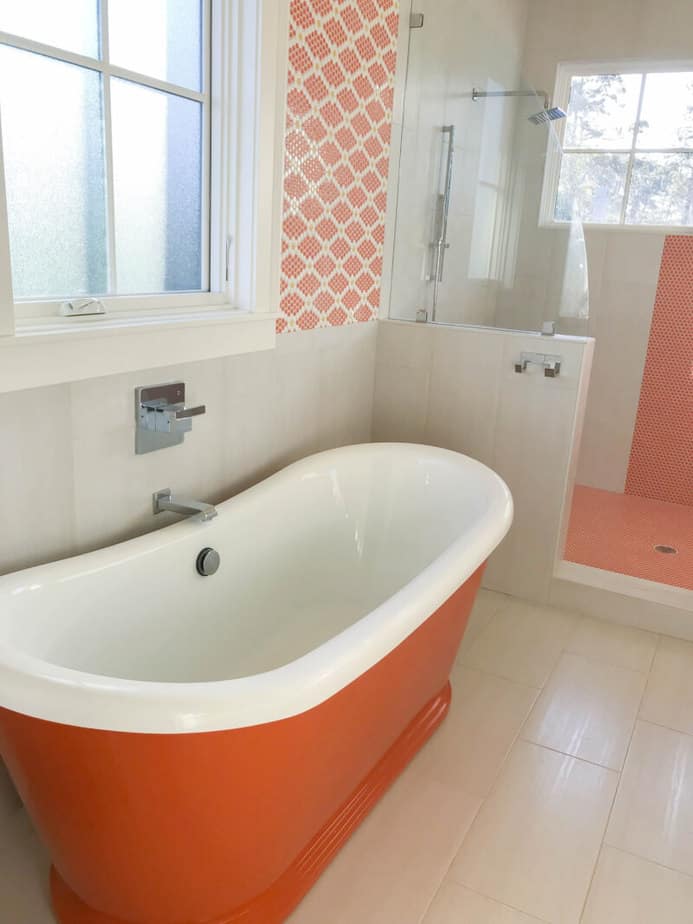 Though almost all bathrooms have blue interior, you can still create a fresh yet unique bathroom using orange. For example, try to combine coral with white in your master bathroom.
Use white for most parts of your master bathroom like ceiling, walls, floor, and window frames. Then spread the coral as accent on the shower area, on your bathroom wall, and on bathtub.
These colors are the best choice for tiny master bathroom because white will reflect the sunlight that comes through the windows. Reflected lights make your bathroom feels brighter and wider. And coral draws beautiful accent to white boring room.
If you don't like the classic look of white, use grey instead. Grey looks classier and more modern than white so it will be perfect in a modern orange bathroom.
Covering master bathroom walls with grey tiles is one excellent idea. Grey matches white bathroom furniture perfectly since both are monochrome colors. But you're going to need fresh colors like orange for better master bathroom.
Even though you spread just a little orange to the room, it is enough to change its total look. With this fresh color and wood's color that's also best colors that go with orange, your bathroom won't look muddy or scary.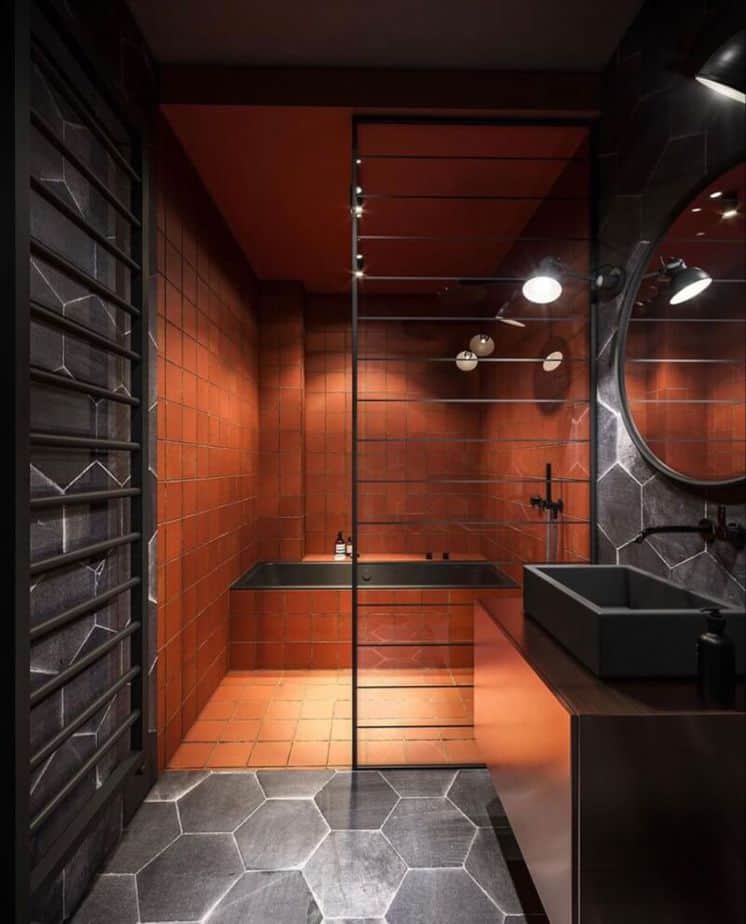 For extra luxurious bathroom, mix match orange with black. If your bathroom is extra spacious, you can use black as the main master bathroom's color. Use black hexagonal tiles to cover the walls and floor of your bathroom.
But don't use black for the shower area. This must be the focal point of your bathroom so use square orange tiles that bring unique look to simple but modern bathroom.
To maximize the beauty of your black and orange bathroom, use black modern wall lamps and black bathtub. Black tub between orange tiles look extremely awesome.
Colors That Go with Orange Interior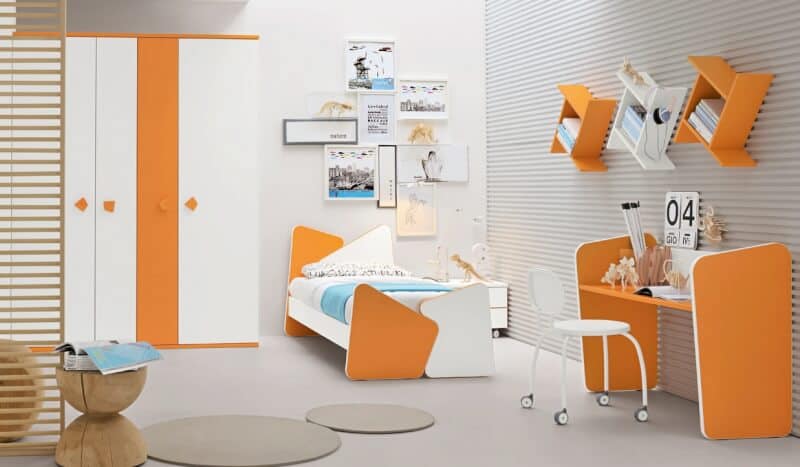 There are hundred ways to make an orange color feels so inviting and cozy. One of them is combining it with white that's classy and impressive. Let us try this in your kid's bedroom.
First, cover the walls and floor with white. Then start decorating the room with bedroom furniture in white and orange combination. Since all furniture has orange and white, use something different for decorations.
For example, place khaki carpet on the floor, wooden bench in its natural color, also monochrome frames for the wall décor. This idea is the best for both girl's and boy's bedroom.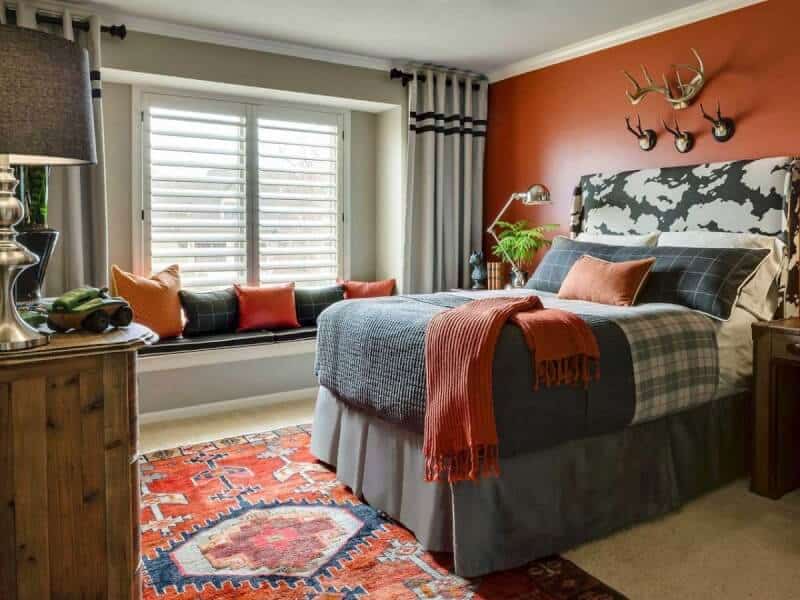 As always, grey can be one of amazing colors that go with orange even in bedroom. Adding grey to burnt grey colored bedroom is also a nice inspiration. This time, consider using darker grey shade.
Simply cover your bed with grey bedsheet and bed cover. Add some white and charcoal pillows along with one orange pillow. An orange throw blanket will refresh your bed's look.
For the floor, add a unique orange and grey rug that has special motif. This carpet will match the orange one your bedroom wall also the cushions you place on bay window.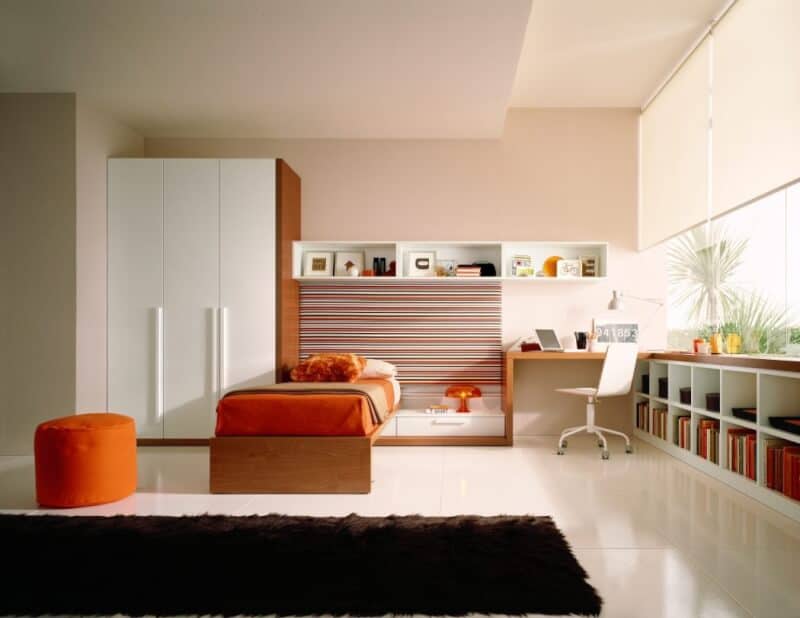 Black is surely a beautiful ornament for orange bedroom. Why ornament? Because it is too dark to decorate any room, even if your room is extraordinarily spacious.
Your bedroom looks incredible with white walls, floor, and ceiling. But there's too much whites since the wardrobe, bookshelf, floating shelf, and chair are also white. That's why you spread orange on the bed, ottoman, and decorations.
Now expose the luxury side of your bedroom by placing a huge furry rug in black on the white floor. This might be simple but the black rug gives a huge effect to your bedroom.