Red is a romantic color. But that's not the only character of red. It makes our interior feels bolder and makes us enthusiast in doing anything. However, it will look better with another color. Before redecorating your red room, make sure you know what colors that go with red first.
Colors That Go with Red in A Kitchen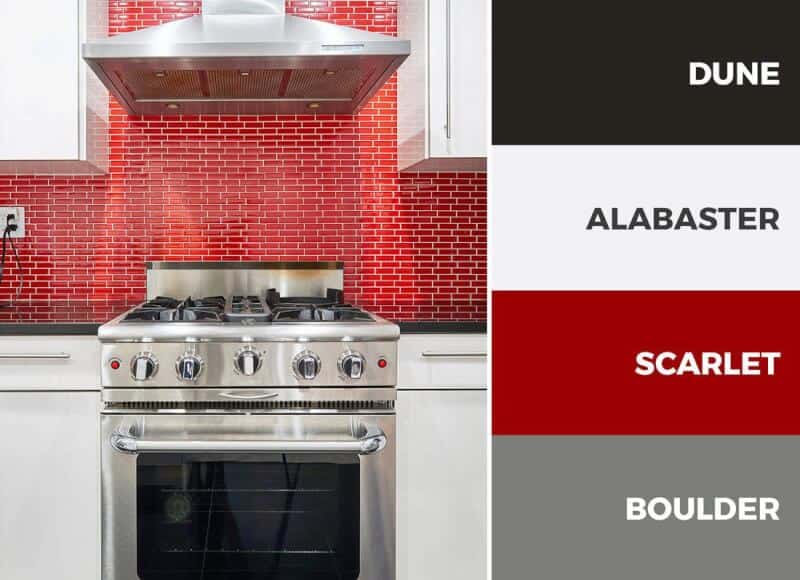 For your kitchen, use scarlet color on the walls. Scarlet backsplash tiles would be nice. Then complete it with some monochrome colors like boulder, alabaster, and dune for modern kitchen.
But for more traditional color, cherrywood kitchen cabinets need something fresh like goldenrod backsplash and lace ceiling. Enhance the classy look by adding some charcoal color as the accent color.
Another inspiration that comes for modern kitchen is combining red with metal colors like silver or metallic grey. Red cabinets with some grey and metallic colors look modern with whites.
Scarlet can also be the accent color in the kitchen. Combine that bold color with daisy white, eggshell, chocolate brown, shadow grey and ash. It will give you contemporary look.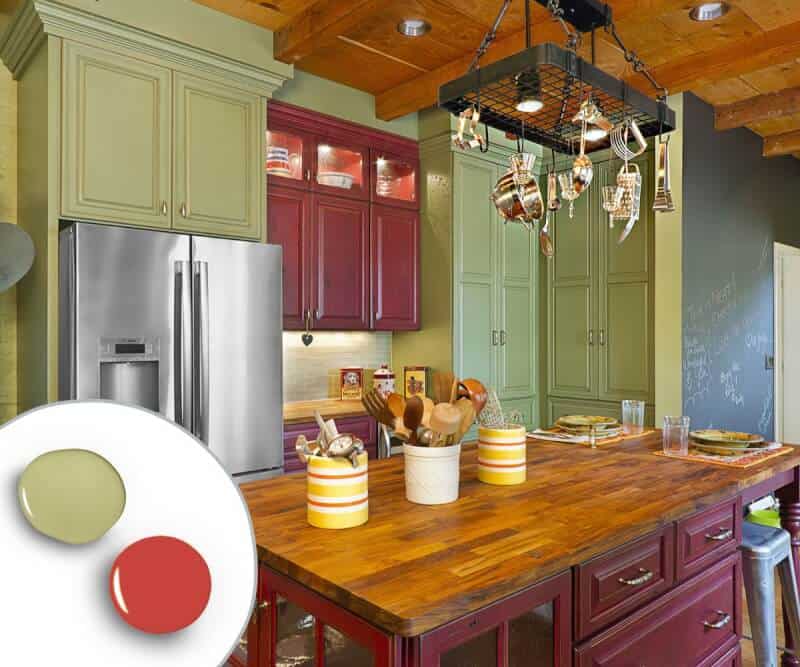 Maroon goes well with avocado green. So, paint some of your cabinets with maroon, as well as the kitchen island. Then paint the other cabinets with avocado green to balance.
Peach and black are two colors that go with red in spacious kitchen. Your red cabinets would be brighter with peach accents and will be classier with black backsplash tiles.
Next color you can combine with red is magenta. Paint your wooden cabinets in red then paint your kitchen's walls with magenta. Add green to make your kitchen looks sweeter.
Then there's teal blue color that will match red in your kitchen. Apply teal as the main color on cabinets and kitchen walls. Then use red for your kitchen island.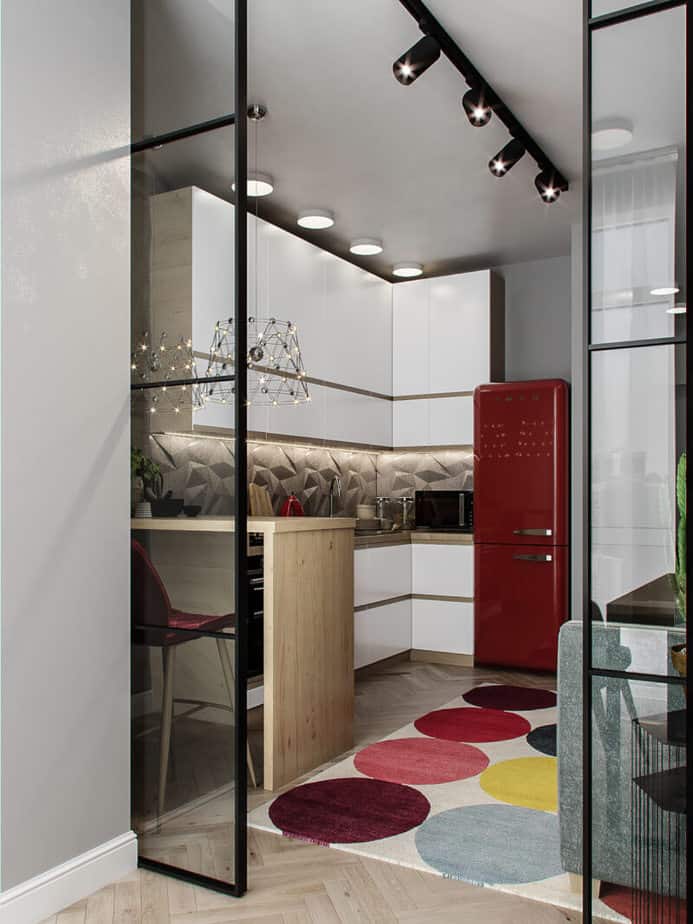 You might want to complete your maroon with monochromes. It doesn't matter but you've got to spread some more colors in kitchen. Consider red shades and yellow on the floor.
White surely is the best complement for red, especially in small kitchen. You will need to add rainbow colored ornament if you want the small kitchen looks more interesting inviting.
Colors That Go with Red in Bedroom
Red can go well with khaki, light grey, and grey. Apply the greys on your bed and carpet while the khaki on bedframe and curtains. Use red as complementary color.
If you don't really like the khaki, skip it. Instead use red on bed and wall. Leave white for floor, ornaments, and lamps. Spread a little grey on bed frame.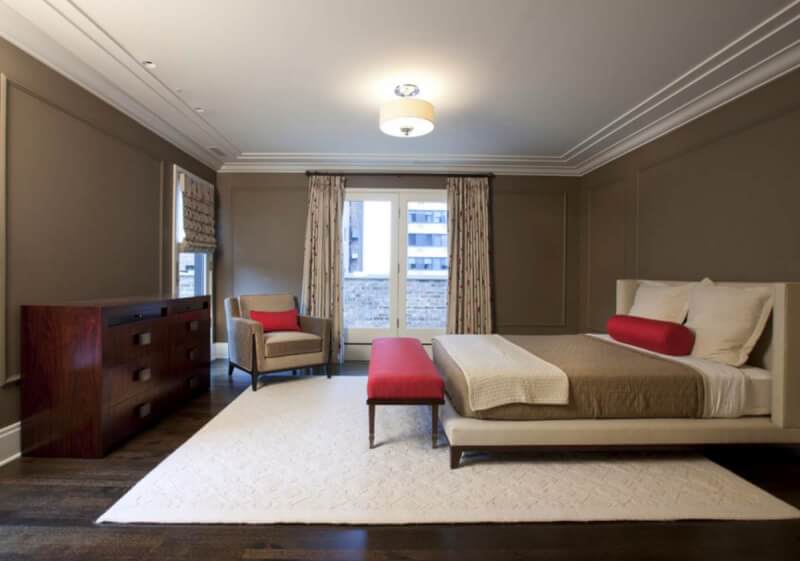 For those looking for neutral color to accompany red, there's taupe. Apply this color to the walls. Then complete it with white. Use red on bolster, cushion, and accent chair.
Girl's room needs to be romantic and adorable. If your daughter is truly feminine, consider combining red with lots of magenta with some white to neutralize the crowded girl's bedroom.
Mustard could be a nice ornament for red in a master bedroom. Spread a little mustard on armchair and bedside tables only. You can also use another mustard on wall.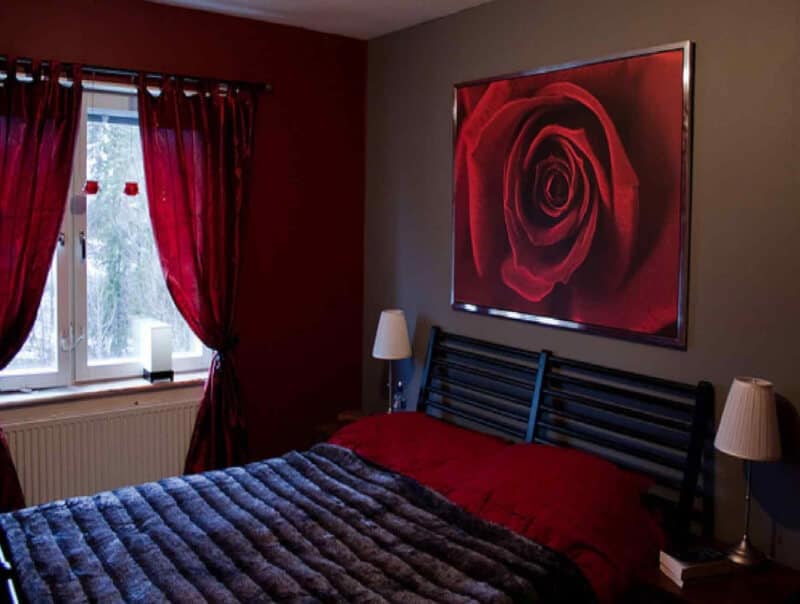 I love how black blanket meets the black bedframe. Black is not only one of colors that go with red but it also goes well with the other beautiful colors.
In order to create an elegant bedroom for girls, you'll have to complete red with gold. The gold bedframe improves the luxury of bedroom. Cover the floor with colorful carpet.
Red can go with blue as well. If you don't believe it, cover your bedroom floor with red wood. Then paint the entire walls and ceiling with light blue color.
If the blue walls and ceiling are too brave for you, use it as the complementary color like on carpet and bedside table. Spread red on accent wall and sofa.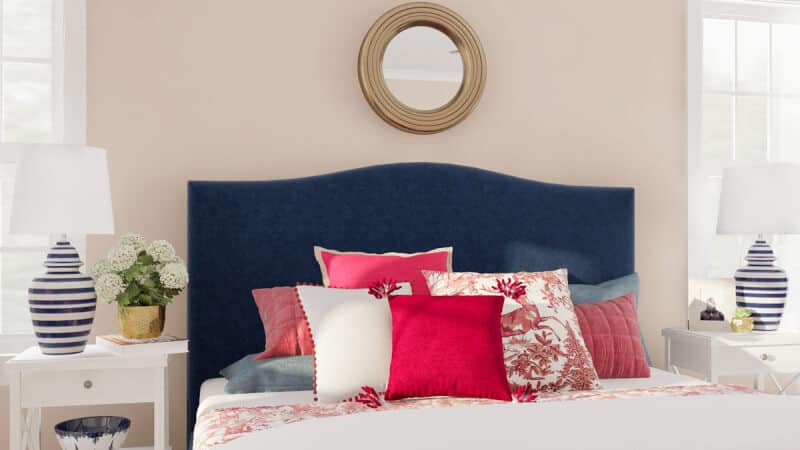 But if the problem is the blue shade, replace the light blue with navy blue. Use navy blue headboard that balances your red pillows on bed covered with white sheet.
Colors That Go with A Red House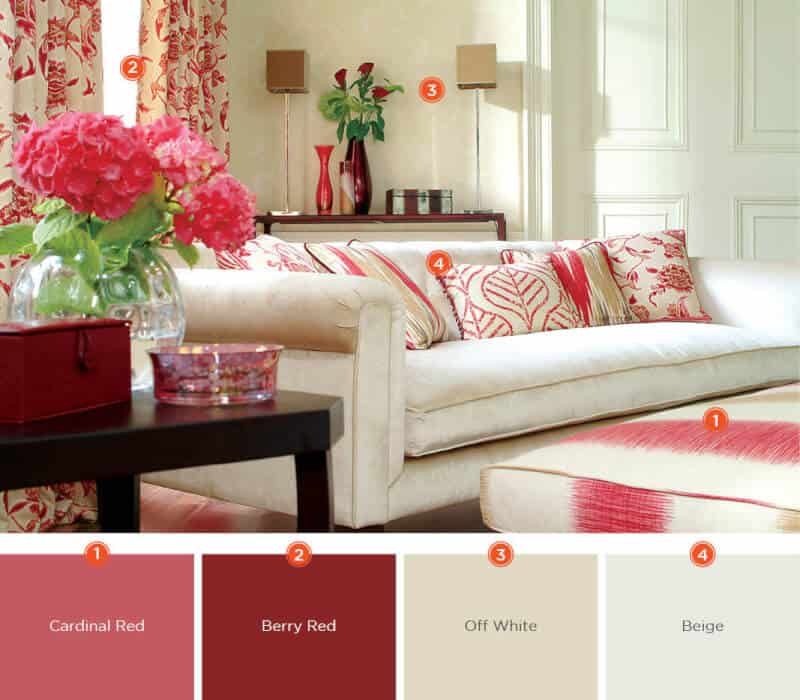 Welcome your guests with berry red that's combined with cardinal white, beige, and off white. Add some black and fresh green as accent colors but main color must be reds.
Another combination to try is crimson and wine. Complete both shades of red with Dijon and turmeric colors. Never leave white since its going to keep everything in room balance.
Green is one of so many great colors to complete your red living room. Place green furnishings in front of red walls and neutralize the room with natural wooden floor.
If you need something soft to neutralize the bright red living room wall, consider lavender colored ceiling. Soft grey for the sofa also helps neutralizing bright walls in living room.
Sunny yellow would be nice when it meets red in the living room. Color your living room walls with yellow and place one electric red sofa as room's focal point.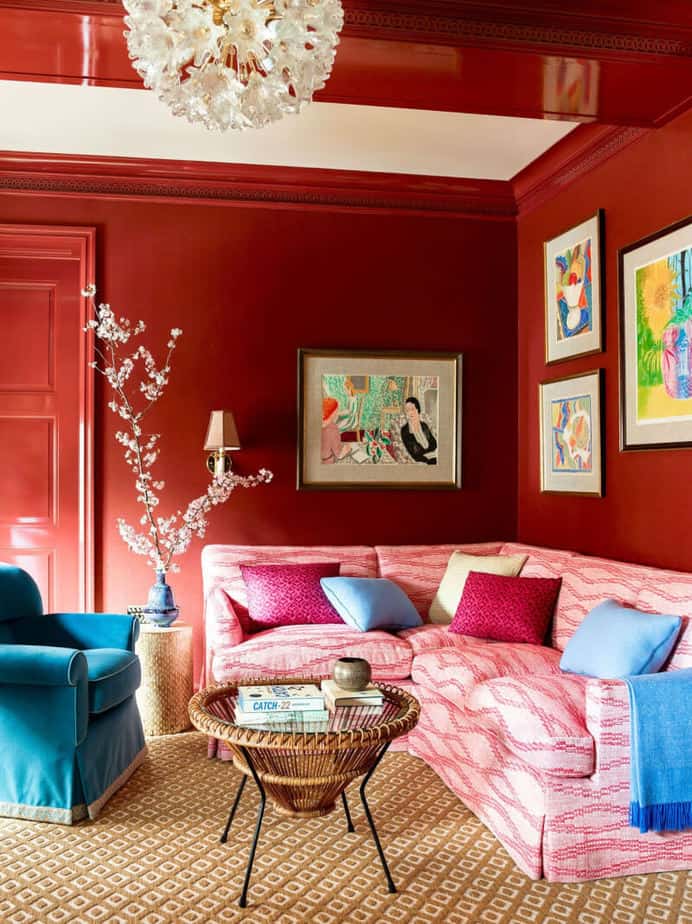 If you're a blue lover who cannot color a room with no blue, complete your red living room with colors that go with red like pink and some blue ornaments.
Here comes adorable living room for bohemian lovers. If you want your living room looks chic, be brave in mix matching red with pastel shades like pink, blue, and purple.
Orange's basic color is yellow and red. So, it is a perfect color to complete red. Make your small white living room looks fresher with oranges and red on floor.
in modern living room, not all colors can be used to complete red. But you can outsmart it by adding colorful wall décor between white walls and red colored furniture.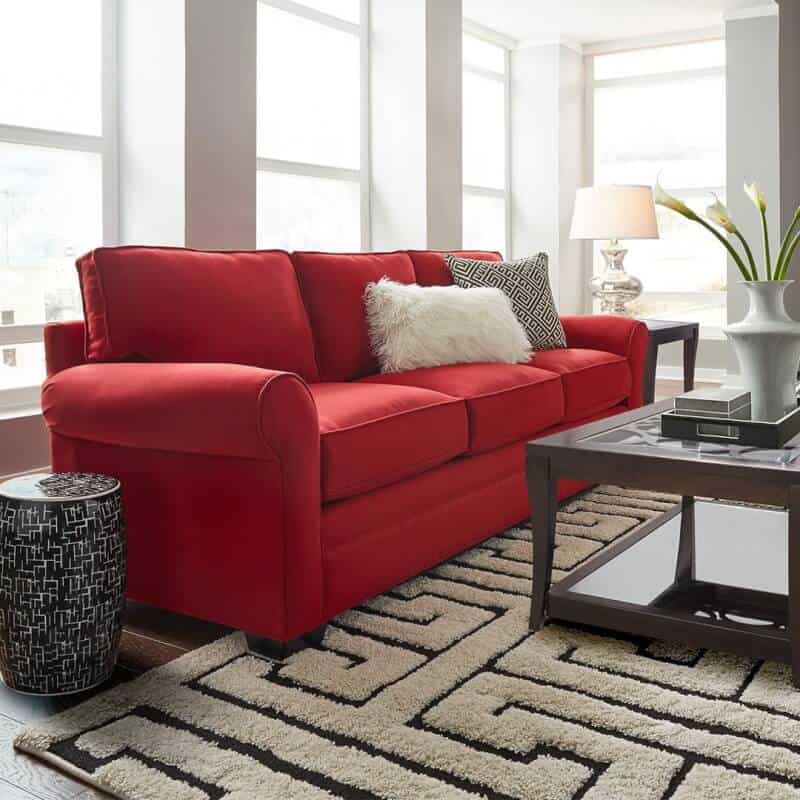 However, the best color to complete all colors is grey. It makes your modern room feels classier. Place only one big red furniture in the room then spread more greys.
Colors That Go on Red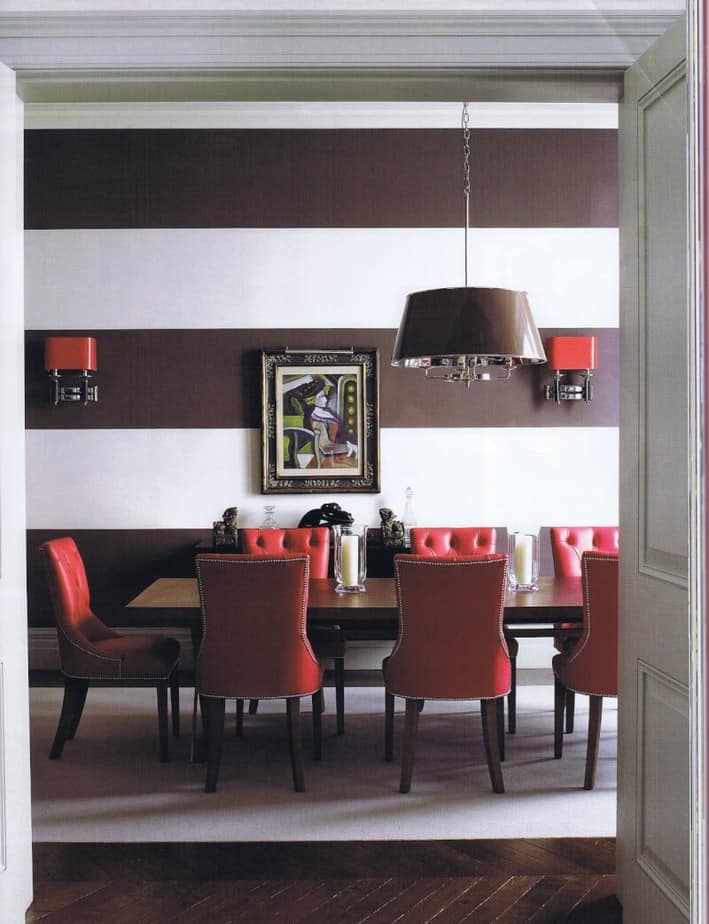 Dining room should have a combination of red, chocolate brown, and white. Those colors make your dining room looks sweet and truly inviting. Everyone would love to enjoy the dinner.
Traditional dining room would look awesome with red walls and browns everywhere. Add brown in various shades inside the dining room and see how wonderful your dining room would be.
Don't hesitate mixing red with dark colors like dark grey. Dark grey makes red looks brighter and more extraordinary. But you better avoid this idea if you own tiny room.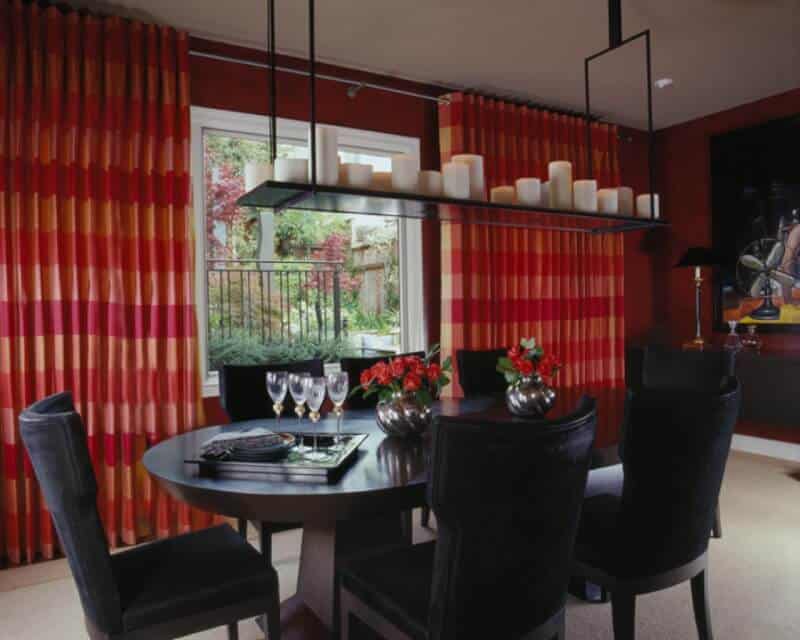 This inspiration comes for another spacious dining room. Cover your windows with red curtains but add black dining table set to the room. Red walls would be nice dinner background.
One of best colors that go with red for smaller dining room is pastel blue. Spread red on walls but use pastel blue for dining chairs to refresh the room.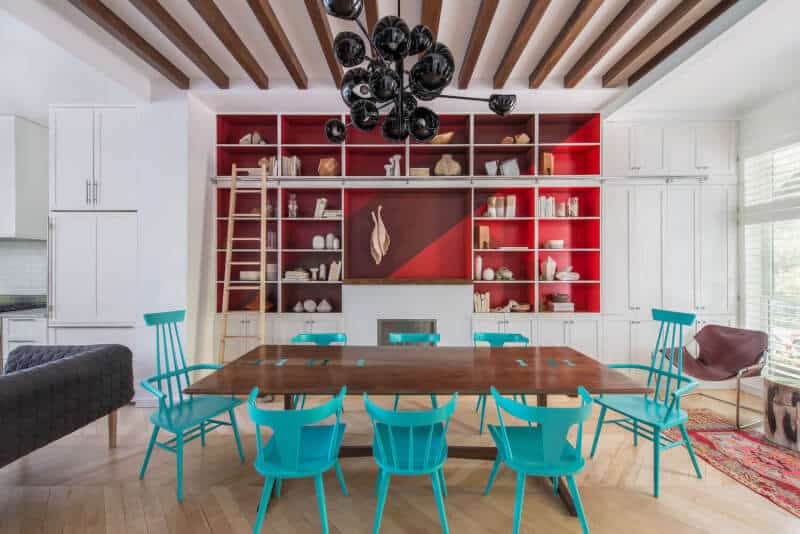 Or, consider using red as accent color. Spread white as main color. Then use brighter blue for dining chairs to make people focus on chairs instead of the small space.
However, one best color that goes perfect with red in small room is white. Paint accent wall in red but leave others in white. White dining table set is excellent.
If white is too boring, consider ivory. Ivory on walls and cabinets make the room feels nice. Then add red leather chairs around table so people will focus on table.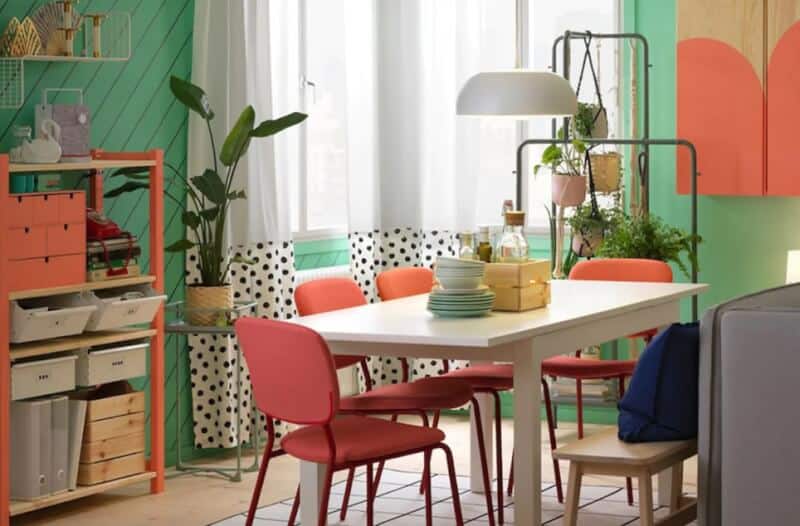 Don't you think mint green is a brilliant background for this colorful dining table set? Don't hesitate using colorful dining table set that contains red to create unique dining room.
Colors That Go Good with Red
Red and yellow are going to make your bathroom looks fascinating. Apply both colors on bathroom walls. Then for bathroom furniture, pick ones in neutral colors to avoid crowded bathroom.
Soothing color like pastel blue is going to help you relax while spending time in red bathtub. Add red and white tiles to the floor and red striped shower curtains.
Green is another soothing color that's good for bathroom. Use this color on bathroom walls then use red on bathroom vanity and accessories. Just don't use both colors too much.
It is really easy to create a romantic bathroom: using red and pink everywhere. Pink and red walls with same colored accessories above white floor would create super cute bathroom.
Make your bathroom looks like an Asian bathroom by combining red walls with natural wooden bathroom furniture. Wood's natural color makes your bathroom feels like traditional bathroom identical with Chinese.'
Stone color is one of extraordinary colors that go with red. Pick tiles for your bathroom walls that have stone's natural color. It will be awesome background for red bathtub.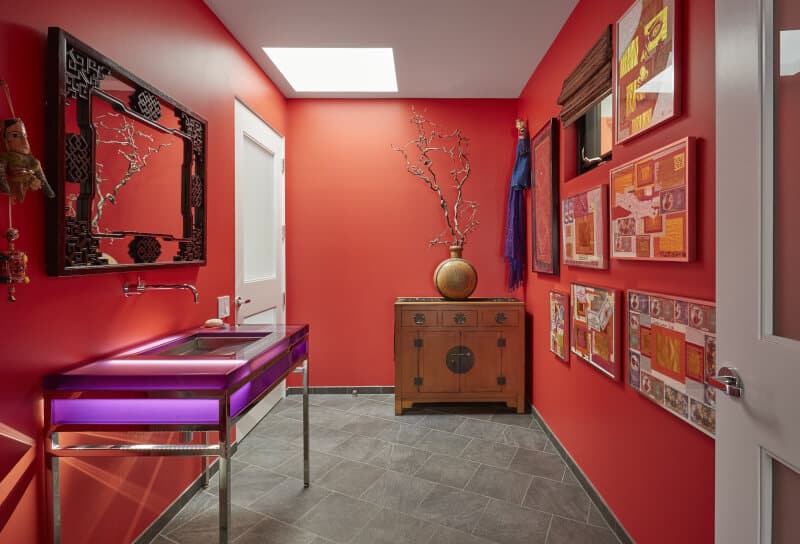 Purple would also complete red bathroom. Add purple vanity between the red walls, under the white ceiling. Make sure you pick the light colored one so it will be centerpiece.
Mint green in this bathroom matches the living trees outside the room. Since bathtub is going to be focal point here, place red bathtub in the middle of your bathroom.
Royal blue can be the best background color for your red bathtub. Just make sure you color only the lower part of the walls and leave upper walls in white.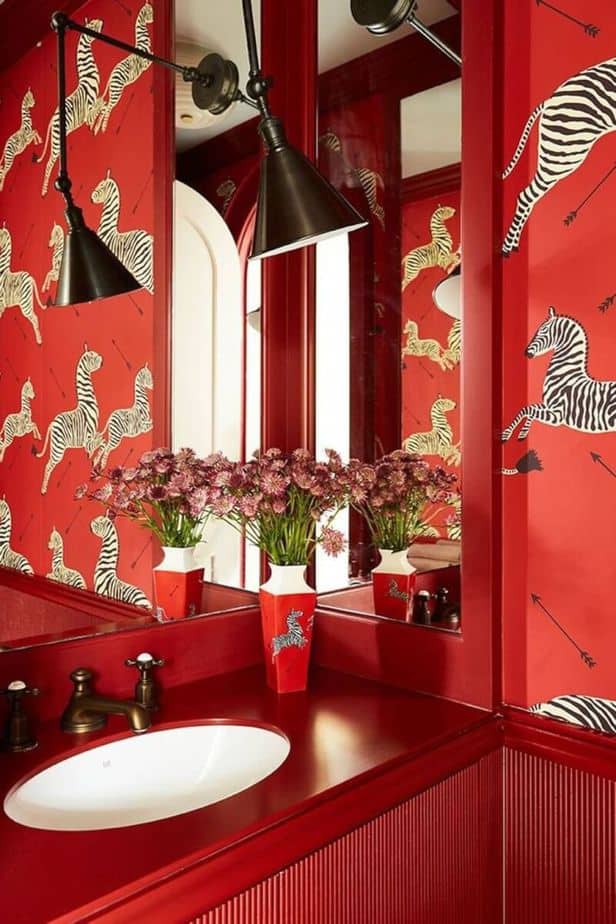 Finally, try combining red with black and white. But try to make it looks unique by adding black and white zebra decals on red walls. Add coppers in natural color.