There are many reasons why you want to install a privacy screen in your home. The main reason is, of course, for privacy. On a budget and want a privacy screen of your own? We can help you with that. Here in this article, we listed 30 DIY outdoor privacy screen ideas you can try.
What Material Should You Use?
Before we get to the ideas, let's talk about the material used to make the screen first. What is the best material for an outdoor privacy screen?
When it comes to material, you have plenty of options. The most common options are wood, metal, and natural. Below we talk about the advantages and disadvantages of each material briefly.
1. Wood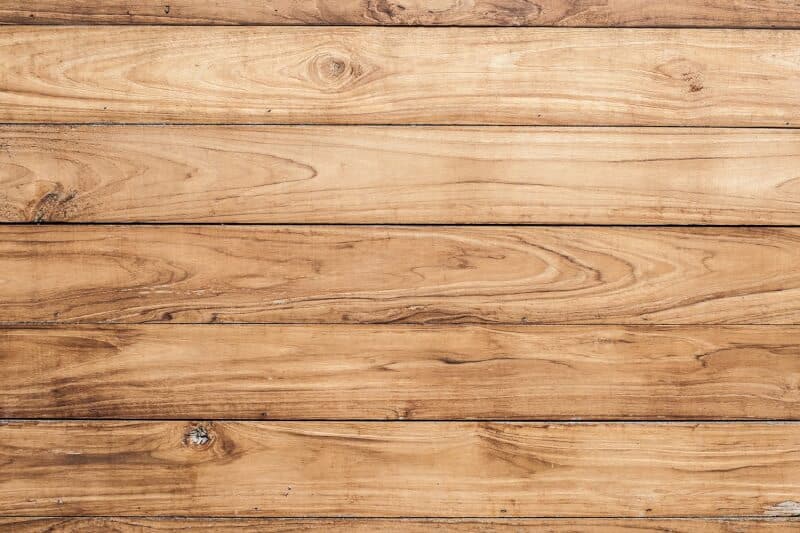 If you're looking for material that has an elegant and natural look, wood is your best option. Wood can look amazing. Yes, even the used ones. It can be shaped a lot easier than metal does too.
Wood, however, is that it is not as strong as metal, vulnerable to weather and insects, and it might decay and rot. So before you make a wooden outdoor privacy fence, make sure the wood is resistant to these.
2. Metal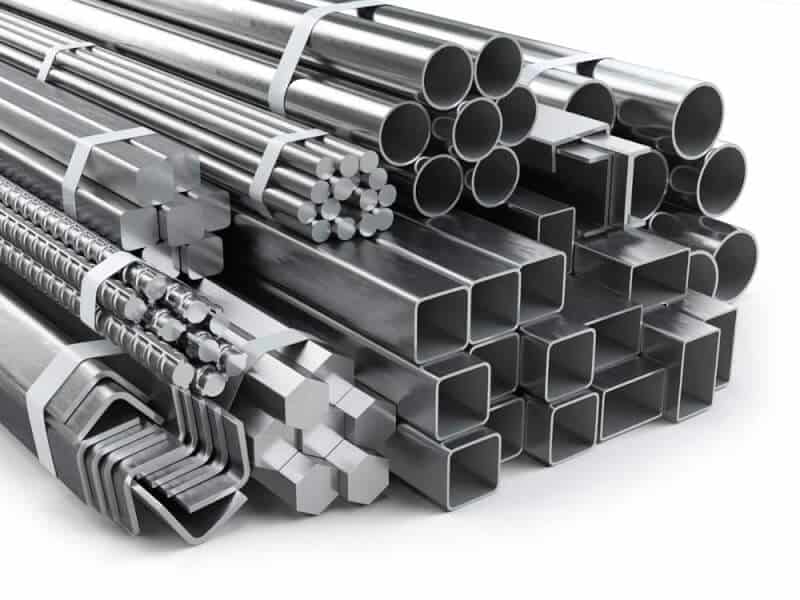 Metal is a lot stronger than wood. Not only that, but it also gives off a modern and sophisticated vibe. If you want a privacy screen that is strong, looks modern and is low maintenance, consider using metal.
Of course, metal is not perfect. Although it is stronger than wood, it doesn't look as good as wood. Depending on the metal, it might be susceptible to rust too.
3. Natural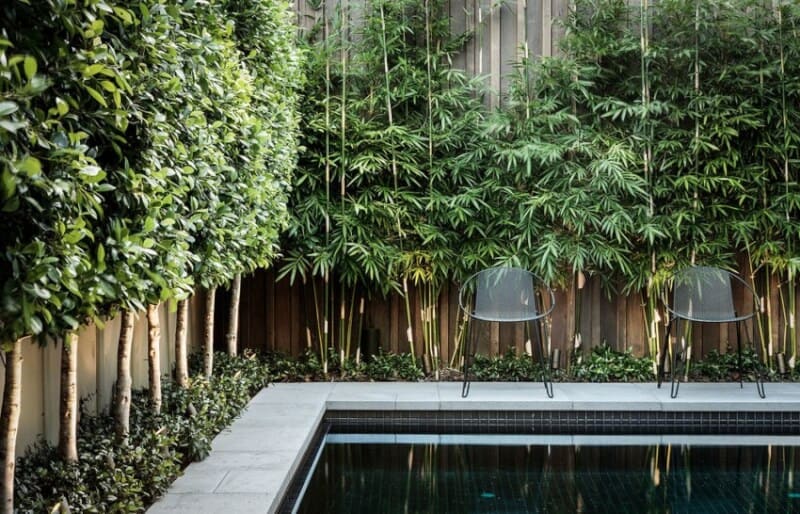 By natural here we mean plants and trees. If you want to make the surrounding fresher, go natural. It blends well with the surroundings and you will feel refreshed every time you see it.
A natural outdoor privacy screen takes time to grow. Depending on what plants or trees you are planting, that can take a very long time. Also, because the screen is alive, it requires constant maintenance.
4. Others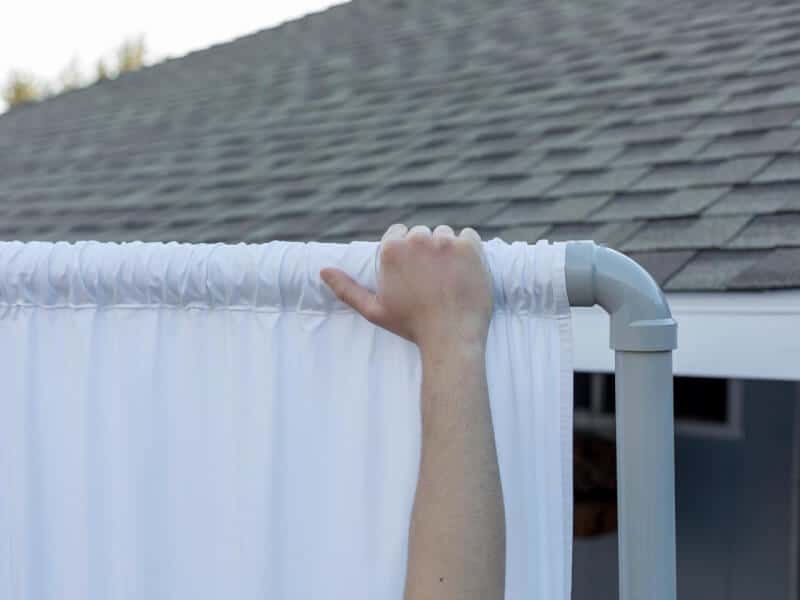 Other materials can be used as well. For example, PVC and fabric. PVC is great if you want to spend as little as possible on the screen although it doesn't look as appealing as other materials.
Fabric, on the other hand, is very handy and flexible. Not to mention there are plenty of colors and patterns to choose from as well. The downside? It gets dirty easily and doesn't offer as much privacy as others do.
What material should you use? Unfortunately, we cannot answer that. After all, what's good for one homeowner might not be good for another.
The best material is the one that offers what you want on a screen. For example, if you want to add a modern vibe to the surrounding, use metal. If you want an elegant look, use wood. And so on.
Alright, now let's get to the ideas.
30 DIY Outdoor Privacy Screen Ideas
1. Keep It Simple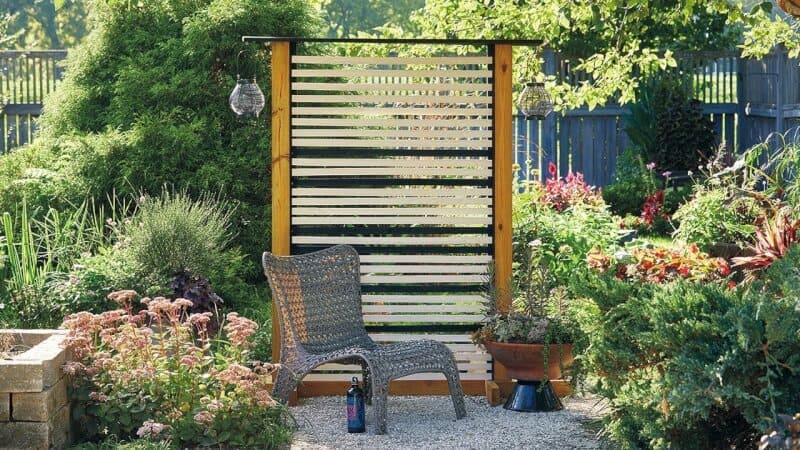 The main function of an outdoor privacy screen is, well, to provide privacy. If that's what you want, no need to complicate things. Go for something like a simple outdoor privacy screen here.
Don't mistake being simple as boring or bland, however. This outdoor privacy screen is anything but that. It offers privacy and, at the same time, stands out in the garden making a statement that none can ignore.
If complicated DIY outdoor privacy screen ideas do not fit you, just keep it simple.
2. The Beauty of Pallets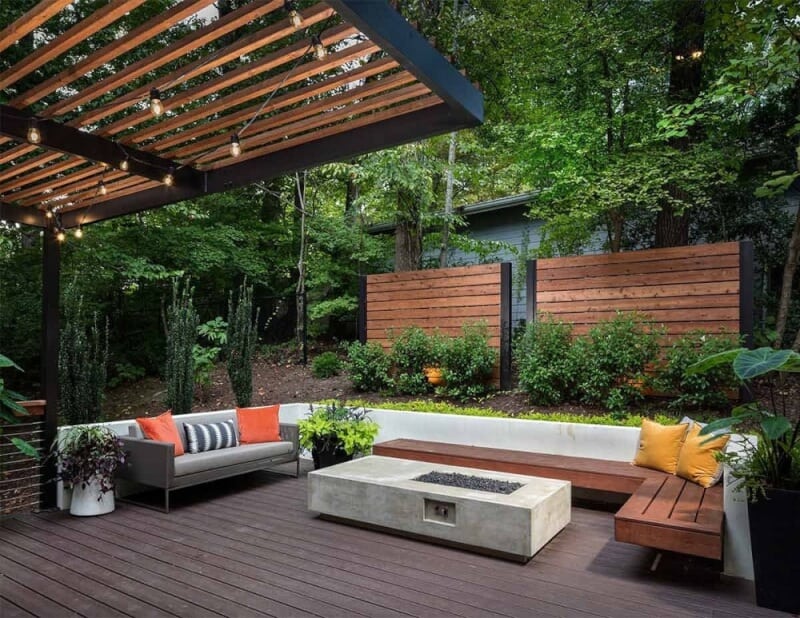 Wood pallets make great materials for an outdoor privacy screen. If you don't believe it, just take a look at these gorgeous twin privacy screens.
The screens complement the wooden look of the backyard. The best thing about it? You can paint the pallets so they look fresh and new or just leave them be with their natural color. Both look amazing.
These twin screens add warmth and elegance to the outdoor. It is definitely a unique way to combine elegance with nature.
3. Live Bamboo Plants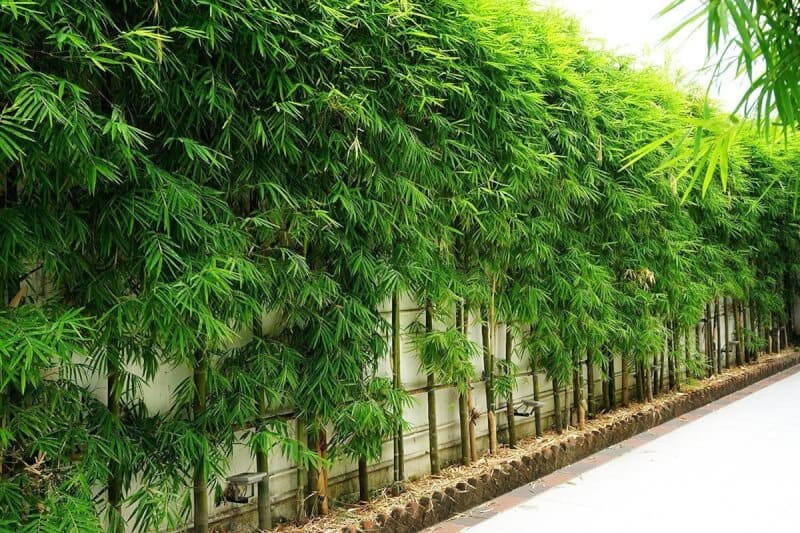 Let's move on to natural DIY outdoor privacy screen ideas now. This one here utilizes live bamboo as the privacy screen.
Sure, bamboo takes time to grow. But once they grow, you will get a privacy screen that not only provides you with privacy but also makes the area feels and looks refreshing.
If you have the patient to grow bamboo for your screen, you should try it. Your patience will be handsomely rewarded with a screen that refreshes you each time you look at it.
4. Curving Bamboo Screen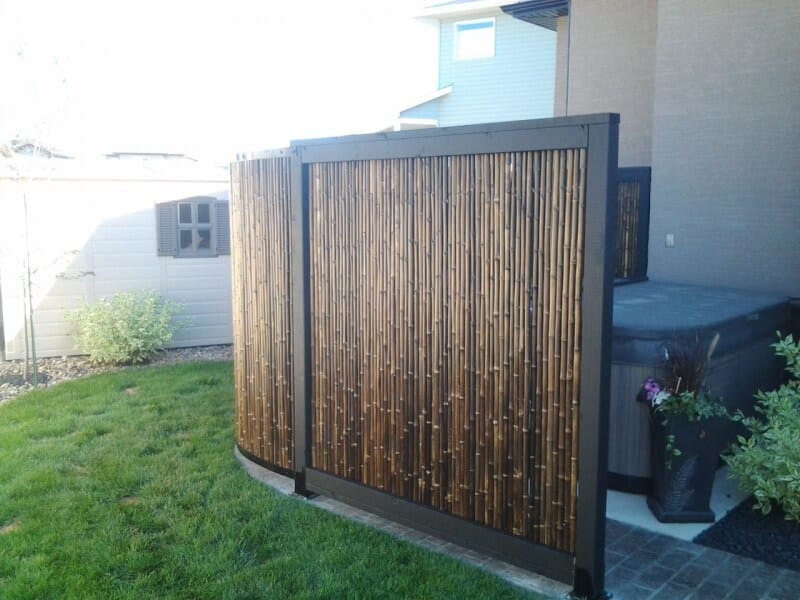 Like bamboo plants but don't have the time to wait for them to grow? No worries. Use the wood instead. While bamboo wood doesn't look as refreshing as the live one, it sure has its own charm.
Notice how this curving bamboo privacy screen completely covers the hot tub inside. It becomes the focal point in the backyard and provides the privacy you're looking for.
It is a nice distraction for the onlookers. A very elegant one, we might add.
5. Vine Privacy Screen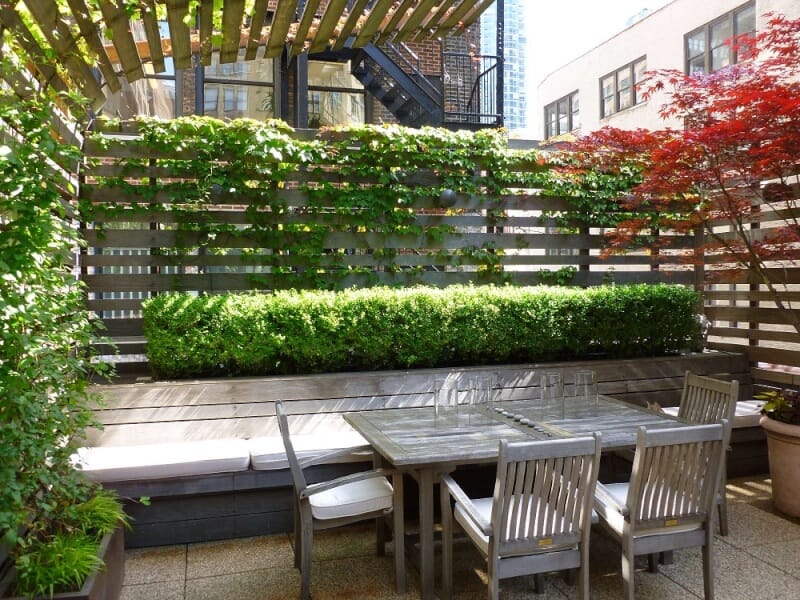 This one is another example of DIY outdoor privacy screen ideas that use nature. Unlike the others on the list, however, this combines vines and wooden boards.
Have vines grown in your garden? Why not use them to be your privacy screen? That's definitely not a bad idea, especially if you want a natural privacy screen.
Keep in mind that you will need to trim the vines every now and then. Also, if you don't have any vine yet, growing one will take time. Other than these, a vine privacy screen looks awesome.
6. Portable Hanging Bamboo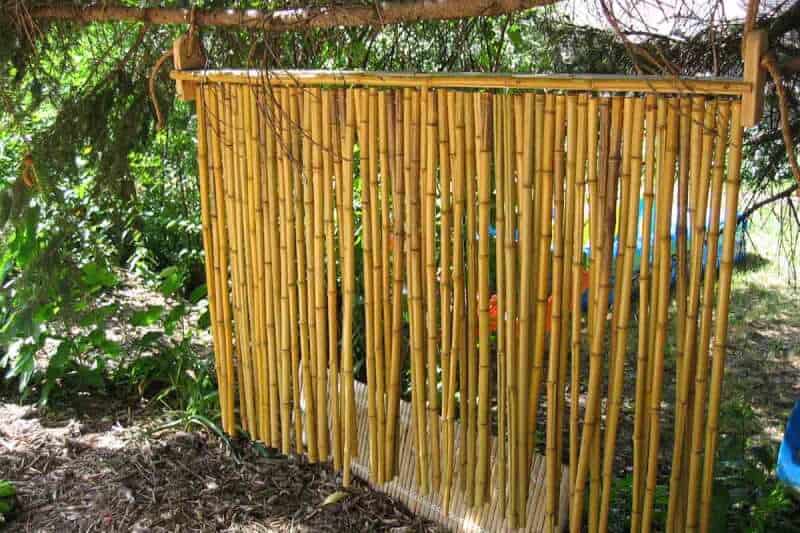 Looking for a portable solution? If the answer is yes, then this one is among DIY outdoor privacy screen ideas you want to try.
This privacy screen is made of hanged bamboo woods. Since they are hanged from a long moveable board, you can move them around as you like, whenever you want.
All you need is to find where you can hang the boards and there you have it. It looks simple, yes, but it is a very practical and effective privacy screen.
7. Bamboo Plants on a Raised Bed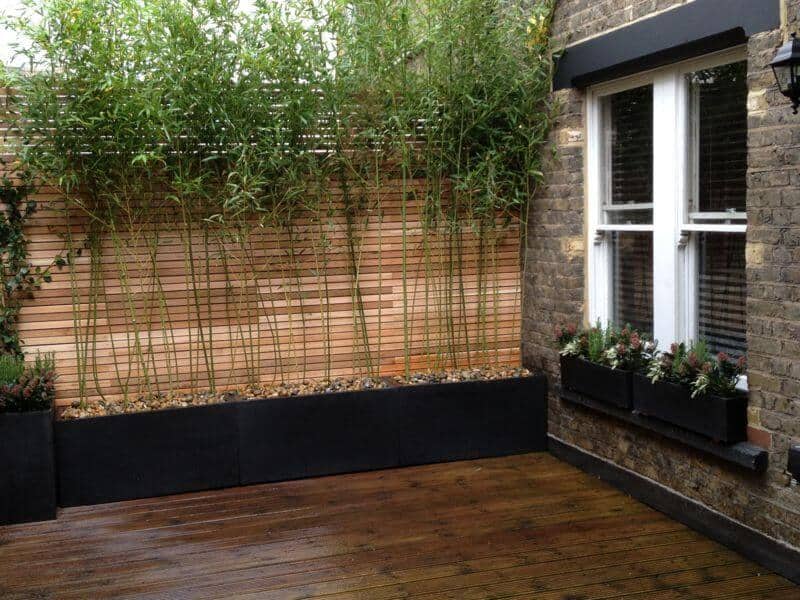 No need to plant bamboo plants directly on the ground. You can plant them in a raised bed. This is especially useful if you're planning to turn the plants into a privacy screen.
Aesthetically, the raised bed gives a distinctive look, visually separating the ground from the plants. Functionally, the bed gives the plants room to grow.
Remember, bamboo takes time to grow. Meaning, you won't have the screen you want soon. In the meantime, you can use wooden boards as a makeshift privacy screen you can remove later.
8. Emerald Green Thuja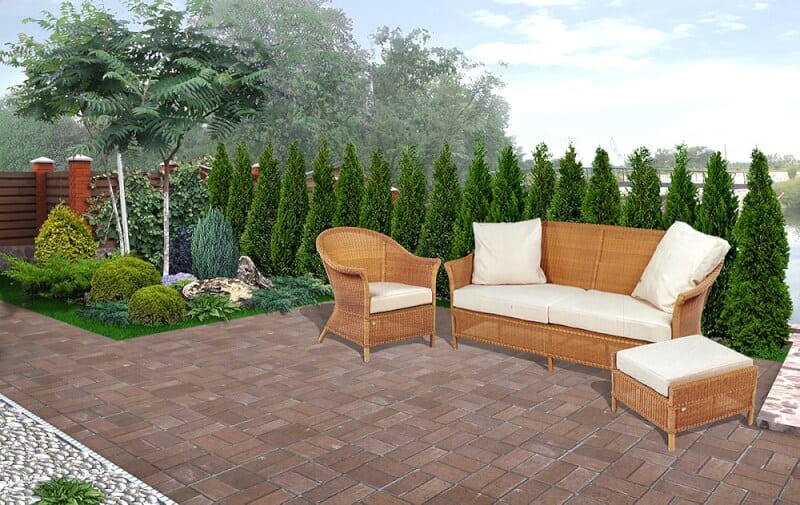 Want plants that not only look awesome but also grow quickly? Consider planting some Emerald Green Thuja plants to be your privacy screen.
Unlike bamboo plants, Emerald Green Thuja plants don't take too long to grow. Not only that, but these plants also make the place more attractive, absorb air pollution, and block sounds.
If you're looking for natural DIY outdoor privacy screen ideas, you want to add planting Emerald Green Thuja to your list.
9. Louvered Privacy Screen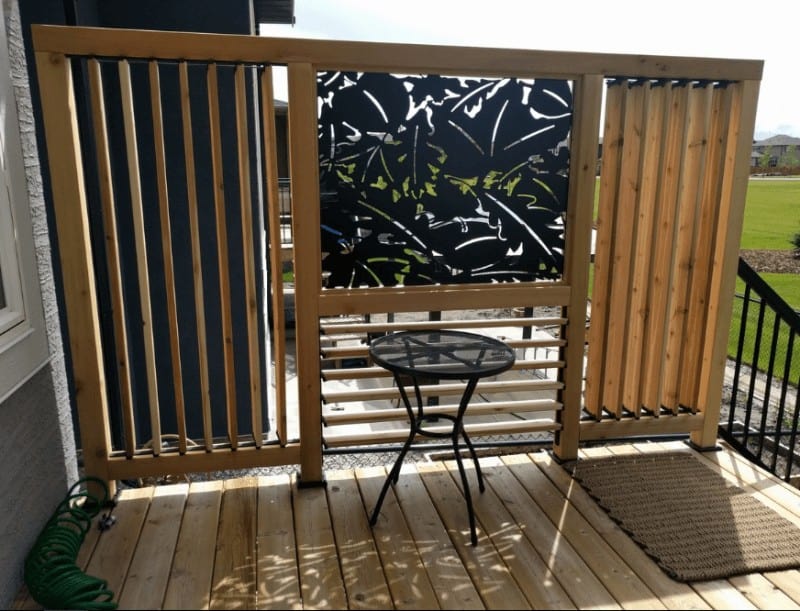 We did say that the main function of a privacy screen is to provide privacy. But is it the only function a privacy screen can have? Definitely not. A privacy screen can be decorative and functional, too.
This one is an excellent example of that. If you want privacy, you can close the louvered screen. If you want sunlight or the breeze to enter, just open it. A very practical privacy screen indeed.
You can also incorporate patterns into the screen. The screen here has patterns of leaves, adding an interesting visual cue to the place.
10. Used Shutters and Doors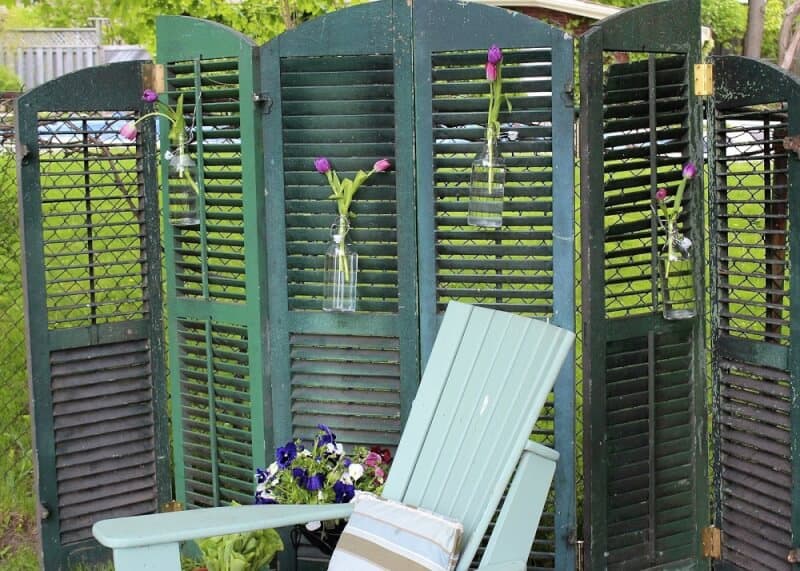 When it comes to DIY outdoor privacy screen ideas, you don't have to buy materials to make your own screen. Be creative with what you have. For example, use old shutters and doors that you have.
Turn old shutters and doors into a freestanding privacy screen. Worrying about it not looking good? No need for that. If anything, old shutters and doors give a vintage vibe to the space around.
An inexpensive way to get privacy and add something of value to your home.
11. Portable Privacy Screen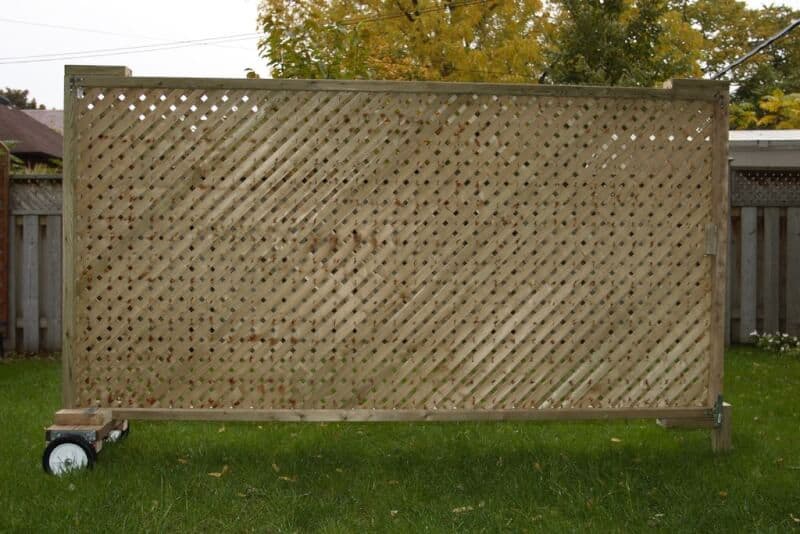 A privacy screen needs not be fixed in a single place. That's right. If you like your screen to be movable, why not make a portable one like this?
A freestanding privacy screen is a good choice when it comes to portability. The thing is, that kind of a screen usually doesn't cover much space.
If you want to cover more area and want your privacy screen to be movable, just add wheels underneath it. This way, you can get privacy whenever and wherever you like. No need to sweat.
12. Freestanding Privacy Screen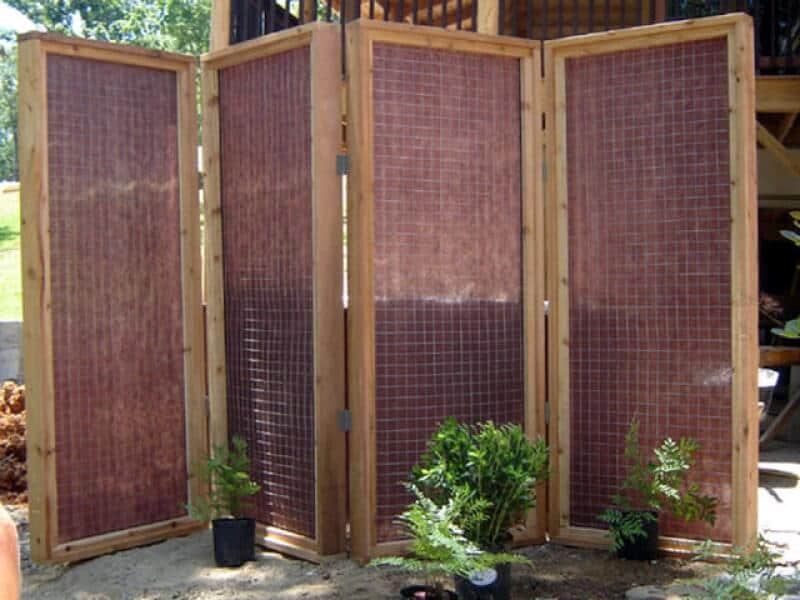 Not everyone needs to cover much space. Some people want a screen just to cover a bit of space. If you're among these people, what you need is a freestanding privacy screen.
The best things about this kind of privacy screen are that it is relatively easy to make, portable, and can be used as a decoration.
Notice how the screen here covers the area behind it and provides a background for the plants.
13. Let There Be Light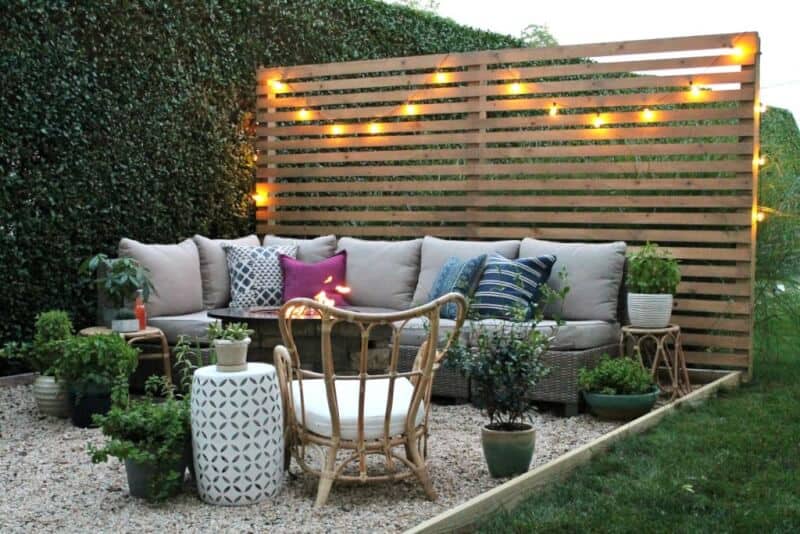 Some people love to enjoy the night in their backyard. If you're planning to do the same, consider adding lighting to your privacy screen.
Adding a string of light is a good idea to light the area during the night and make a statement. Light the screen up and you get a gorgeous space to relax with family and friends.
For the best effect, don't use lighting that is too bright. Rather, go for a dim one that gives off a warm and relaxing vibe.
14. Vertical Garden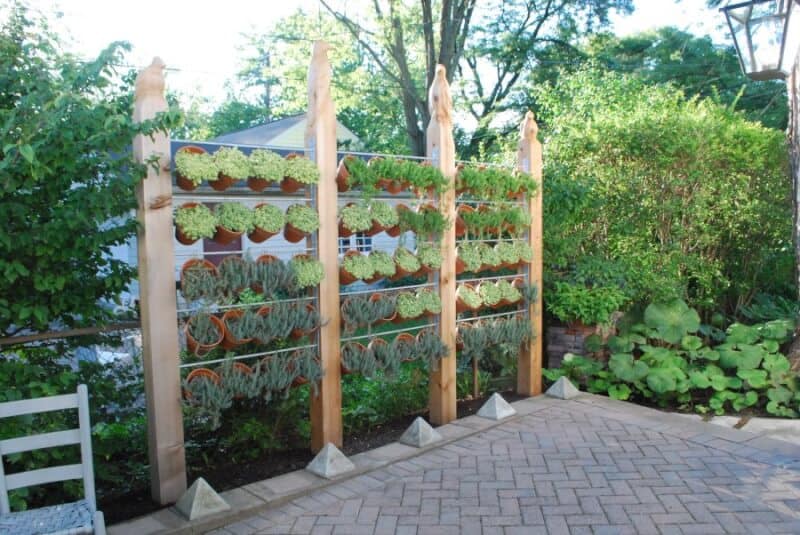 Be ingenious with what you have. Yes, that includes using a vertical garden as an outdoor privacy screen. An outdoor privacy screen must be able to provide coverage. As long as it can do that, it is a good privacy screen.
It is a clever and efficient way to make use of space while at the same time, getting privacy from prying eyes. If you like space-efficient DIY outdoor privacy ideas, this one is for you.
15.  Stylish Wood Boards Privacy Screen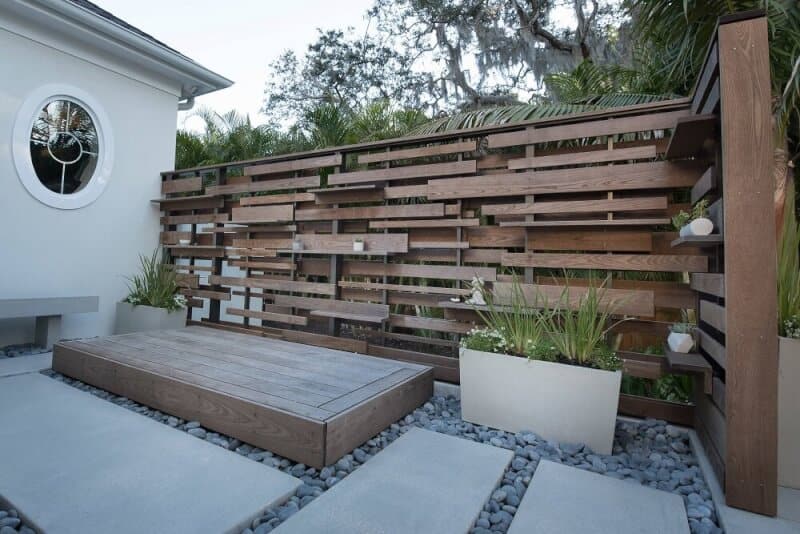 Just because it is a DIY project, doesn't mean you can't be stylish with the outdoor privacy screen. On the contrary, you can be as stylish as you can. This outdoor privacy screen here is an excellent inspiration.
Notice how, rather than arranged normally, the wooden boards are arranged in a way that they look disassembled and disunited.
The cleverly arranged boards provide privacy and make a statement that no one can ignore.
16. Curtains Privacy Screen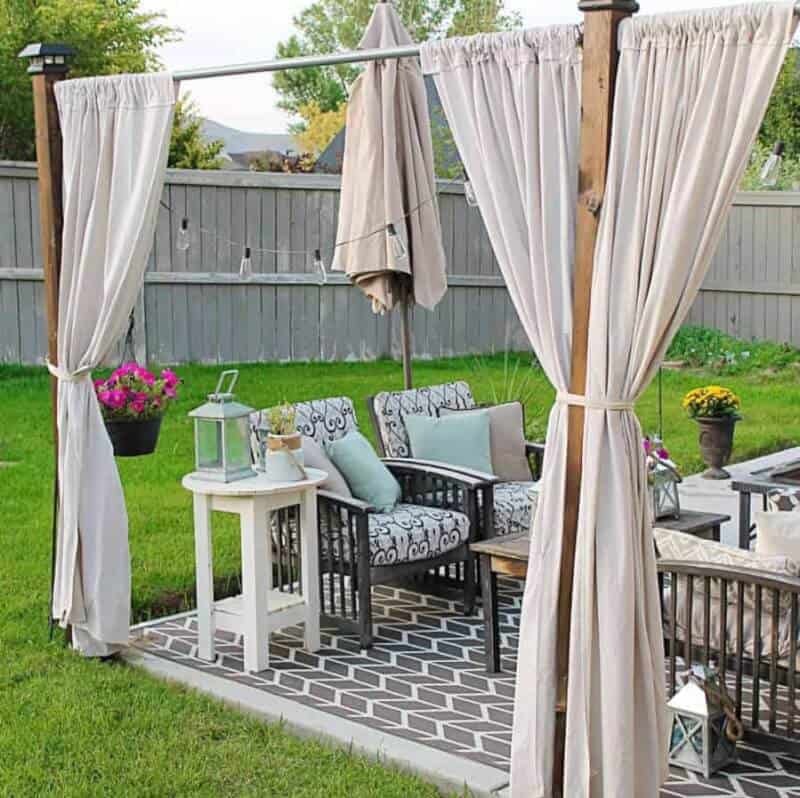 Using fabric to make an outdoor privacy screen? Definitely a good idea. Why? First and foremost, it is not fixed. If you get bored with a curtain, you can just install another curtain.
Second, there are myriads of options when it comes to color and pattern options. That means you will always have interesting options to be used as a privacy screen in the backyard.
A curtain privacy screen is one of the best DIY outdoor privacy screen ideas if you're looking for flexibility and options.
17. Artificial Hedge Privacy Screen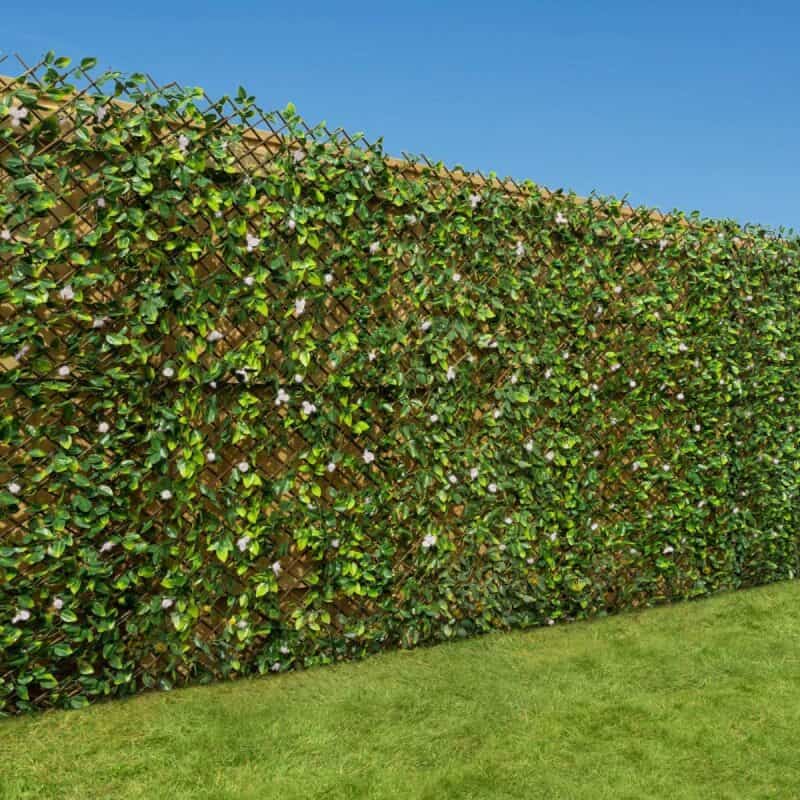 Incorporating natural beauty is never a bad idea. The thing is, it takes time if you're going to the natural route. What is the other alternative? The answer is using an artificial hedge like this one here.
Using an artificial hedge for your privacy screen allows you to get natural beauty in a time- and cost-effective manner. Maintenance is minimal compared to planting real plants.
Not to mention you can change your privacy screen much easier than with real, living plants.
18. Screen with Planter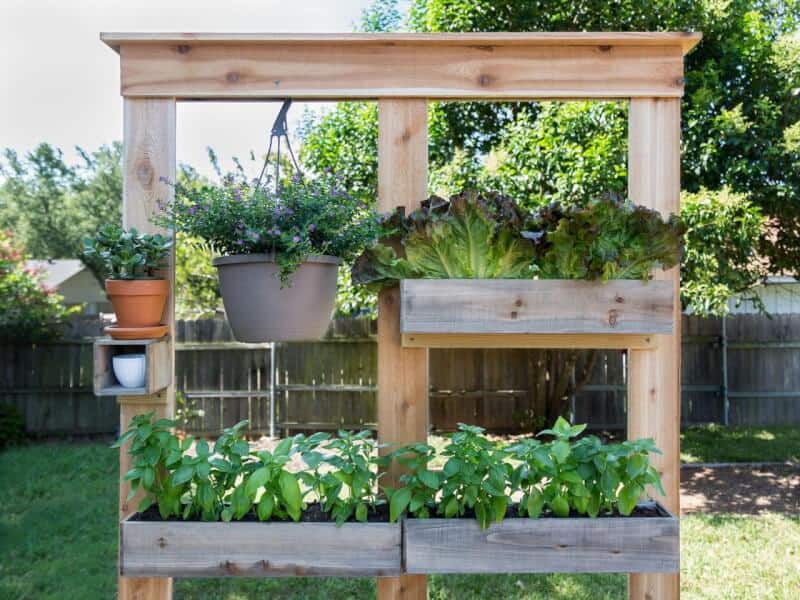 Want to make a lively outdoor privacy screen? Try turning it into a planter and plant some greeneries in it. The screen itself can be quite simple, as this one here shows.
What makes the screen more interesting is the greeneries. Don't be bland with the planter, however. For one plant, use a pot, for another, planter. Adding a hanging pot is not a bad idea, either.
When you incorporate living plants, just don't forget to take care of them.
19. Made of Aluminum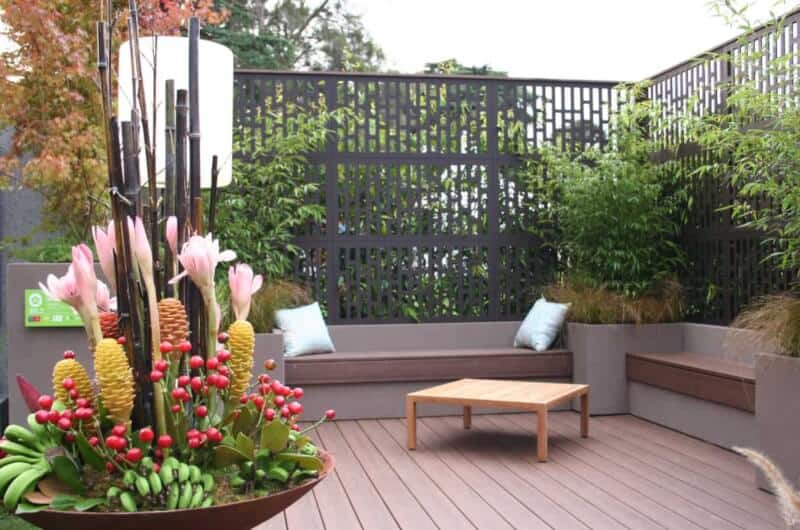 If you live in an area where the weather is harsh, consider making a metal outdoor privacy screen. This screen here is made of aluminum.
Why use metal? Because metal is much stronger than wood. It is more resilient. That's the practical aspect. As for the aesthetic, a metal outdoor privacy screen gives a modern and sophisticated vibe.
20.  Unusual Wood Privacy Screen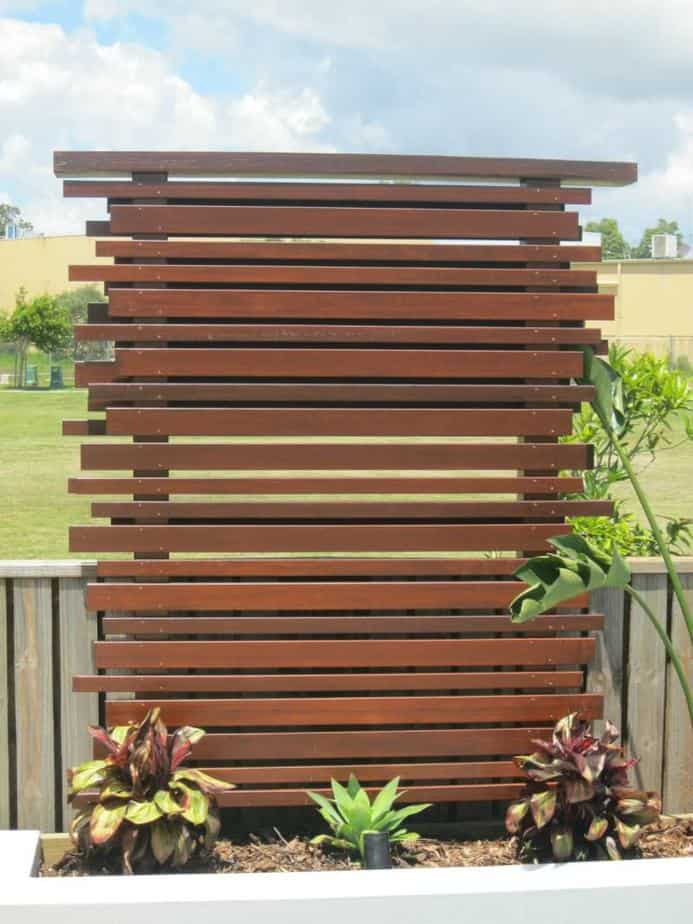 An outdoor privacy screen doesn't have to be large. It doesn't need to look symmetrical or normal, either. If you want a focal point in your garden, create an unusual outdoor privacy screen.
Just look at this screen. It provides coverage and makes the garden a lot more interesting, all thanks to its unusual shape. Best of all, it is easy to make.
21. Knotty Pine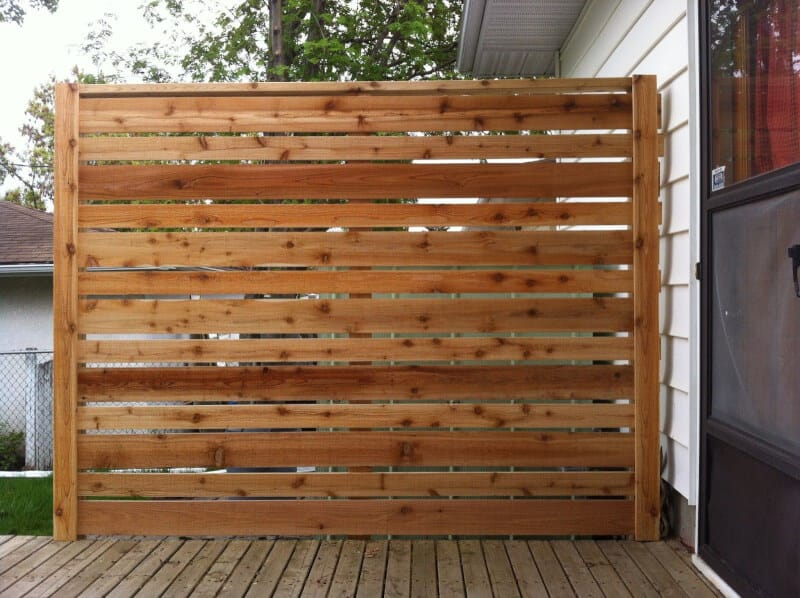 Want to make a very beautiful outdoor privacy screen? In that case, consider using knotty pine. Knotty pine is among the most beautiful woods. The imperfections of the wood make it more appealing.
Just take a look at the privacy screen here. Very beautiful, isn't it? It has the fresh, natural look of pine. Although it blocks vision, it is something delightful to take a look at. A beautiful distraction indeed.
22.  Lattice Screen with Planter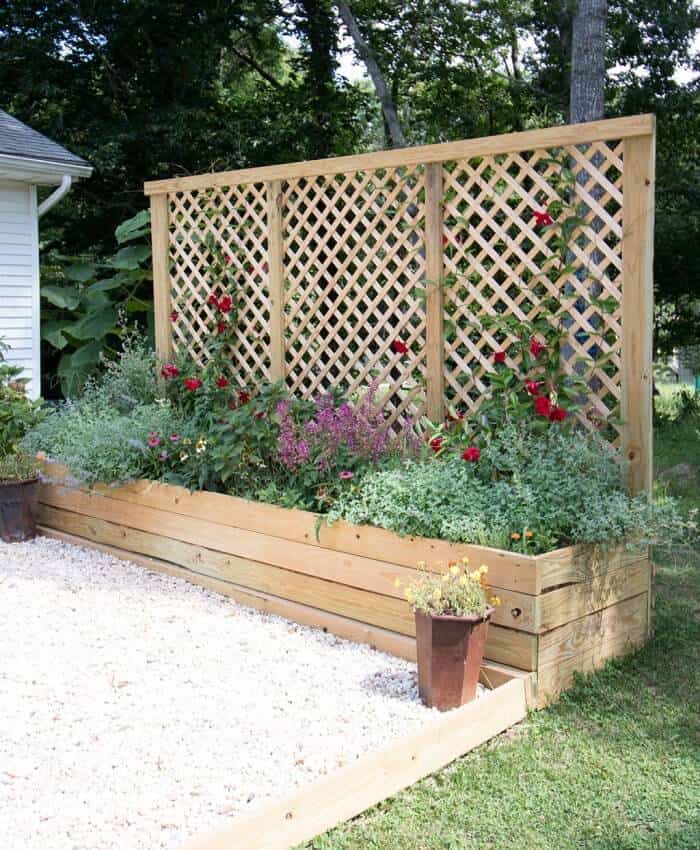 Go with a classic look with a lattice privacy screen. Don't stop there, though. Make it more beautiful by adding a planter underneath.
Take a good look at the screen here. On one hand, the lattice screen provides privacy. On the other, the flowers make it livelier and fresh. Want to get only green looks only? Replace the flowers with vines.
This is another example of DIY outdoor privacy screen ideas that help you maximize the space you have.
23. Low Budget Privacy Screen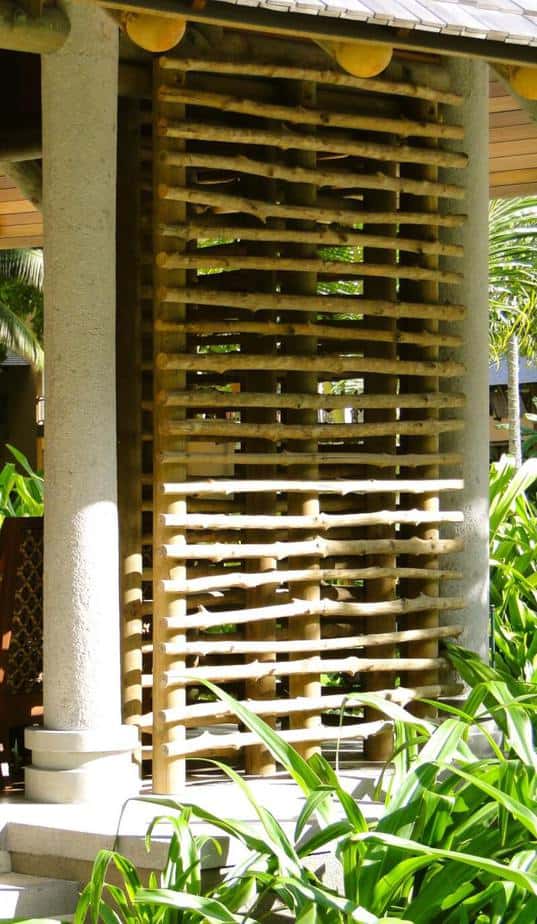 On a budget is not an excuse not to make an outdoor privacy screen. Just take a look around you. Do you see any tree branches nearby? If you do, why not turn it into a unique privacy screen?
This privacy screen here shows how even tree branches can be made into something interesting. Not only it is inexpensive to make, but it is also easy to make, too.
So if you're on a budget or just want something unique for the privacy screen, go find some tree branches and make something interesting out of them.
24. Retractable Privacy Screen
An outdoor privacy screen does have many uses other than providing privacy. For example, blocking the sunlight. If you want to enjoy your day minus sunlight, consider making a retractable privacy screen.
This way, you will be able to enjoy your deck or garden without sunlight when you don't want it. When you want, you can always retract the screen. And there you have it.
25. Shade Sail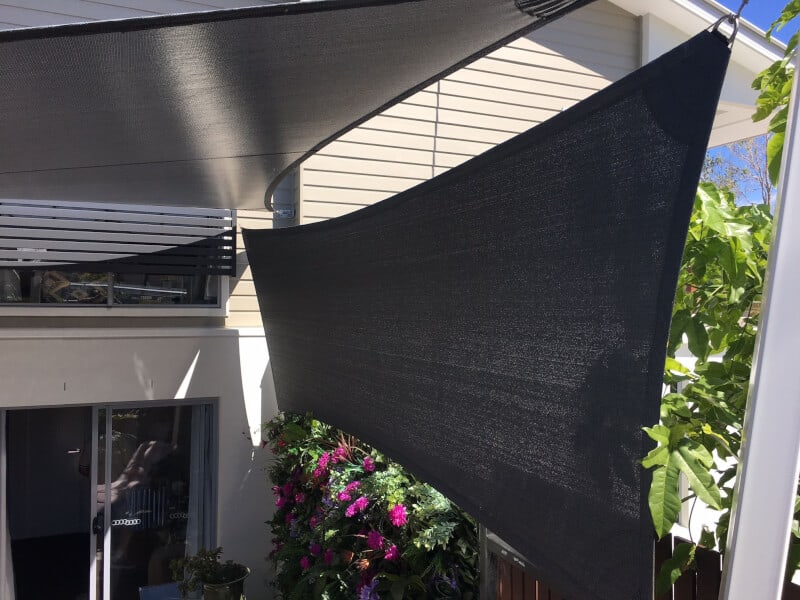 Next, using a shade sail. This one is also one of the most inexpensive and practical DIY outdoor privacy screens on the list. Just buy a shade sail and install it in your backyard to get some privacy.
The best thing about using a shade sail is that it is inexpensive, very easy to install, and plenty of options when it comes to colors and patterns.
If you want a quick and easy solution, the shade sail is your friend.
26.  Wood Privacy Screen with Chevron Pattern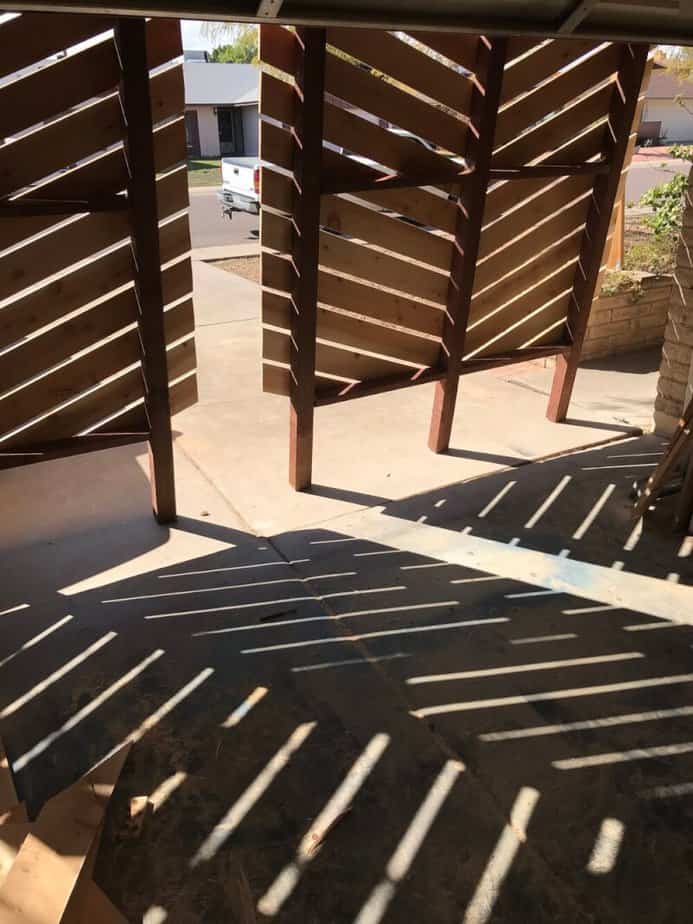 Does a wooden privacy screen look good with a pattern? The answer is, of course, yes. A good privacy screen is one that provides desired coverage. A chevron pattern can provide that.
Chevron pattern allows you to get an attention-stealing screen while maintaining your desired coverage. The pattern might be simple but nice to look at, nonetheless.
If you place it around an enclosed space outdoor, the pattern allows sunlight to enter, making it brighter. If you want an interesting privacy screen that doesn't sacrifice coverage, the chevron pattern is a solid option.
27.  Rustic Wall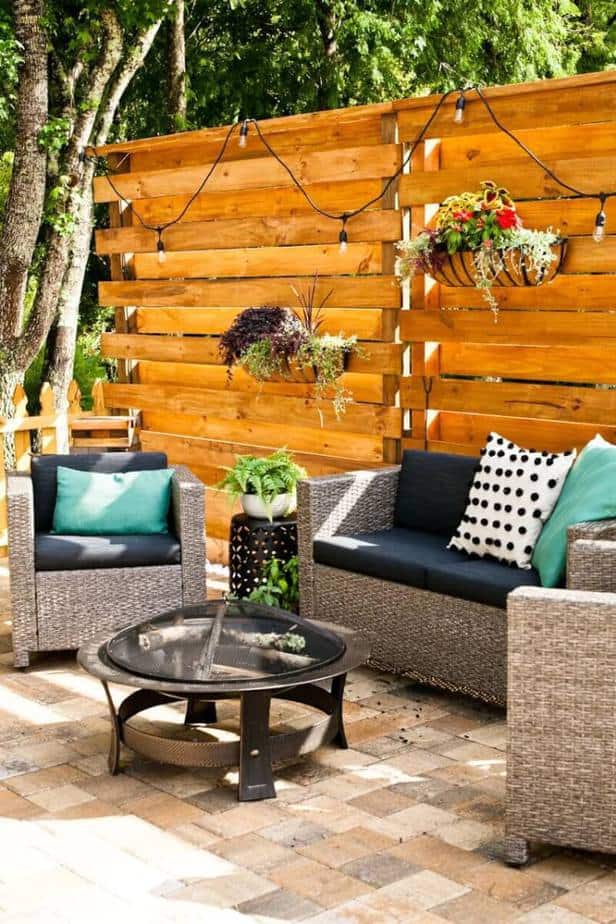 A privacy screen can be as small or as big as you need. This one here is as big as a wall. An interesting one at that.
Notice how the screen not only provides coverage and privacy but also becomes an interesting visual cue in the backyard. It stands out from the furniture and brings warmth to the space.
The hanging planters make it even better. The string of light allows you to enjoy the space day and night.
28. Vinyl Screen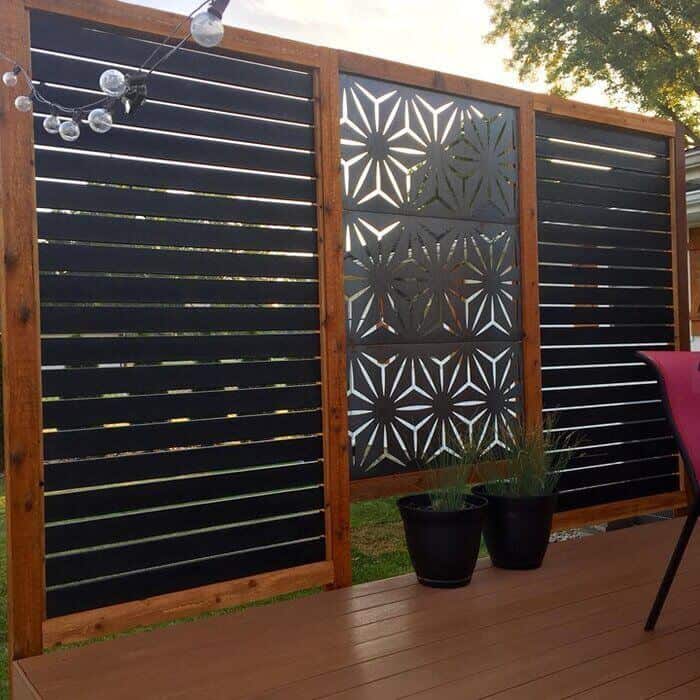 The next one in our DIY outdoor privacy screen ideas is a screen made of vinyl. The frame is made of wood but the screen itself is made of vinyl.
Vinyl is certainly an ideal option if you're looking for unique shapes and/or patterns. Take a look at this screen.
On the left and right sides, you can see thick horizontal lines whose shape resembles wooden slabs. In the middle, there are more intricate patterns that make the screen interesting.
29. Simple Metal Fence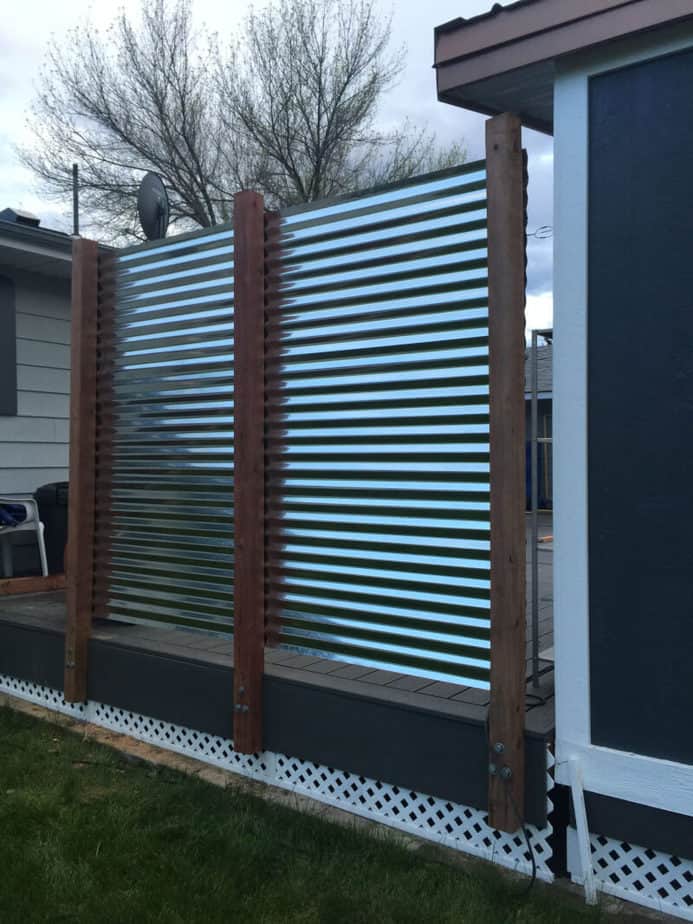 Not everyone needs or wants an outdoor privacy screen with complex or intricate designs. Some people want to keep it simple. If you want to keep it simple, just get a few sheets of galvanized metal.
Look at how simple the privacy screen here. It consists of 3 square wooden logs and two sheets of galvanized metal. The metal sheets are nailed on the logs and there you have it. A simple privacy screen.
Simple? Very? Practical? Without a doubt.
30. Bottles and Bottles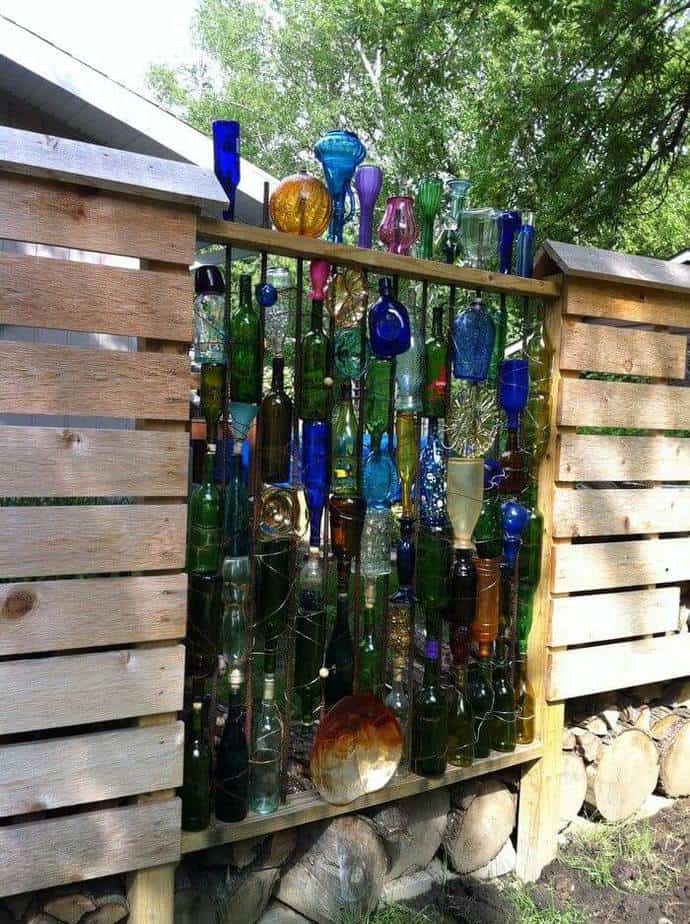 Last but not least, bottles. If you have plenty of bottles lying around in the house, collect them and turn them into an eccentric outdoor privacy screen.
You can arrange them however you want. That is, as long as it provides coverage. What's great about this is that it is inexpensive and, depending on your bottles, can be very colorful and lively.
An outdoor privacy screen need not be expensive. As DIY outdoor privacy screen ideas above have shown you, you can even make it yourself. You just have to know what kind of privacy screen to make.