COUNTRY KITCHEN ISLAND IDEAS – Country kitchen island concepts attract many house owners because of natural, classic and traditional values. Through this style, we can learn those characteristics that can tie family members together in one area.
Soft colors, natural materials, and simple design are three certain traits that color a country kitchen island model. We will further detail various types of this concept so that you can select which best meets your preference, and of course, budget.
Vintage Country Kitchen Island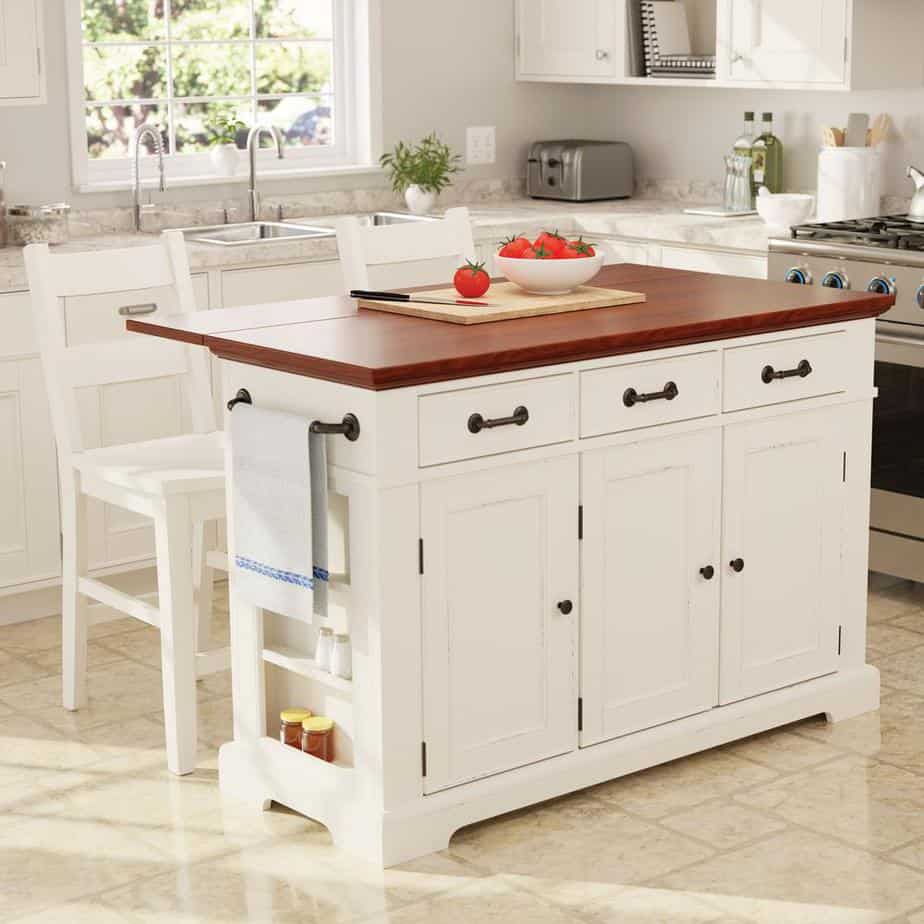 Country kitchen island closely relates to vintage feeling. This what leads the kitchen brings up vintage kitchen island concept as variation in the modern kitchen. For a strong starter aspect, you can choose a white kitchen island as this picture suggests.
Slim and elegant are two tones that you can obtain from this kitchen island. The cabinet in the kitchen island applies classic design with wooden material that links to this sub kitchen island concept.
Interesting to notice the kitchen island can be used to hang a napkin and put jars containing jam, butter, and chocolate powder.
Coffee Bar Country Kitchen Island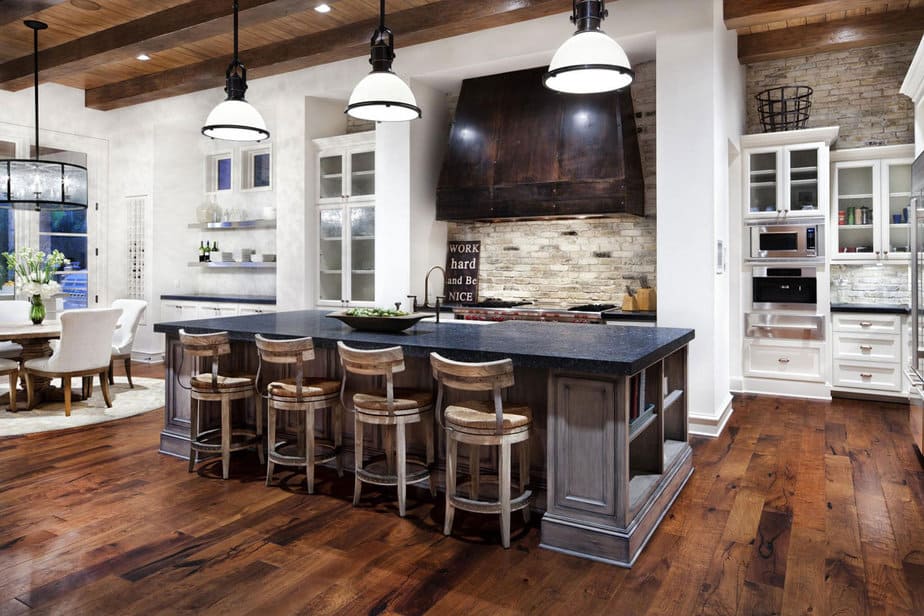 A country kitchen island has its own way to realize coffee bar-inspired one. This picture shows you can create this sub concept for your country kitchen island. The recipe lies on wooden material that brings in natural elements required for this kitchen island design.
Furthermore, this kitchen island applies wooden material for the cabinet and the pillar or stand of the countertop. You can view that the cabinet includes an open shelf to contain books, among others. The additional catchy point lies in the unique, wooden chairs.
The chairs look cute and stylish, accent aspects from coffee bar-inspired design.
Lovely Country Kitchen Island
Our third recommendation stems from the first idea in a way that both practices classic designs for the kitchen islands. While the first idea showcases the classic-styled cabinet, this kitchen island shows distressed furniture that ties to vintage furniture design.
To be exact, look at the wooden leg that supports the kitchen island and the chairs. They are strong bringers for vintage designs. The kitchen island looks fashionable and graceful. You can practice this idea when looking for a classic touch for a modern kitchen.
From enjoying a quick breakfast to serving fellas, this kitchen island can help for all of that.
Extraordinary Country Kitchen Island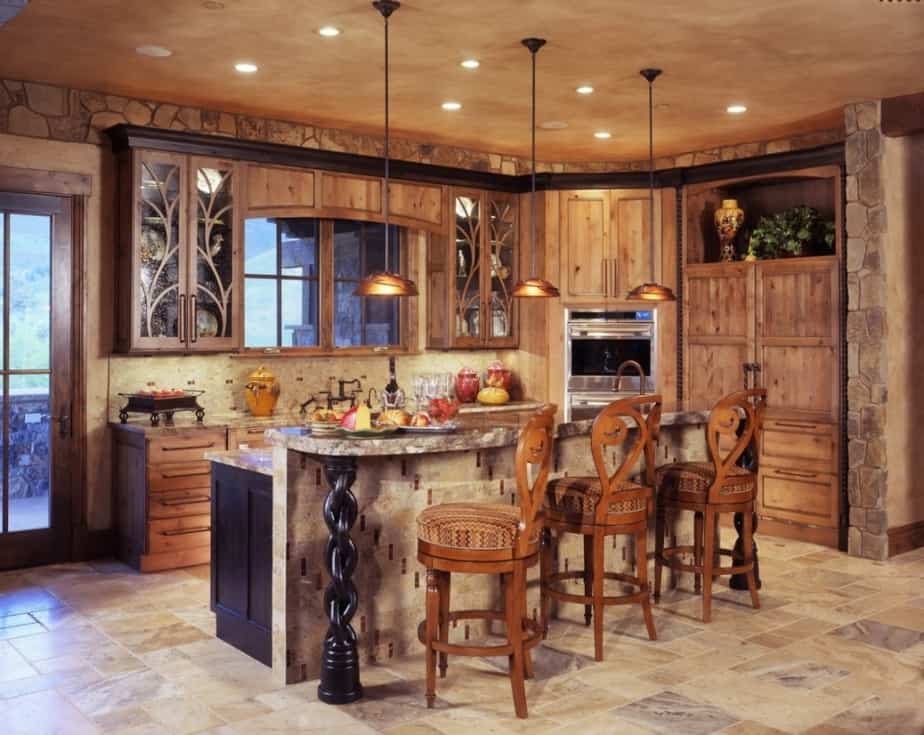 We bring you again another cool example for coffee bar-inspired kitchen island. This time around, our recommendation takes some steps higher from the second tip. This kitchen island utilizes first-class wooden materials.
This kitchen island gets more total in practicing coffee bar design because this provides two parts; one acts like "cooking table" and the higher counterpart refers to "serving table".
The wooden chairs seem classic and antique. The chairs' high legs represent the coffee bar's iconic seats. The classic tone in this kitchen island also comes from the distressed legs supporting the kitchen island.
Appealing Country Kitchen Island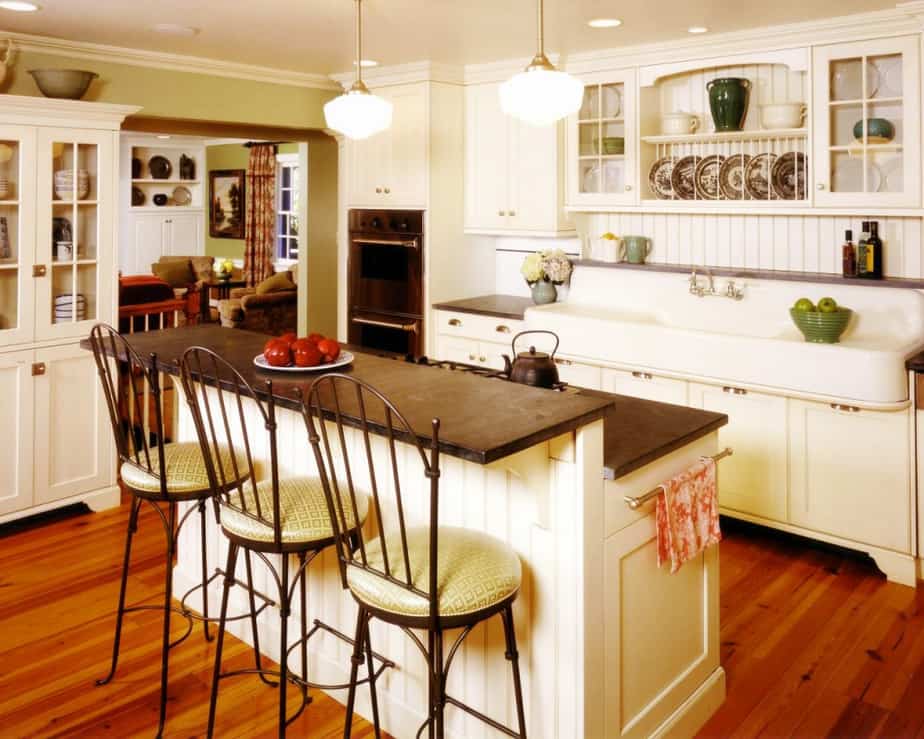 We hope you won't get bored with coffee bar-inspired designs because this style offers rich variations. This kitchen island provides one of the sub-concepts that completely interests us. We call this a modern coffee bar-style concept for kitchen island.
This kitchen island consists of two countertops, all of them utilize wooden materials. Like the fourth idea, the first countertop acts like "cooking table" and the next becomes a "serving table". The kitchen island completes itself with appealing chairs.
They are supported by trimmed and graceful legs that seem dashing.
Simple Country Kitchen Island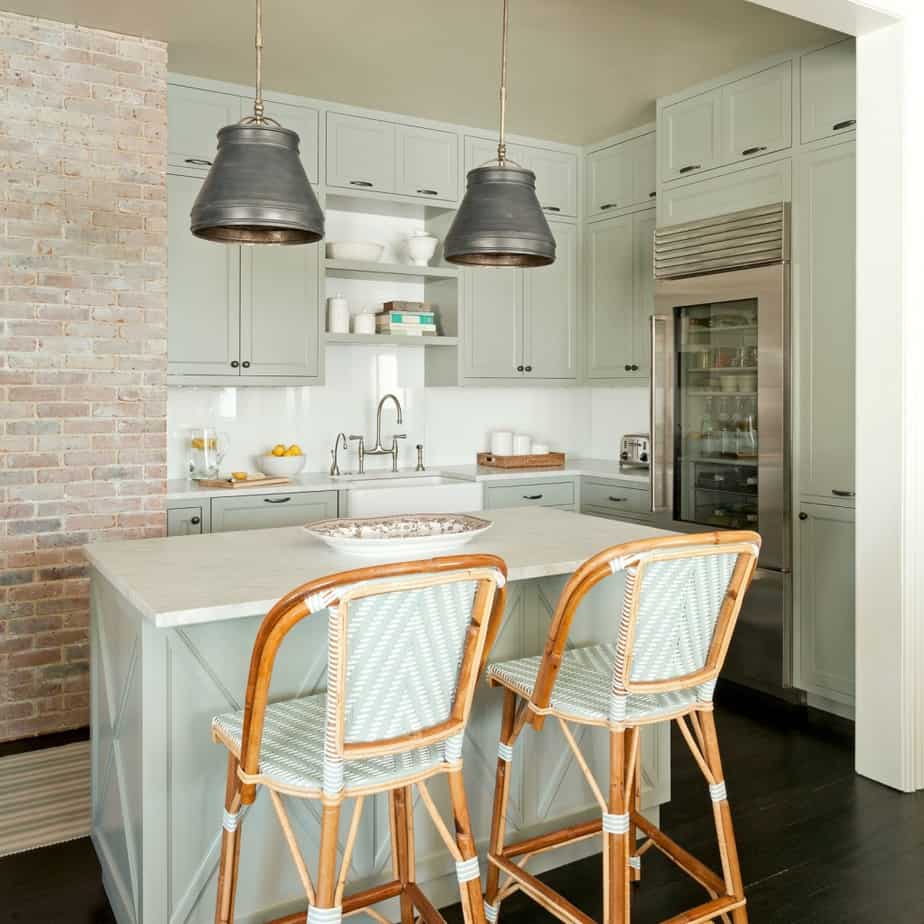 For an affordable option, you can practice this sub country kitchen island concept. All you need is simply one wooden countertop like this image suggests. Complete the kitchen island with a set of wooden chairs that draw inspiration from coastal cottage style.
In particular, select a wooden stand or pillar as this image suggests. This wooden stand or pillar portrays soft and natural feelings that we admire from country kitchen island design. Place white, marble countertop for a more delicate tone.
This kitchen island serves more like a mini dining set, the perfect site for a family chit-chatting moment.
Top Country Kitchen Island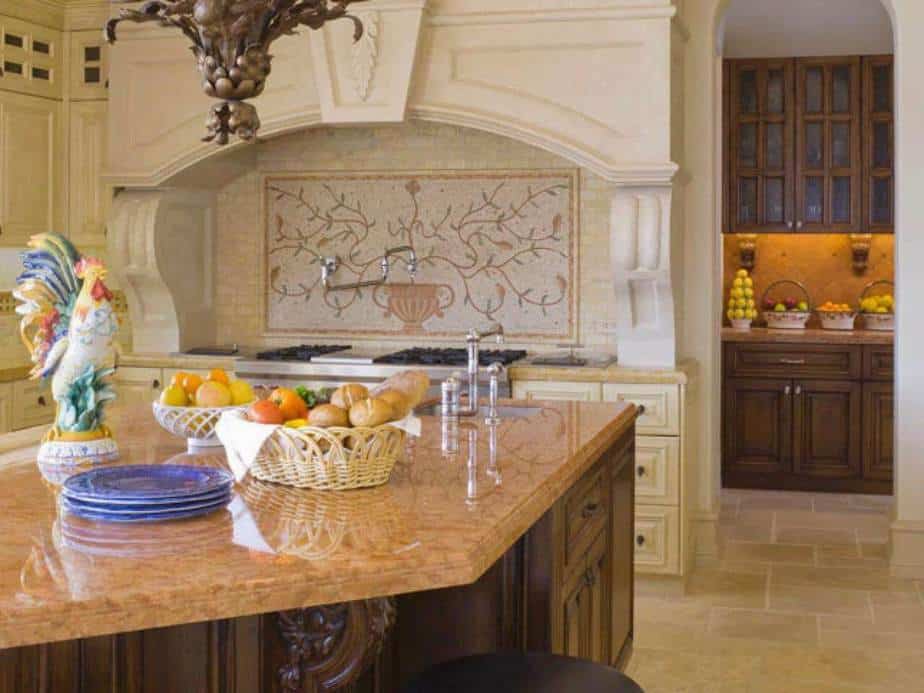 The seventh of our 10 country kitchen island ideas presents for you a premium concept that applies to a country kitchen island. This mode utilizes pricey, top marble as the countertop and solid wooden material for the stand or pillar.
With that material selection, you can view the overall kitchen island seems tasteful and vintage. This kitchen island looks large that again enhances country kitchen island tone, particularly in the past where kitchens occupy large space.
Traditional Country Kitchen Island
The eighth tip invites you to recycle old furniture. Take a look at the wooden stand or pillar that supports the wooden countertop in this kitchen island. The wooden stand gets repainted in blue. Thus, this looks to refresh and remains classic.
Complete the pillar and the countertop with wooden chairs like this image. Surely, this kitchen island looks homey and traditional, much like we see in the past. Whole family members can have casual chats while helping mother preparing food ingredients.
Luxurious Country Kitchen Island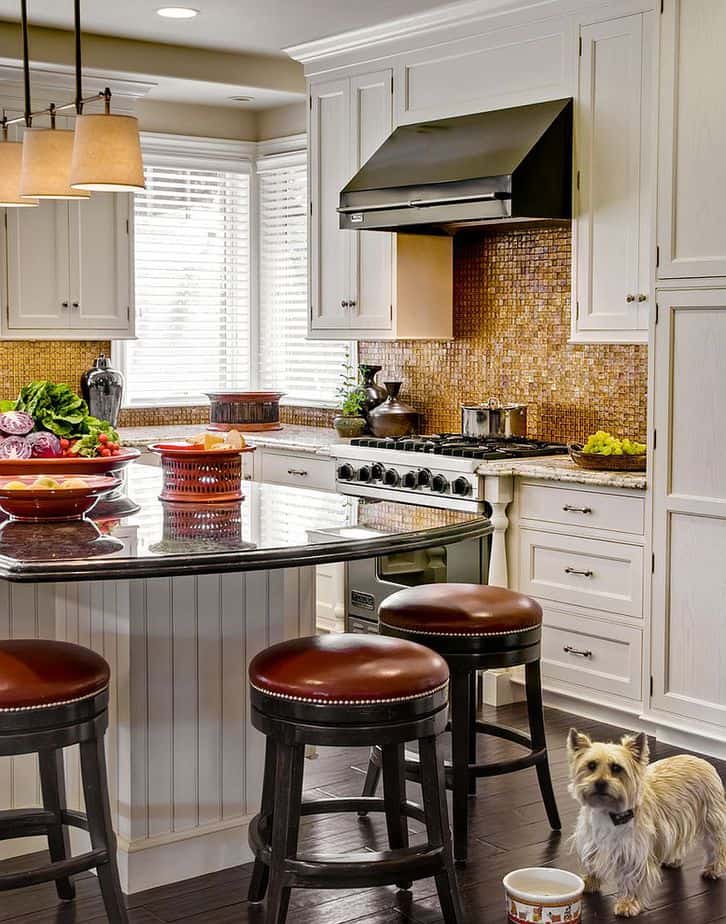 A dark shade of marble represents a natural element in this kitchen island. The marble becomes countertop in this kitchen island and matches with the cute chairs around it. To provide a nice contrast, the countertop gets support from white, wooden pillars.
This kitchen island looks vintage and glowing. You can use this kitchen island for preparing food ingredients and enjoying hot tea with whole family members.
Cheap Country Kitchen Island
We close this list with the most affordable country kitchen island of all. Simply purchase a wooden table with some shelves as this picture suggests. With this model, you can do a lot of things on your own or with your family.
From hanging wet napkin to serving breakfast for your children, this kitchen island can accommodate them all. You can also place clean plates, teapot, and heater at the shelf. This simple kitchen island brings minor natural element that suffices your budget range.