KITCHEN ISLAND BACK PANEL IDEAS – Kitchen island back panel concepts refer to the part of the stand or pillar. Usually, a back panel uses wooden material that opens room for various designs.
You can select beautiful back panel models as simple way to create wonderful kitchen island models. We will further discuss about this in our list below. We consider this list an important one that especially goes for those of who with limited budget.
Kitchen Island Classic Back Panel Ideas
We believe you often see this back panel model in classic or traditional kitchens. You can copy this design that focuses on simplicity and elegance. This back panel doesn't contain many layers or squares.
Within that white back panel, you can view three boxes; one large square and two rectangular boxes. The large squared one becomes the center of the back panel. That modest idea results in this graceful and chic back panel.
This back panel suits for this overall kitchen island that applies classic design as seen from the chairs' distressed legs and the whole cabinet design.
Kitchen Island Antique Back Panel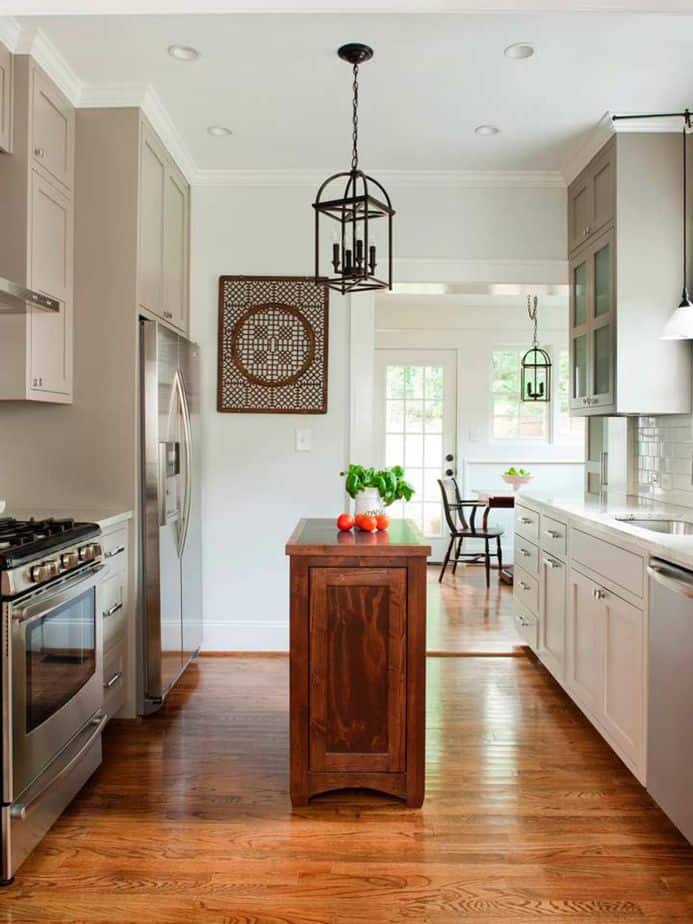 This kitchen island deploys a piece of standalone furniture with antique design. With this simple kitchen island, the kitchen gets strong balance into its strong, high-tech kitchen appliances.
The back panel of the kitchen island looks simple with the all-wood concept that it applies. As a minor variation, the back panel uses two types of wooden materials. For the outer part, you can view the light shade of wood while the inner part looks much darker.
You can learn that an antique back panel has a peculiar way of attracting modern people's eyes.
Kitchen Island Coastal Cottage Back Panel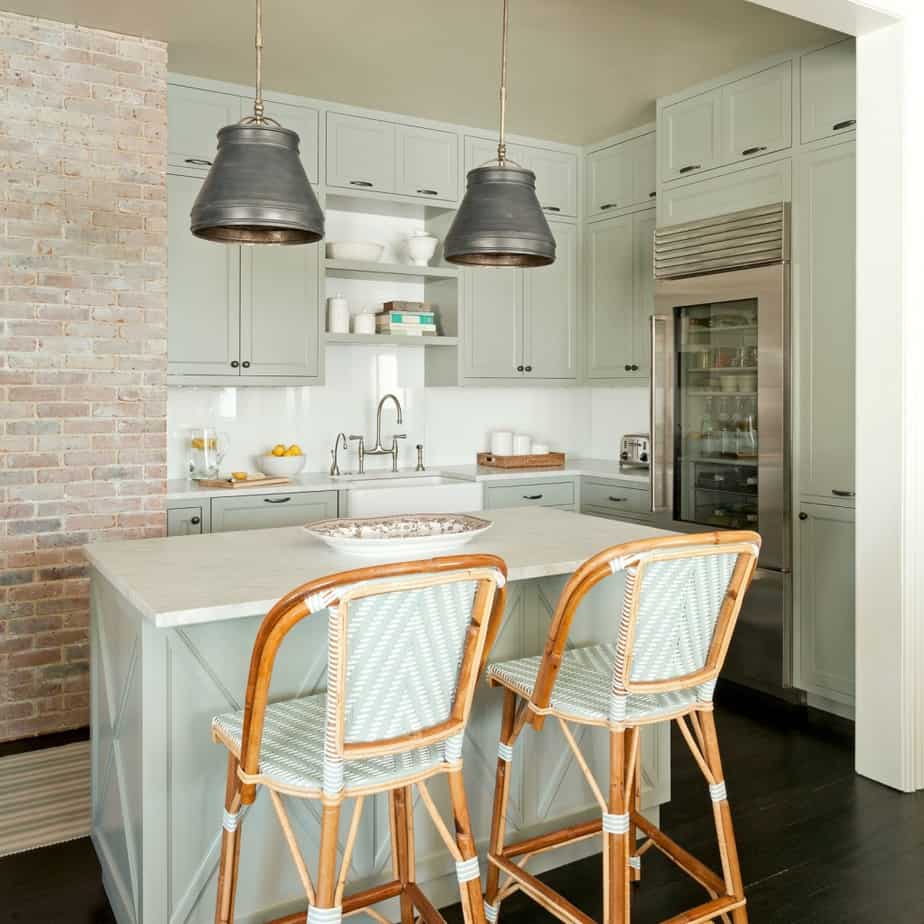 Our third recommendation shows how influential back panel can be a certain theme kitchen island provider. This kitchen island wishes to copy a coastal cottage kitchen design. The kitchen island selects the back panel with wooden X-shaped attached to it.
Not to forget, the kitchen island chooses a white-painted wooden pillar or stand. With that simple back panel selection, you can quickly sense the coastal cottage ambiance filling up for this kitchen island. Complete the back panel with wooden chairs like this.
The kitchen island suffices for a fair level of coastal cottage design that links you to nature.
Kitchen Island with Soft Back Panel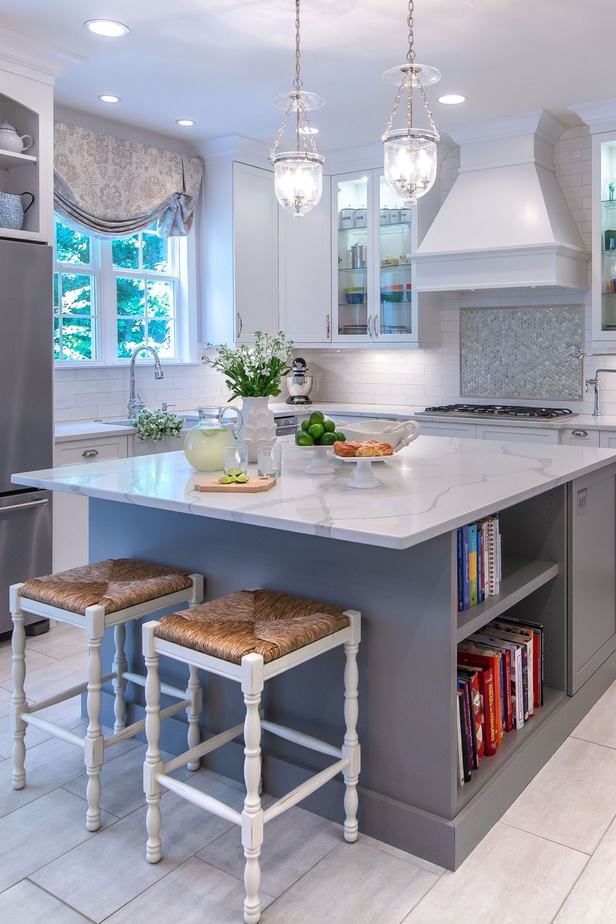 We believe some of you prefer to plain back panel. Our fourth recommendation invites you practicing this concept with minor variation. This time around, you can choose a plain back panel with a light shade of grey.
That creates the back panel looking mild and comfortable. You can complete the overall back panel with a shelf that looks like a bookshelf as this picture further suggests. You can choose other colors for the plain back panel.
This back panel matches with the white-and-gray marble as the countertop.
Kitchen Island Old Back Panel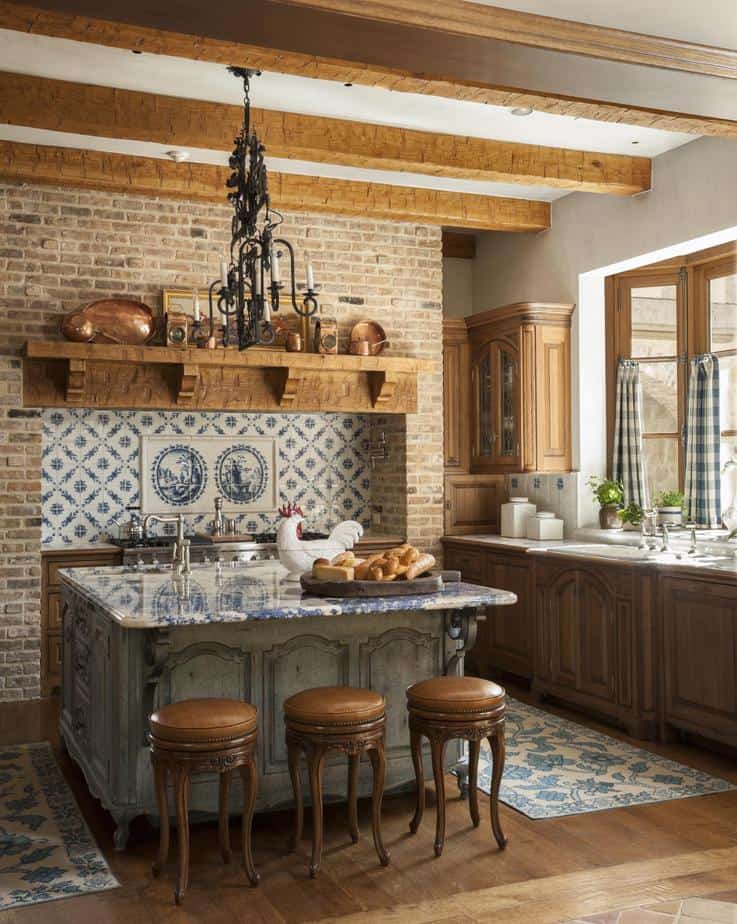 Recycle old furniture in your house as a kitchen island. This image suggests you reusing antique storage that gets painted in white. The kitchen island has typical aged furniture design with gentle curves. You can view from that back panel.
The panel shows timeless love from family generations in taking care of the storage. Made from super solid wooden materials, the back panel seems graceful. Once looking at it, you will feel an intense aging ambiance that doesn't get rusty.
If you don't have antique storage, hunt in a flea market.
Kitchen Island with Minimalist Back Panel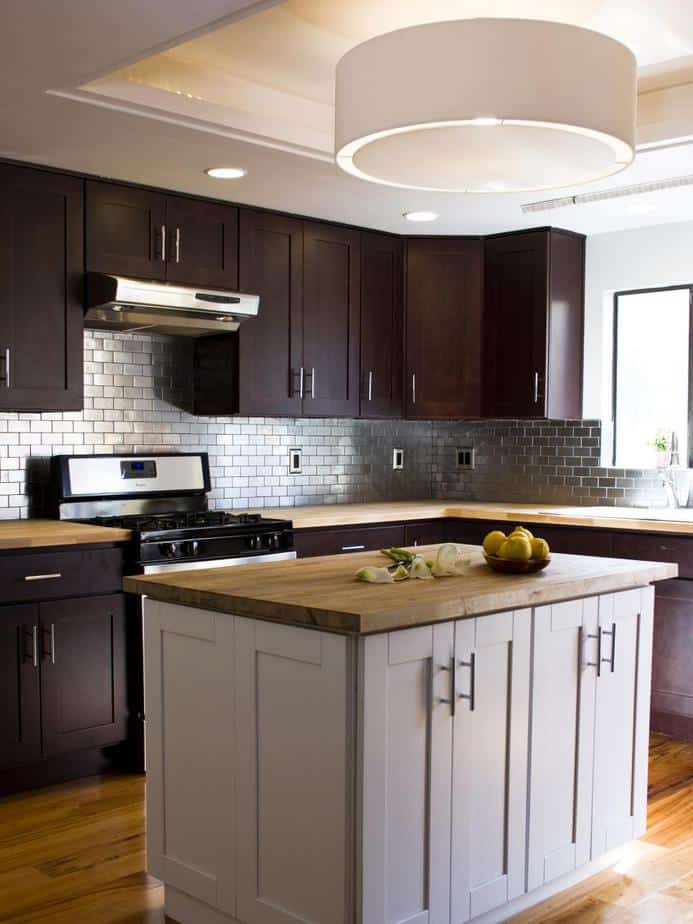 Two rectangular boxes fill up the back panel on this kitchen island. Trimmed and simple, the back panel seems minimalist. The back panel accompanies cabinet style that presents a chest or cupboard style.
The minimalist back panel fits into this modern kitchen. With this minimalist back panel, the whole kitchen island keeps this kitchen at the track. This refers to minimalist and graceful feelings that fill up the air of this kitchen.
The kitchen island serves as a storage and preparatory area for food ingredients or ready-to-serve meals and drinks.
Kitchen Island with Ordinary Back Panel
The seventh of our 10 kitchen island back panel ideas presents one of the most widely-used back panel designs in today's kitchen. The back panel uses wooden materials that divide themselves into three parts.
You can see that concept in this image. All are in a vertical formation, the back panel completes itself with wooden borders. That ordinary design has a particular point that makes it impressive. For some, they don't really like complicated models.
This back panel concept corresponds with white marble as the countertop and the overall kitchen's modern and relaxed ambiance.
Kitchen Island Beachy Back Panel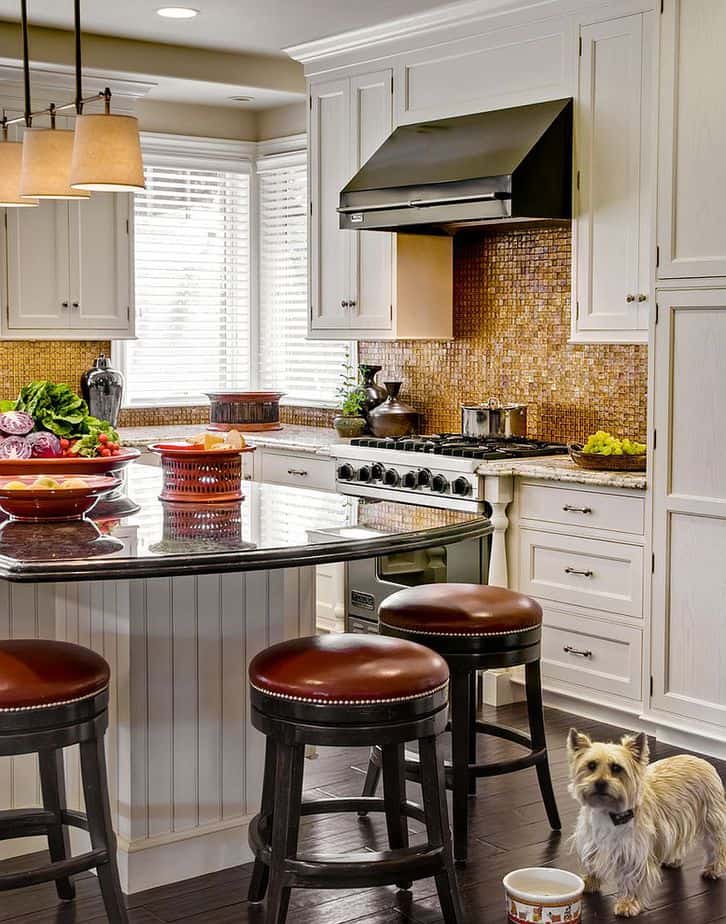 Beachy back panel at this point is another variation from the trick in the third recommendation. This time around, you can select white wooden materials like the back panel. In particular, select wooden boards that vertically tie to one another.
You can view that exact example from this picture. This back panel takes an idea from the beach cottage. Pure and clean, the back panel provides a cool contrast to the dark shade of marble as the countertop.
Kitchen Island Elegant Back Panel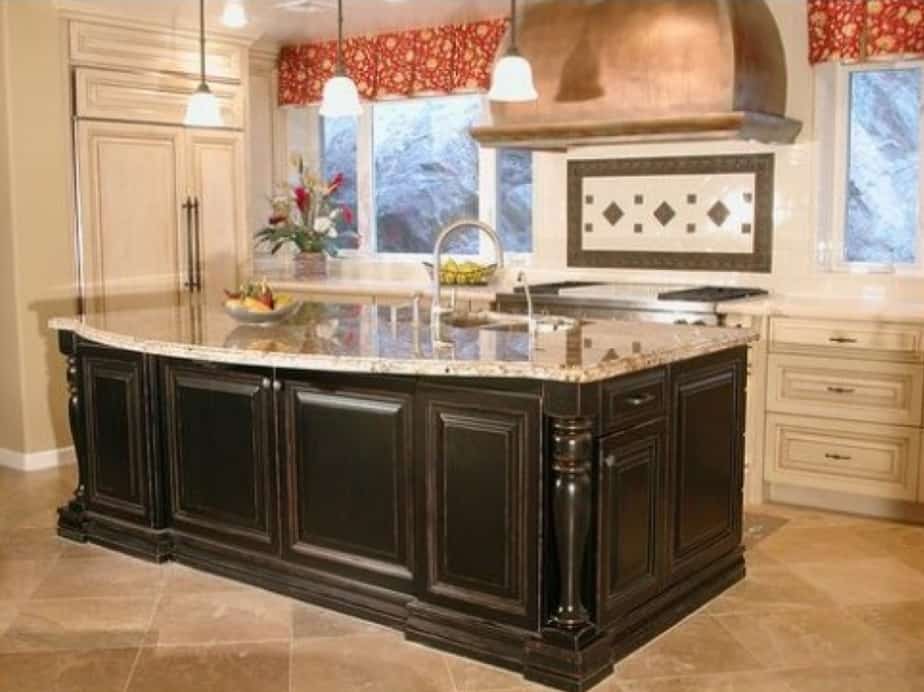 Other than white and brown tones, classic back panel design can choose black, wooden materials. That selection creates the back panel into an elegant and vintage one. This image best proves that style.
The back panel contains a classic design that stresses simple boxes, gentle lines, and distressed pillars. The back panel takes a drastic turn from common style with the dark color.
Graceful and glowing, the back panel brings in top vintage elements in this kitchen.
Kitchen Island Brave Back Panel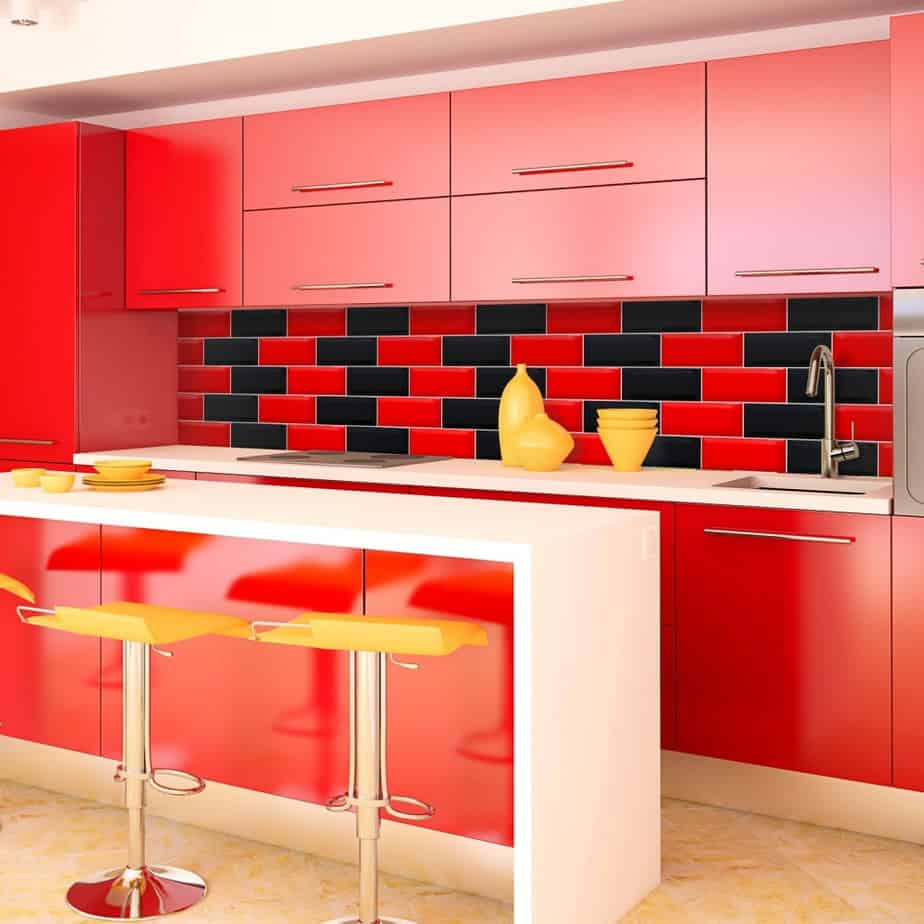 We end our list with this bold back panel that utilizes plain and modern material. The back panel takes up red with black lines. That design suffices for a courageous and bright mood for this kitchen island.
Like the fourth recommendation, this back panel matches with the entire kitchen's themed color; red. The coffee bar lookalike kitchen island carries refreshed and updated design that accommodates your social gathering with friends and relatives.
Set aside extra time for hunting this kitchen island material for a total red kitchen tone.