MODERN OUTDOOR KITCHEN IDEAS – Modern outdoor kitchen styles have identified themselves with fresh and young looks that hope to remain in sync with current home interior design. Many choose this model for simplicity and multifunction.
Light material, minimal item selection, and neutral color are among clear identifiers for this style. Some variations are up for trial. You can play with some sub-models in the following list to prove modern outdoor kitchen doesn't all about plainness.
Spacious Modern Outdoor Kitchen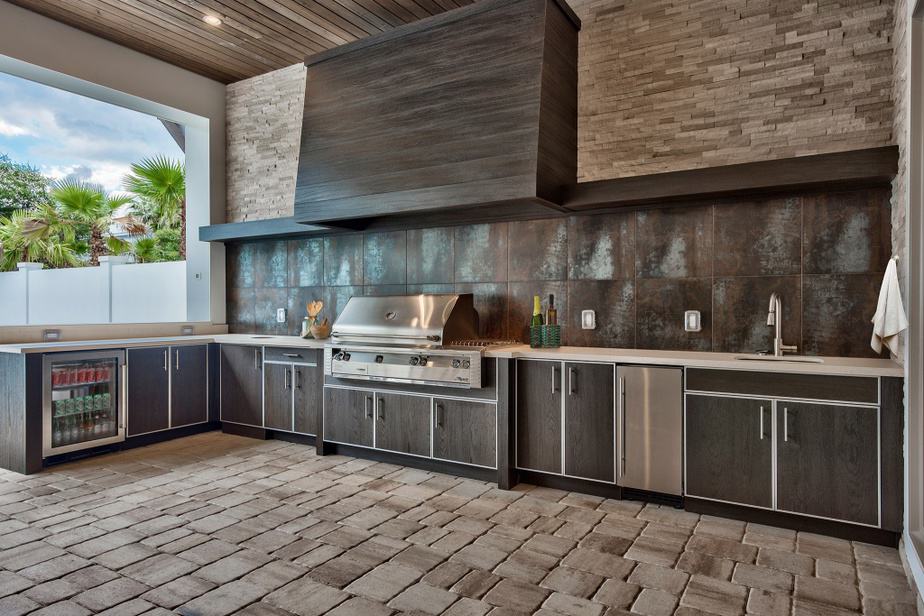 Some modern kitchen owners prefer to keep their wide outdoor kitchen remain that way. Large kitchen equipment in minimal number holds an essential role to let fresh air makes an easy way into this type of outdoor kitchen.
This recommendation provides a fine example for those of you with that goal in mind. Select light, wooden cabinetry that supports countertop of this kitchen. Choose medium refrigerators and one gas stove.
One sink unit completes the kitchen setup. Leave most of the countertop empty as you place kitchen tools and food ingredients in the storage.
Neutral Modern Outdoor Kitchen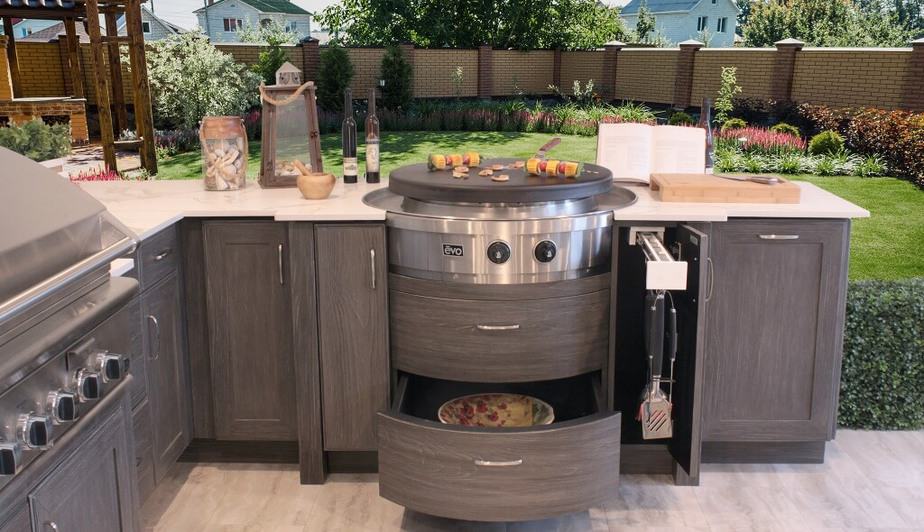 As previously mentioned, a modern outdoor kitchen closely ties itself to a neutral color. Plain colors, such as black, white and gray, are up for experiments. This tip focuses on gray cabinetry and white countertop.
The two make up for a good combination in this outdoor kitchen model. The gray cabinetry is made from wood. The choice results in this light and fresh feelings. The white countertop contrasts with the cabinetry because gray seems dark, after all.
The kitchen setup remains stylish despite the small space it sits on. The gas stove acts as the main cooking tool.
Smart Modern Outdoor Kitchen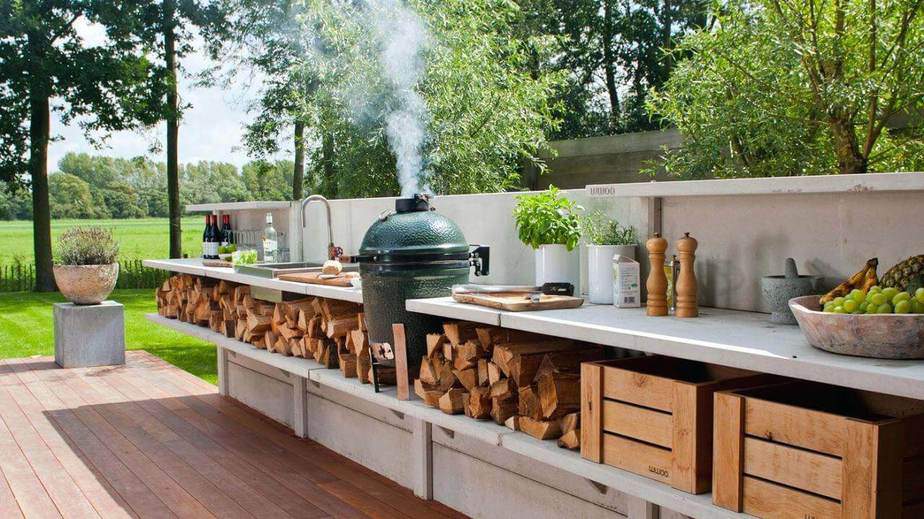 A modern kitchen outdoor encourages us to make use of any given space for this area. Take this example. The outdoor kitchen utilizes the wall. The outdoor kitchen consists of two-layered countertops that are attached to the wall.
That should suffice for the simple yet functional outdoor kitchen. You can turn the outdoor kitchen into a lengthy one as this picture suggests. Much like a floating outdoor kitchen, the layers take up different items.
The big green egg becomes the sole cooking tool in this outdoor kitchen. Fulfill the countertop with spices, food ingredients, and fresh flowers as the picture suggests.
Concise Modern Outdoor Kitchen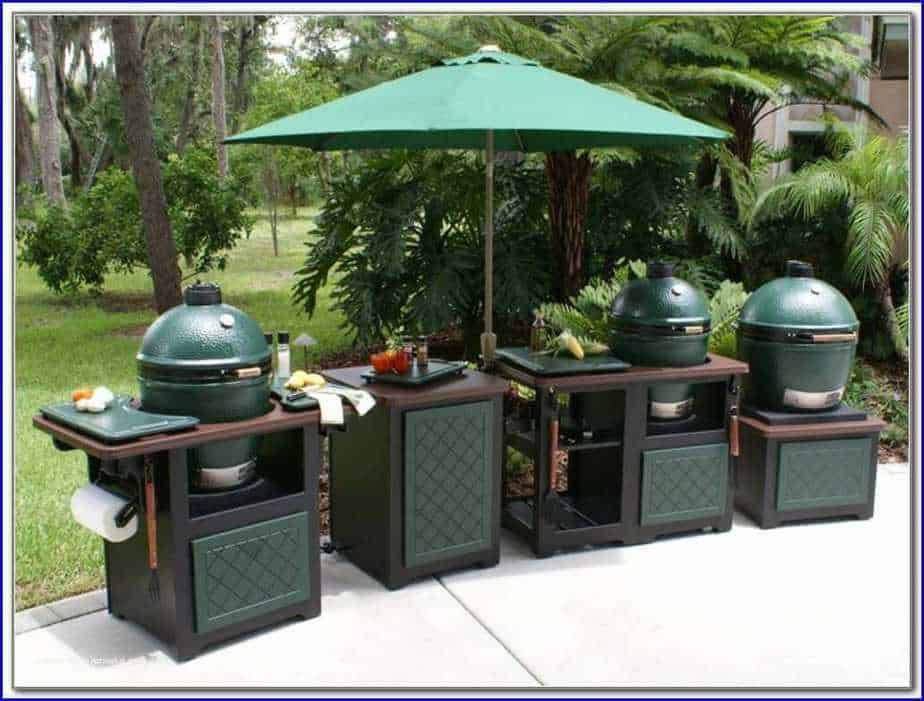 Did you see this modern outdoor kitchen before? We figured it out. We believe some of you may think this outdoor kitchen copies that we often view in an outdoor restaurant or garden party.
This outdoor kitchen layout is concise and purposeful. There are four tables that perform different tasks. Three big green eggs become the most important aspect of this outdoor kitchen. Use each of the big green eggs for different goals.
Use one of the tables to take up dishes or meals. This style proves you can choose a certain color as the theme.
Green Modern Outdoor Kitchen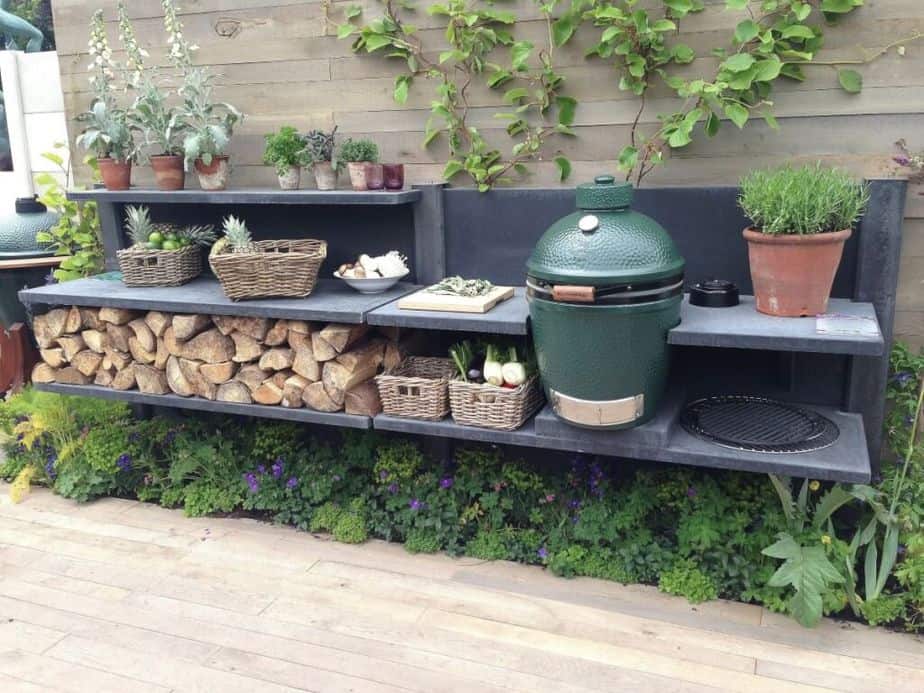 Floating at the wall backdrop, this modern outdoor kitchen opens room for a more specific theme. We conclude the style as a green modern outdoor kitchen because the plants put in plenty vases in this picture.
The outdoor kitchen chooses to place more plants instead of cooking equipment or eating utensils. One big green egg, one tray of eating utensils and two boxes of food ingredients are all that we see.
The kitchen fulfills the lower layer with some wood cuts. More plants surround the floating kitchen model. Can't argue the kitchen reminds us back to nature.
Simple Modern Outdoor Kitchen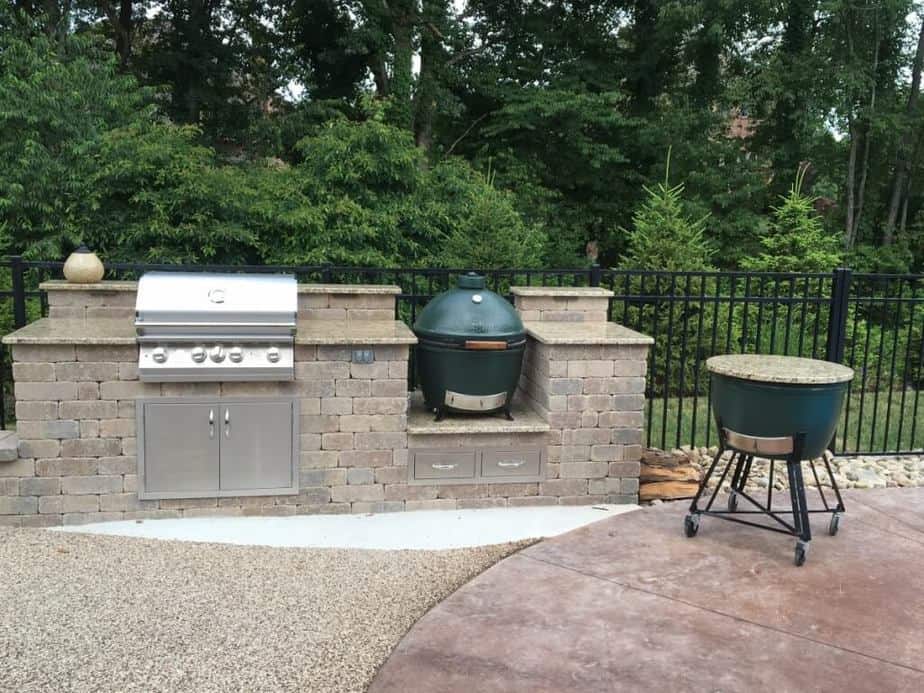 A modern outdoor kitchen can be as simple as this example. You can see the outdoor kitchen contains necessary items only. No decorations, like flowers or plants, seen in this outdoor kitchen. This sample emphasizes cooking function.
One big green egg performs as a cooking tool along with the gas stove. You can grill, warm, make bread and cook various menus at the two tools. Select which one that suits most of the necessities at certain times.
The countertop can take up food ingredients or ripe meals and drinks.
Catchy Modern Outdoor Kitchen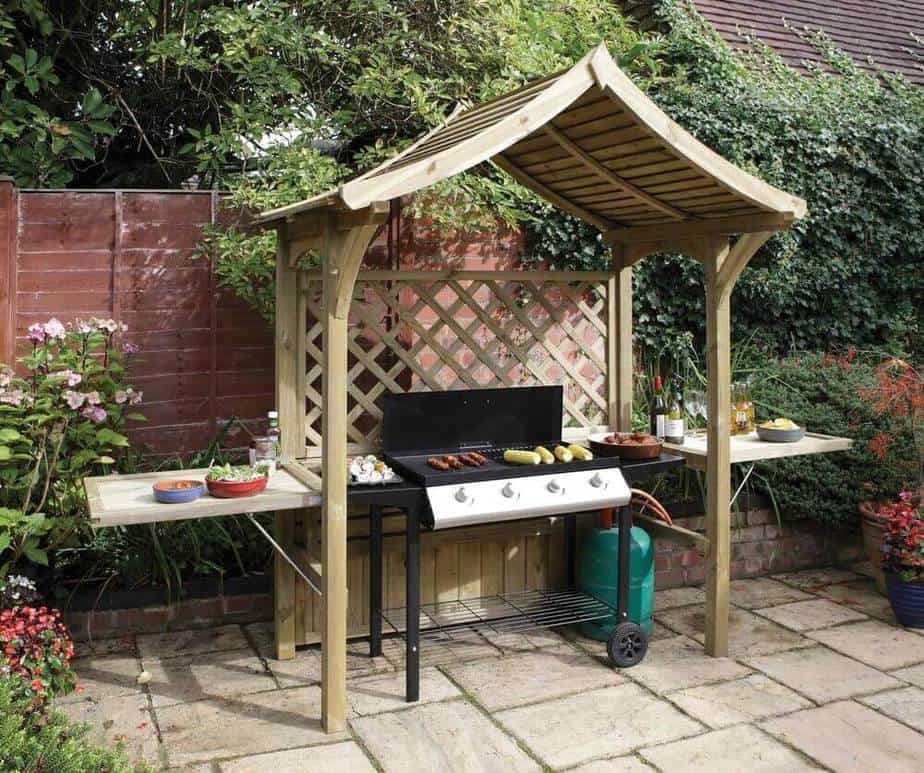 An inexpensive modern outdoor kitchen shouldn't leave you with a boring and plain look. This picture shows a modern outdoor kitchen can appear stylish and catchy. Looking at the picture carefully, some tips can be taken out.
Choose a specific wooden house that can further act as an outdoor kitchen. The example draws inspiration from Chinese architecture thanks to the curvy roof. The humble cover protects one floating table and one grilling.
Those are what you need to create a cool modern outdoor kitchen.
Camping Modern Outdoor Kitchen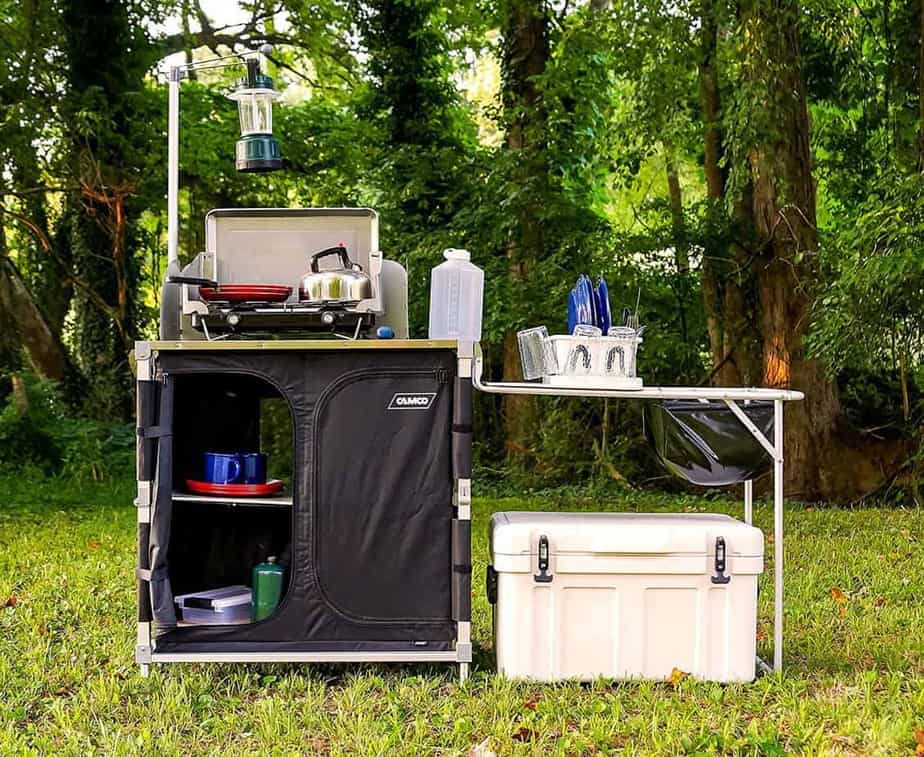 A modern camping outdoor kitchen can provide an easy and cheap outdoor kitchen you can try on your own. You don't actually need to camp in a forest to experiment with this sub outdoor kitchen style.
The kitchen design, in essence, consists of two main aspects. You can view the taller desk that acts as a countertop for the gas stove. Beneath the countertop, you can utilize the plastic cabinet. The second part refers to the table that can gather eating utensils.
Mobile Modern Outdoor Kitchen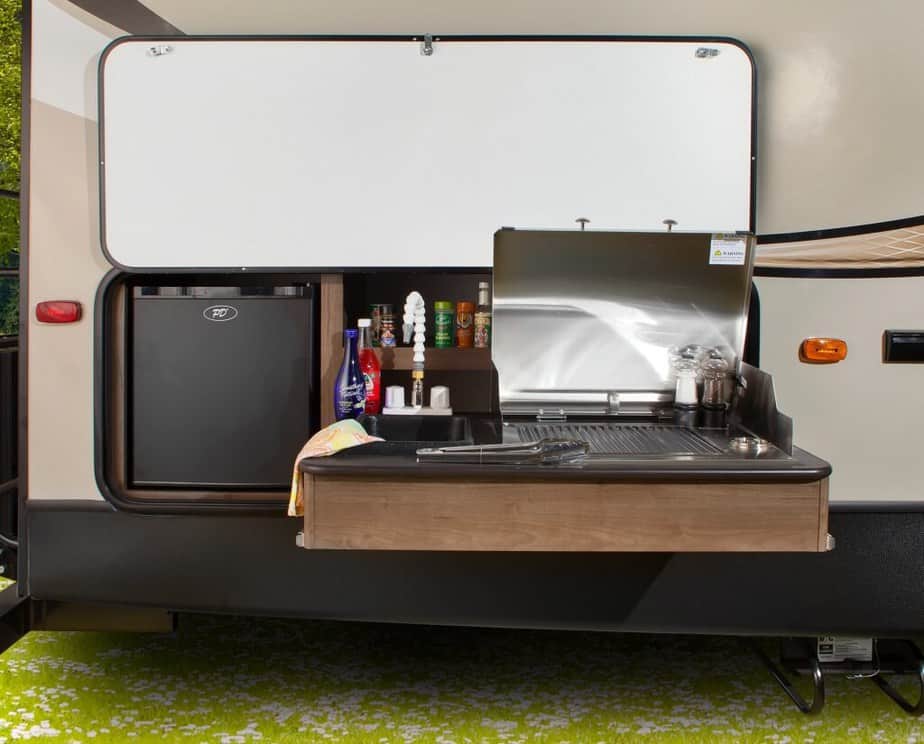 There have been many recreational vehicles that equip themselves with mobile kitchens. The suggestion further showcases a cute mobile kitchen that allows you doing basic activities as you always do in an indoor kitchen at home.
The outdoor kitchen contains one small freezer, one small gas stove, one tiny sink unit and two shelves for putting dishes, snacks and many more. Enough to keep the necessary nutrients while on the road.
Efficient Modern Outdoor Kitchen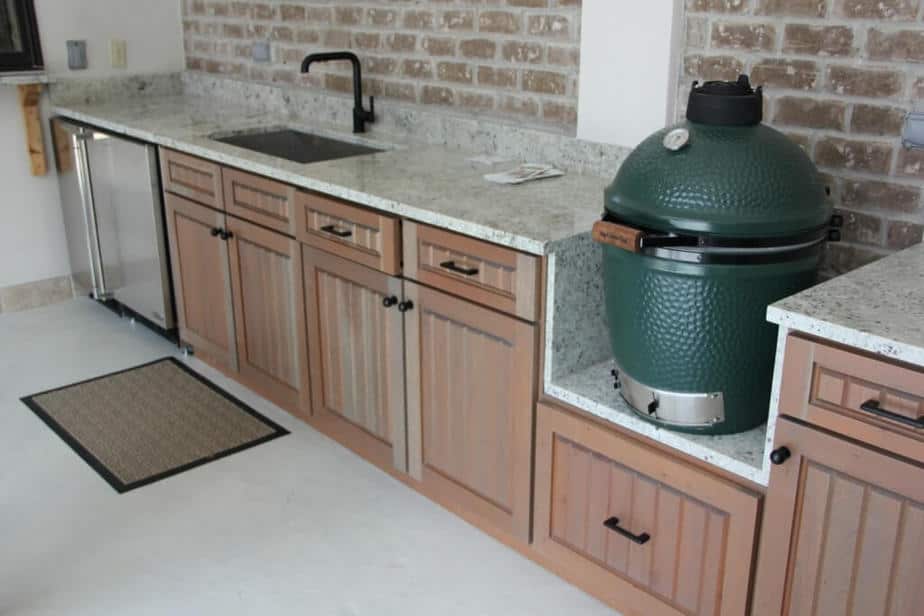 Another example for a modern outdoor kitchen that puts more focus on function and simplicity. This kitchen relies on the wooden cabinetry for smooth variation. Other than that, the kitchen looks very common in today's households.
The kitchen contains one sink unit in the countertop. One big green egg becomes the sole cooking tool that sits on top of the special area. A small freezer can keep food ingredients, snacks, drinks and fruits fresh and cool.
Place all eating utensils, book recipes, cooking equipment in the cabinetry. That design allows this kitchen clean, minimalist and useful.