OUTDOOR KITCHEN COVER IDEAS – Outdoor kitchen cover can protect foods and drinks from water drops in case heavy rain suddenly occurs. The cover can boost the aesthetic element of your outdoor kitchen.
Some of the following ideas can lead you to conclude some outdoor kitchen covers look classy. That later suffices for making kitchen outdoors of the kitchen covers to host formal garden parties or even private wedding occasions.
Practical Outdoor Kitchen Cover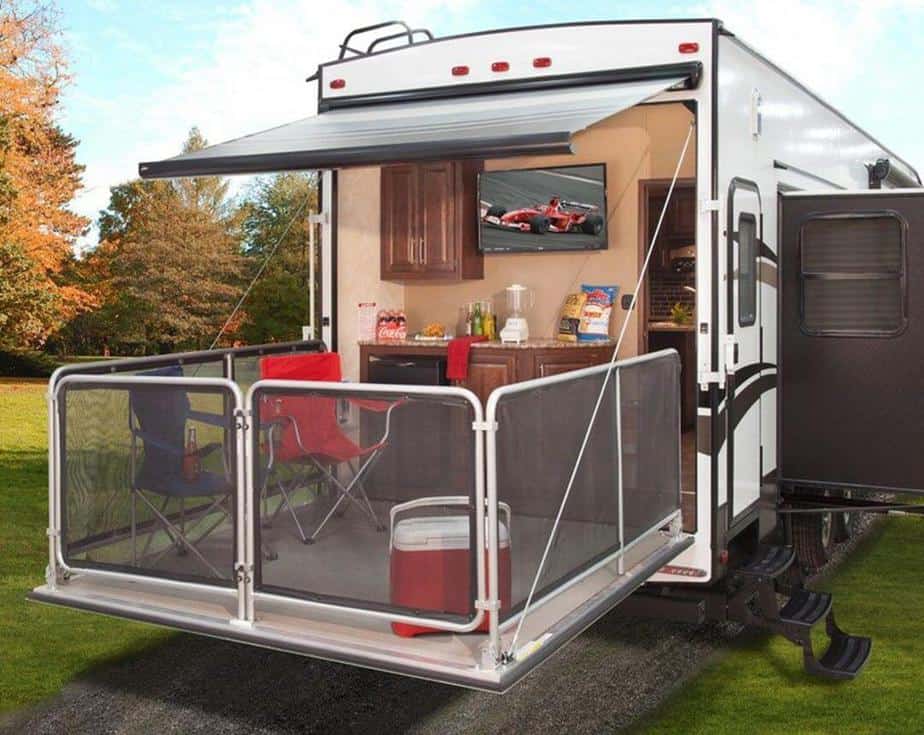 This recreational vehicle completes itself with a portable, complete outdoor kitchen. not to forget, this kitchen model protects whatever and whomever at the area with a practical cover.
The cover keeps you and other family members from the heat of the sun. Thus, you can all enjoy homemade meals without overly exposed to the heat of the sun or the rain. When cooking or eating are done, simply push the cover over.
You can fold the cover and now ready to resume the holiday journey.
Light Outdoor Kitchen Cover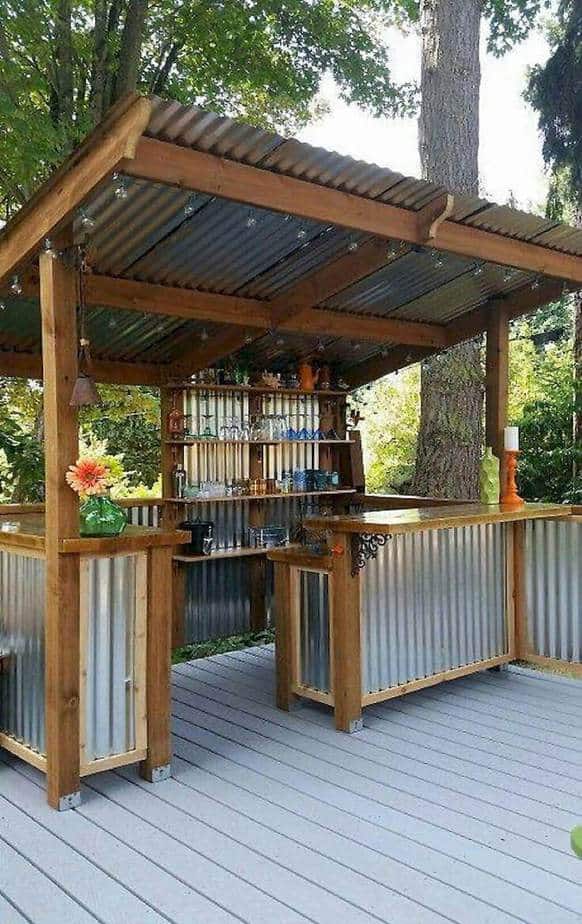 Corrugated stainless steel boards can provide a good start for a light, simple outdoor kitchen cover like this. Use wooden beams to support the whole outdoor kitchen cover. Light and simple, the cover is easy to set up.
Beneath this simple rooftop, you can do a lot of activities. This outdoor kitchen further invites you to design the whole area. Use other corrugated stainless steel boards as backsplash as seen in this picture.
The same material can be used as a pillar and fence of the outdoor kitchen. The suggestion proves no need costly material for a cool outdoor kitchen cover.
Transparent Outdoor Kitchen Cover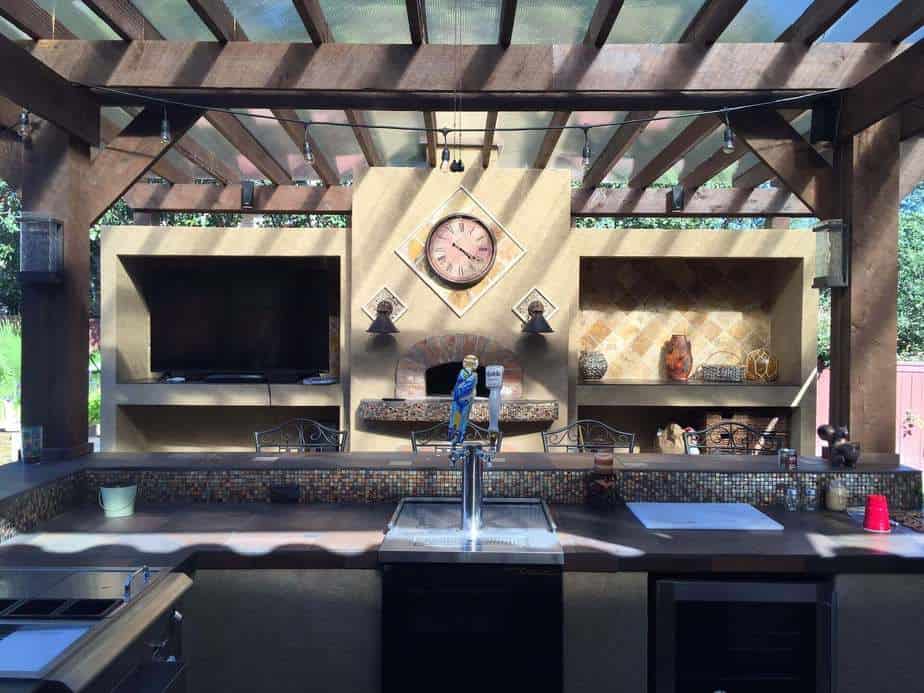 Apply this outdoor kitchen cover design for transparent and earthy appearance. The outdoor kitchen cover mixes transparent, thick rooftop and solid wooden beams. The design fits into the overall kitchen that seems elegant and tasteful.
During the daytime, rays of the sun can reflect upon the countertop and the backsplash of the kitchen. This cover model makes the outdoor kitchen feeling more vibrant. As night comes, the outdoor kitchen can provide slim additional light.
They thus create this outdoor kitchen cover nice choice for garden parties in both situations.
Hut Outdoor Kitchen Cover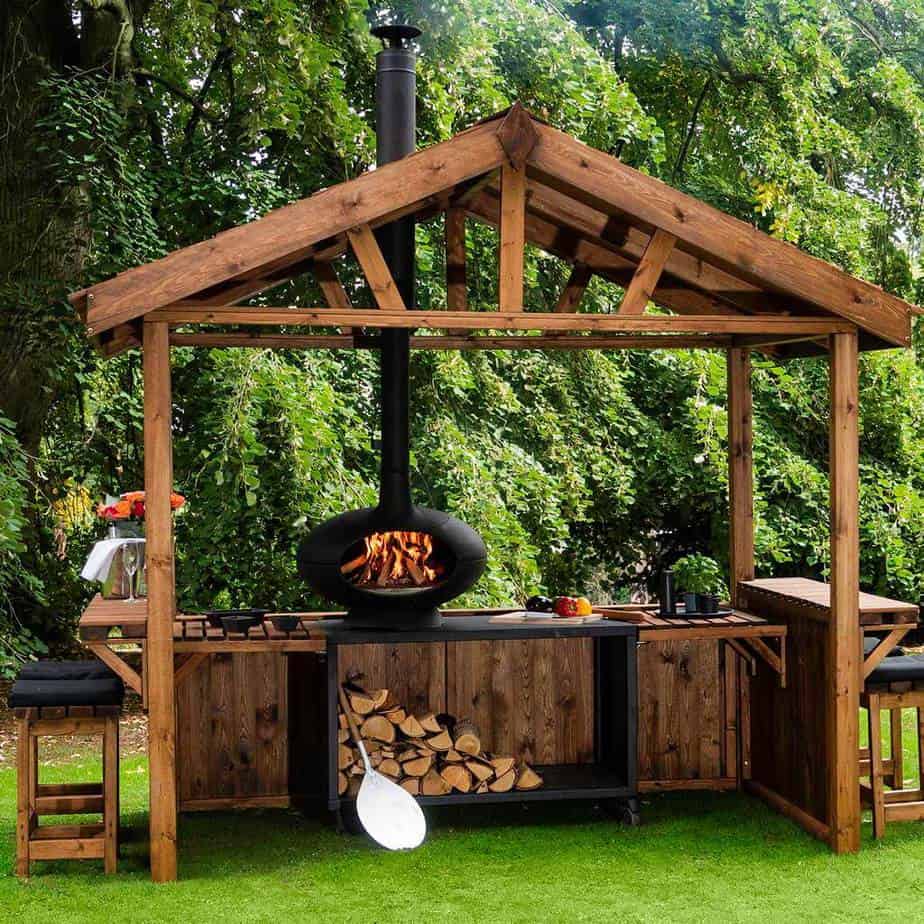 Another way of wood usage. This recommendation encourages you to go back to nature. This outdoor kitchen cover gets inspiration from the hut that we often see in rice fields where farmers take some rests.
Take some strong wooden beams then turn them into a simple and traditional hut like this. As a typical kitchen contains, complete the area with sink unit, stove, eating utensils, cooking equipment, and many others.
The outdoor kitchen cover perfectly represents your desire to totally get in sync with mother nature.
Interesting Outdoor Kitchen Cover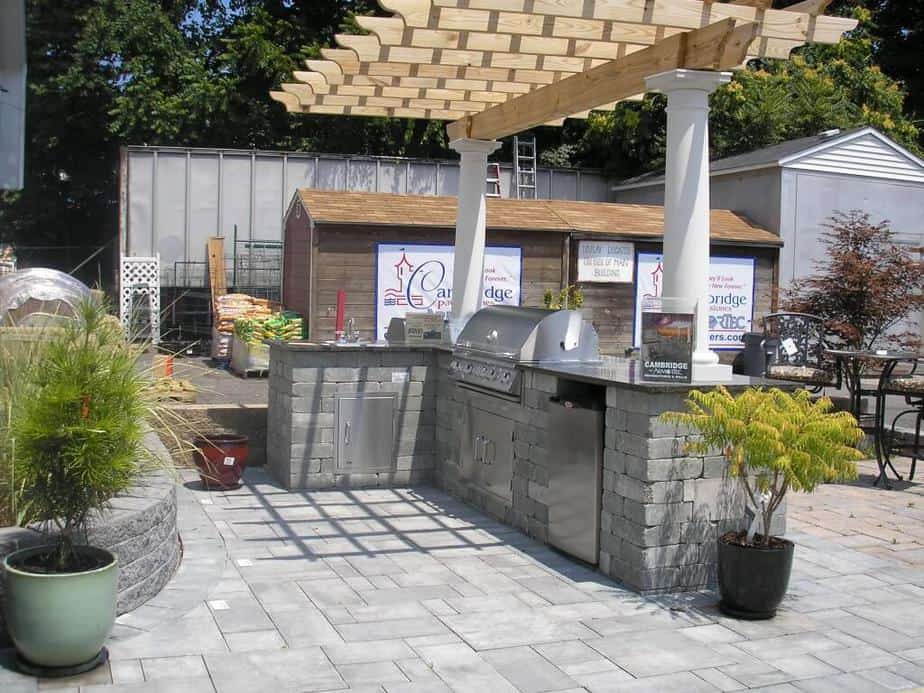 Get playful with wooden beams. Various styles of wooden beams can lead to strikingly different feelings. This example proves that. The outdoor kitchen cover still relies on wooden beams with a unique style.
Each of the beams has creative edges that when put together can create an interesting outdoor cover. The picture further shows that the beams don't get completed by transparent boards or corrugated stainless steel boards.
Thus, the cover can't protect foods and people from rainfall but partially withstand the ray of the sun.
Traditional Outdoor Kitchen Cover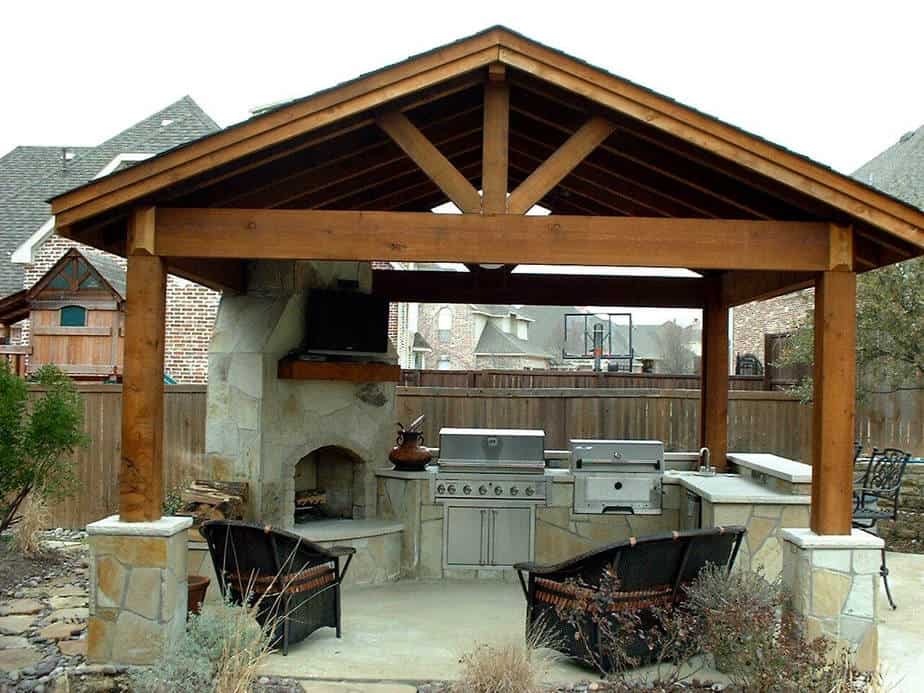 This outdoor kitchen cover applies a similar concept from that of the fourth one. Both draw inspirations from a hut that symbolizes modesty and comfort. The outdoor kitchen cover takes more solid wooden beams.
Their arrangement resembles a traditional Javanese house. The beams get support from wooden pillars. The modest construction thus looks shady and comfortable. Fresh air can get inside and outside the outdoor kitchen.
With the complete kitchen equipment and the television, this outdoor kitchen suffices for outdoor mingling site for all family members.
Remarkable Outdoor Kitchen Cover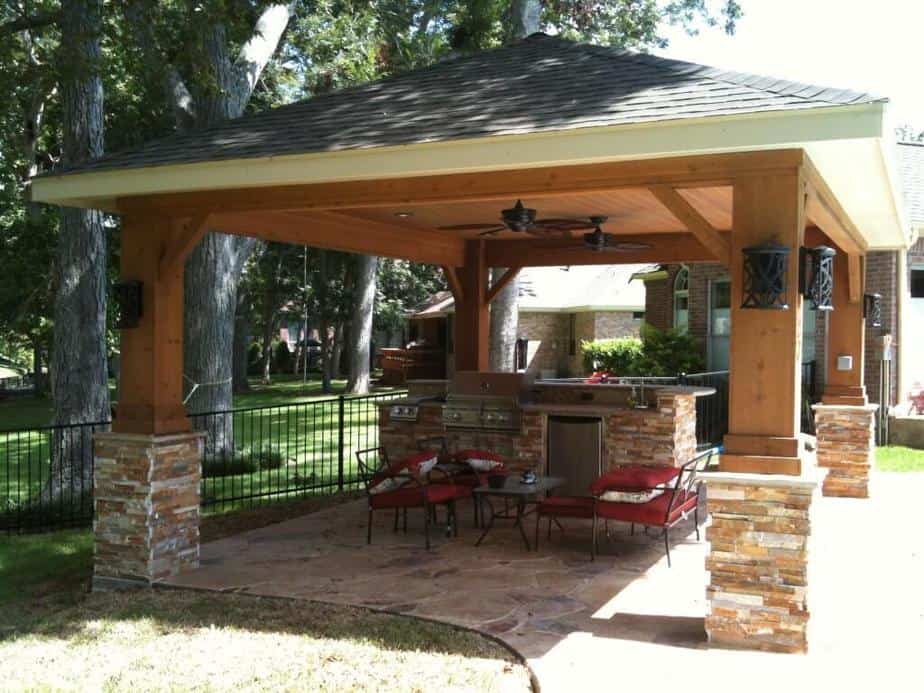 This outdoor kitchen definitely takes careful planning before it turns into this aesthetic area. The kitchen cover uses smooth and strong wooden beams and boards. They obtain super robust protection with the rooftop.
You can ensure yourself that this outdoor kitchen thus becomes an incredible part of the house itself. The kitchen can accommodate for informal and formal gatherings. Invite friends and relatives for spending pleasant afternoons.
Grill meats, serve fresh juices while talking over hot issues throughout the day. Switch the fans on when the day feels too hot to bear on your own.
Beautiful Outdoor Kitchen Cover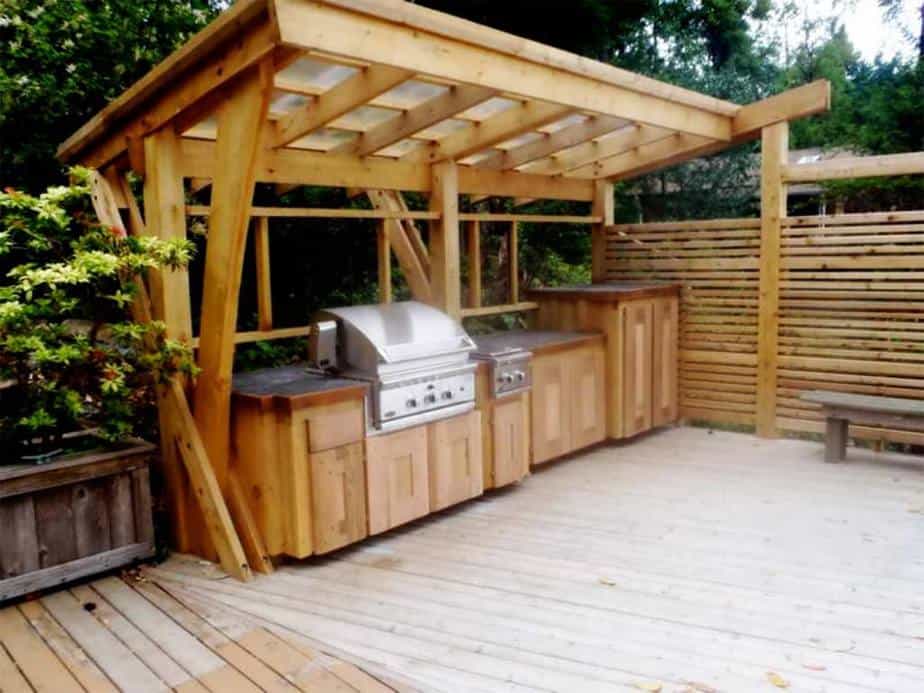 This point brings you an alternative besides that of the third piece of advice. Using both wooden beams and transparent boards, this idea looks pretty because of the cover style and the wooden pillars.
When all are combined in that way, the outdoor kitchen cover looks dashing. The wooden usage unarguably makes the outdoor kitchen so eco-friendly. That supports the wooden cabinetry and the bench.
No wonder that most people prefer the wooden outdoor kitchen as this whole concept reinforces the back-to-nature campaign that you uphold.
Wonderful Outdoor Kitchen Cover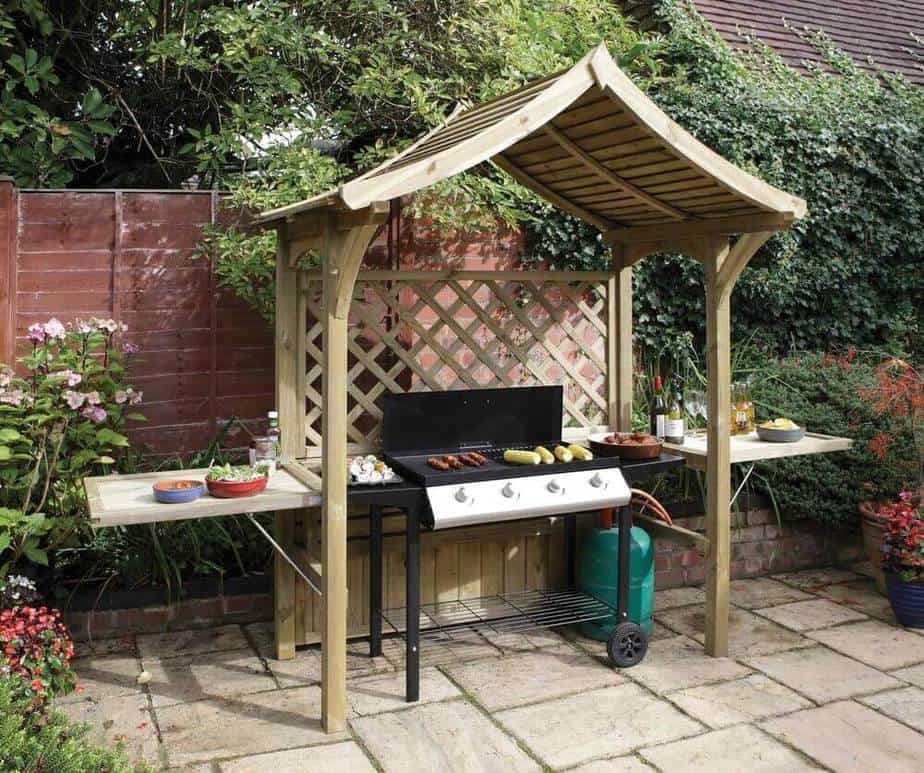 We really adore this outdoor kitchen cover. This becomes yet another cute style that stems from the humble philosophy of a hut. This outdoor kitchen cover modifies a little bit on its rooftop.
Partly Chinese-inspired architecture design, this outdoor kitchen cover looks simply super cool. That suffices to protect the grill tool and the meats. You can protect yourself under the cover when grilling the meats.
The cover equips itself with a creative wooden fence that adds beauty to this cover. Light and natural, select this style when thinking of simple outdoor kitchen cover.
Comfortable Outdoor Kitchen Cover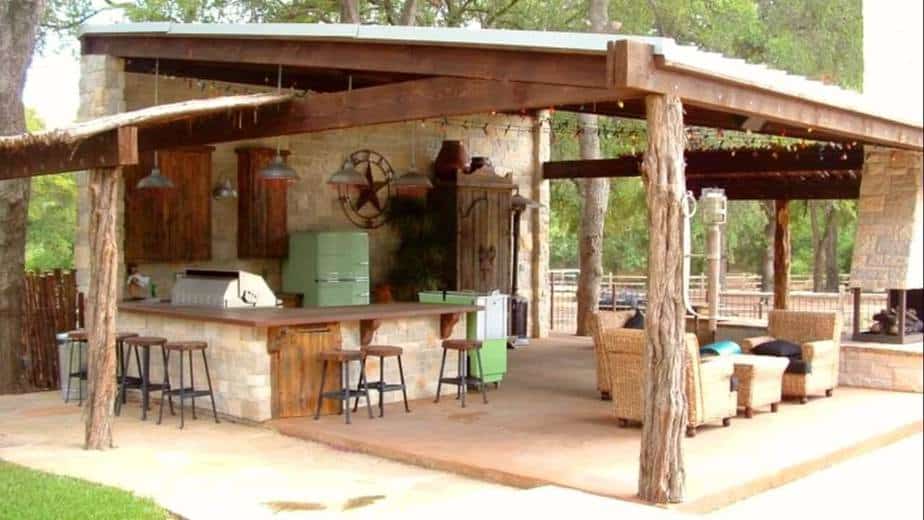 Imagine if you discover this homey outdoor kitchen in the middle of a forest. This area won't only satisfy your hunger but also become your shelter. The kitchen serves also as a dining room and living room.
With that homey concept on top of mind, no wonder that the kitchen applies wooden beams and metal boards as the cover materials. Raw woods and stones become pillars of the kitchen cover.
Our last suggestion becomes the perfect choice when you wish for a holiday retreat away from hustle and bustle of a big city.