SIMPLE OUTDOOR KITCHEN IDEAS – Garden parties are becoming popular amidst modern and minimalist houses today. Outdoor socialization concept can produce many benefits, one of the most notable ones is fresh and healthy air outside houses.
In garden parties, you obviously need outdoor kitchens. Simple outdoor kitchens make sense for most of us because this allows you cutting unnecessary spending. This doesn't underestimate the marvelous look that comes out from this concept.
So, how simple an outdoor kitchen can be? Check this list out!
Slim and Simple Outdoor Kitchen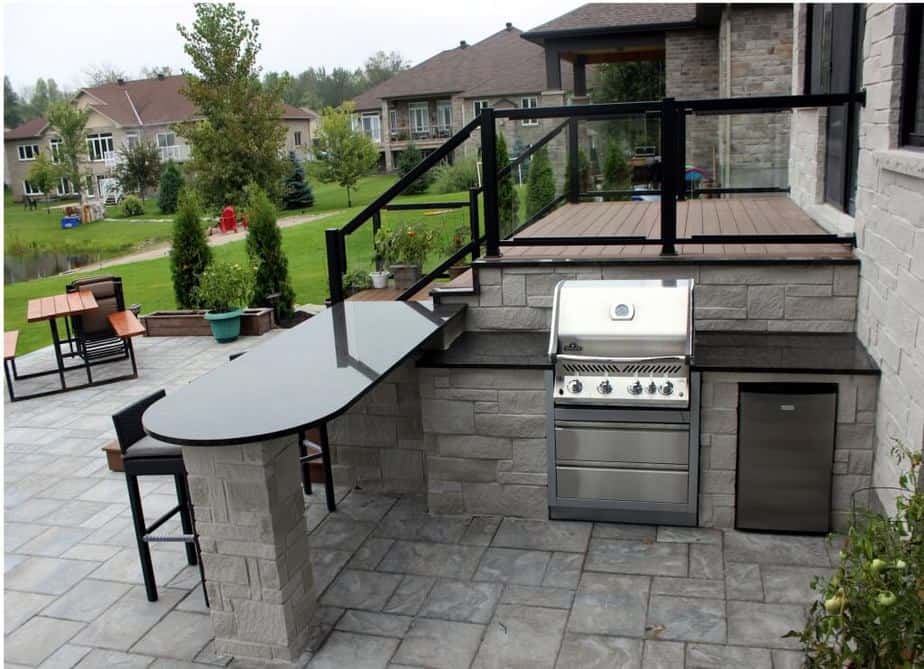 The definition of simple outdoor kitchen largely depends on one's personal preference, space availability and budget. This first idea provides good suggestions for those of you who wish for a neat and uncluttered outdoor kitchen.
The kitchen style allows you more to prepare and warm meals and drinks. You can then serve them right away for families or friends who come by. This model includes a slim countertop and table.
At the countertop, you can warm meals that are already cooked inside the main kitchen inside the house. The table can take up ready-to-serve meals and drinks.
Relaxed, Simple Outdoor Kitchen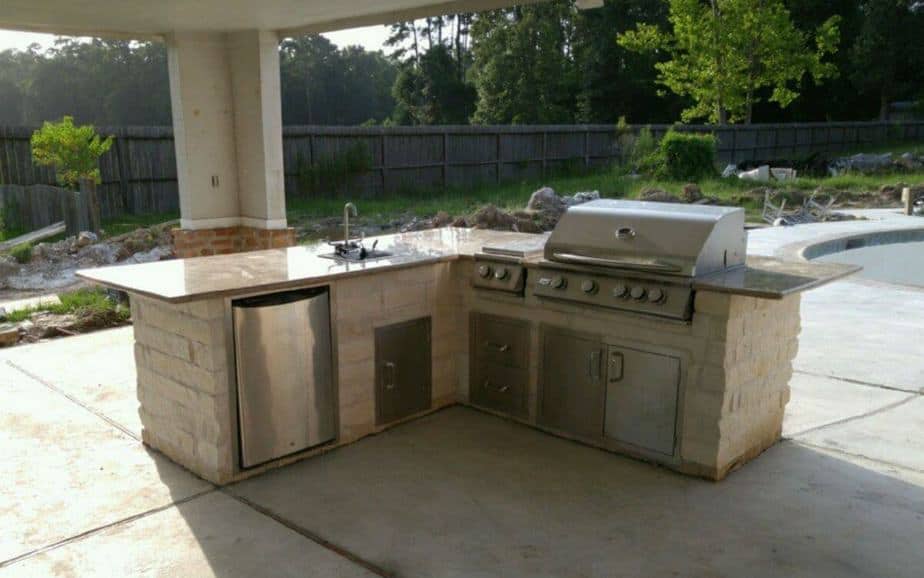 Within this relatively small outdoor kitchen, you can conduct many activities. In fact, there is more to say beyond the word "simple" of this suggestion. The outdoor kitchen utilizes solid and warm marble and rock that produce calm and restful feelings.
You can cook, warm meals and wash dirty dishes at this kitchen. There is a small refrigerator under the sink that can keep all food ingredients and drinks fresh all day long.
The kitchen can definitely be the top rest area for your kids after they spend hours swimming or playing with their friends.
Natural and Simple Outdoor Kitchen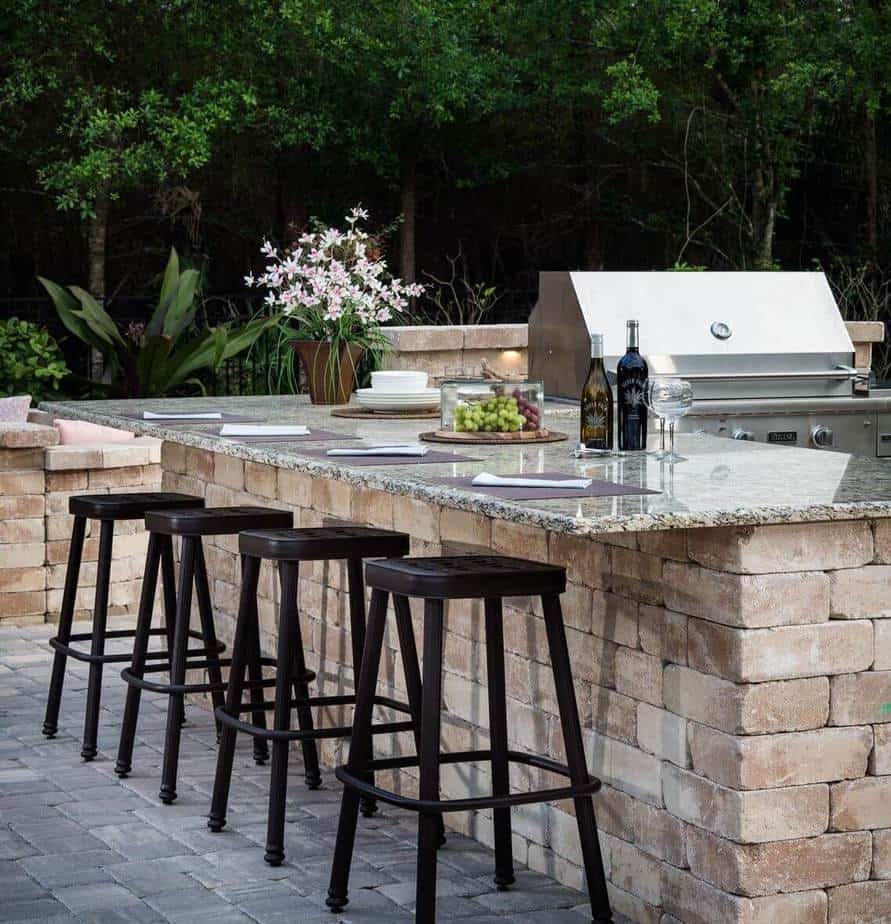 There can't be a better pairing than "natural" and "simple". The two concepts can turn into an elegant and efficient outdoor kitchen model as this picture suggests. The outdoor kitchen style can accommodate formal and informal social gatherings.
For natural aspects, select materials that stem back to what nature brings. Wood, rock, brick are top three materials on top of our minds. This kitchen design utilizes bricks that are neatly stacked up one another.
Place the brownish natural stone or ceramic for slightly graceful and glowing effects. That simple design has it all for a tasteful outdoor kitchen concept.
Back-to-Nature in Simple Outdoor Kitchen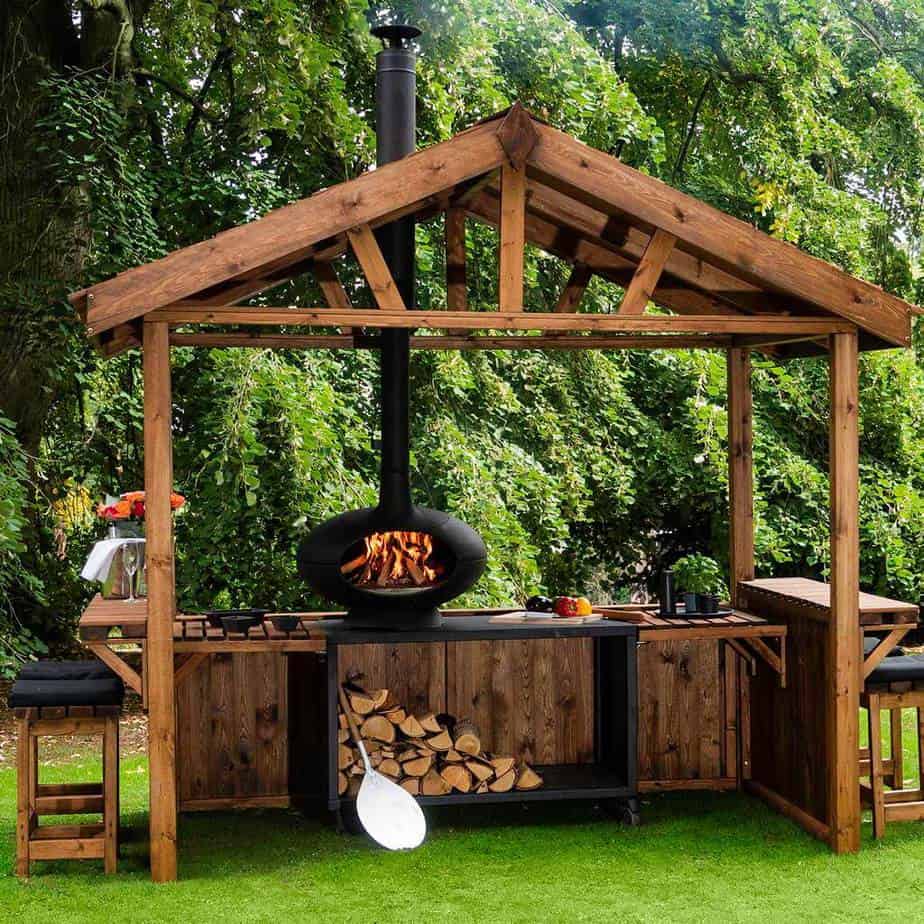 Bring back positive vibes from the past era where wooden kitchens were commonplace. Warm, sociable and casual were top feelings that came up from the past kitchen styles. Wood became widely-used materials back then.
Copy that humble philosophy for your modern outdoor kitchen. Create wooden hut that can bring together all family members and friends for small, deep conversation wrapped in laughter and motivation.
Don't forget to complete the hut with some cute chairs. In a grass backyard like this, the overall outdoor kitchen really brings you back to the mother of nature.
Handy and Simple Outdoor Kitchen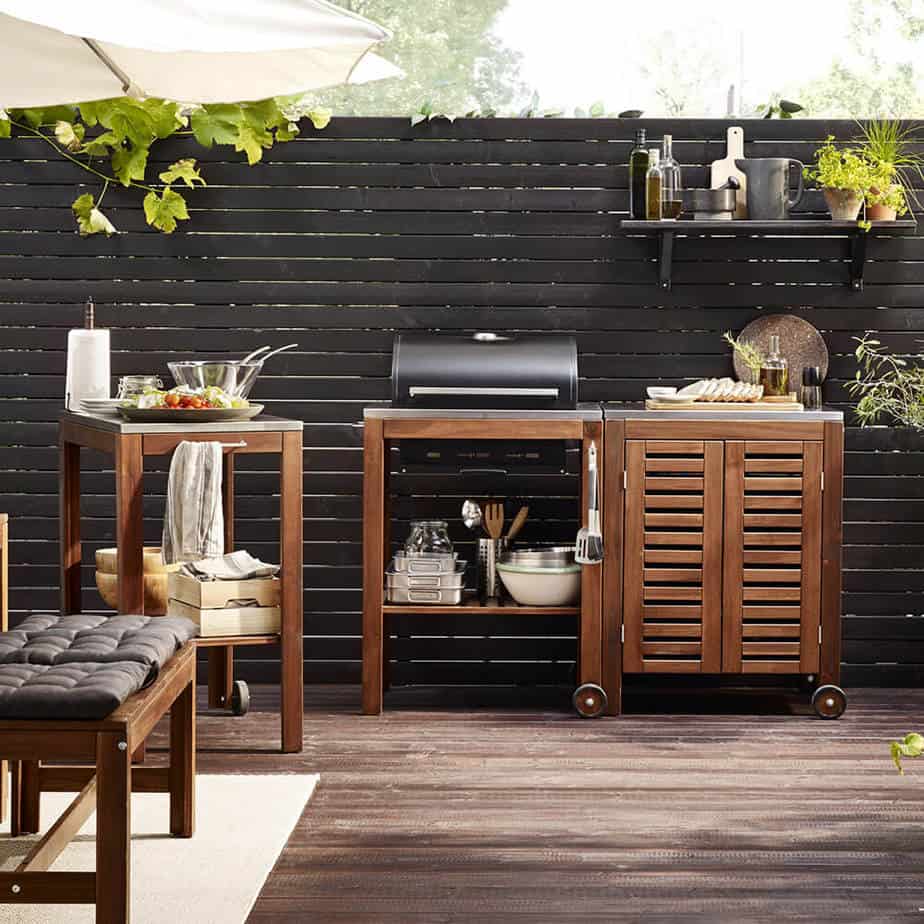 Our fifth idea fits for those of you who are busy and practical. This makes it all sense to choose a handy and simple outdoor kitchen that allows you to displace it. A wooden kitchen island cart as seen here suffice for your necessity.
Take one cart that meets your need for warming up meals. The cart needs to take up simple meals and drinks. Place eating utensils, like plates, spoons, and forks inside one of the cart's shelves.
Take up dirty dishes at the cart then carry them all to the main kitchen at your house for washing.
Warm and Simple Outdoor Kitchen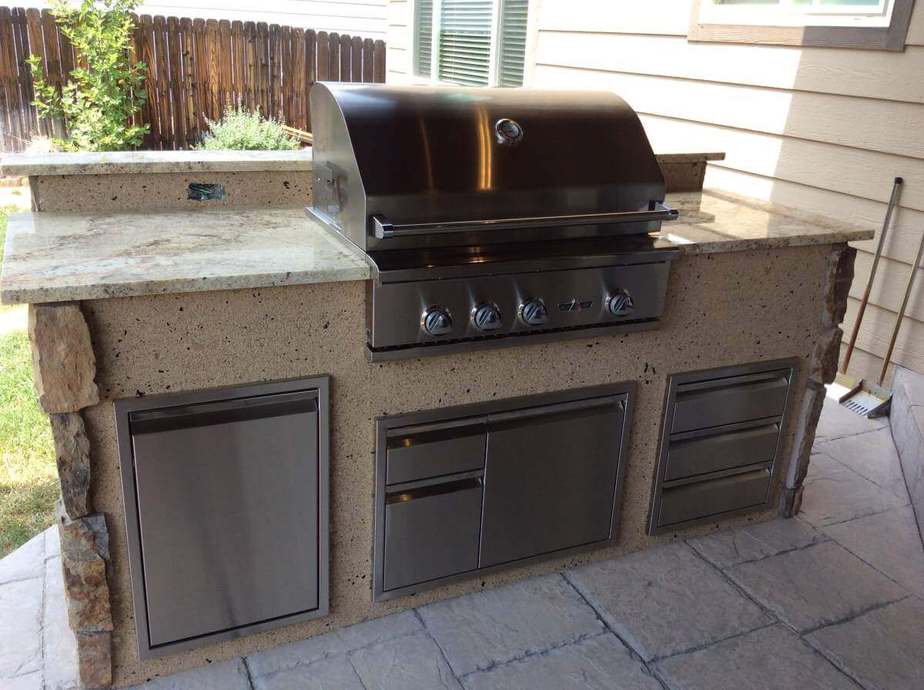 Proper selection of ceramic and rock can lead to various effects depending on your preference and necessity. This recommendation suggests you picking up creamy, brownish ceramic and rock that can pair well for warm and practical tone.
The two feelings are clearly felt from this simple outdoor kitchen. The kitchen design applies a similar material color. What differs them lies in the type of material. The stand of the kitchen uses natural rock while the countertop applies ceramic.
The combo produces fresh feeling while retaining the functionality of this kitchen.
Updated Simple Outdoor Kitchen Hut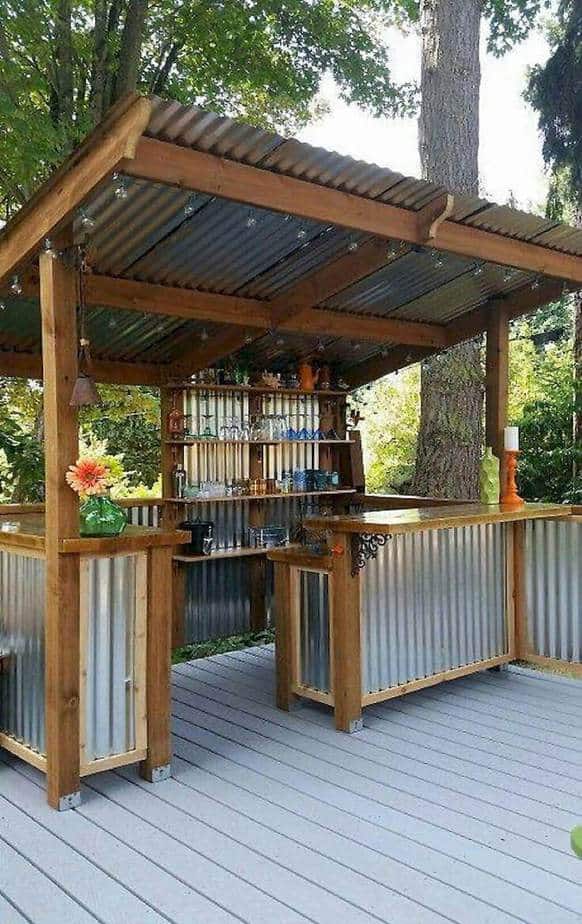 We call this a modern hut, an upgraded version from the fourth idea. Deriving from the hut concept, this design instead relies more on corrugated stainless steel boards. Wooden beams support the overall outdoor kitchen construction.
In addition, this kitchen completes itself with the graded shelf that can take up plates, glasses, cups and many things. Wooden table surrounds this kitchen design that strengthens this as a mini coffee bar copycat.
This kitchen doesn't see any stoves or other cooking tools. This serves more as preparatory and social mingling site.
Economical Simple Outdoor Kitchen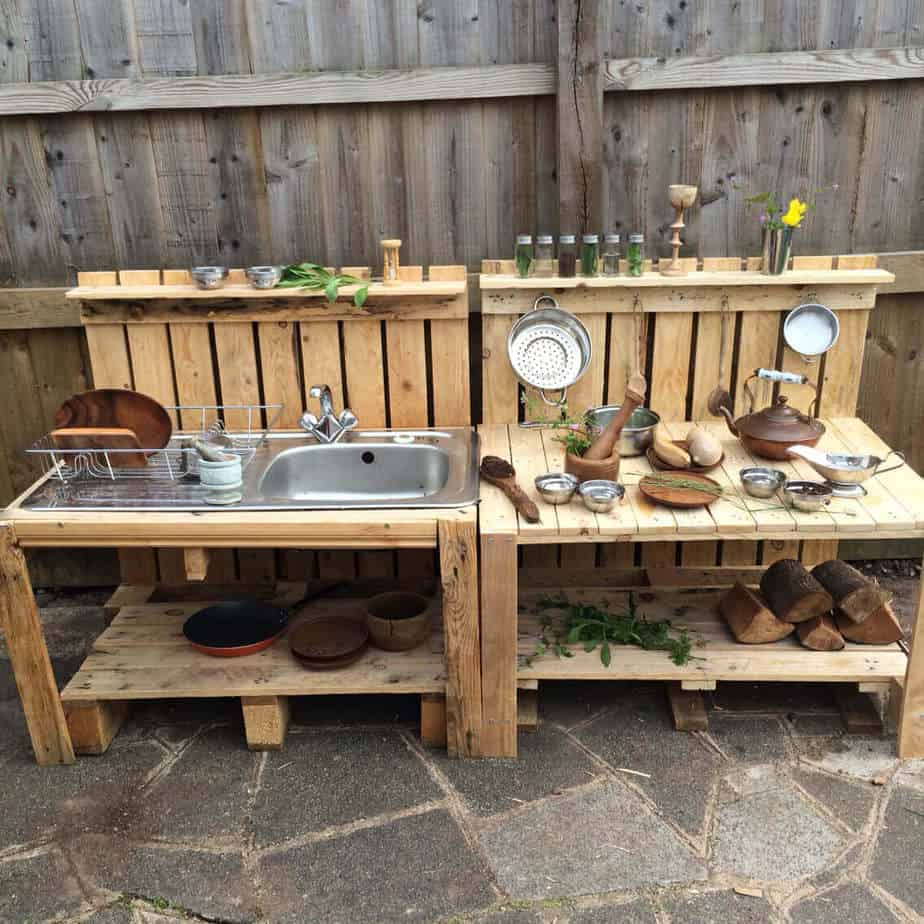 Some of you prefer to keep it concise and economical for an outdoor kitchen. Take this suggestion for this particular goal. Two wooden tables with one extra table below them suffice for simple tasks.
The kitchen allows you washing dirty dishes, placing cooking utensils, food ingredients, and clean dishes. Besides, the kitchen has a wooden bench or backsplash that can take up eating utensils and fresh plants.
Practical, Simple Outdoor Kitchen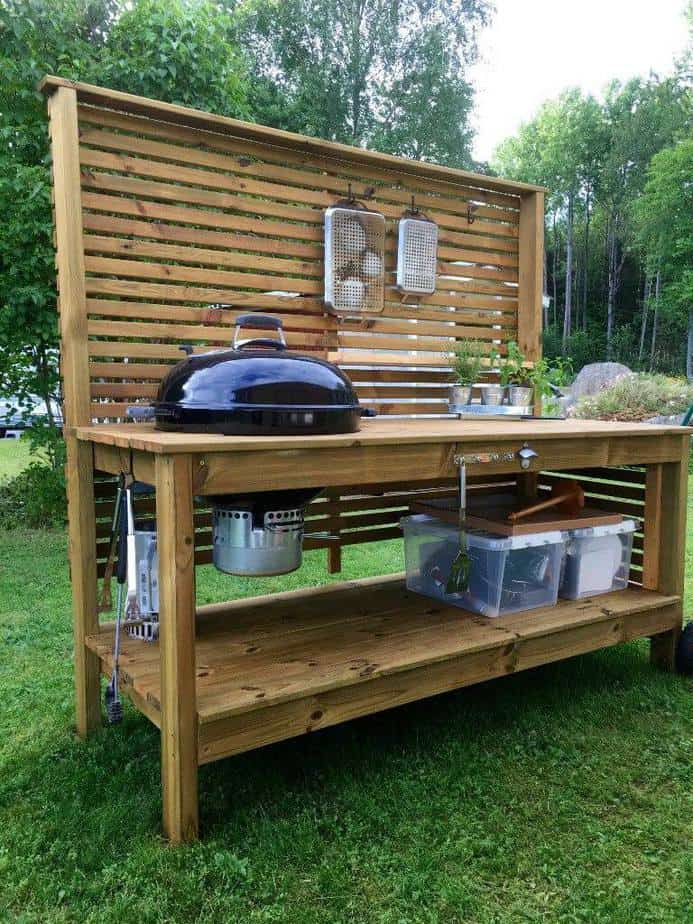 We call this a practical outdoor kitchen because of transparent boxes that lie beneath the lengthy, wooden countertop. The boxes contain cooking tools and eating utensils. This allows you to keep them out of dust and dirt.
The kitchen contains a wooden bench that can serve as a backsplash of the kitchen. You can hang cooking equipment after usage and wild flowers. Lastly, this kitchen design seems light and portable that you can remove them to wherever the areas you want.
Typical, Simple Outdoor Kitchen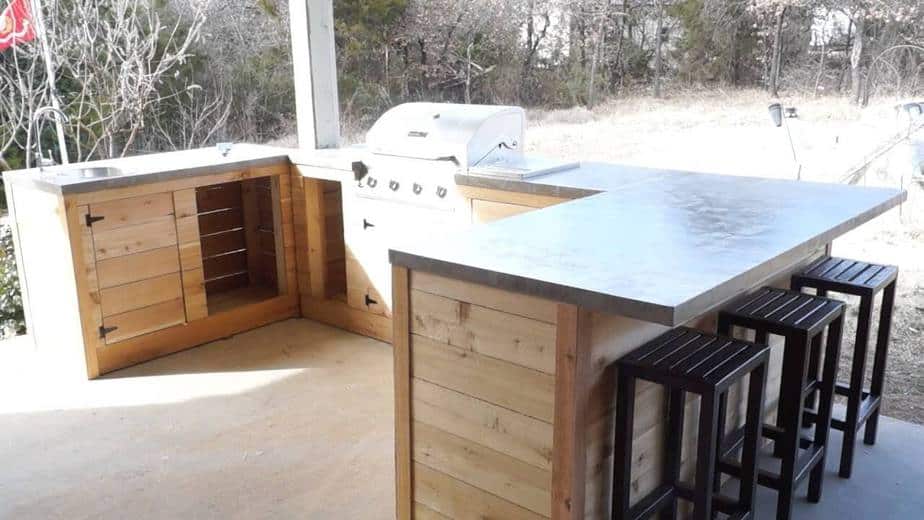 Wooden boards work with stainless steel boards as main materials for this outdoor kitchen. The two can accommodate you doing many activities at this kitchen, from cooking, warming meals and greeting fellas.
Light and casual, this kitchen doesn't include any accessories. That makes the kitchen feels so typical in many houses with outdoor kitchens. You can conclude the kitchen design emphasizes on function as the cooking site and social mingling area.