WOOD OUTDOOR KITCHEN IDEAS – Wood has a humble philosophy that earns it a good reputation as years progress that meets with modern and minimalist architecture. Natural and light-feeling are obvious, positive traits that come from wood.
When applied for outdoor kitchen models, wood stands out. Imagine natural air and wind makes its way into your wood outdoor kitchen. Can there be more earthy than spending social mingling in wood outdoor kitchen with beloved friends and families?
We thus present you with a list of 10 wood outdoor kitchen models in case you wish to create your own.
Attractive Wood Outdoor Kitchen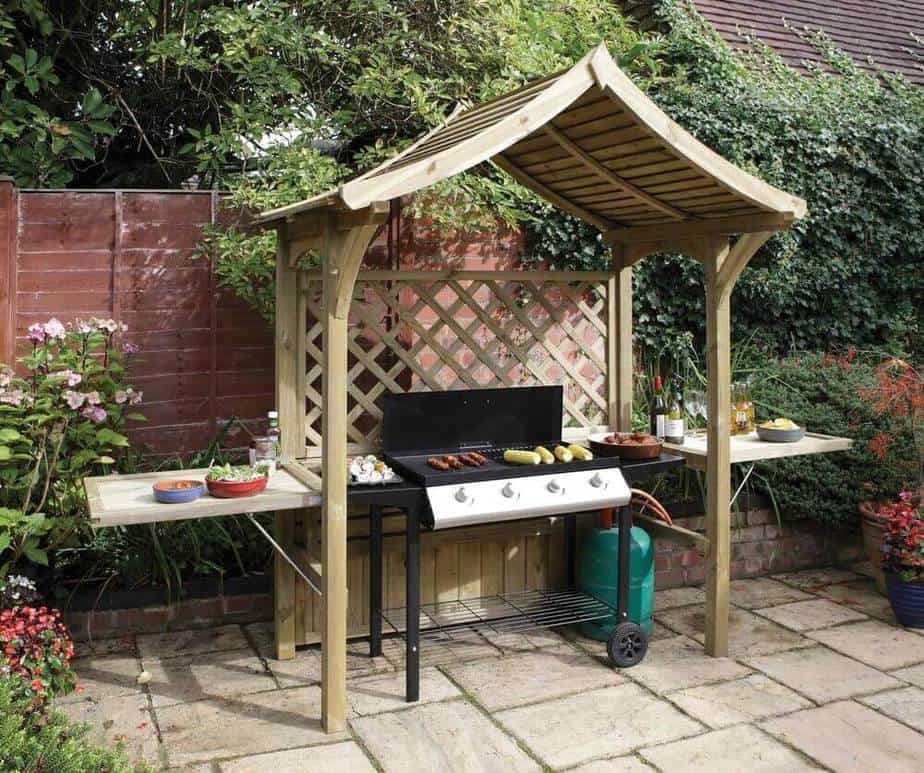 A wood outdoor kitchen doesn't necessarily occupy a large space. This example proves minimal land suffices for a mini BBQ garden party as weekend kicks in. Invite friends or kids to help you grilling meats or corns with fresh vegetables.
Set up this beautiful wood outdoor kitchen model for the catchy view. The kitchen model seems interesting with the modest and graceful design it applies. Inspired by Chinese architecture, the kitchen can protect the grill and anyone who cooks on it.
Complete the kitchen with a long table for placing food ingredients or dishes.
Relaxed Wood Outdoor Kitchen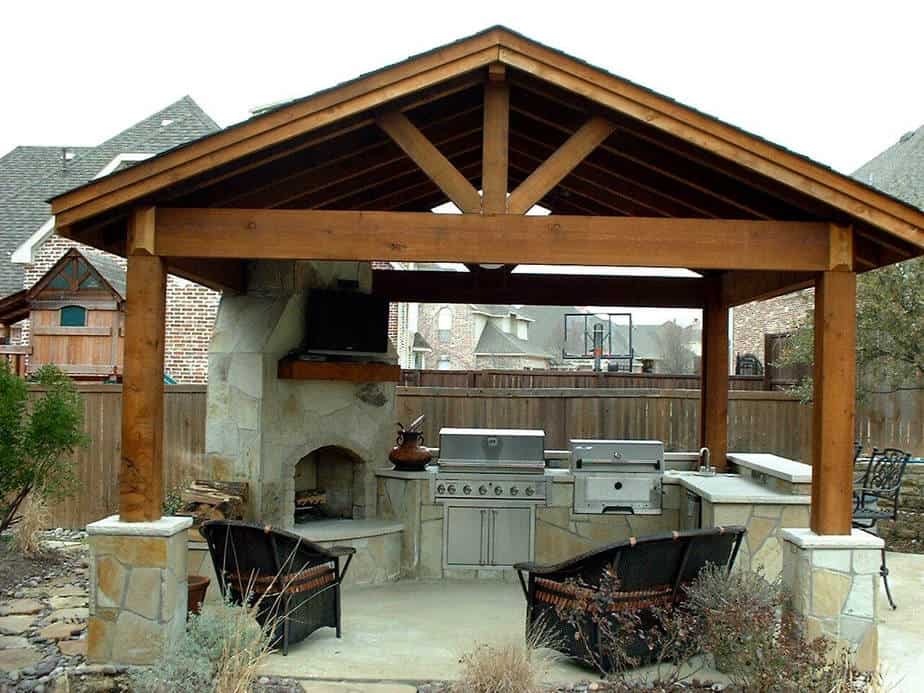 Two "lazy" chairs indicate how this wood outdoor kitchen can help you get relaxed during afternoons after busy hours at work. In front of the chairs, stony fireplace, cooking tools, and sink unit are ready for intimate small gatherings with family members.
The homey outdoor concept can't get better supporting material other than wood. Wooden beams are set up to resemble a patio in a traditional Javanese house. Strong and natural, the cover can withstand from the heat of the sun and rainfall.
Wooden beams become pillars of the outdoor kitchen. The material works well with the stone and the ceramic.
Creative Wood Outdoor Kitchen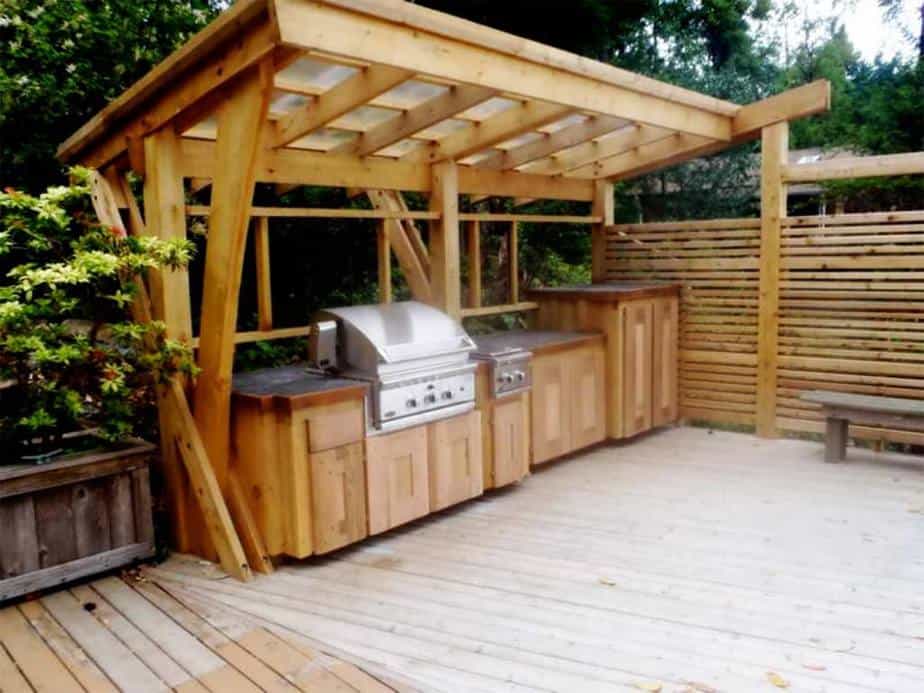 Wood remains a major material for this outdoor kitchen. You can see that the outdoor kitchen includes transparent boards as part of the kitchen roof. The cover thus looks earthy and mirrored at the same time.
This kitchen model maximizes wood. Wooden beams are creatively arranged as the pillar for this kitchen. Other wooden beams serve as the fence on the back and on the right side of the countertop. All of the beams come in various shapes and arrangements.
Most importantly, the kitchen applies wood as the cabinetry and the drawer.
Coffee Bar Wood Outdoor Kitchen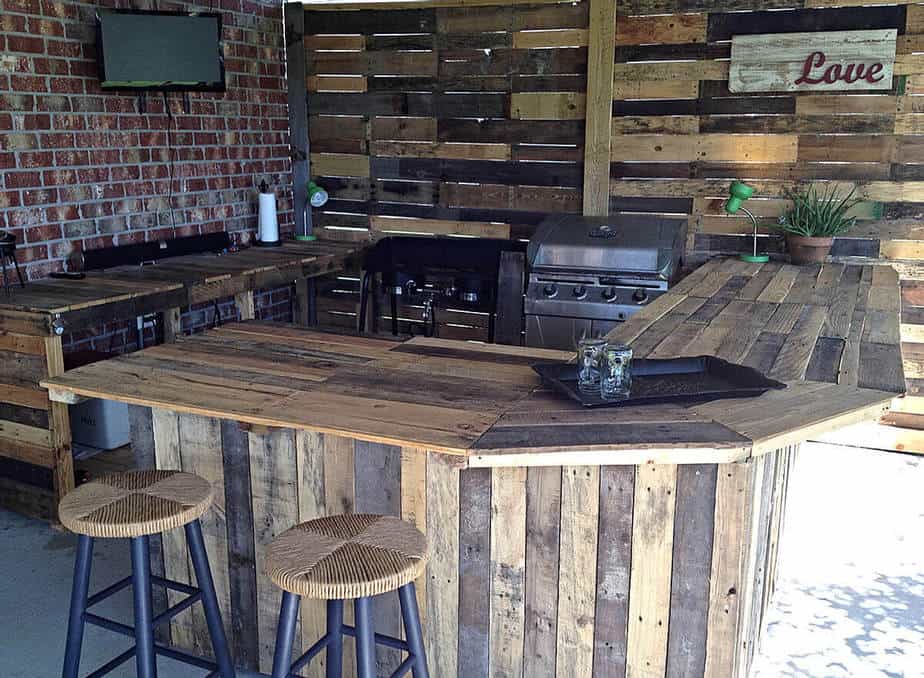 Wooden boards make up almost all parts of this outdoor kitchen. You can further tell that the wooden boards come in some colors and qualities. Choose secondhand wooden boards when you have any.
The boards are later turned into the countertop, the table, the stand and the wall for this outdoor kitchen. Feels like we were inside a coffee bar that we often saw in old American movies. The outdoor kitchen can be used to cook and welcome guests.
Let them watch television shows as you are preparing menus or keep the conversation ongoing.
Reclaimed Wood Outdoor Kitchen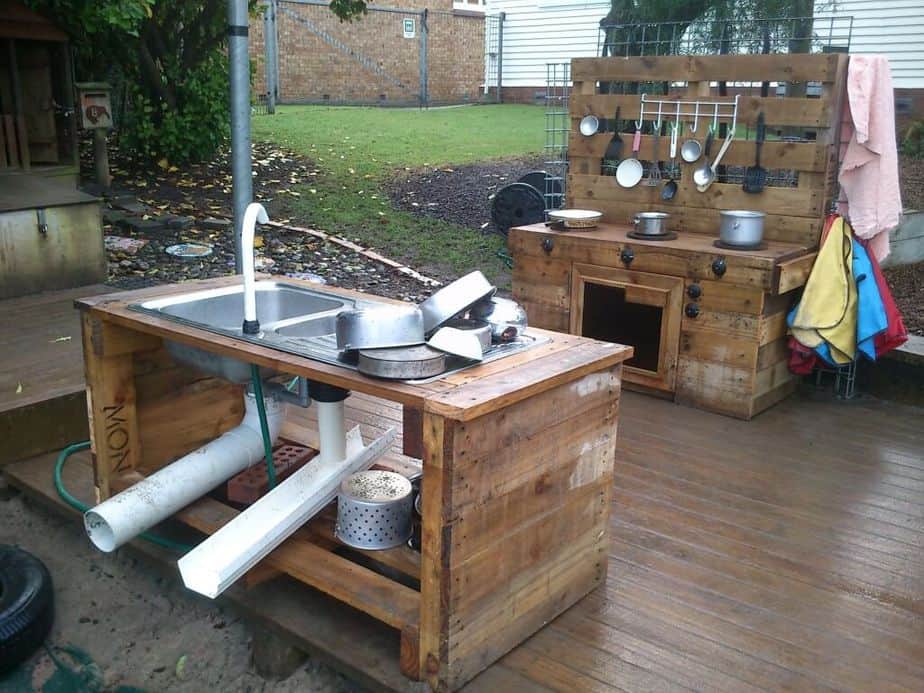 The best thing about wood is that this material is up for recycling. This outdoor kitchen shows that you can do-it-yourself your own wood outdoor kitchen with secondhand wood that you already own.
Clean wooden boards then arrange them into a simple yet functional outdoor kitchen. Plenty reclaimed wooden boards can lead you a doubled outdoor kitchen like this picture shows. Cooking area and sink unit each take different wood countertop.
You can further create a backsplash as seen in the cooking site when wooden boards remain available. Adjust the kitchen according to the wood number.
Simple Wood Outdoor Kitchen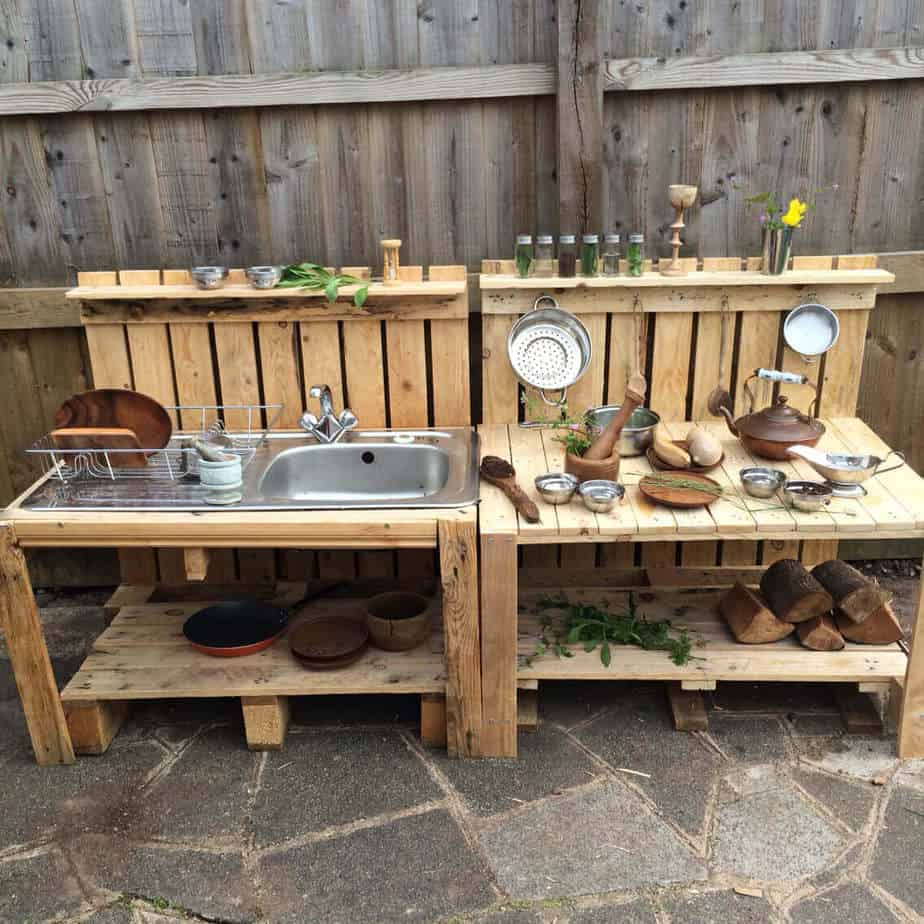 Another benefit from wood. You are up for many DIY projects with either new or secondhand wood. Take this sample as an inspiration. This outdoor kitchen is simple and easy to do on your own.
Two humble wooden tables with one table beneath each of the tables suffice for a modest outdoor kitchen. Place the tables next to one another. You can make use of each of the tables for different purposes.
The outdoor kitchen suggests the tables are for displaying cooking tools and washing area.
Portable Wood Outdoor Kitchen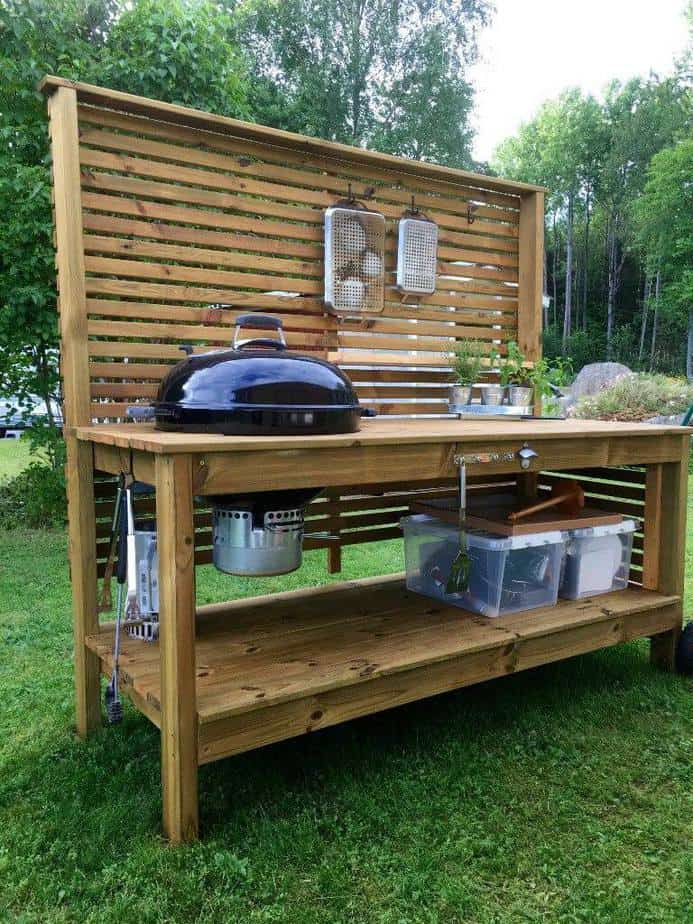 A perfect choice for nature and minimalism lover. This outdoor kitchen model encourages you putting necessary kitchen tools only. Collect them all in the transparent boxes beneath the countertop of the kitchen.
Hang some of the cooking equipment at the wooden backsplash that also serves as the wall of this kitchen. The kitchen actually consists of one long, wooden table. It can contain stove or other cooking equipment.
Leave the next space of the cooking equipment empty for displaying food ingredients or wild plants as this picture suggests.
Resourceful Wood Outdoor Kitchen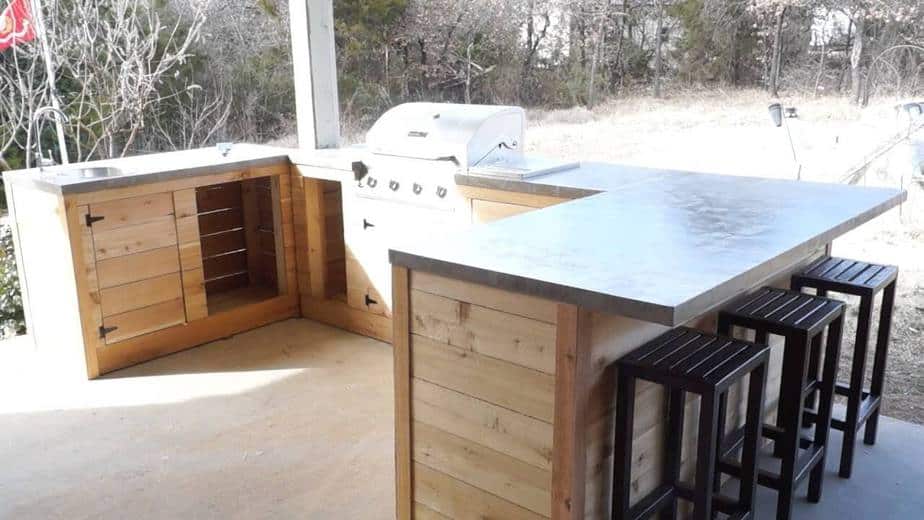 This outdoor kitchen applies wooden cabinetry that can later be used as the drawer, the storage and the stand for the kitchen countertop and table. Within this kitchen, you can cook, warm meals and wash dirty dishes.
As you are preparing food or drinks, invite your guests to sit at the chairs. This simple design meets with the surrounding that greets one's eyes with wild trees as far as the eyes wander.
Stylish Hut as Wood Outdoor Kitchen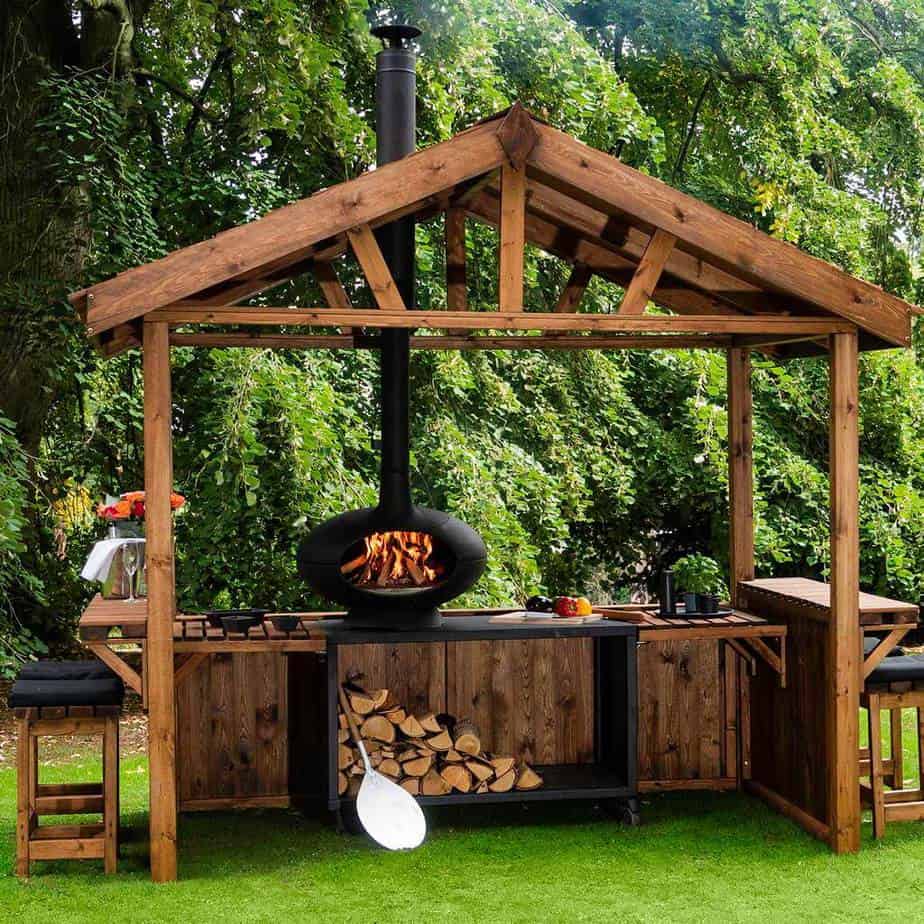 Let's upgrade hut reputation from outdated resting area to stylish and modern one. Apply that idea for your wood outdoor kitchen. This example gives the best ways to create that one.
The outdoor kitchen applies wood for the overall simple construction. Wood supplies for the fireplace. An upgraded part of the outdoor kitchen lies on the wooden coffee bar. You can view that there are two seating areas with wooden tables and chairs.
Practical Wood Outdoor Kitchen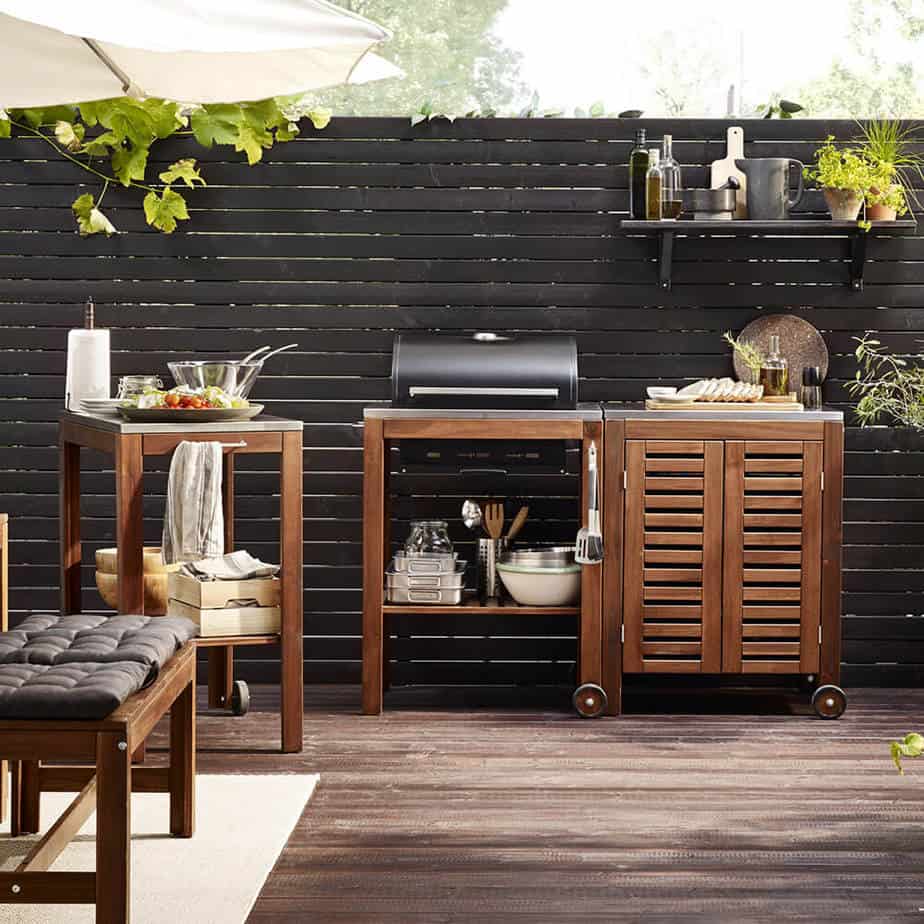 Sometimes, a wood outdoor kitchen can refer to some kitchen island carts. This idea applies to many modern people who simply need an outdoor kitchen for carrying foods, drinks, dishes and related kitchen items.
This outdoor kitchen design further helps you saving time. The kitchen island carts can be moved around. You don't need to walk back and forth to the main kitchens for carrying the menus and the dishes.
The outdoor kitchen applies wooden cabinetry, chairs, and table that look solid and graceful.