BLACK COUCH LIVING ROOM IDEAS – A black couch is a common seating set that colors many living rooms. Easy to find, various black couch designs and materials are available in the market.
This article will bring up some black couch for the living room that doesn't only become a comfortable seating point but also decorates the space. Before we begin, think also about the budget for buying a black couch and the size of the planned living room.
Long, Black Couch with Bolsters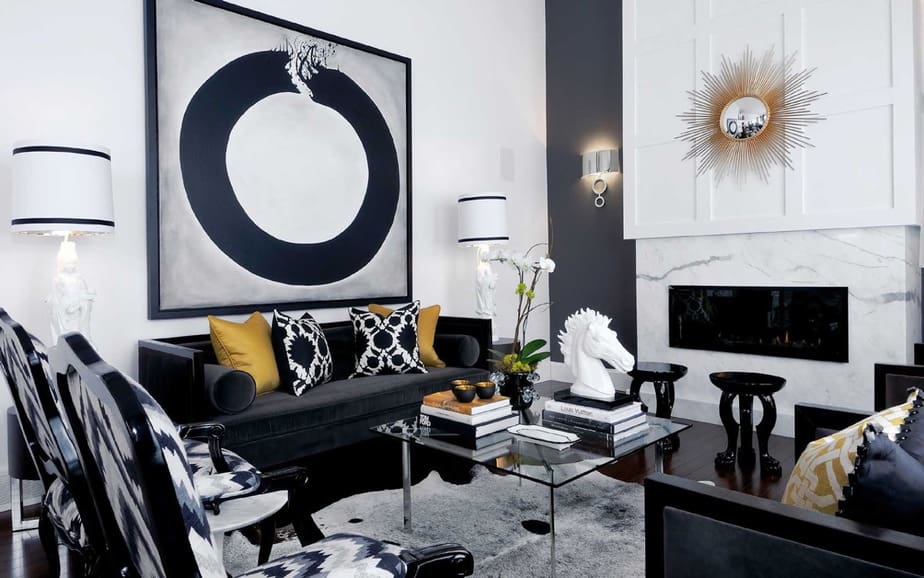 Smooth fabrics seen in this long black couch provide elegance for the living room. It completes itself with two small, black bolsters that make the overall seating set looking graceful. This couch looks simple, not bulky and too cushy.
The couch matches the overall space that takes up black and white as the dominant sub-theme. By the way, the long black couch is just one seating aspect. The room has other chair types. The wooden, black armchairs and the patterned chairs also exist.
The long black couch itself becomes the most stylish seating part.
Two-Pieces Comfortable Black Couch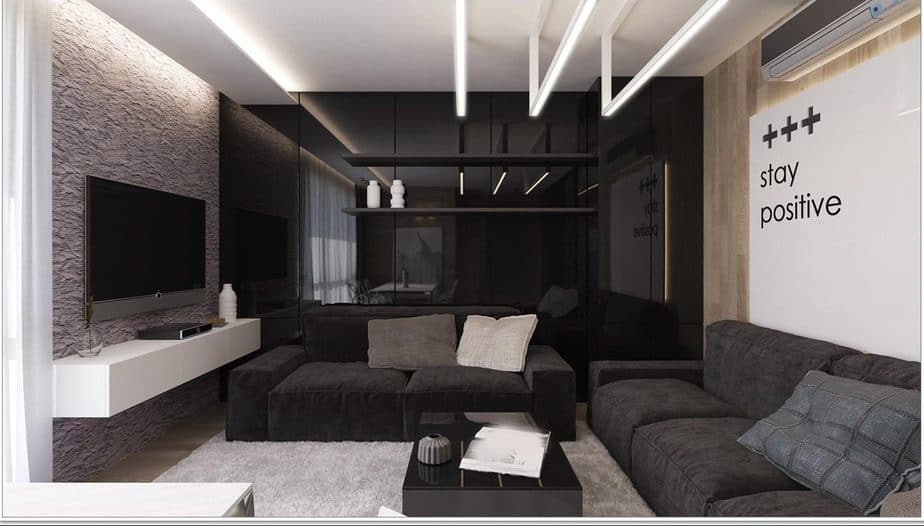 This living room contains a black couch set that comprises of two pieces of the black couch. The couch seems bulky but remains super soft thanks to the fabrics that cover them up. You can sense how comfortable to lay down there after busy hours at the office.
Complete the black couches with neutral throw pillows for you sleeping in. Have a shaggy rug that covers the seating set. This black couch set has a medium size that fits in with the limited living space.
From this image, you need to carefully match the couch unit with the given space for the room.
Black Couch with No Arms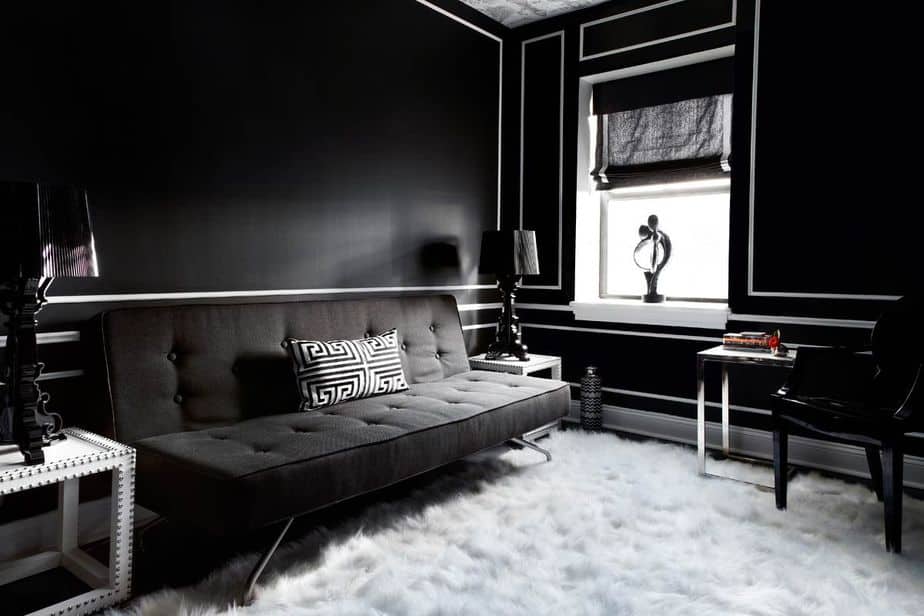 The third black couch idea is this model, a black couch with no arms. Seem casual, this black couch allows your legs to stretch long without hitting couch arms. Hence, this couch style brings you full relaxation.
This particular black couch design looks elegant and comfortable without being too bulky. The patterned throw pillow matches with the black couch. All in all, the one seating site looks graceful and functional.
Complete the black couch with one wooden armchair that faces a wooden table in case you wish to work or study.
Elegant Black Couch with Ottoman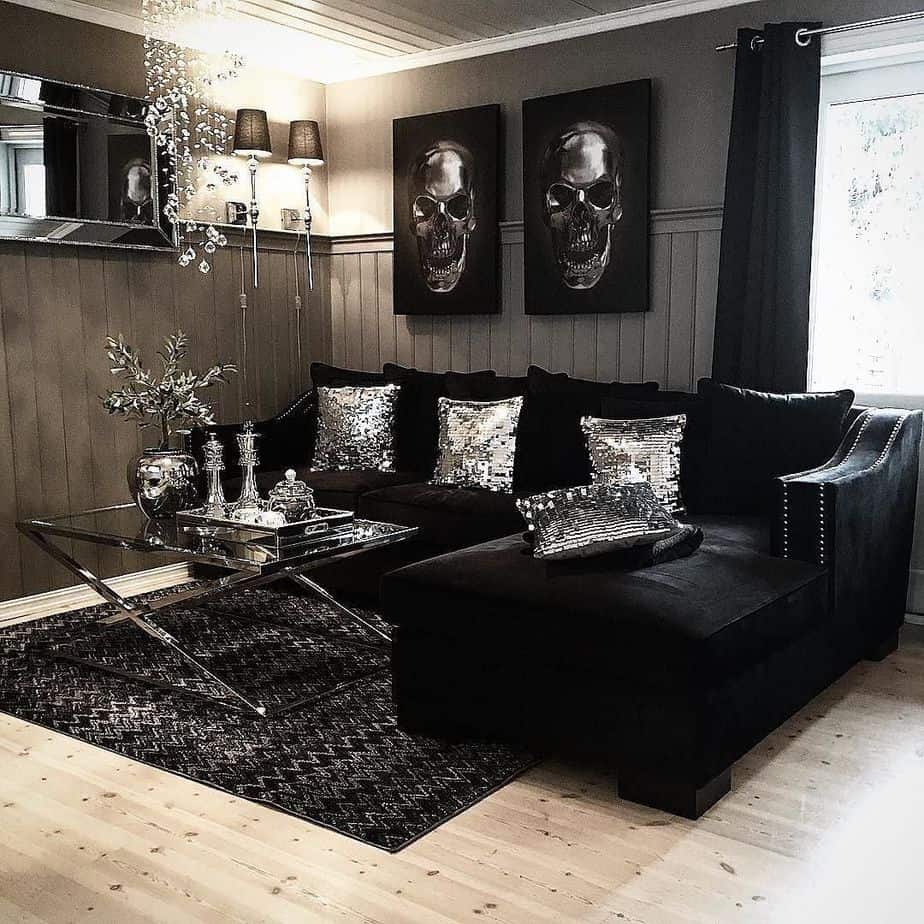 The material of this black couch makes the seating set seems elegant. You can select the medium-sized black couch when you think your planned living room looks small or medium. Complete the couch with black ottoman.
Therefore, the overall seating area becomes bold in black. The black couch, despite darkness ambiance, looks comfortable and tasteful. You can still enjoy sitting on it with your small kids or on your own.
The glittering throw pillows enhance the gleaming look that previously comes from the glass-made table.
Bed-Like Black Couch Sectional Set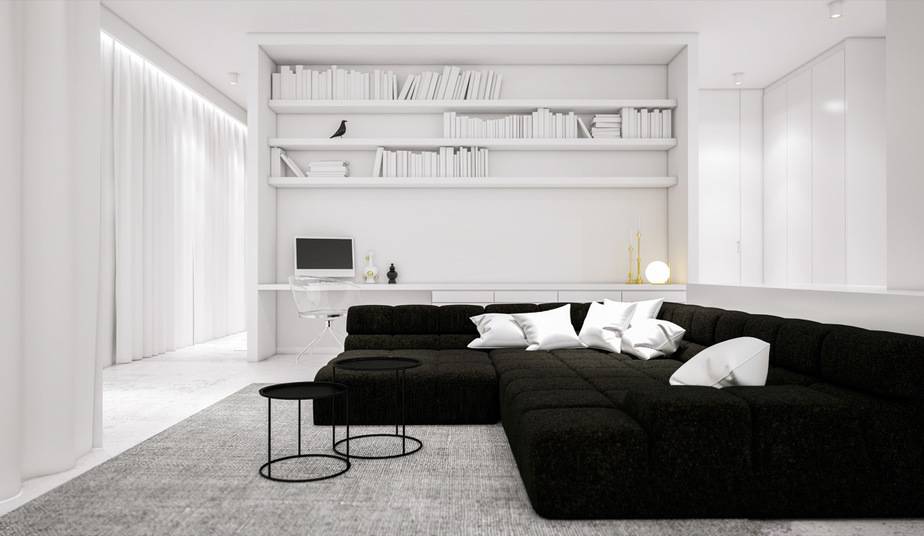 Who can resist the temptation from this black couch? After long hours at work, all you have to do is laying down at the black couch sectional set while grabbing one of the white throw pillows. This black couch is large enough to fulfill almost all parts of the living room.
The sofa, of course, looks comfortable and seems to adjust with the white top-to-down bookcase right across the couch set. This probably helps those of you to directly sleep here after working overnight.
Have small coffee tables to place cups of coffee or snacks to keep you awake.
Leather-Made Black Couch Set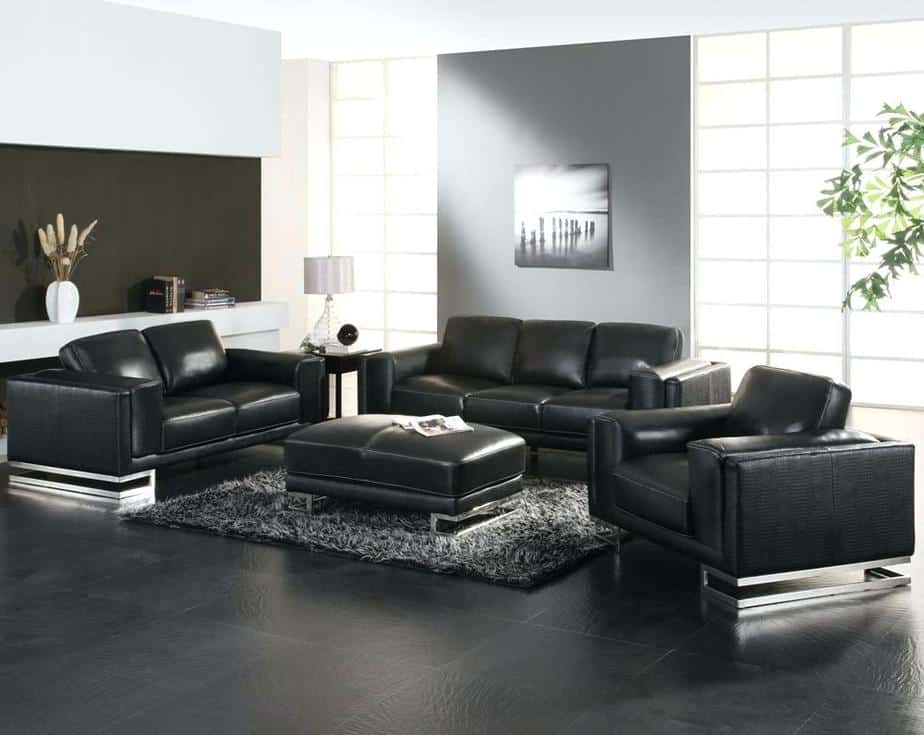 Leather-made black couch provides elegance mode for the whole living room. A complete set of black couch looks like this; three armchairs with one ottoman. When pairing together with black tiles and black-and-grey shaggy rug, the space seems glam.
This black couch type surely makes the living room looking formal. This suits for those of you who wish to welcome guests or relatives in the area. The particular three-pieces set meets for a medium-sized living room.
With the large, soft arms, the black couch feels convenient.
Simple Black Couch with Rounded Black Ottomans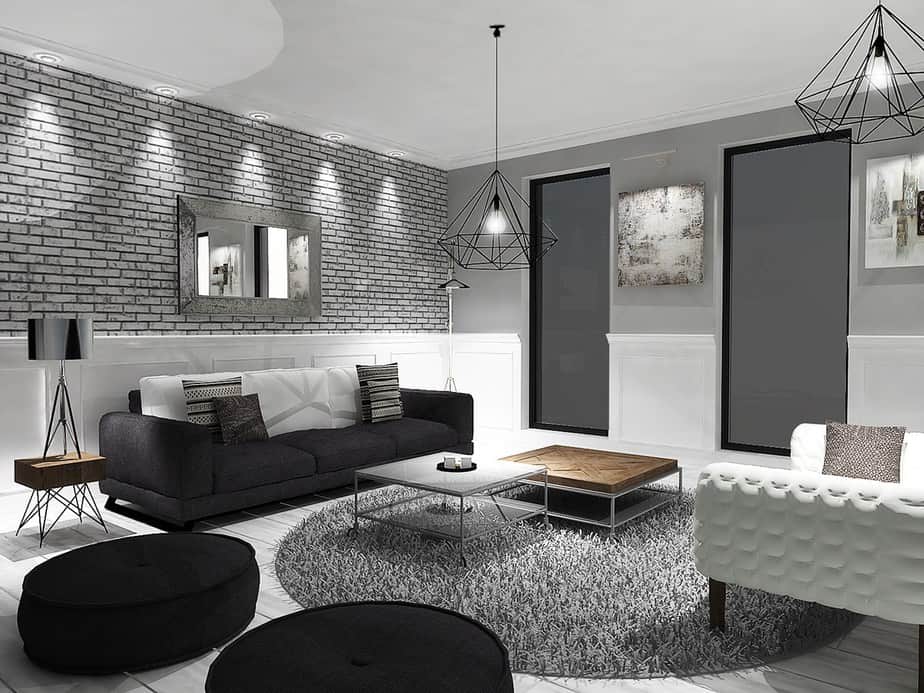 This minimalist living room can't find any more suitable black couch set than this one. One long, black simple couch with two rounded ottomans fit very well into this black-and-grey sub interior design.
The simple black couch looks conventional and comfortable with armchairs. There are patterned, neutral throw pillows for an extra cozy feeling. The ottomans look cute because typically an ottoman is square or rectangular.
The whole black couch set seems casual.
Soft Black Couch Sectional with No Arms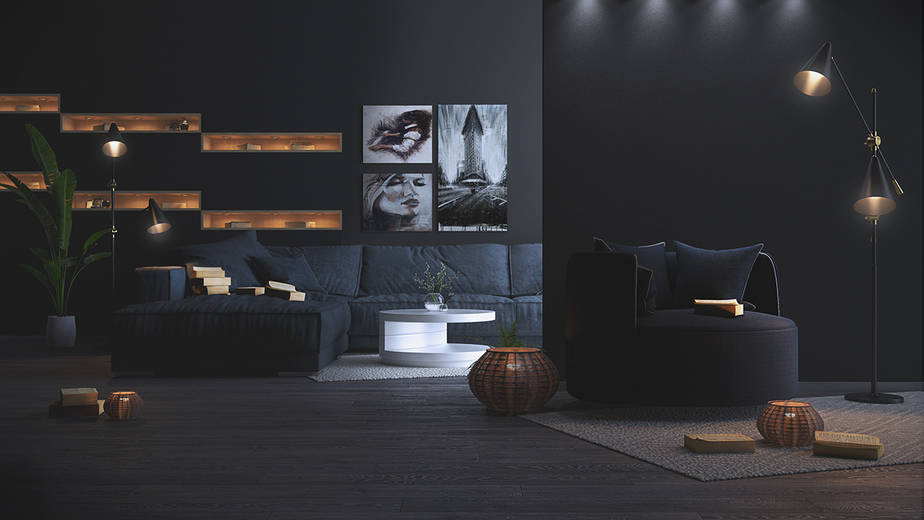 The eighth of our 10 black couch living room ideas fall into sectional couch category because it covers two sections of the living room. This black couch set uses soft fabrics that make the overall seating set feeling mild.
Unlike the previous tip, this couch set doesn't have arms at the set's end. This allows you stretching the legs. The black couch model looks casual and relaxed. It completes itself with a black, rounded sofa with arms.
Minimalist Black Couch Set with Arms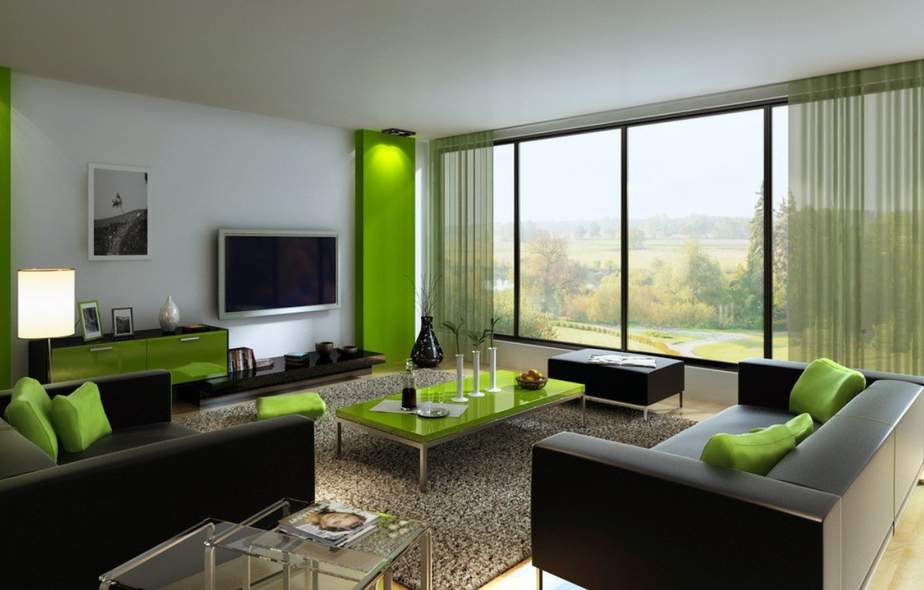 We believe our ninth style suits those of you who have a modern apartment or modern living room. The simple style of this black couch set doesn't consume much space for your planned living room.
In particular, each large black couch piece within this unit can meet for your relatively large or medium-sized living room. Within that one black couch piece, you can cuddle your small kids while watching television together.
Consider completing the couch set with bright-colored throw pillows to lessen dark ambiance that may dominate the entire room.
Reclining-Seat Black Couch Design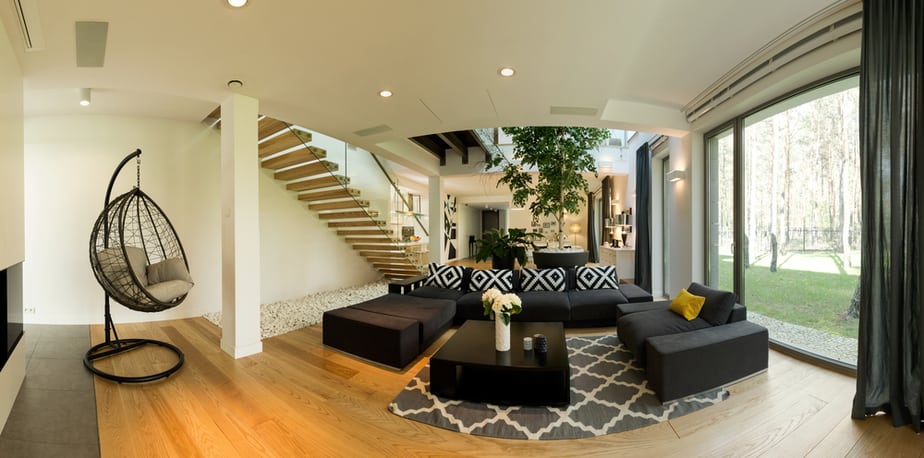 This living room contains a reclining-set black couch model that looks super comfortable. The black couch set always invites us to sit on it because of the reclining-seat model we often see in train or airplane.
The couch set completes itself with black ottomans and a black, wooden table to put fresh flowers and small displays. The seating point is covered by a white-and-grey patterned carpet that slightly colors the overall area.
Don't forget to purchase throw pillows for an even more cozy feeling on the black couch.
The last idea closes our black couch living room ideas. We hope you know more about which type of black couch you would like to buy later.