BOHEMIAN LIVING ROOM IDEAS – Bohemian living room ideas invite you creating personal spots that remain entertain guests' eyes. With that said, don't hesitate to turn the living room into a free, creative art space.
Fill up the living room with artwork, unique furniture and colorful decorations that one will feel the living room looking so peculiar. Creating a Bohemian living room doesn't necessarily require you spending a large amount of money.
Sometimes, small items can work best when combining with proper furnishings. Read this list to find detailed Bohemian living room styles.
Warm Bohemian Living Room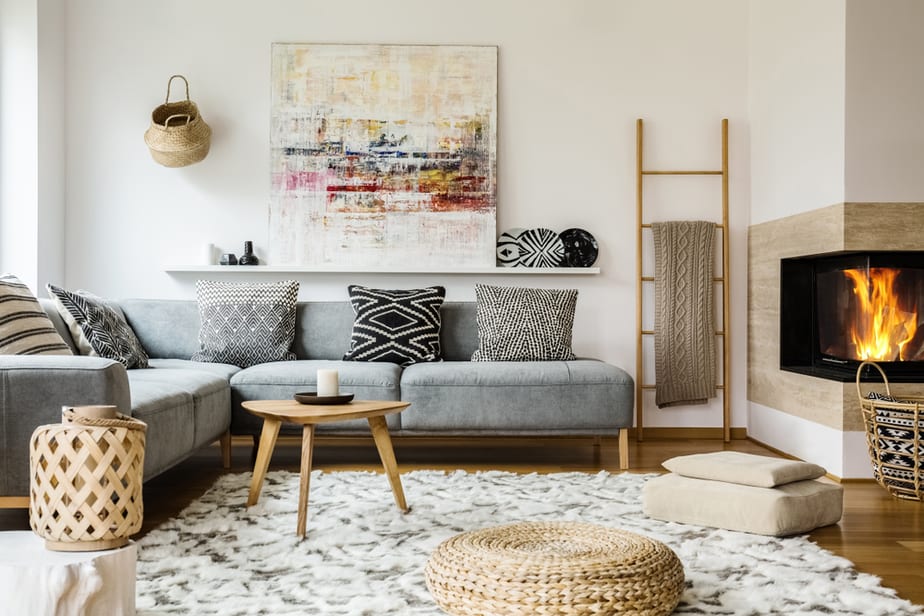 Change your medium sized living room space into neutral color-based Bohemian one. You can simply start realizing this sub model by selecting furniture and decorations that have neutral or basic colors, such as brown, black, white and gray.
The image shows that you don't have to hunt tiny kinds of stuff to create a Bohemian living room look. Shaggy white rug, basket-like storage and brown rounded chair kick off the Bohemian living room that presents earth-tone ambiance.
A ladder with brown cloth becomes a warm accessory along with artsy sofa pillows and black-and-white ceramic displays.
Antique Bohemian Living Room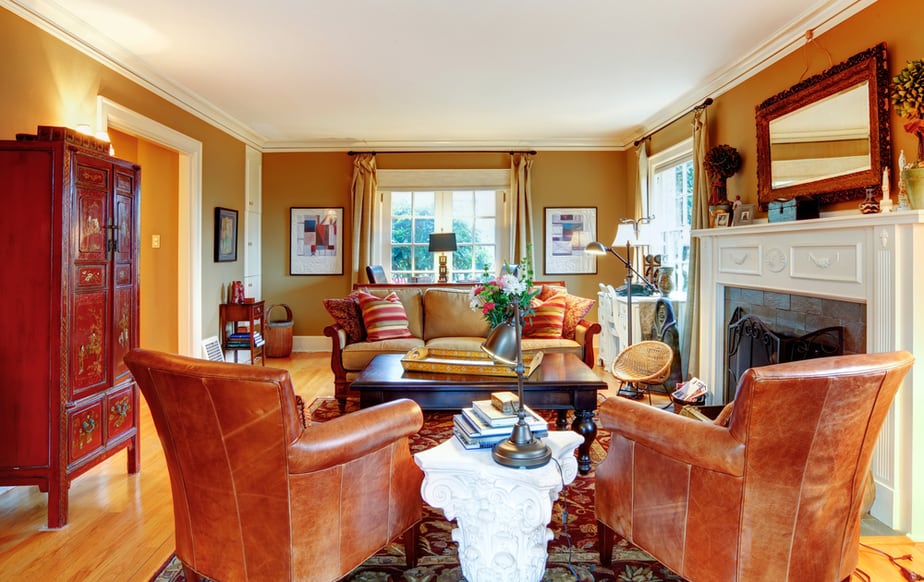 The second of the ten Bohemian living room ideas open room for antique lovers. Mix ancient furniture, such as cupboard and chair set, as seen from the picture, with abstract pictures hanged on the living room's walls.
Other old furnishing looks come from the furnace and the end table with storage. Colorful, bright couch pillows and the Moroccan rug add Bohemian living room element. The combination speaks a lot on what Bohemian living room wishes to convey: comfortable and usable.
In the living room here, all family members can welcome guests, read books and chat together.
Historic Turkish Bohemian Living Room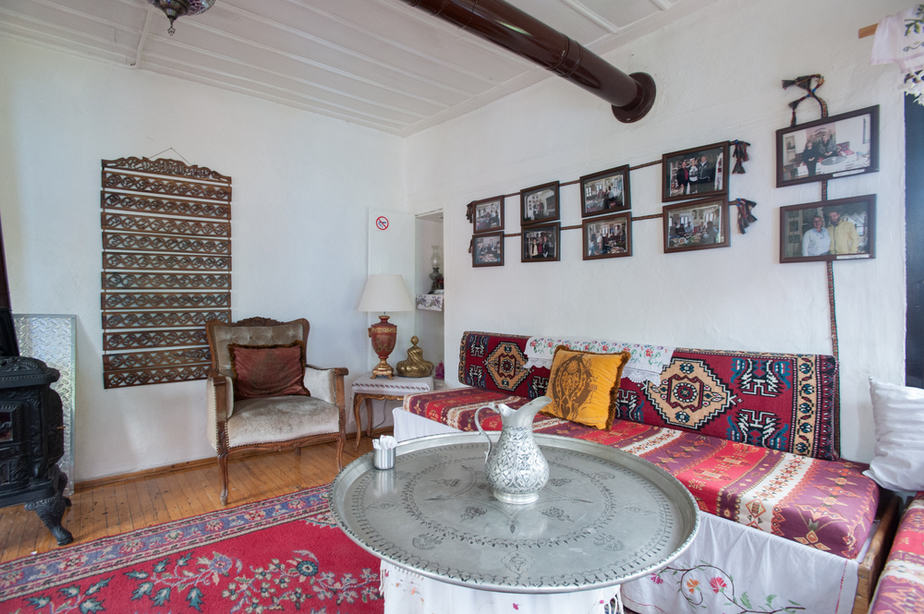 Let's get specific from point 2. You can go deeper into this historic Turkish Bohemian style as viewed from the photo. For historic element, bring together old displays and antique collections in the living room.
The copper tray, black storage as decoration brings us further to our ancestor era. Lay large Turkish rug under a long sofa set with the same pattern as the rug. The colorful rug twists the Bohemian look as it makes the spot looking viable amidst old items.
Family portraits filling up the living room's wall makes the spot personal and homey.
Green Bohemian Living Room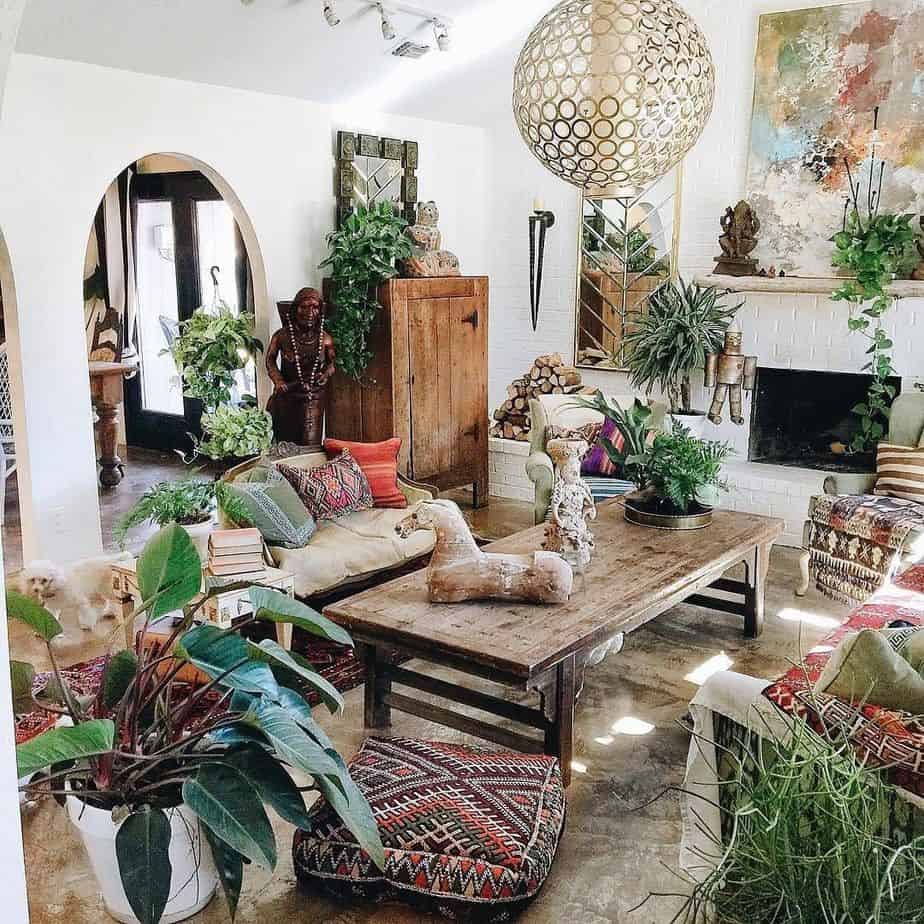 Let your imagination running wild. Wish for a Bohemian living room with a garden or even jungle inside? Go realize the idea. Place a lot of fresh plants around the living room. Pick up different plants, some are large while others smaller, then put them in pots.
Add to the plants with wooden flooring, handcrafted displays and traditional wooden door for Bohemian element coupled with earth-inspired tone. Fresh and comfortable, this Bohemian living room style meets your love for mother nature.
Also read Rustic Living Room Ideas That Beyond Your Expectations
Super Sweet Bohemian Living Room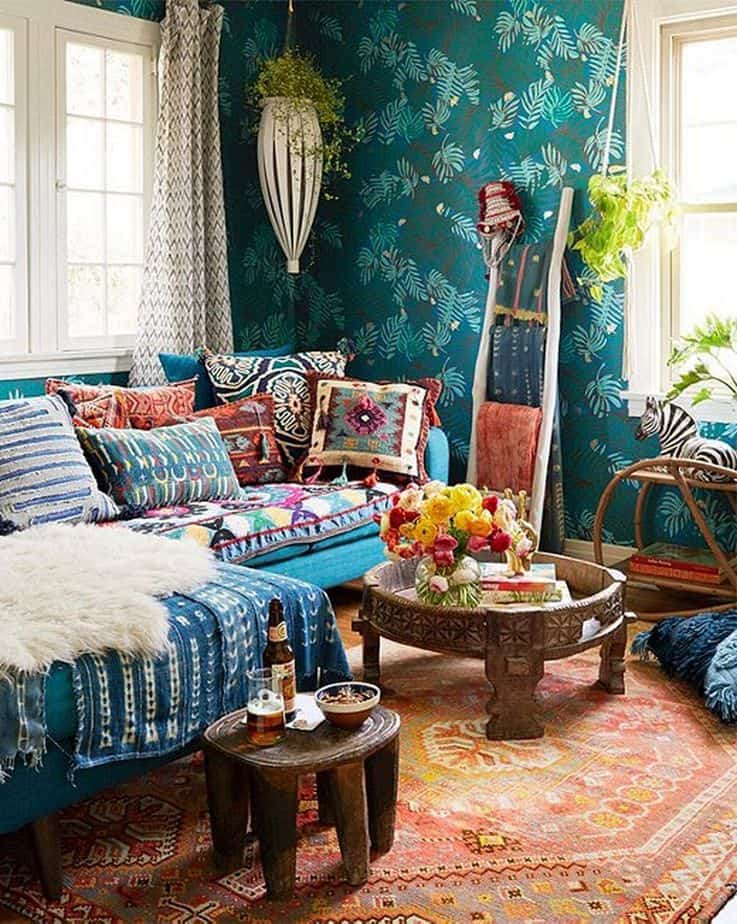 A Bohemian living room doesn't have to be all creative, antique and vintage. You can turn a living room into super sweet and delicate like a sugar. The key lies in floral, bright wallpaper, like the blue wallpaper in the photo.
This is because the Bohemian living room allows you to put in whatever color that you love. Match the wallpaper color with an extra comfortable, large blue sofa with patterned sofa pillows. To add sugary tone in the room, place various flowers on top of a table.
A ladder shelf, odd book storage from rattan makes the living room even livelier.
Bohemian Living Room with Wall Displays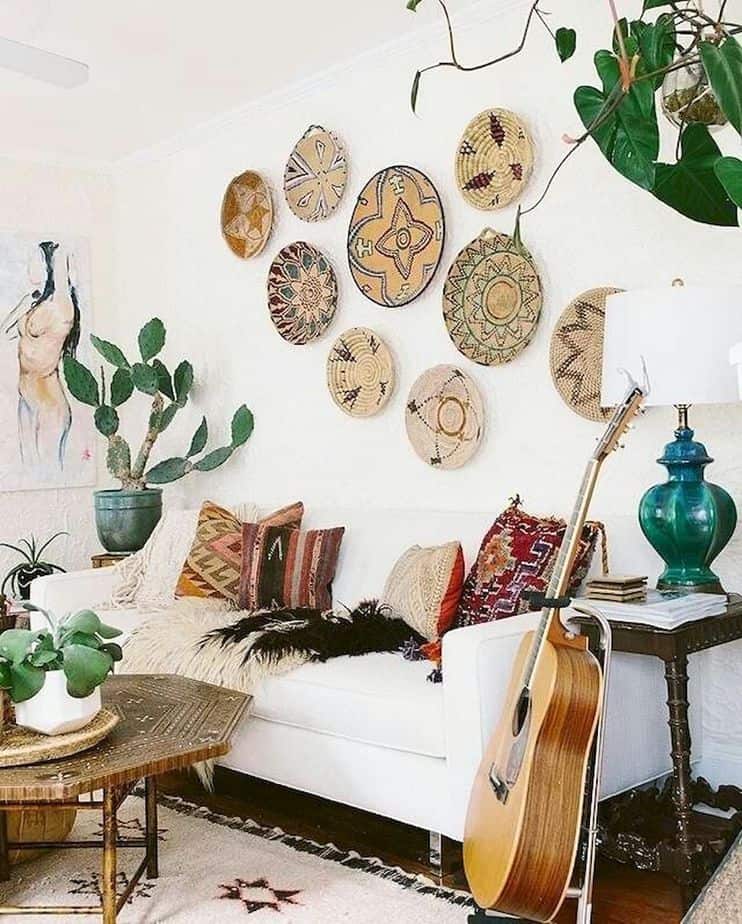 Fill up your Bohemian living room with decorative plates hang in the room's wall. You can intentionally purchase the plates for the living room or simply displaying decorative plates that you buy when visiting other countries.
Some choose to include them in a cupboard, others showcase them as wall displays. Ceramic, melanin or stoneware among popular decorative plate materials. Placing the plates can signify the Bohemian element as, again, your personal favorite spot.
Add the room with tribal-patterned cushions and the nice rug.
Majestic Bohemian Living Room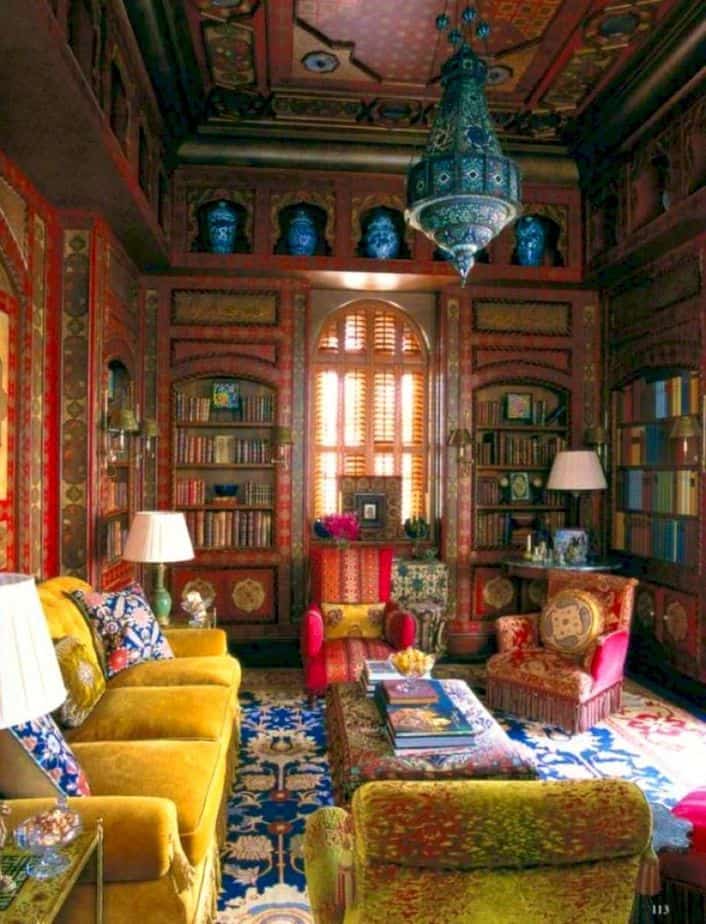 Get total in this one of the Bohemian living room ideas. Makeover your living room into a super-luxurious Bohemian style that dates us back to the Ottoman era in Turkey in the 13th century as the image indicates.
During the time, Islam was in its heyday with prosperity and power were taking over Europe. Choose velvet material couch set, a colorful rug, and decorative lamps to complete the seating set.
Importantly, paint the ceiling and walls of the living room in intricate, beautiful details that resemble the room look in the period. As a result, the living room looks majestic.
Restful Bohemian Living Room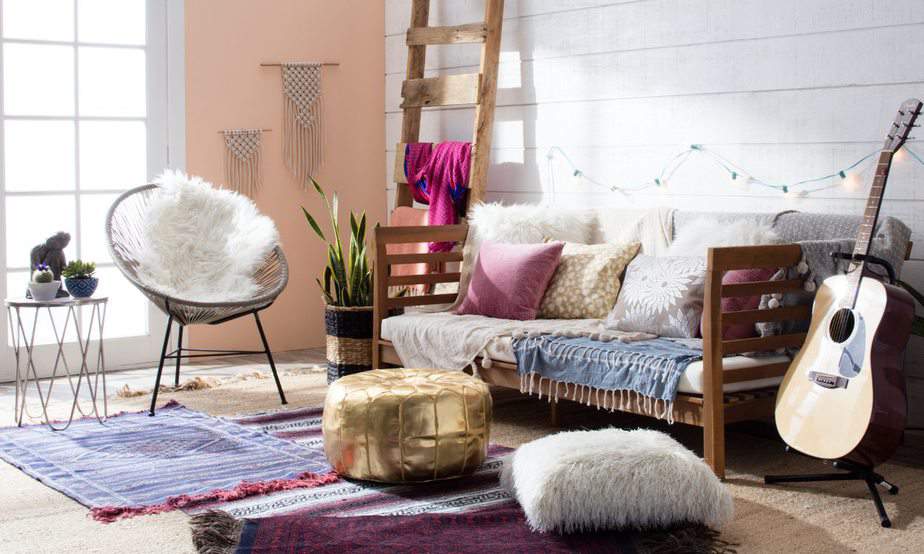 The eighth way encourages you to utilize whatever materials and furniture you have for the Bohemian living room style. This strategy proves that a Bohemian minimalist is possible with just a wooden bench as a seating choice.
Place some thin shaggy rugs and pastel cushions to make the room very comfortable. A line of creative small lamps hanged as the room's wall decoration along with unique white cloths. Fresh plants and mini coffee table sweeten the spot.
With that simple arrangement, a dreamy Bohemian living nook now comes true.
Radiated Bohemian Living Room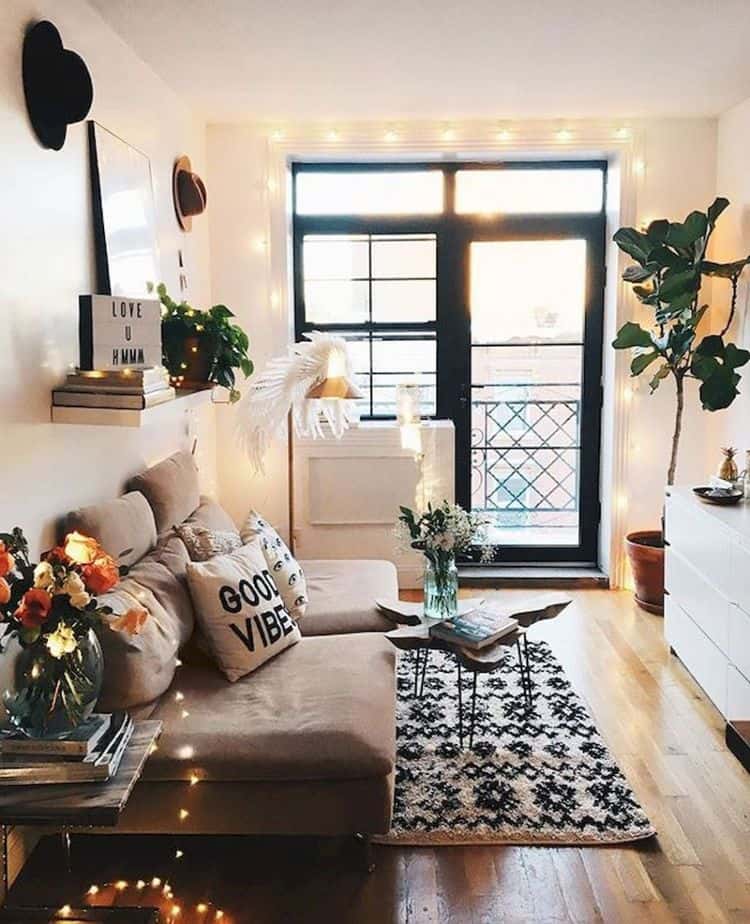 What we mean by this sub Bohemian modeling is that you can emphasize on lightning models for your planned Bohemian living room. As creative has no specific division, bring up various lightning styles for the spot.
As the image suggests, you can choose some lines of small lamps as the lighting source. Some of the lines are put in the living room's walls while others are on the wooden floor. This Bohemian living room thus looks odd with the creative lightning choice and arrangement.
Gypsy Bohemian Living Room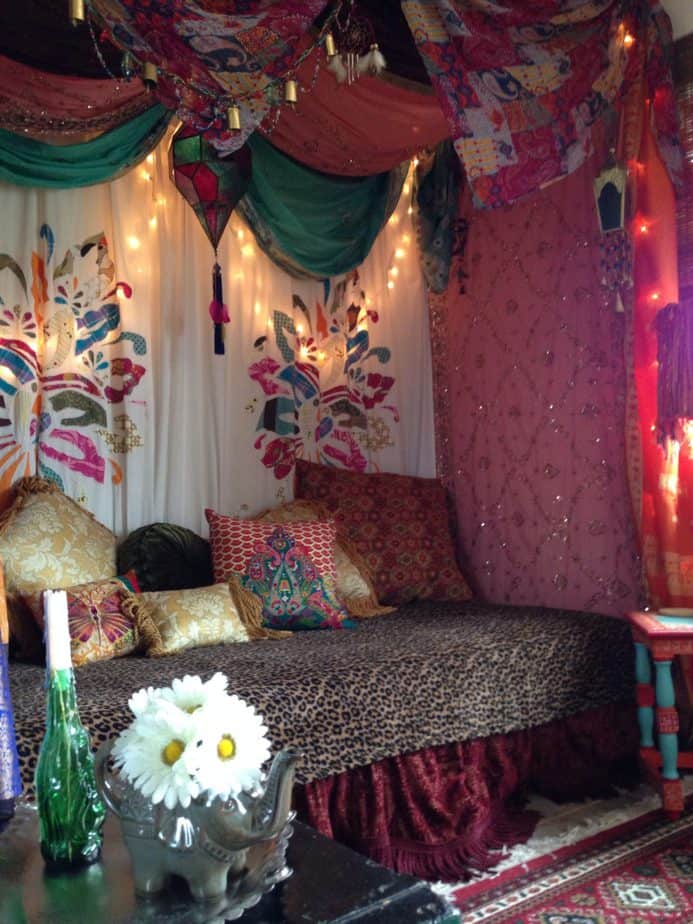 We would like to wrap up our Bohemian living room ideas with a gypsy theme which strongly relates to Bohemian freestyle characteristic. As we typically watch in movies on gypsy tribe, viable colors for furniture and decorations are very common.
Don't forget to select small lamps beautifully hanged all over one part of the living room's wall. Place unique displays, such as jars or ceramic plates in a desk of the room. A small living room space can even turn into an exquisite gypsy style as the picture shows.