COLORFUL LIVING ROOM IDEAS – You can't deny how powerful certain colors are when applying to a living room. Neutral colors seem to become top options because of the "safe" attribute they offer. This means the colors accommodate for various styles.
This time around, what about practicing some colors at once? Whether or not you love experimenting, a colorful living room has a clear appealing point. This is attainable with one condition: proper mixing so that the space won't be looking overly crowded.
Romantic Feeling in Colorful Living Room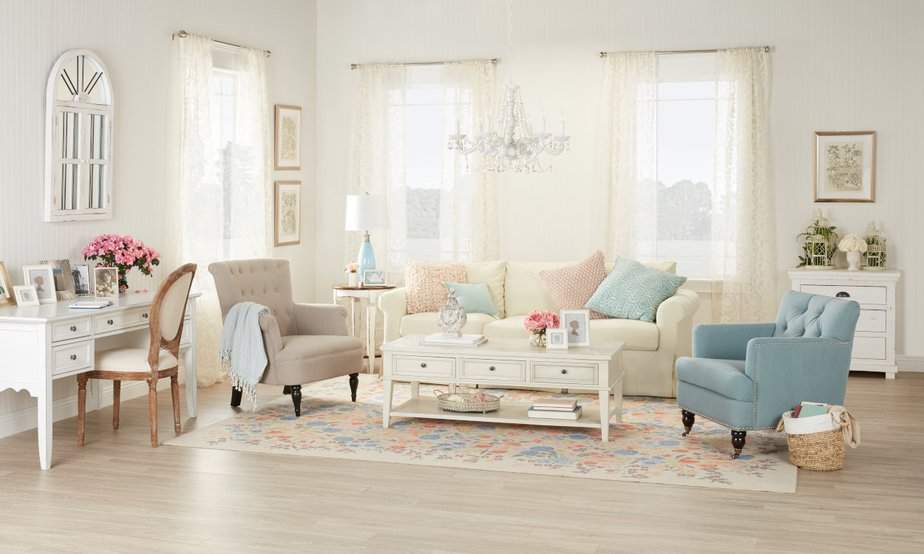 Pink and blue are two colors that we mostly associate them all with romance. Take a light shade of each of the colors so that the overall colors seem lively. To keep it fairly bright, bring along white, brown and grey as neutral colors.
In addition to the color selection, consider choosing a beautiful furniture design. As this room suggests, a bulky sofa set with soft-colored throw pillows with mild linens is easy examples to apply.
The vintage-styled chair and table are nice options. The furnishings enhance the romantic feelings, here.
Rainbow-Tone Colorful Living Room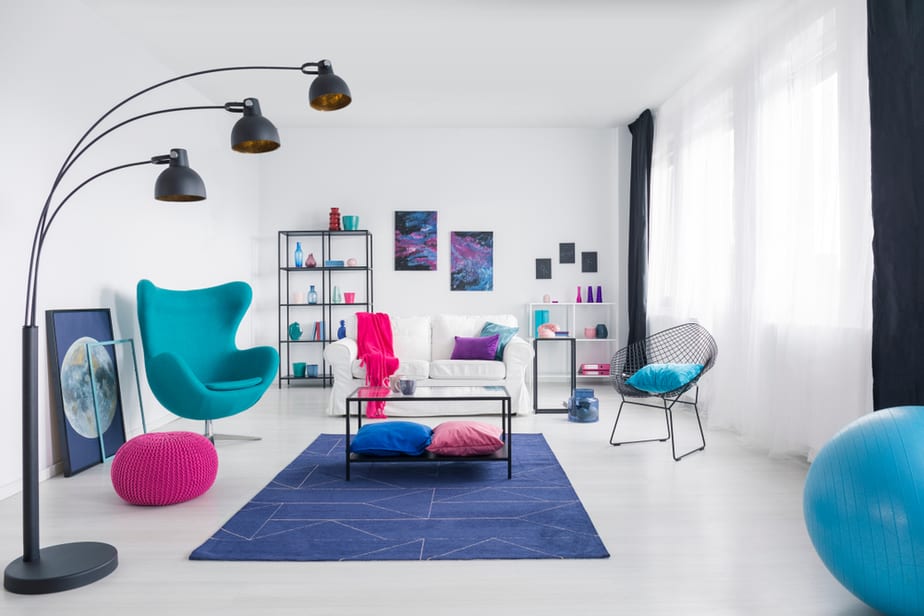 This modern living room becomes our top choice when it comes to realizing colorful space. Easy to apply, the living area feels bright and fresh. Through small jars at the back side of the room, you can feel vibrant and positive vibes, here.
Other than that, select an innovative, blue chair, the netted chair, and the trio dangling lamps. The space proves that striking or bold bright colors can work very well. This shows how enthusiastic you can be.
Pink, purple, red, blue and green all show up in minor then result in this rainbow-tone area.
Pastel Idea in Colorful Living Space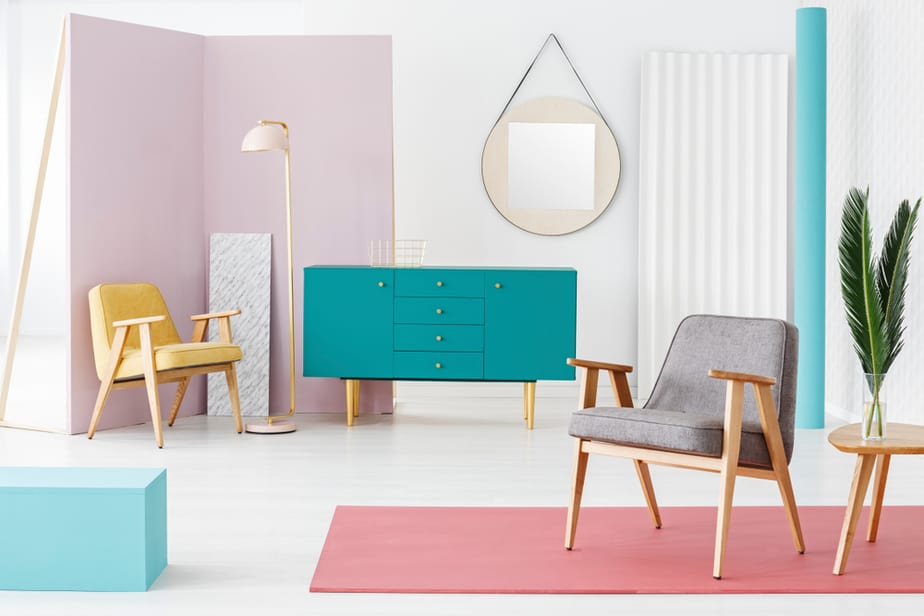 Colorful living room ideas can take shape in the use of pastel colors. If you find it confusing to differentiate which colors falling under the pastel group, this living room can show you the samples.
Choose soft pink, blue, teal, grey and brown (from wooden materials) for your planned sitting point. The key lies in choosing a softer shade of bright colors themselves. Then, you can seek mid century furniture style as seen in the chairs and the coffee table.
Paint white to one of the room's walls. With that said, this area looks delicate in brightness.
Innovative, Colorful Living Room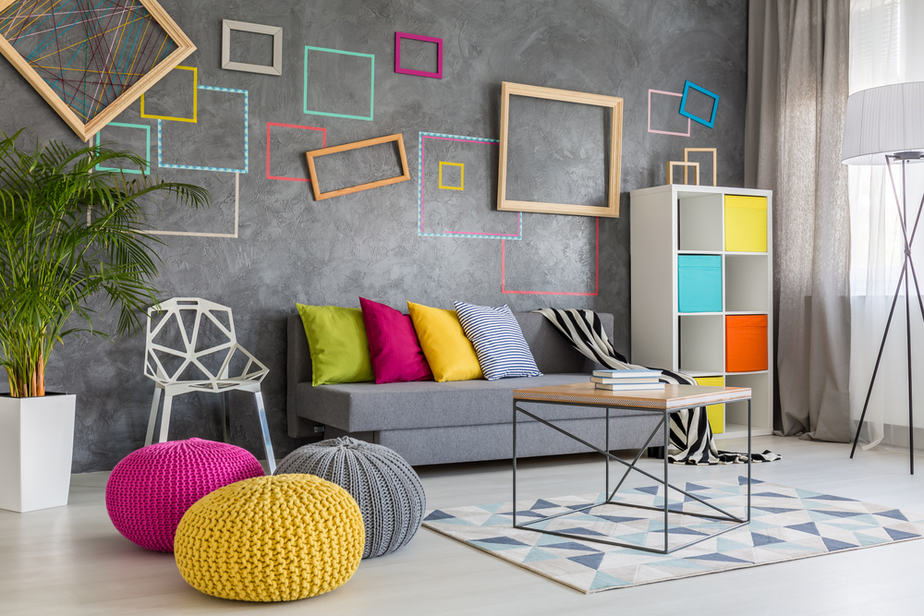 Once again, it doesn't take much money to have a colorful living room. This modern living space speaks a distinctive key to make the space innovative and lively. First, the yellow, pink and grey chairs that also look so cute.
Secondly, the colorful square lines to give balance for the grey-painted wall. The third and fourth idea come from the storage and throw pillows. The simple decorations somehow make the area looking creative.
Such a nice area in a house to have a relaxed time and get inspirations from.
Colorful Living Room in Stripes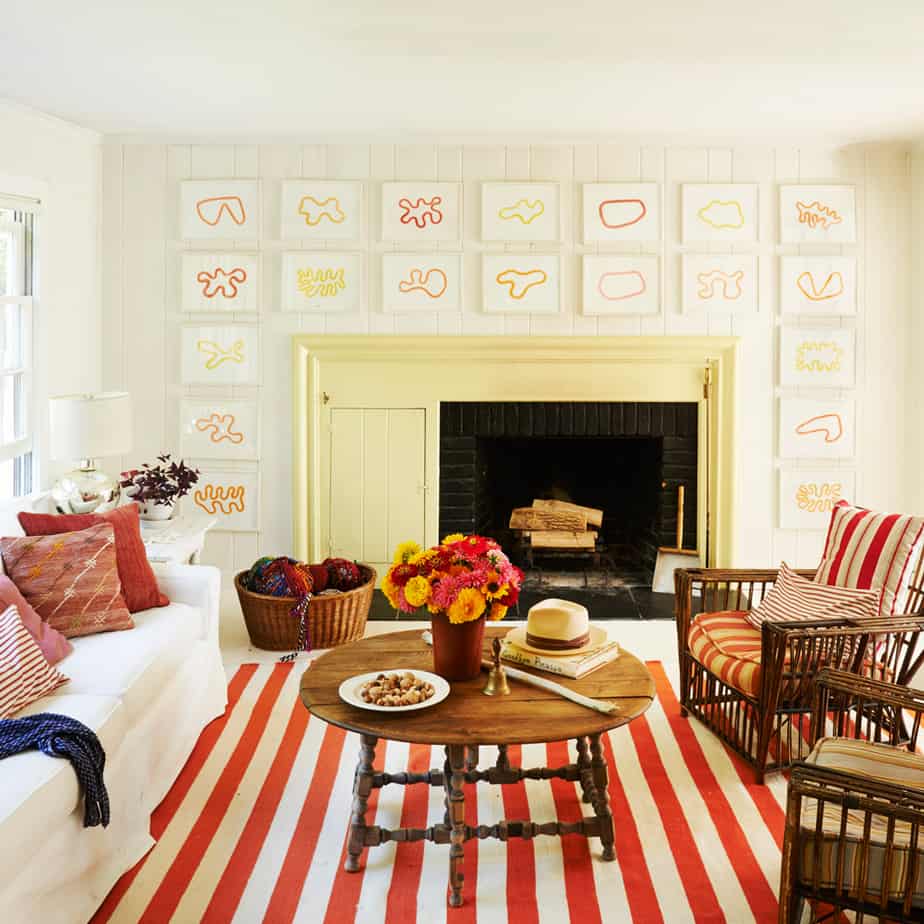 With orange as a dominant color, this living room seems viable with striped-style. Orange itself is a bright color on its own. The orange-striped one contains white. There is the red-striped one with white, too.
The space particularly shows you that you don't have to solely rely on bright colors, like yellow or red, for this sub theme concept. Relatively soft colors, like brown and dark blue, can work for this ambiance.
Another tip is putting fresh colorful fresh flowers. The overall result shows the space looks summer-feeling wrap in the particular colorful choice.
Simple, Colorful Mini Space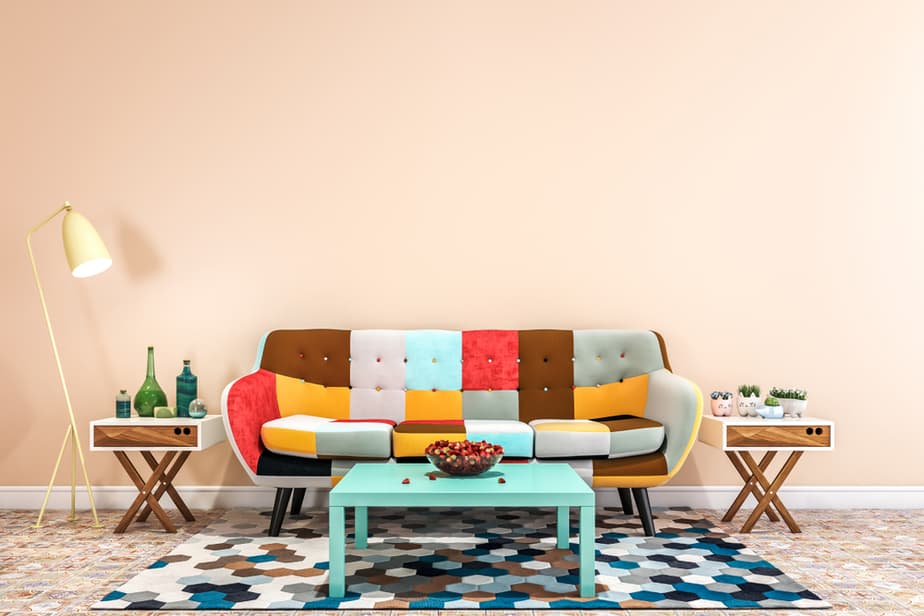 The sixth of our 10 colorful living room ideas tell you simple secret to enjoy this vibrant spot. Simply seek a colorful and unique sofa as seen here. Set an extra time to search this couch that seems delicate and sweet.
In addition, you can seek another kind of colorful concept as seen from the carpet. The carpet doesn't take up bright colors but dark and neutral ones. Yet, the carpet seems colorful on its own.
You can paint the room's wall with soft pink that matches the patterned tile, here. The space looks cute and lovely.
Colorful Living Room with Mid Century Furnishings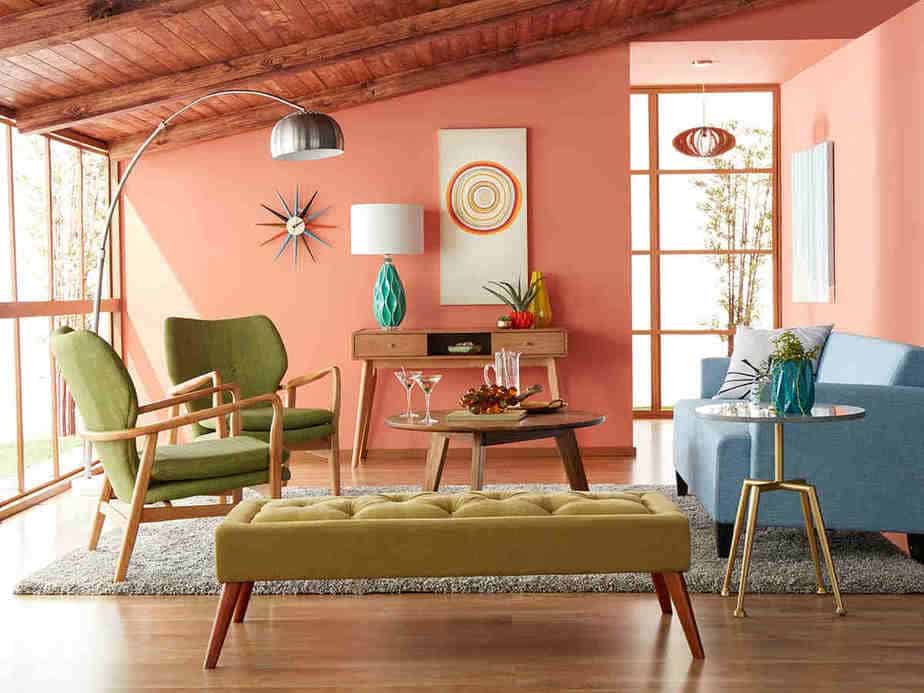 We take pastel colors as sources for colorful ambiance. Unlike the third idea, this strategy works with mid century furnishings that closely focus on simple and beautiful design. The chairs and the ottoman, here, use pastel-colored fabrics.
They complete the blue couch for overall colorful and pretty tones. The space looks viable with the use of soft pink for the entire walls. It is worthy to mention here the red, the blue and the yellow jars as the extra cheerful mode.
Fantastic, Colorful Living Room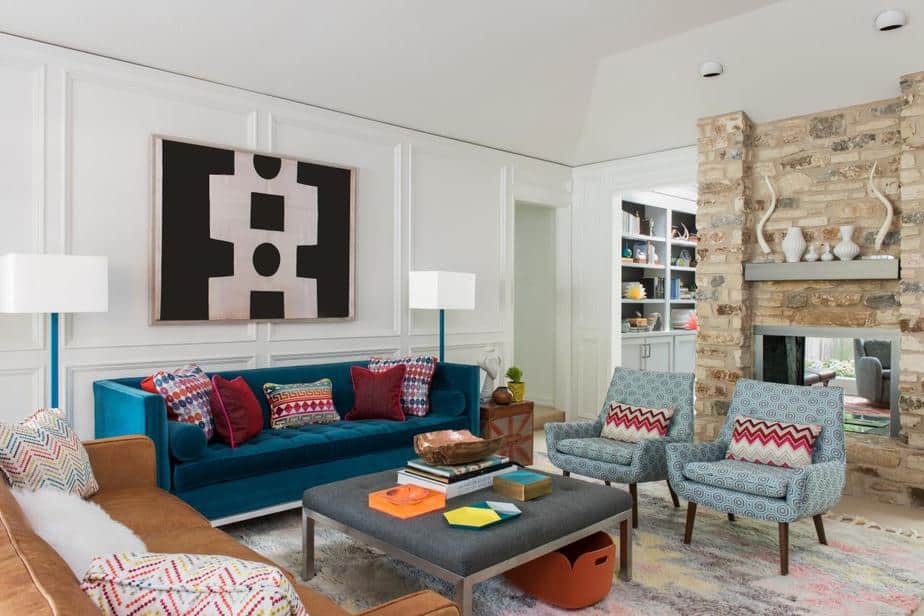 This living space combine dark and soft colors from the furnishings to small items. Even the seating set comprises of a different style. The blue sofa, the patterned soft blue chairs, and the brown couch don't match but this what makes them all unique.
In addition, the throw pillows contain bold and light colors. There are some of them who plain while mostly apply line-inspired patterns. This room doesn't only use different colors but also different styles.
Needless to say more how the space looks fantastic.
Magnificent, Colorful Living Space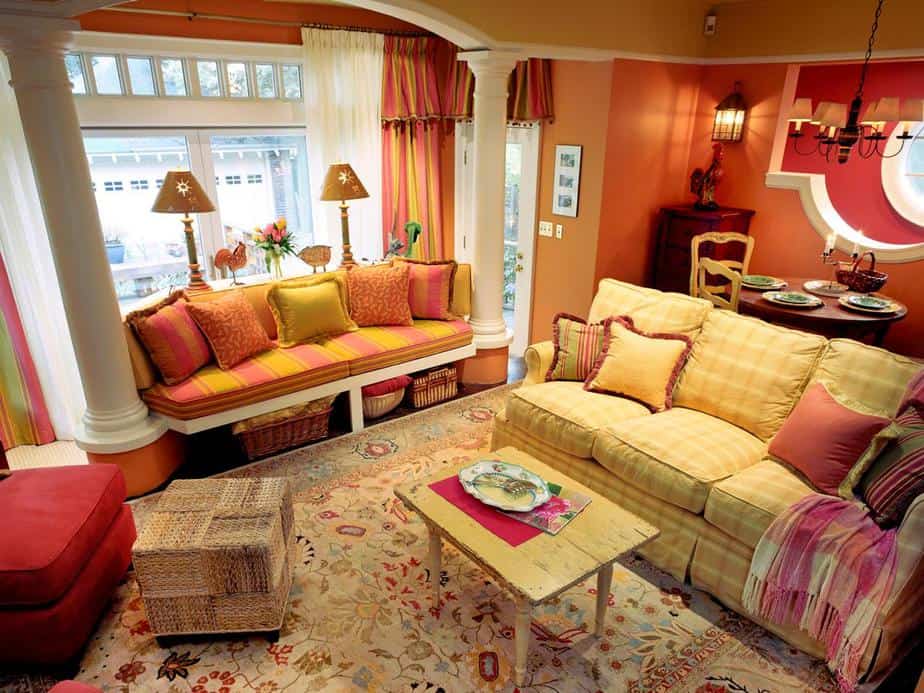 What happens when delicate, bright colors in linens and fabrics get together in one living room? The concept alone interests us already. Apply pink, orange, brown, red and minor white in almost room item as this sample suggests.
Whose eyes don't get entertained by the color combinations? The space feels feminine and homey, as well. This proves a colorful concept brings joy to hearts.
Soft, Colorful Living Room Ideas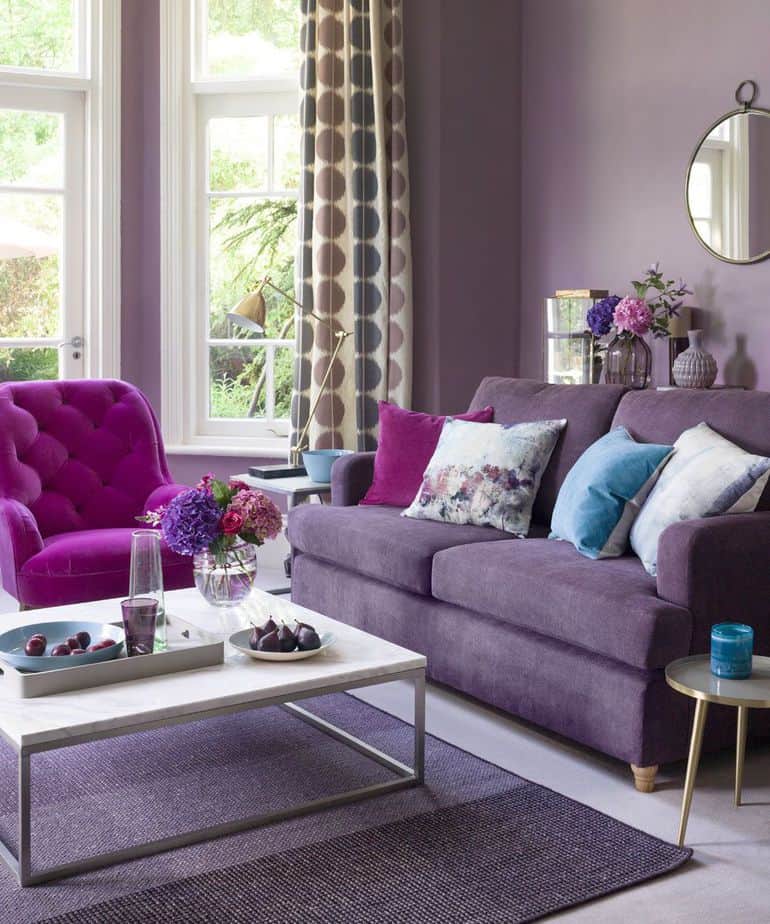 Mix bold and light purple as a major color for your desired colorful living room. For a balance, have other colors, like blue, white and green. Fresh flowers are indeed natural provider for colorful vibes as seen here.
Pair soft purple, white and brown into the dotted-style curtains as a simple way of supplying colorful elements. All in all, the mini living area feels romantic and cozy. With vertical windows right behind the couch, you can enjoy me-time by inhaling fresh air.
Such a stylish and bright spot for spending entire spare time on your own or with whole family members.