There are many reasons to consider using the best Keurig alternatives. Plenty of brands out there can be chosen to make your favorite coffee at home. Below, you will see the best brands to replace Keurig.
Most Recommended Coffee Machines for Homes
Keurig coffee machine is favored by many coffee lovers because of many advantages it carries such as easy to use, many utilitarian features, and unparalleled speed. But here are some other best alternatives.
1. Breville coffee maker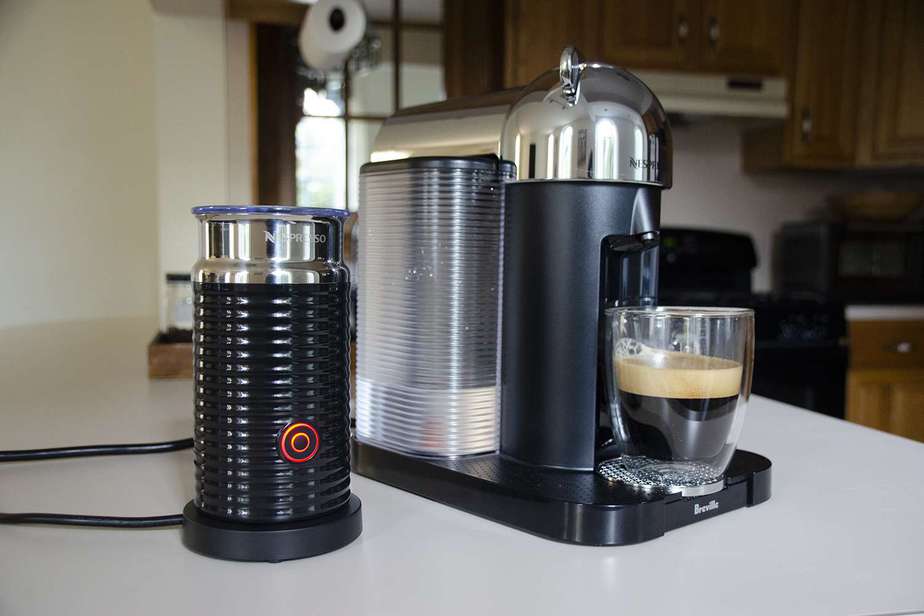 Breville has a coffee maker named Nespresso Vertuo that offers gorgeous and modern design. This coffee machine also has assorted convenient functions. Use this to make espressos and coffees.
This coffee maker will take only 10 to 15 seconds to preheat your coffee. It has a large water tank that is 40 ounce sized and it has a great extraction technology to give you tasty and rich brews.
The elegant and sleek design of this coffee machine is going to be the eye-catching decoration for your kitchen counter. Breville created this Nespresso Vertuo to ease you in using this machine and cleaning it.
Unfortunately, Nespresso Vertuo also has some cons including it becomes really loud when you use it and it is compatible only with the Nespresso capsules that are pricier than the others.
2. Hamilton Beach coffee maker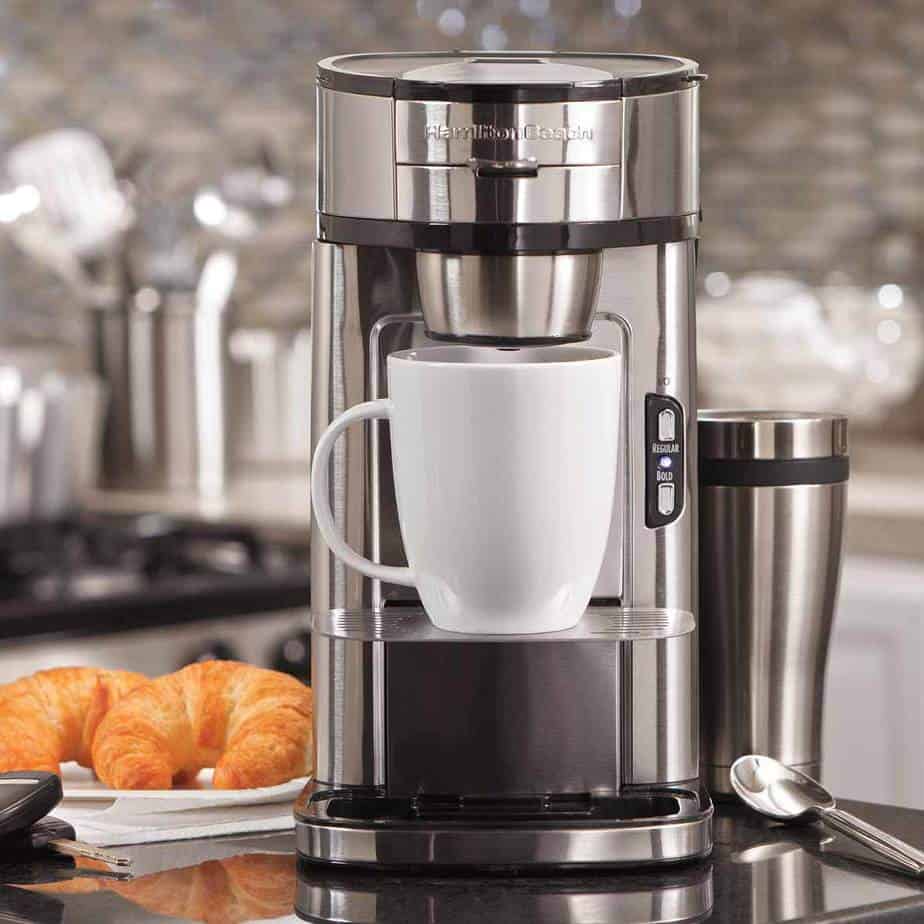 Hamilton Beach also has a coffee machine product named Scoop. This one is a sturdy coffee machine that is entirely made of stainless steel. It is a durable product you can use for years.
The Scoop has a drip tray that is removable and adjustable in order to accommodate the smaller cup and travel mug easily.
This Scoop coffee machine is an effective choice if you want to cut down on the plastic pods. This one is for coffee lovers who need easy to clean coffee machine.
This Scoop coffee maker by Hamilton Beach also has disadvantages. For some coffee lovers, the flavor of coffee made with this coffee machine is a bit weak.
3. Mueller Austria coffee machine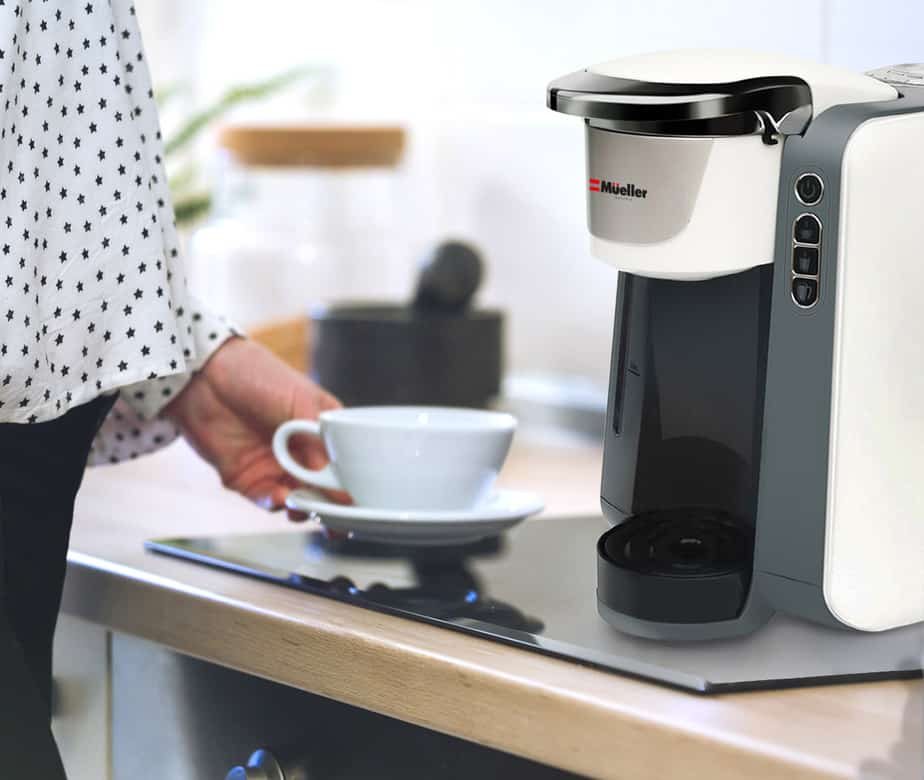 Mueller Austria completed their coffee maker with the latest heater technology that makes it able to brew your coffee and extract the coffee flavors fully in 3 minutes.
The compact design of this coffee maker will save the space on your kitchen counter. It is also efficient and fast. The coffee flavors produced by this machine are great.
You can choose one between 4 different brewing sizes to make your favorite coffee with this coffee maker. Place this machine on your kitchen counter and you'll get a practical and elegant decoration.
Unfortunately, it is harder to clean this coffee maker thoroughly. Besides, you will get some plastic smells the first time you use the coffee machine.
4. Black & Decker coffee maker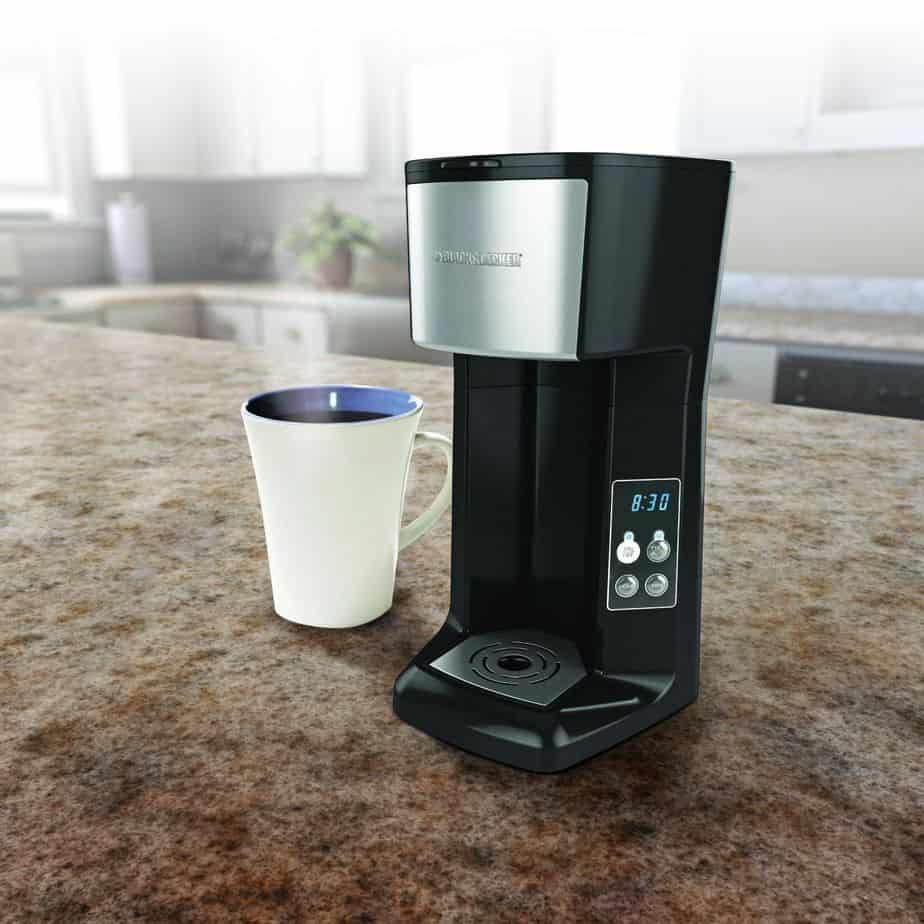 The Single Serve coffee machine by Black & Decker comes with a thermal travel mug that fits all cup holders in cars and suitcases. The mug itself will hold 16 ounces coffee.
You can clean the mug easily by using the dishwasher. This one of the best Keurig alternatives is designed with a touch operation and has a filter basket that's removable. It is perfect for smaller kitchens.
This Single Serve coffee machine is also compatible with coffee pods and ground coffee. Black & Decker also completed this coffee maker with a special feature called auto shutoff.
However, this coffee machine isn't suitable to make multiple cups of coffee in one sitting. It has black interior so you can't see the level of water inside it easily.
5. Mr. Coffee coffee machine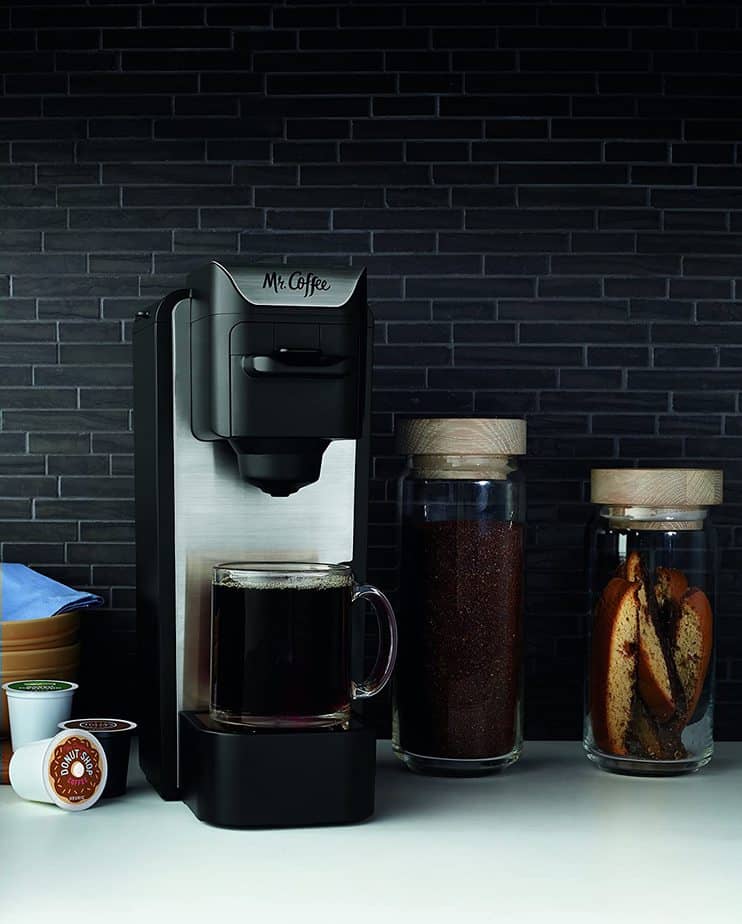 Mr. Coffee has BVMC SC100 2 which is a great alternative for Keurig coffee machines. This coffee maker is a 2 in 1 unit that offers flexibility for you. With this, you'll always get hot and fresh coffee every time.
The BVMC SC100 2 also has the feature of auto shutoff. The silver and black finish makes this incredible coffee machine look more impressive. Its maximum capacity is just 10 ounces, perfect for a single shot.
Mr. Coffee also completed this coffee maker with a reusable filter you can use for the ground coffee. There is a cup tray that is adjustable so you can make coffee in a tall sized travel mug.
Unfortunately, BVMC SC100 2 will drip little water. It also takes a few times to heat up your coffee. It comes with a 24 inches power cord so you need to place this unit close to the socket.
6. Sboly coffee maker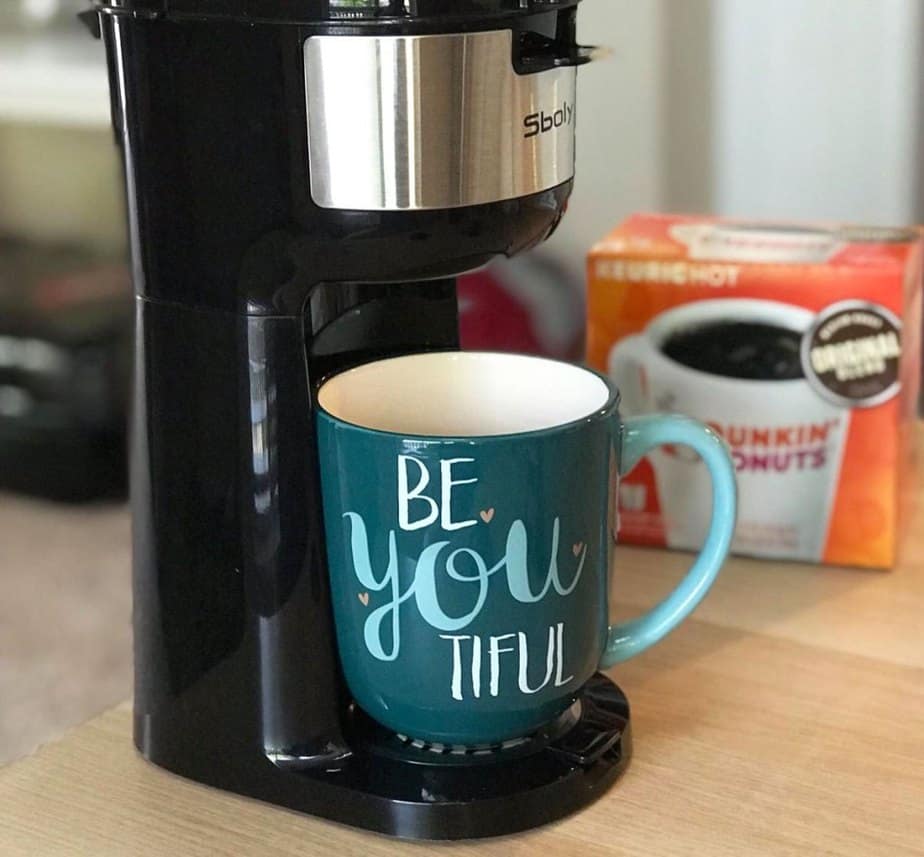 This single serve coffee machine is the best option for those who want a decent and small coffee maker to complete your small kitchen with limited area. Sboly also has an amazing glazed black colored finish.
Sboly single serve coffee machines are light in weight and have a tiny size. It is also completed with the self-cleaning cycle you can easily activate simply by pressing the 2 special buttons.
You will also get a reusable pod to be used for the ground coffee. This coffee machine is going to deliver for your hot coffee only in 3 minutes with consistent coffee quality and flavor.
However, to brew coffee in full capacity, this coffee machine is a little bit slower than the other coffee brewers. For a bigger family, the capacity of Sboly's coffee machine is too small.
7. Chefman coffee machine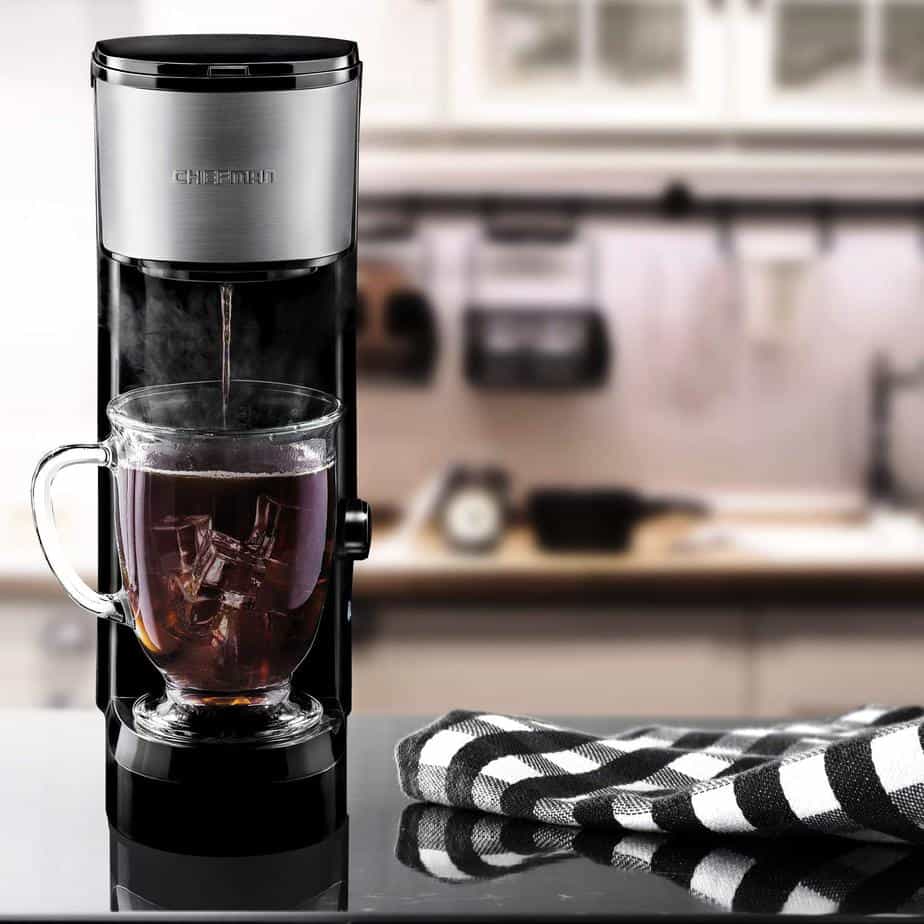 If you really love coffee, you should get this amazing alternative of Keurig. This unit is going to give you coffee in barista style. Insta Brew coffee maker is an excellent choice because of its compact design.
Using this unit is also pretty easy. You can even produce creamy and thick frothing from any milk type, non-dairy or dairy so you will get the best cappuccinos, homemade lattes, or other milk based coffees.
Insta Brew coffee maker by Chefman is made of stainless steel and has polished design. It also accepts both K-cups and the ground coffee. You can create cold and hot beverages with this unit.
However, you need to refill the unit's water every time. And this one of the best Keurig alternatives by Chefman is not capable of accommodating bigger mugs. Even so, Instabrew looks good in kitchens.