Drywall seems a common and conventional option to apply on the interior wall. However, people consider using drywall alternatives because it needs a long and though process to make and get ruined easily.
Besides, it still requires careful maintenance after the installation. Thus, the following alternatives are worth trying.
17 Interesting Drywall Alternatives
Prone to damage, doesn't stand moisture, children doodles, a risk to bump, and visible imperfection, those just some reasons why people start to look for other wall coverings to replace drywall.
Some people don't rely on drywall due to its unimpressive appeal and inability to absorb sound. So, if you try to find the best alternatives? Let's dive in.
1. Wood Planks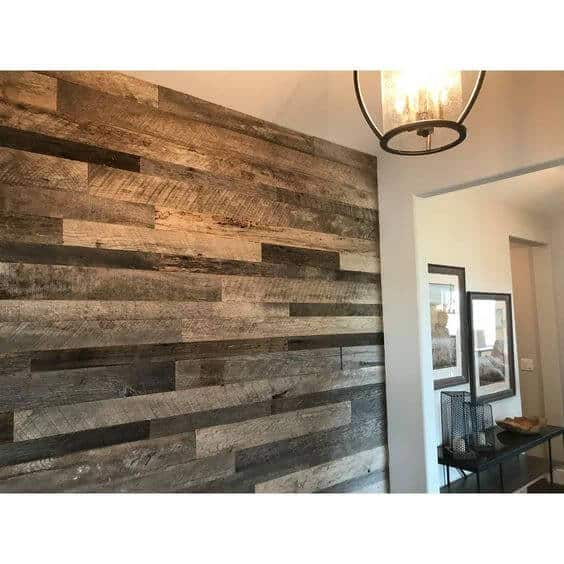 Wood plank becomes a great alternative for drywall due to its longevity and special look. Made from rut timber, wood planks work the best in any house with rustic designs and add a touch of an elegant feel.
Not coming with maintenance issues like conventional drywall, these planks don't require further maintenance after installation except for making them remain in dry condition.
Keeping the plank dry is important, particularly if you apply it with a thin layer of lacquer finish. This sealer is often added to the wood planks so in case any stubborn dirt or doodle is left, it can be removed easily.
Wood planks can be a thrifty solution for drywall and it best suits any home with country-style. Besides, it comes with a wide variety of finishes that can be easily stained to hide any imperfections.
Applying wood planks to the entire walls of a modern home perhaps is not perfectly suitable, except when you add supporting chair rails or metal joints.
Otherwise, you can install them to half-height of the walls or use them as accent walls in any modern home.
2. Veneer Plaster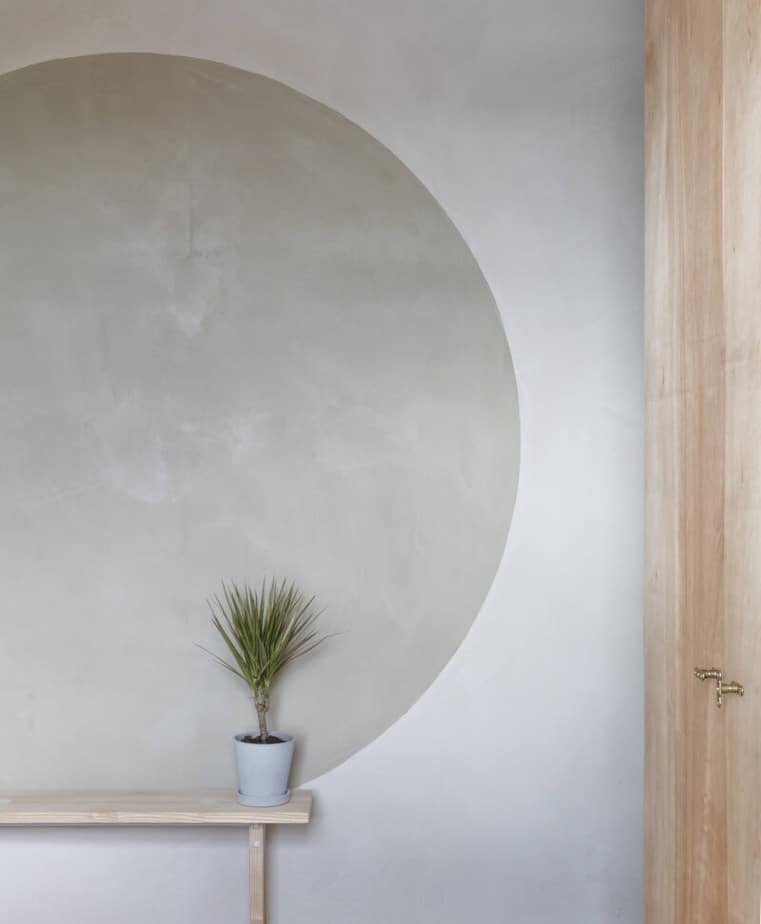 If you want to go with the closest alternative to replace drywall, then veneer plaster is the best option. Offering the same benefits with drywall, veneer plaster requires easier installation.
High skills and complicated tools are not needed when you want to hang them on the walls. Thus, handling the veneer plaster is not difficult at all as it can be finish all-day-long.
Veneer plaster appears like mud is applied to the whole part of the wall. Something that can be familiarly seen in home décor that has gotten a touch of Mexican-style architecture.
The appearance of veneer plaster is a stucco-like that often found on house exterior parts but just no wire mesh is used. If you don't really keen on its natural look, it can be painted with your favorite color.
By just fast taping on the seams, the veneer plaster will stand for years on your home wall. For efficient work, people like to keep the veneer plaster remains in its natural white condition.
3. Texture wall panels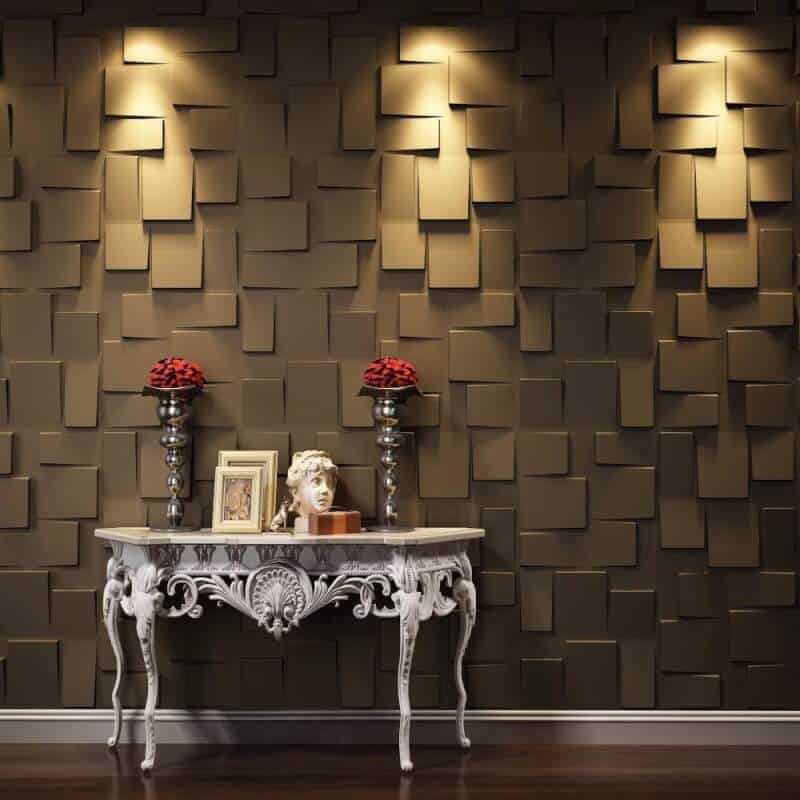 Texture wall panels are considered as drywall alternatives that increase the home appealing. Long years ago, this type of wall seems to be applied in luxurious atelier hotels and exclusive cocktail lobby.
Recently, the aesthetic look of texture wall panels can be snatched into your home at more affordable prices and easier by installation.  They offer a new and unique look worth the price.
Available in a wide variety of thicknesses and 3D designs, texture wall panels look impressive as it is. It can also be covered with wallpaper or paint.
Bring both elegance and beauty at the same time, this wall also adds some depths to the wall surface. The 3D textured panels exude a modern and stylish look to commercial or residential buildings.
This textured wall is made from light, pressed plastic or paperboard directly right above the existing walls. It is mostly installed on the base of the wall with a certain type of adhesive.
Come in various thicknesses ranging from ¾ inch to 1.5 inches, these texture panels transform any room with multiple appearances.
The choices are countless, starting from old-style bricks to lavish marbles. Even artistic designs that come with vivid colors are available.
4. Lath and Plaster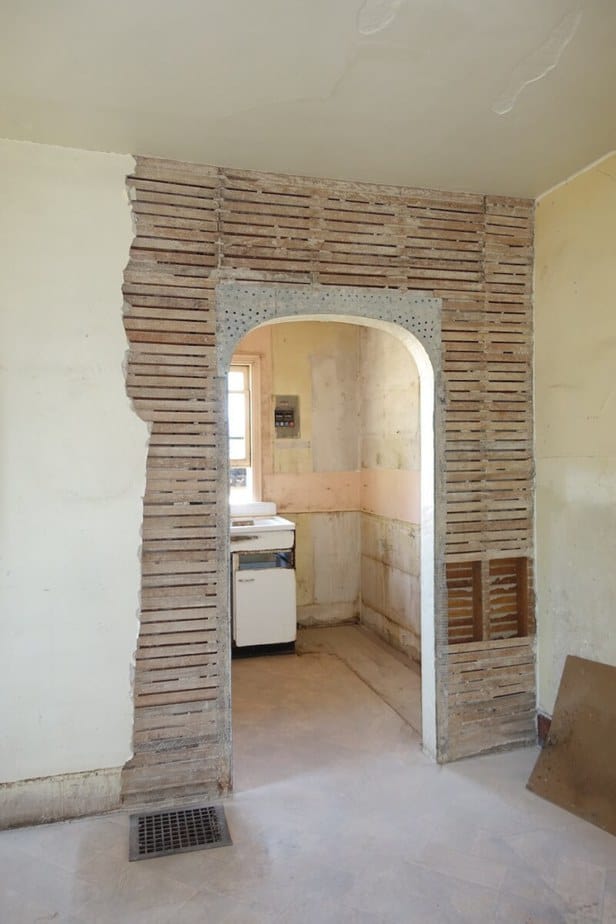 Laths are narrow strips of wood that are mounted together to form layers on the walls and covered with plaster. Provides a veneer plaster-like feel, laths are known as an old method to construct walls.
Used dominantly before the arrival of drywall, laths work effectively to cover walls although cannot be simply installed. Laths give a unique appearance and some texture to the wall surfaces.
Laths can be made from various materials including wood, metal laths, and split timber. The plaster is applied between the laths to secure the bonding.
Then, the thicker layers of plaster are given to the existing wall. Wait until all the plaster layers completely dry prior to making the wall surface.
Some people like to use plaster that adds with horsehair to create more sturdy and obvious texture on wall flat surfaces. Not only work on flat surfaces, but lath and plaster can also be installed on a curved surface.
If you want to install insulation at home, lath and plaster will support it.
5. Brick and Masonry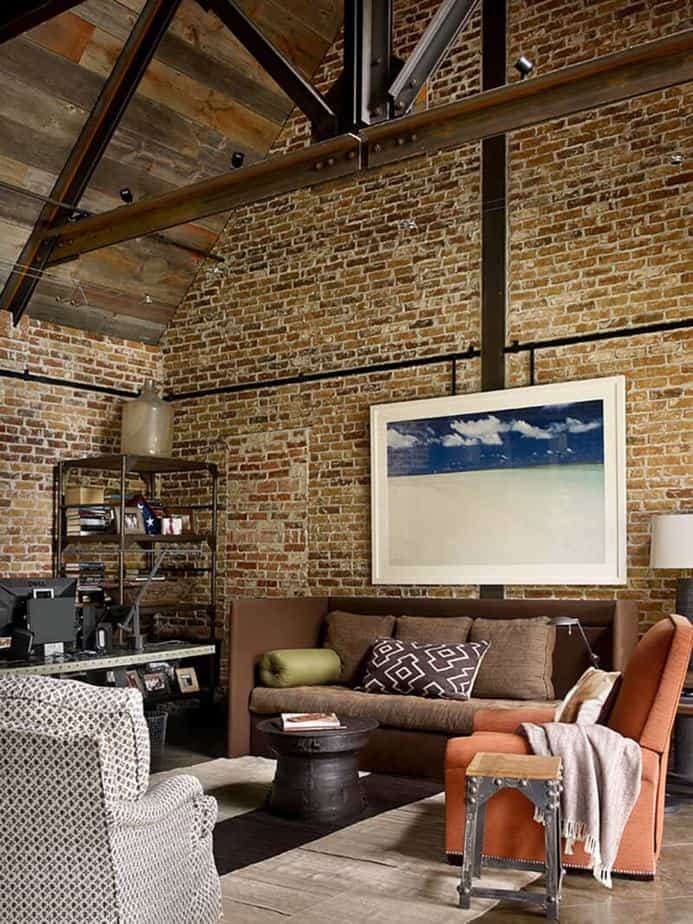 Found in rustic homes, stone or brick walls exude an old-classic charm that never out of date. These natural materials are truly recommended if you want to create a warm atmosphere.
Since bricks come in myriad options of color, it can be easier to combine them with other materials or it acts as accent walls like in suburban homes to create a more aesthetical look.
Brick and masonry are durable and require less cleaning and maintenance, except perhaps wiping off the dust. Even these natural stones are classy enough if you don't want to change the walls in the future.
Stone and brick walls always look impressive whether they are painted or left on their natural look. Besides, they add the room character as well as increasing the value of your home.
Although the price can be higher than the drywall, this alternative worth the price due to its unequaled durability.
6. Cement Board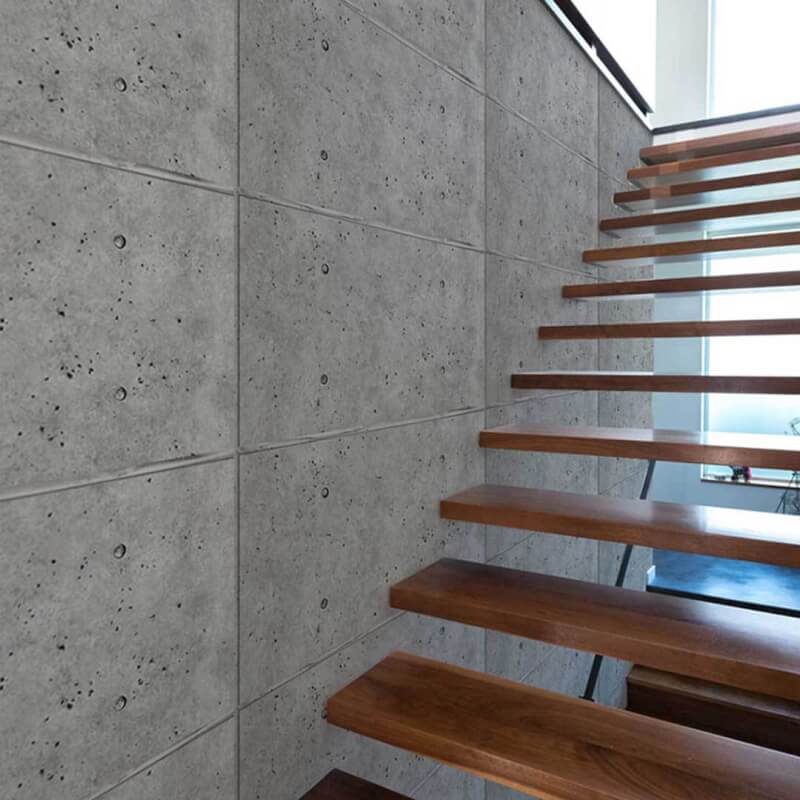 Another alternative option for drywall is a cement board. Made from heavy material, cement board is pricier than drywall but at the same time also offer more benefits.
The cement panels are created from the combination of fibers containing cellulose and cement that comes with unmatched durability. Due to their heavyweight, the panels need to be mounted by two people.
The heavy materials used on the panels provide a sturdy look so installing them to the entire walls can turn it to be overwhelming. It's because the walls will be full of concrete, right angles, and leveled surfaces.
The best way to use cement board as drywall alternatives is by installing it on one side of a wall. Otherwise, you can mount a cement board on a wall lead to the second floor so the stair looks to stand out.
Use cement board as an accent wall seems to be the most effective option. Avoid installing it in any room which already uses concrete flooring since it will be overpowering.
Fortunately, cement board is moisture-resistant makes it can withstand water and mold. Thus, it is perfect to be applied in areas with high humidity.
7. Plywood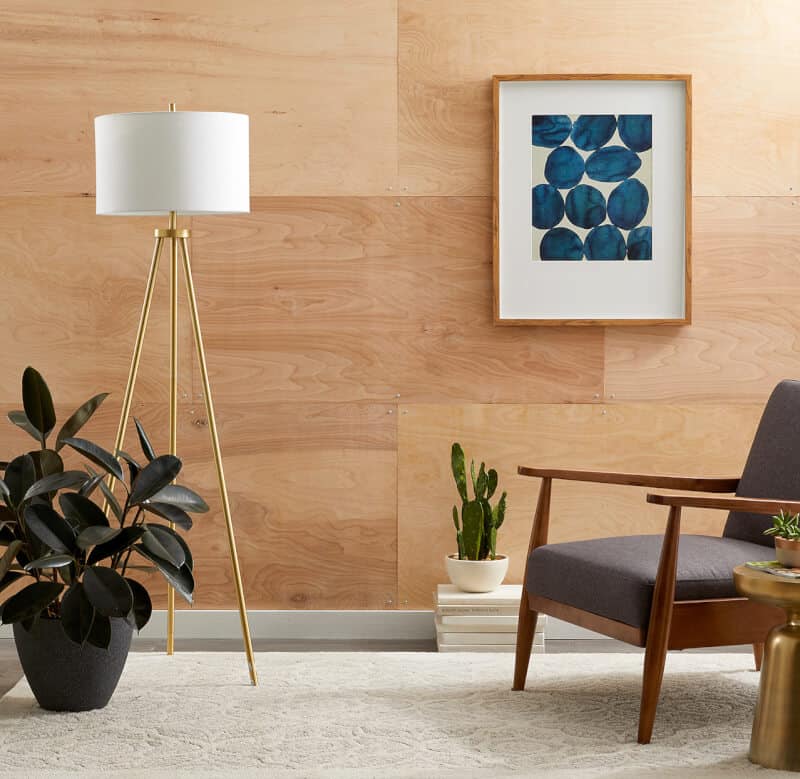 Want to go with the most affordable option to replace drywall? Put plywood into your top list. Not only can be bought at an inexpensive price, but plywood is also completely easy to install.
Even those who don't have experience with it can work with this material because it just needs to be secured to the walls using screws.
Plywood also can be an alternative for other wooden walls and can be painted using your preferred color.
Appear to be medium density boards, plywood exudes a certain charm to any room and can be paired with various kinds of wall decorations to get a country-look home.
All you have to concern about are measuring and cutting the sheets precisely. However, please note that any mistake on plywood cannot be covered just by screws or nails.
8. Pegboard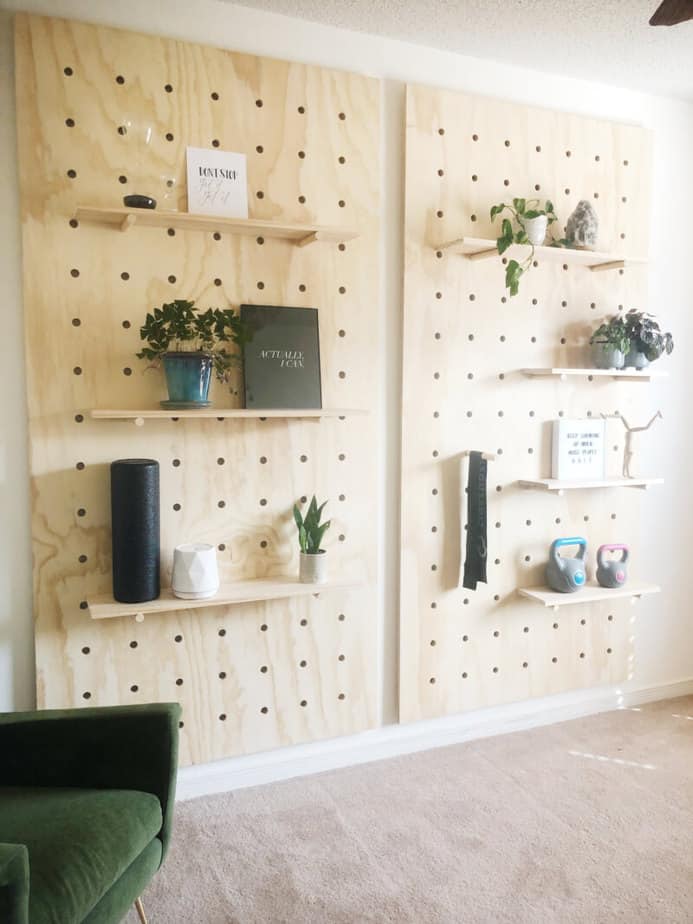 Created from the compressed wood resin paired with an oily sheer layer, pegboard is good to swap drywall. Moreover, it is pretty comfortable to use as well as various finishes to select.
Pegboard can be directly secured to the existing walls by screwing the panels to the place that you already prepare. Any complex finishing process is not required too.
To make it looks tidy, perhaps you only need to paint the screw tops using the board's color so they are not really visible. The standard look of Pegboard makes it only best fits certain spaces.
Pegboard is perfect in any room including much storage for various tools such as a garage and a craft room. It greatly reflects the natural lights entering the room so that it appears brighter without many lightings.
Pegboard perhaps is the most functional drywall alternatives because it has hook holes where you can attach any shelving or storage solutions. Otherwise, it provides spots to directly hang the tools.
When installing inside the workshop, pegboard can be used to hang large and heavy tools or equipment. Meanwhile, in a craft room, promotes a well-organized feel and look, yet appears funnier.
Seems lightweight, Pegboard has great strength. However, adding some storage support or hooks can bring a piece of mind if you dangle something heavy.
9. Cork Board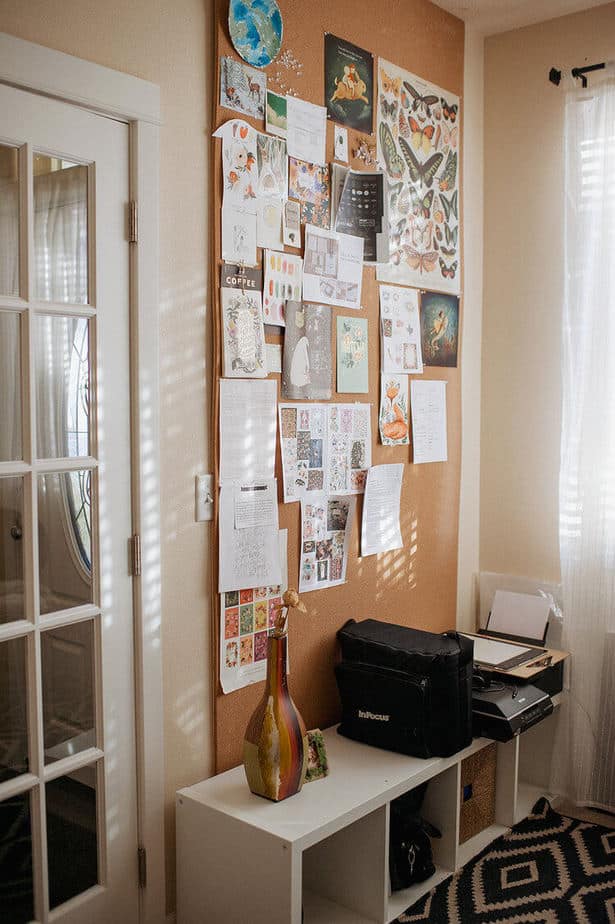 Appear to have a pegboard-like finish, cork board has a unique look but cannot withstand much weight. It serves a random design across the whole wall at home.
You can dangle various pictures or other displays without being worried by any scratches. Cork board is available in a wide variety of colors and thicknesses.
The sizes of cork chips compressed on the materials even can be various. It offers you many options to spice up the walls. It is an effective wall material that can exude a warm ambiance inside any home.
It helps to spread the light entering the room with its unique popcorn effects. The popcorn effects on its surface reflect the light well so it makes space look brighter.
10. Exposed Concrete Block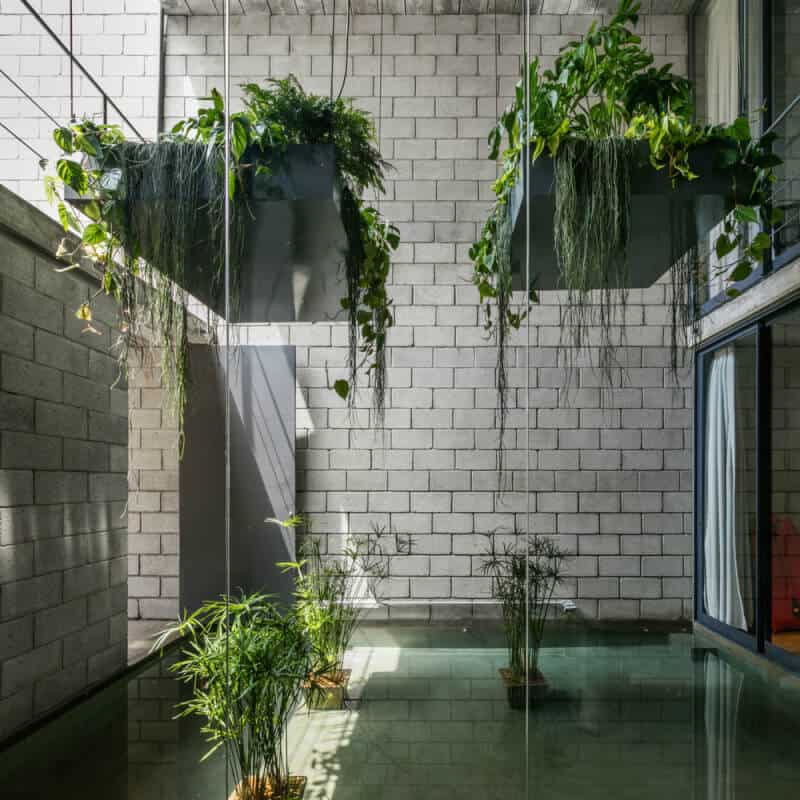 Exposed concrete blocks with their raw and untouched finish give modern look to wall surface. It gives an impression that the walls are not yet finished.
If you don't really prefer the original look, applying paint on the blocks gives the wall a textured panel appeal. In high-ceiling buildings, the combination of concrete block and glass décor creates a modern house look.
Exposed concrete blocks suit well the neutral-colored furniture with sharp edges which the characteristics of a minimalist home.
This wall alternative will look amazing especially if you can pair it with good lighting and room arrangement.
11. Plastic Panels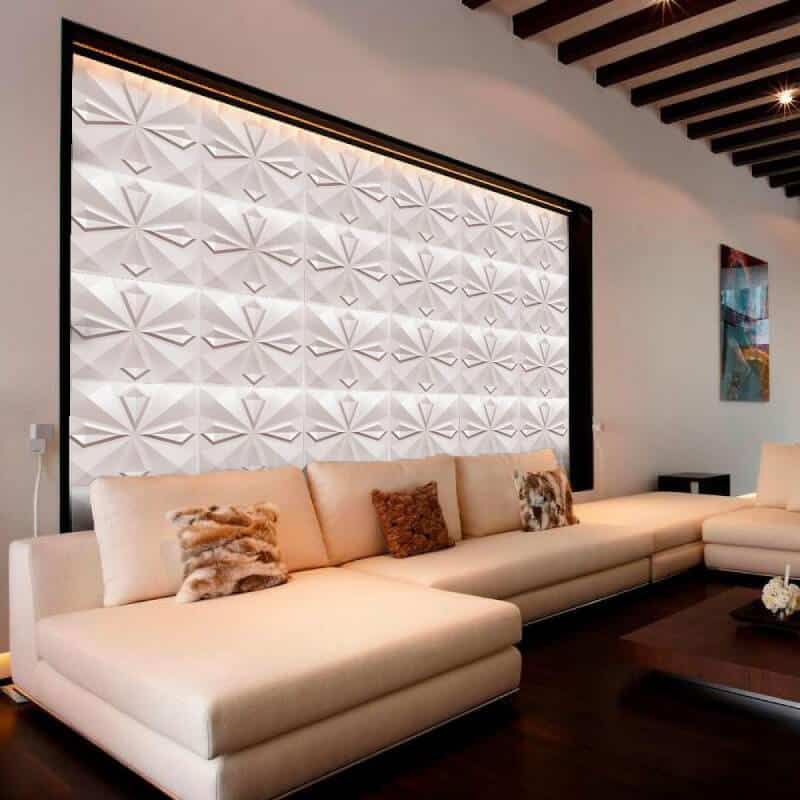 Although still unfamiliar, there are few reasons why plastic panels greatly substitute drywall. It can be easily installed just by locking the panels into the wall.
Some people use plastic panels to hide damaged parts of drywall. It requires simple cleaning and resistance to mold. Hence, it is suitable to use in any rooms with high moisture.
The high-quality plastic panels likely a bit expensive but is not significantly different from common drywalls. It's just the easy installation that makes people prefer to use plastic panels than drywall.
12. Wahoo Walls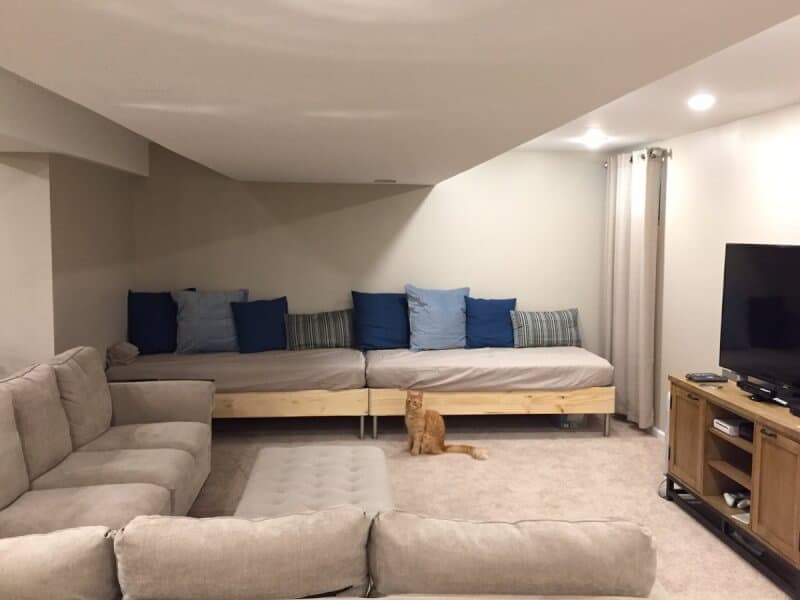 Wahoo Walls is a DIY wall product designed for basement finishing. When you already sure there no leak in the basement, you can apply the finish to achieve a similar look with other rooms.
It becomes one of drywall alternatives because its look is pretty alike. Not only moisture resistant, but the amazing thing about Wahoo walls is also it doesn't require screws for installation.
Made from no-organic materials with an expanded polystyrene core, the panels can be clicked together. A couple of people sometimes use glue to secure the panel's connection, even not is fine.
It's perfect for humid areas in the house because it resists water and mold. You can paint the panels for a more interesting look.
13. Corrugated Metal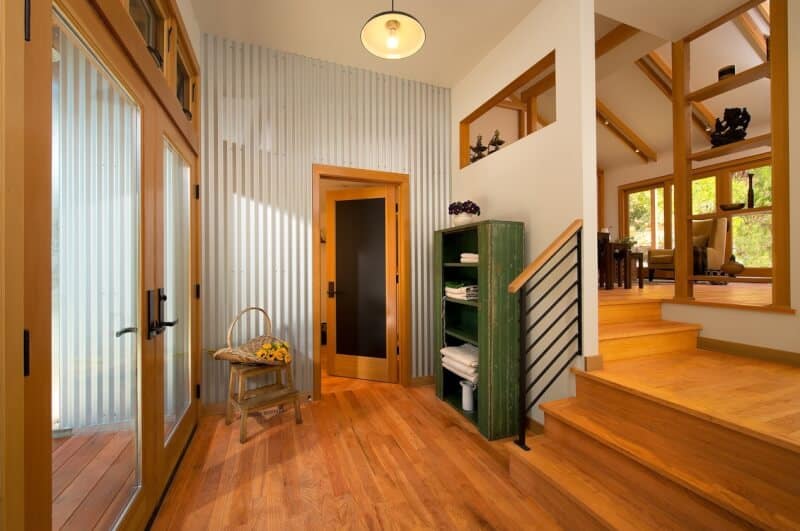 Corrugated metal panels are also known to be metal wavy sheets that are often discovered either on barn side or a roof. Indoor use is available although not pretty suitable to be applied on wide wall surfaces.
Applying it to four sides of the wall in a room also makes it look overwhelming. That's why the most effective option by using an accent wall or only a small part of the wall.
It is available at an affordable price and an easy installation. You can just install the metal sheets by screwing them on the studs.
Once that you must be careful is cutting the metal sheets into preferred size. You have to use a circular saw with a particular type of blade.
14. Reinforced Glass and Gypsum Panels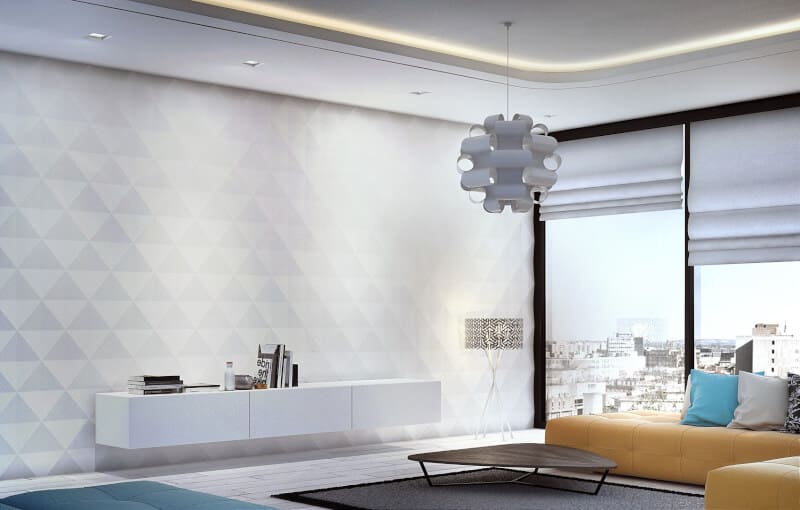 Bring the same appearance and concept of drywall, both reinforced glass and gypsum panels are more long-lasting and scratch-resistant.
Due to their strong materials, installing plywood for support is not needed. The installation process for them is quite similar to plywood and drywall.
They present a solid surface to any room installed. Reinforced glass and gypsum panels are resistant to mold and other problems related to drywall.
They come with a wide variety of surface designs to offer a more fascinating look. Even you can find them with a 3D layer to make the walls stand out.
15. Sheet Wood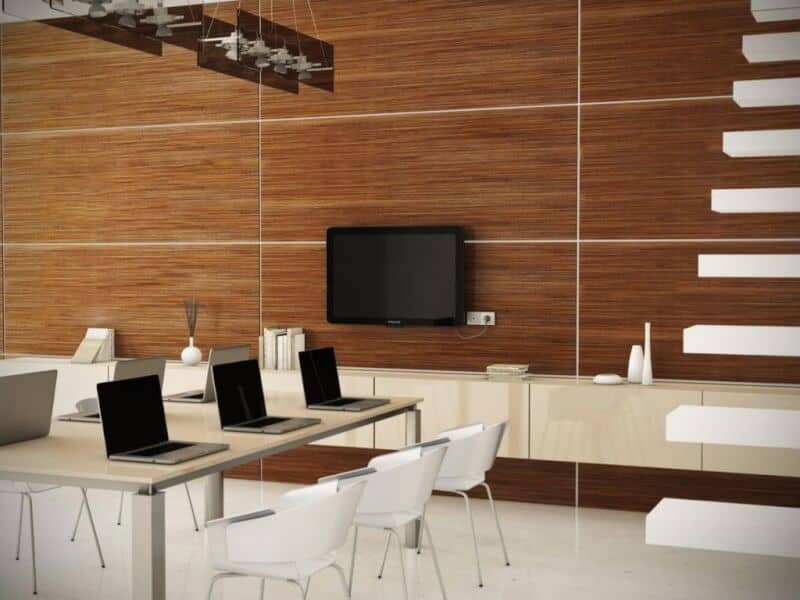 Sheet Wood is available in a wide variety of materials. It can be everything from medium-density fiberboard, plywood, or oriented strand board. These serve as cheap alternative options for drywall.
Easy installation also becomes another characteristic of sheet wood. All you have to do is just screwing the wooden sheets into the place you prefer on a wall surface.
The appearance of sheet wood is pretty nice because it allows either to be painted in your favorite color or left as it is to show the beauty of its unfinished look.
16. Exposed Brick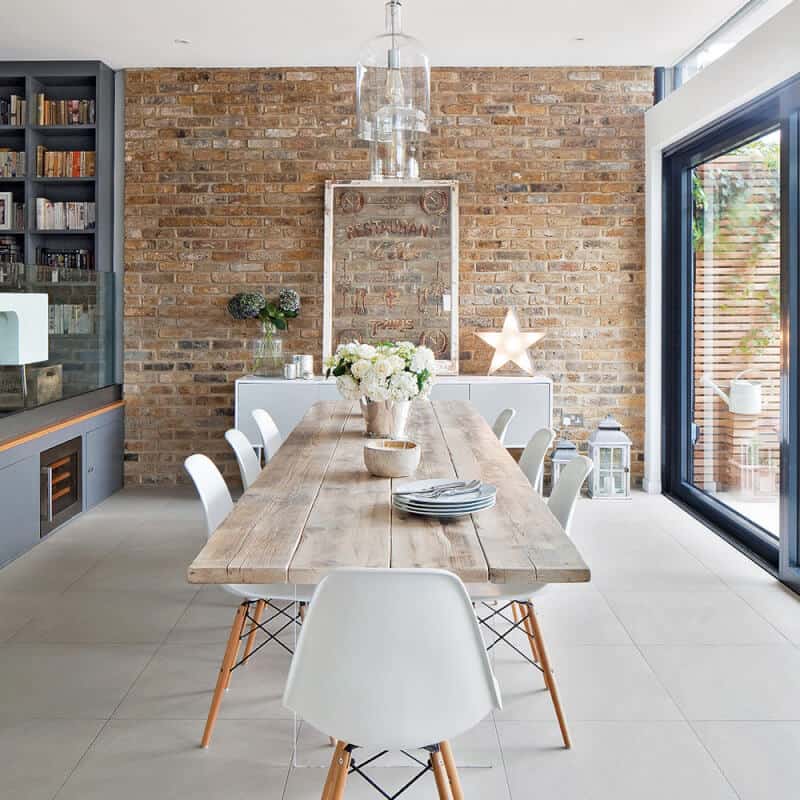 Exposed bricks happen to be an alternative for drywall that gives a great impact both on the home's look and value. Mostly used in the kitchen and around a fireplace, bricks basically look good in any part of a house.
When it comes to options, bricks are elements that vary greatly on shapes, tones, and sizes so you will never have limited choices on them.
Designing a brick wall in the house either to the entire room or just an accent wall can make the interior stand out. It is something that plain drywall can't provide.
17. Lath with Woodchip-Clay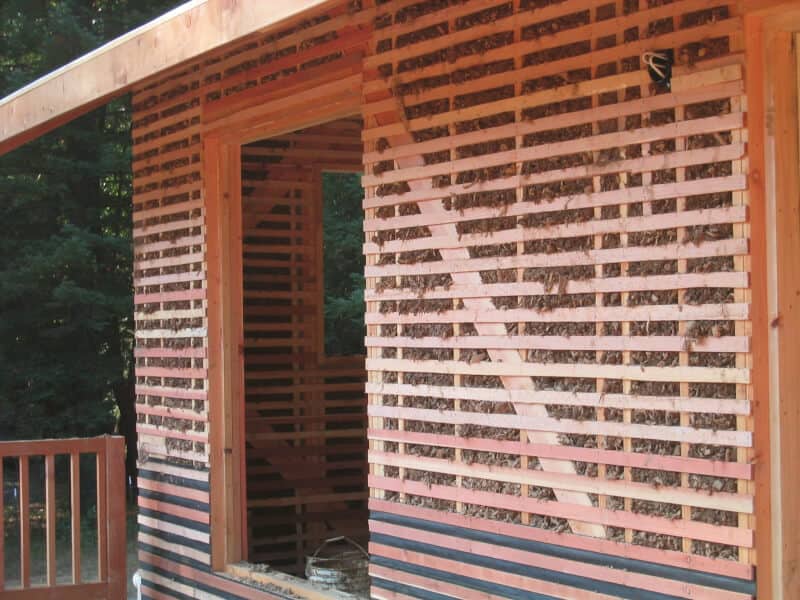 As a variation of the lath system, it offers better soundproofing because made from a combination of bark-free wood chips and clay. Then, a plaster layer is made on top of it.
It's just perfect to reduce noise in any room or build a more solid wall than standard lath and plaster offered.
There are numerous available alternatives to replace drywall. All you have to do is choosing the one that meets your needs by taking into account each type's benefits and drawbacks.
Besides, get to know what kinds of look and ambiance that you want to achieve so that you can find the best option for drywall alternatives.