No one wants a mess in their house. The thing is, sooner or later, if the house is not well-organized, a mess is bound to happen. That's what a closet is for: to help you organize. Here, we will tell you 6 different types of closets and how to choose the right one.
6 Common Types of Closets
When it comes to types, there are many of them. We will not include them all on the list. Instead, we focus on the 6 common ones. Namely, walk-in, reach-in, linen, wardrobe, pantry, and utility closet.
Before we proceed, you should know that closets are not exclusive to clothing only. Some closets, like pantries, are used to store food. All closets have one thing in common: they are used to store items.
1. Walk-in Closet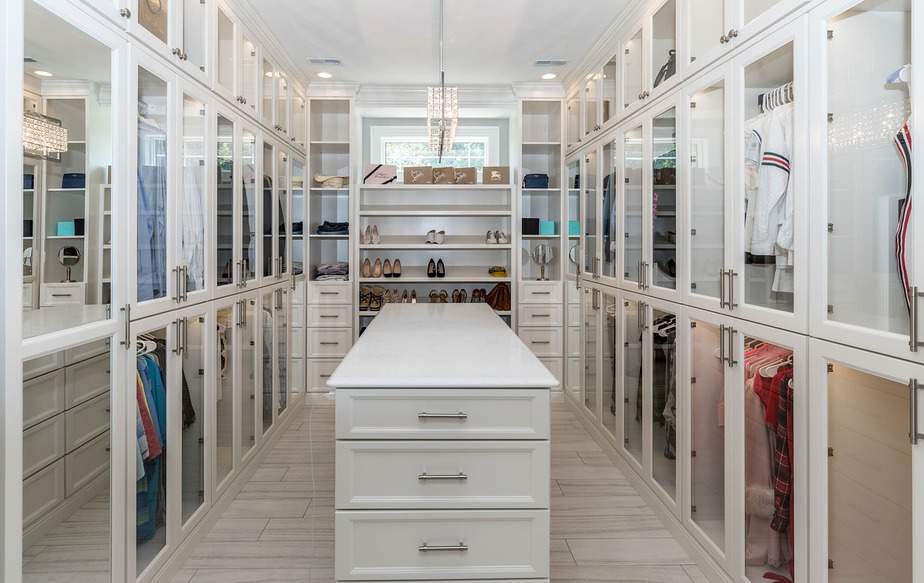 This one here is an excellent example of how a walk-in closet looks like. Compared to other types of closets, a walk-in closet takes so much space, at least enough for someone to walk into it.
Although a walk-in closet does take up so much space, it does provide plenty of storage for you to store your clothing and belonging. Notice how there is no space left unused for storage here.
The island in the middle is not only functional, as it separates the space, but also aesthetical as well. This one accentuates the overall décor of the closet but you can make a focal point with it, if you want.
If you have some space to spare in the house, a walk-in closet is definitely worth considering.
2. Reach-in Closet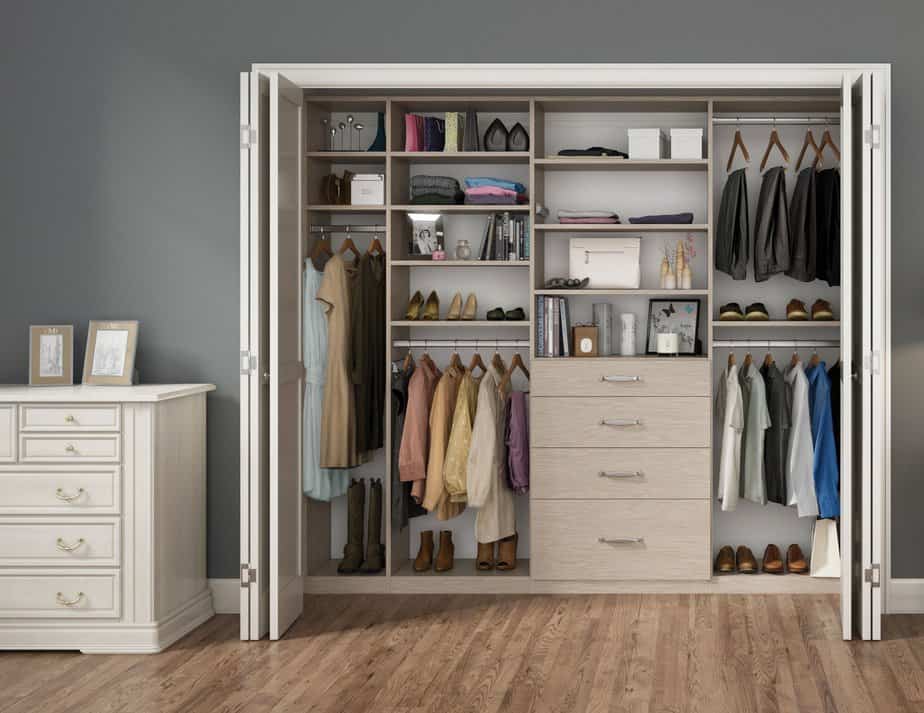 Next on our types of closets list is the reach-in closet. If you don't have much space to spare in the house, you might want to consider a reach-in closet.
As you can see here, compared to a walk-in closet, a reach-in closet is typically much smaller. You can even say it is a "compact" version of the walk-in closet due to its smaller size.
Don't be mistaken by the size, however. Even if it is small, it significantly helps you to be more organized. And, thanks to the small size, you can have it just about anywhere. Be it in the bedroom or the hallway.
This one here, even though small, can store a lot of items. Better yet, items stored inside are easily accessible. You can just grab and go.
3. Linen Closet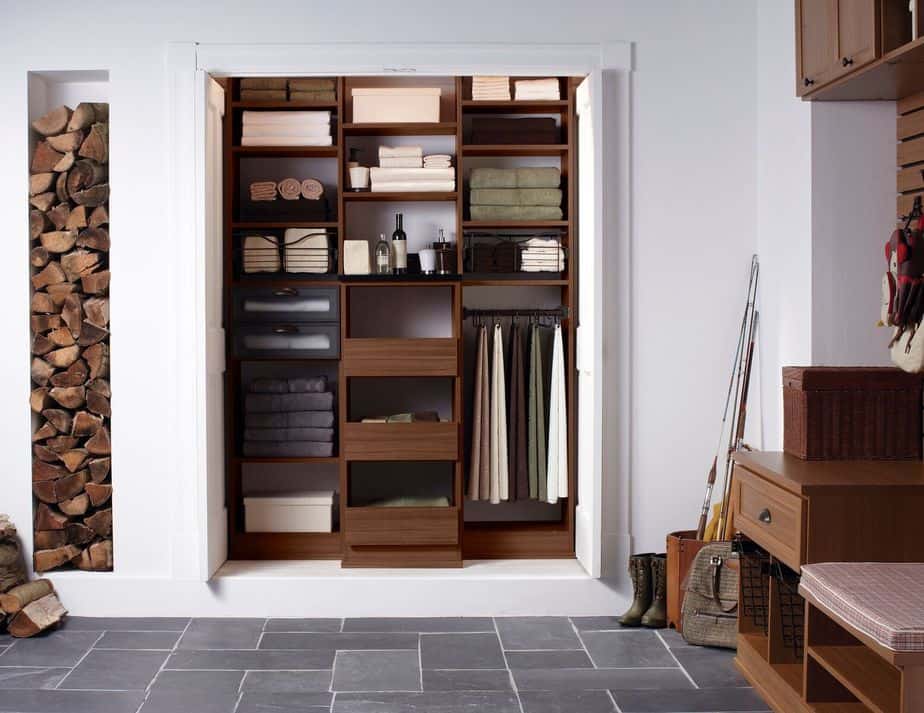 If the reach-in closet is the compact version of the walk-in closet, the linen closet is the compact version of the reach-in closet. Just take a look at the linen closet here. Quite small, isn't it?
If you have small space to spare and/or just want to storage for your clothing, then a linen closet is your best option. It doesn't eat up too much space and at the same time, helps you get organized.
Because it is even smaller than a full-size reach-in closet, you can make a linen closet just about anywhere. Yes, including near the corner. It is one of the best types of closets for a small space.
Another thing about a linen closet is that its storage capacity mostly depends on how the shelving is. The more efficient you are with shelving, the more storage capacity you get.
4. Wardrobe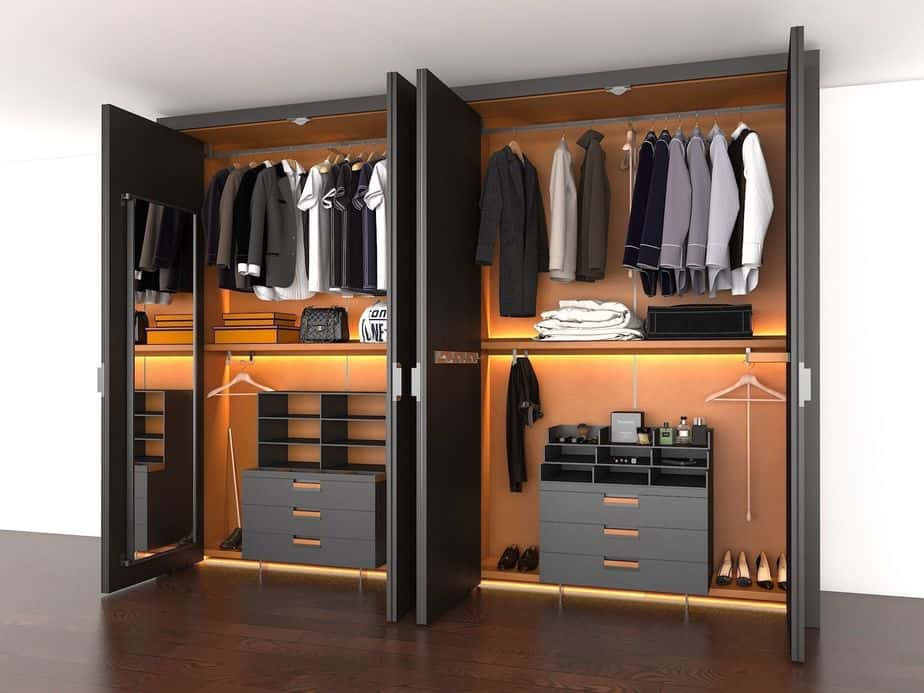 Our list of types of closets wouldn't be complete without this one: wardrobe. Just because you want a closet in your house, doesn't mean a renovating project is the way to go.
Sometimes, a renovation is just not feasible. The alternative? Adding a wardrobe in the house. This way, you get a closet without spending too much money or having to renovate your house.
The example above shows how amazing a wardrobe can be for a closet. Notice how, in terms of storage capacity, it is similar to a reach-in closet.
What makes a wardrobe superior to a reach-in closet is its portability, which is a huge advantage to have. You can move it wherever you want. No need to be bound in a single spot.
5. Pantry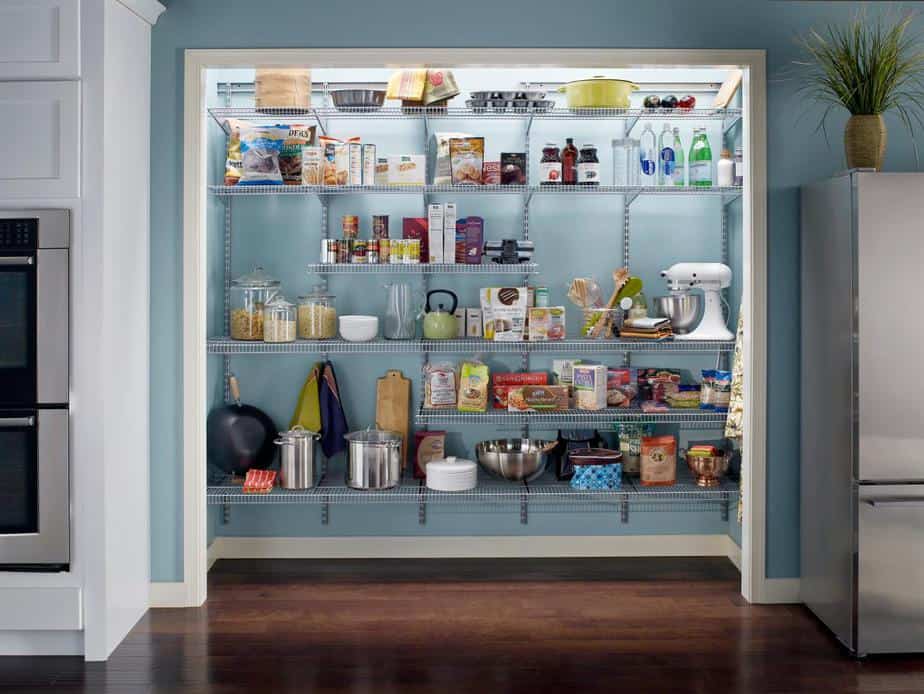 This one is different from other types of closets on the list. That's right. We are talking about the pantry. A pantry is a type of closet that is used to store food, instead of clothing, purses, and shoes.
Closets are often associated with storage for clothing. In actuality, the term can refer to storage for other items as well. Of course, that includes food.
Here you can see an excellent example of a pantry in the kitchen. Notice in the pantry there are lots of items necessary for the kitchen. From food, ingredients, bottles, to utensils.
Creating a mess in the kitchen is very easy. One session of cooking and you might have a mess already. With a pantry, organizing things will be a lot easier.
6. Utility Closet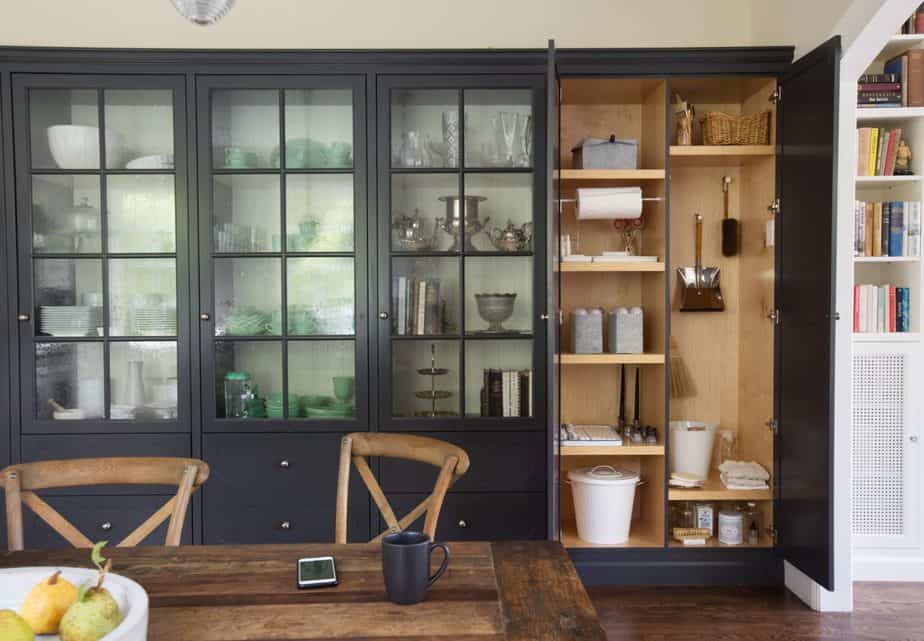 What if you want your reach-in closet to be something more? Perhaps to store necessary tools or other items instead of clothing? In that case, one of the best types of closets to consider is the utility closet.
Notice how similar this utility closet to a reach-in closet. The difference is in the types of items the closet stores.
Utility closets are closets used for necessary tools, cleaning supplies, and house appliances. This example here shows just that.
Unlike closets for clothing, which can be located in most places in the house, utility closets are best located near hallways, the basement, or the laundry room.
How to Choose the Right One?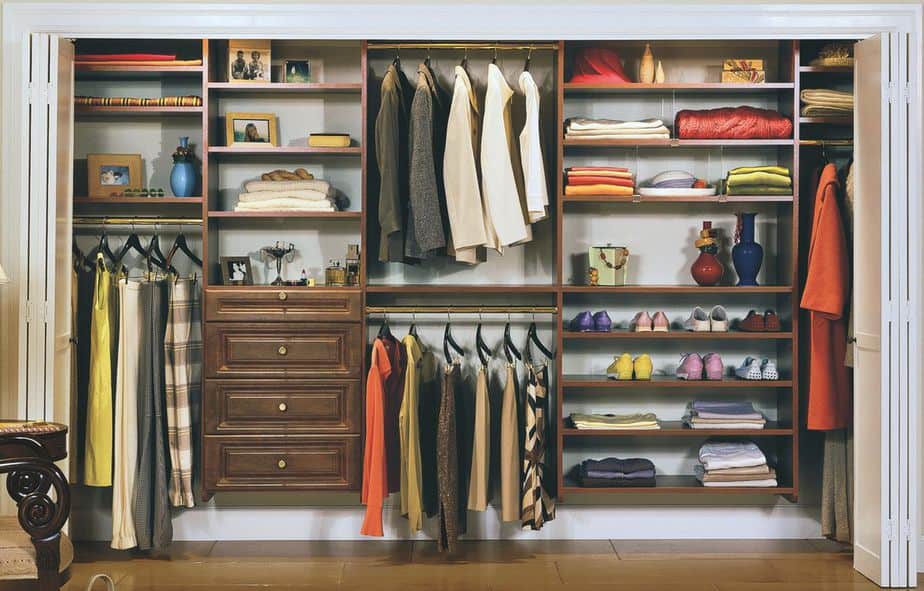 Now you know the common types of closets. The question is, which one is the right for you? While we cannot give you a direct and foolproof answer, we can help you find one that suits you best.
There are five things to consider when choosing a closet: type, placement, users, doors, and interior.
1. Type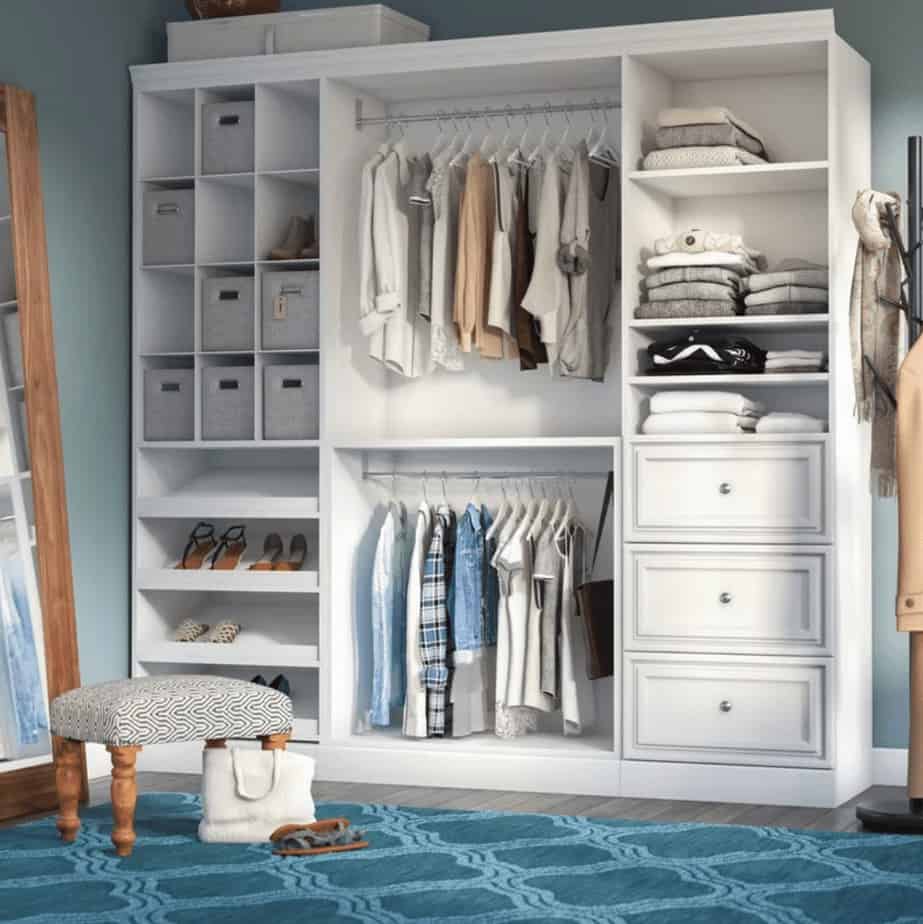 The first thing to consider is the type. Now that you know the 6 common types of closets, you should have an idea what type of closet is best for your house.
Let's say that you have plenty of space to spare. In that case, a walk-in closet will be a good idea. If, on the other hand, there is not much space to spare, a reach-in or linen closet is an excellent option.
Or, if you don't want a close that is fixed to a single spot, a wardrobe is your best friend. And so on. Consider your situation and find the types of closets that fit you.
2. Placement
Placement, or where the closet will be located, is another factor to consider. Closets for food and utilities are not the same as closets for clothing.
Closets for clothing, for example, can be located in most places in the house like in the bedroom, near the bathroom, or in the hallway.
Closets for food and utilities are more space-restricted. They are best placed in the kitchen, in the laundry room, in the basement, or in the hallway. Outside these places, the closets would look odd.
In short, different types of closets have different ideal locations. Also, you need to consider whether the closet is hidden or match the decoration where it is going to be placed.
3. Users
Let's say that you have two children sharing the same bedroom. You need to decide whether to create one closet large enough to accommodate both children or two smaller closets for each child.
If you live alone, it will be a lot easier to decide which types of closets is best for you. If you have a family, you must consider who will use the closet.
The most important thing to remember is that closet is meant to help you organize things. Do make sure that the closet of your choosing fulfills this purpose, regardless of who will use it.
4. Doors
Just like there are different types of closets to choose from, there are also different types of closet doors. So, yes, you have to consider the doors as well.
There are three types of doors to choose from: hinged, sliding, and folding.
The hinged doors are the most commonly used door. If you choose this type of doors, make sure that there is enough space for them to move without obstruction.
The sliding doors are next. If you are keen to save space, then sliding doors are an ideal option as the closet doors run parallel to each other.
Lastly, folding doors. These types of doors are the least common, but still are feasible options if there is enough space.
5. Interior
The last but surely not least factor to consider is the interior. That is, the insides of the closet. The interior of a closet decides its storage capacity, which is why it is important to consider.
For example, the interior of a small- or medium-sized closet for clothing should consist of at least one drawer, a space to store folded clothes, and a rail to hang clothes.
The good news is that there are various creative ways with which you can increase the storage capacity of a closet. This is particularly true if you can customize the entire closet.
Of course, there are still more types of closets to choose from. The above are the most common ones. Which type is the right one for you? That will be the one that fits your needs and wants the most.