Are you looking for a new couch? When it comes to couches, there are plenty of types you can choose from. To help you choose the right one, here we listed 19 types of couches. We will also give you some tips to choose the right couch and frequently asked questions about couches. Ready? Let's start.
19 Types of Couches
1. Chesterfield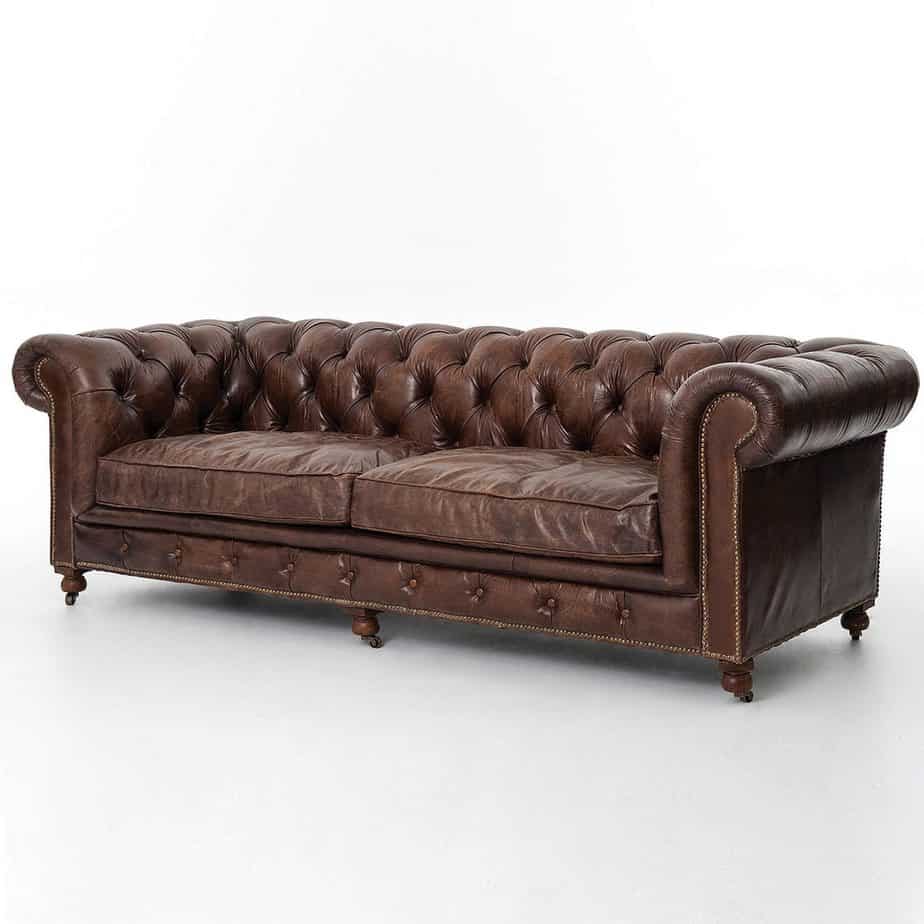 Do you know that couch with a "tufted" style? That couch is called the chesterfield couch. Some chesterfield couches have the tufted design only on their arms and back, some others include these parts as well.
Believe it or not, this couch style has a long history. It was believed that the first tufted couch was commissioned by an Earl of Chesterfield back in the 18th century, hence the name.
The Earl wanted a piece of furniture on which a gentleman can sit upright comfortably without making any wrinkle in the garment. That is the reason for the tufted style.
Take a look at the couch above. Looks very comfortable to sit on, right?
The chesterfield couch looks unique while providing the utmost comfort for people who sit on it. Yes, not unlike what the Earl envisioned.
Comfort is important but so is style. With the chesterfield, you get both.
2. Lawson-style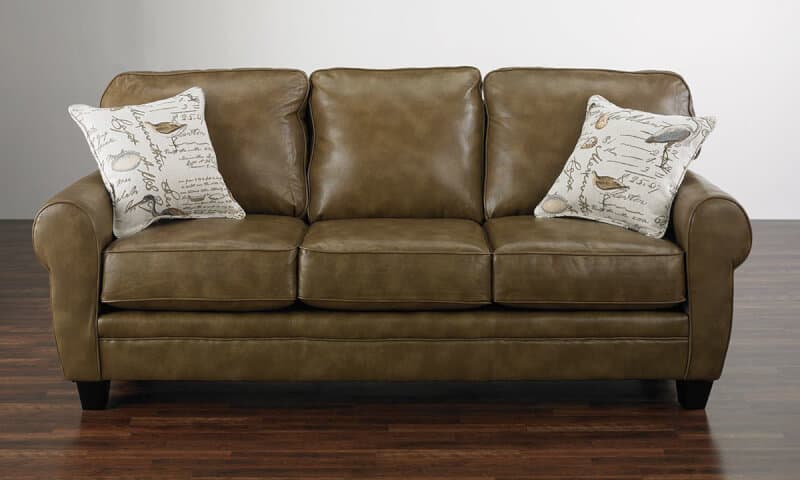 If the chesterfield couch has its tufted style, the Lawson-style couch has a back that consists of pillows that are separate from the couch's frame.
The reason behind this unique design is to provide make a softer, more cushioned couch with large cushions not taut within the couch's frame.
Since the large pillows on the back are separate from the couch's frame, you can move them around as you like. This, of course, provides more comfort compared to other types of couches.
The couch is, after all, designed for comfort, hence the design. A Lawson-style couch is available in various colors, sizes, and materials. This one here is a handmade Lawson-style couch with a rustic look.
When it comes to history, this couch style is relatively new.
The first Lawson-style couch was made in the early 20th century for a financer by the name Thomas W. Lawson who desired a couch that is not only comfortable but also has a modern design.
3. Bridgewater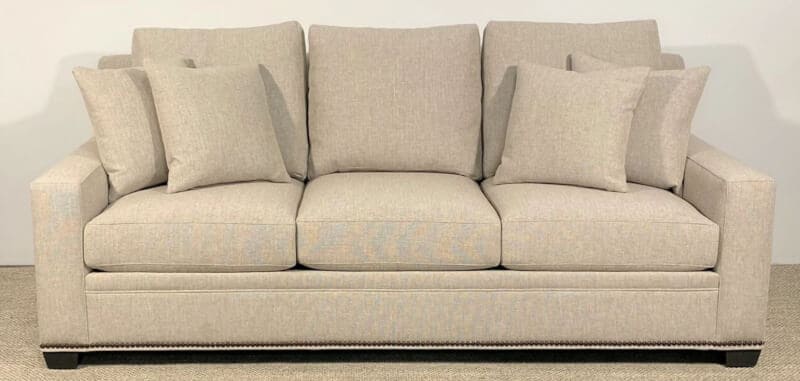 As a couch designed to be comfortable and casual, the bridgewater couch surely does the job well. The arms of this couch are lower than the couch's back and are rolled to the side.
If you're looking for a couch for comfort only, a bridgewater couch will be enough. Yes, regardless of what kind of room design you have.
Thanks to its design, a bridgewater couch can fit in well with just about any room design. The above couch is an excellent example of that.
The downside is, however, this type of couch can rarely be the focal point in the room. At best, it can complement the room design. If you're not planning to make it a focal point, then this is not an issue.
A bridgewater couch was once very popular. Today, although not as popular, it is still a staple style. Definitely a solid option if you're looking for a decently comfortable and traditional couch.
4. English Rolled Arm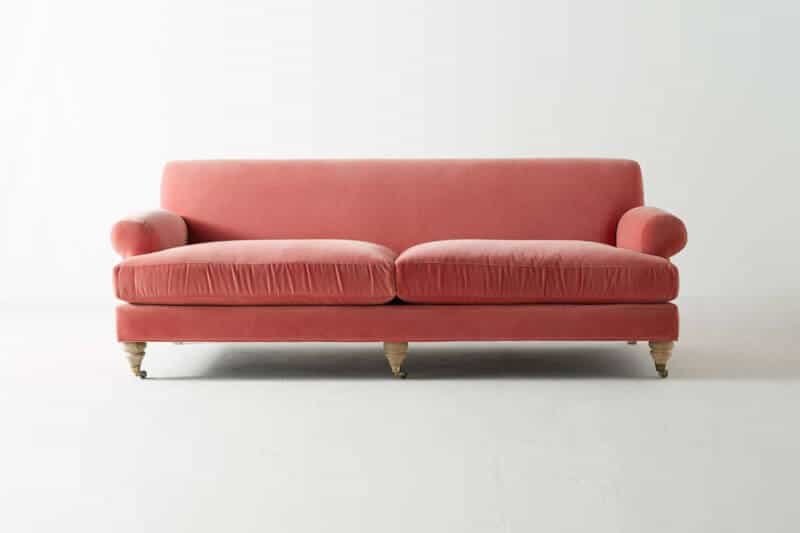 What do you think about this couch? Quite a simple and nice piece of furniture, isn't it?
Also known as the English sofa, the English rolled arm couch has a very distinctive design. Namely, a high back and low arms.
The upholstery of an English rolled arm tends to be tight throughout. Yet, the couch is nicely cushioned all over. Of course, that includes the arms as well.
You might find the English rolled arm looks rather similar to the bridgewater couch. The difference between the two lies in the English couch's tautness of the couch's upholstery and arms.
What is interesting about this couch is that all English rolled arms couches have arms but some of them have very low ones they appear to be armless.
The English rolled arm couch is a timeless piece of furniture. It first came in the early 20th century but is still a popular option to this day.
5. Chaise Lounge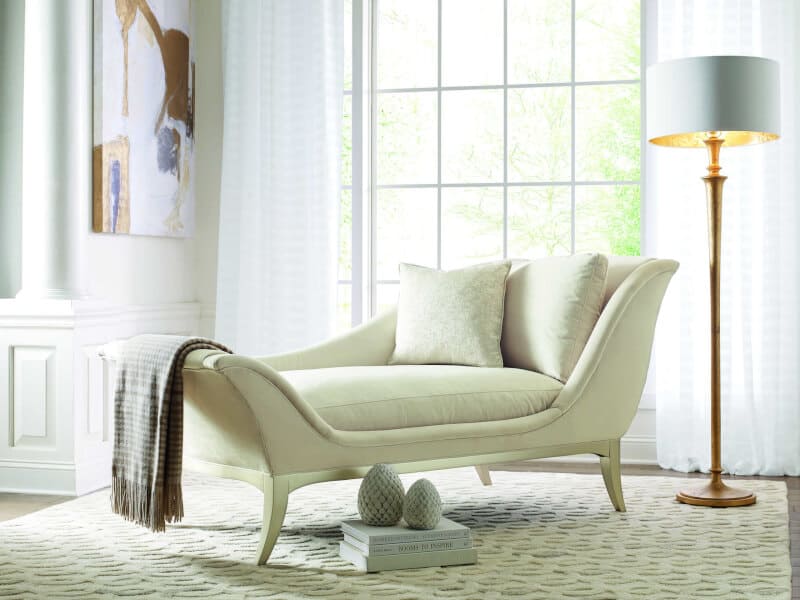 Ever find a strange-shaped couch on the poolside? Chances are, what you found is the chaise lounge. If we consider the shape, the chaise lounge is among the most unique types of couches.
The most distinctive characteristic of this couch is its recline. Notice here the couch has one back on one side while the other side has none. This one doesn't have arms, but there are other chaise lounges that do.
The chaise lounge's history dates back to the ancient Egyptian, in 3,000 BC. That's right. The couch's unique design has existed for thousands of years.
Back then, however, the design of the couch is very simple, using only lounges made of palm talks which were secured with cord or rawhide.
Modern chaise lounge couches are considered more of a decorative piece of furniture than a functioning couch for comfort. This is why you can find such a couch in places like bedrooms and even poolsides.
6. Cabriole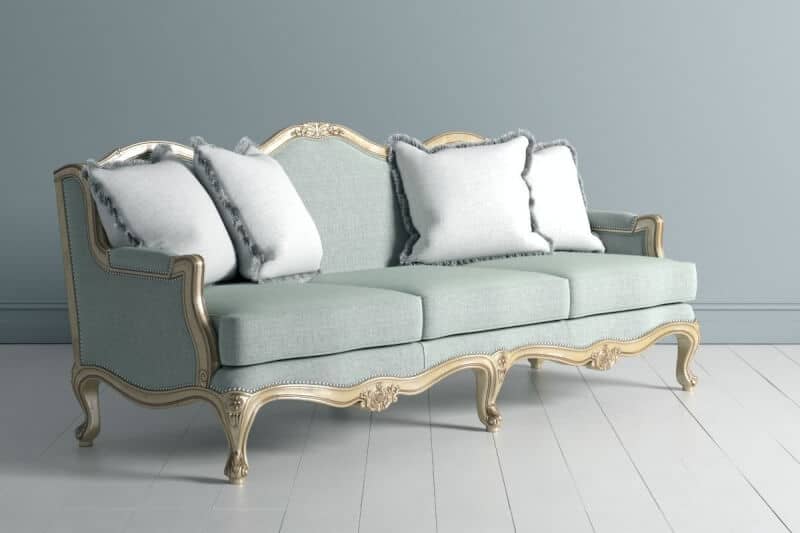 The next couch on our types of couches list is the cabriole. Compared to other types, this one is very distinctive. You can almost immediately recognize it when you see one.
The most distinctive feature that the couch has its continuous arms. This one here looks as if there is a line "flowing" from one arm to another.
Some cabriole couches have back and arms of equal height, but it is not a must-have feature for a cabriole couch. Cabriole couches also often have ornate elements, although not always.
Contemporary cabriole couches tend to substitute the ornate elements with more comfortable element features. For example, more cushion throughout the couch.
If you're looking for a piece of furniture that stands out in the room, consider the cabriole couch. Many cabriole couches have attention-stealing ornaments that no one can ignore.
If, on the other hand, you like the cabriole couch but don't want the ornate elements, choose the contemporary ones.
7. Camelback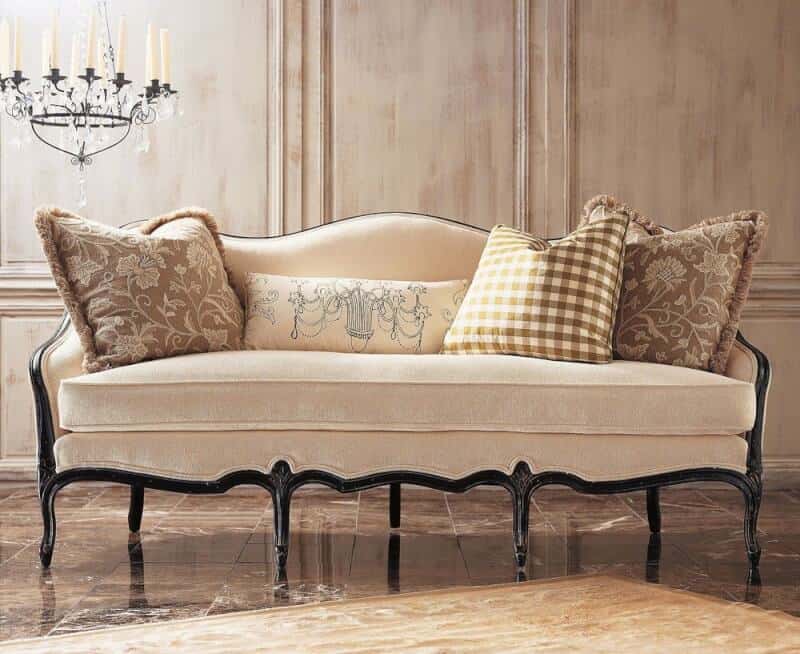 You probably know why this couch is called camelback. If you haven't, just take a good look at the couch. Notice that it has a "hump", making it looks like a camel's back.
The "hump" that the couch has is its most distinguishing feature. Besides the "hump", it also has a long, continuous line that moves between the arms, similar to the cabriole.
The camelback couch often has exposed wood legs. Some, like this one here, have exposed wood on their back and arms.
The camelback has a classic design but it does come in other designs as well. Like the contemporary design, for example.
So if you want a camelback couch but want something contemporary-looking, you will be able to find it easily.
The modern camelback couches often have more than one humps. On the couch above, there is one hump in the middle, one on the left, and one on the right.
8. Sectional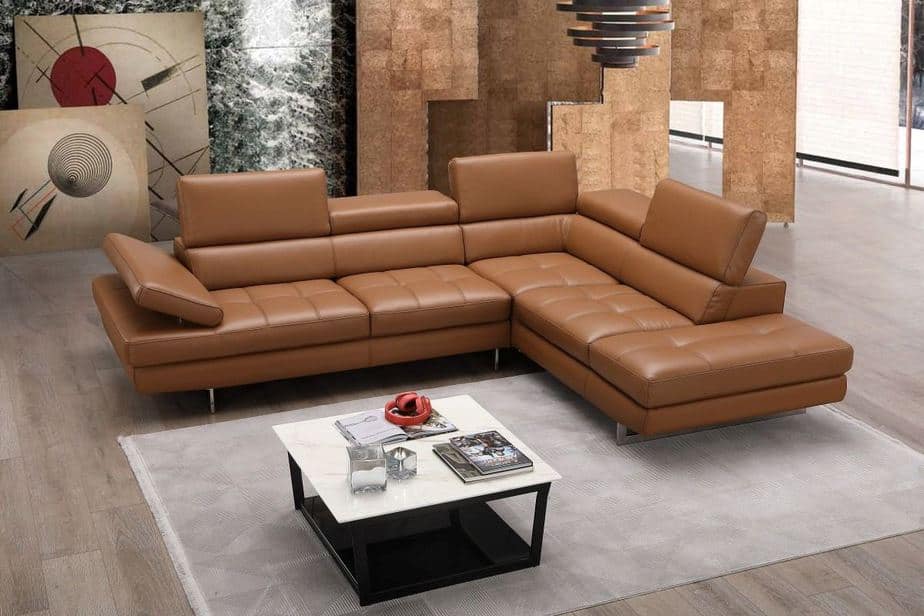 Our list of couches is not complete without the sectional couch.  Of all the types of couches out there, this one is surely among the most popular ones.
What is unique about this couch is its composition. Other couch types consist of one piece. A sectional couch, on the other hand, consists of several pieces.
This one here is a leather sectional sofa. It consists of two pieces, one is placed horizontally while the other vertically, creating an L-shape.
Since a sectional couch consists of multiple pieces, you can create various configurations with it. A sectional couch commonly has 3 or 5 pieces. Of course, you're welcome to use more or less.
The common configurations are U-shape and L-shape.
The sectional couches are growing in popularity. This results in various designs, styles, and materials being available. That means you can find one that fits your taste and home design without difficulty.
9. Mid-century Modern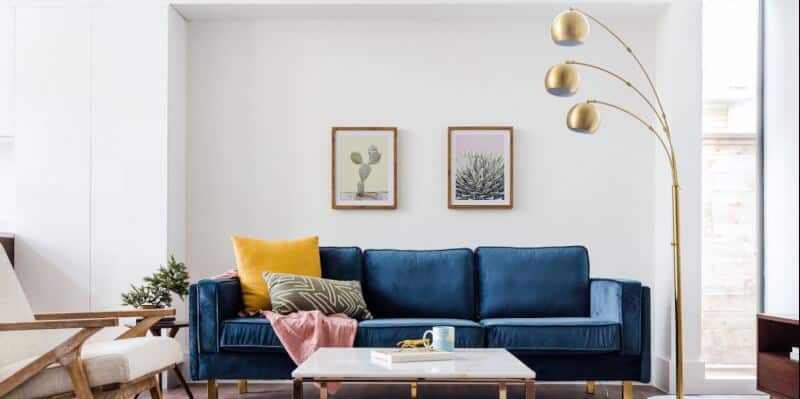 As the name suggests, this type of couch was created in the middle of the 20th century. Between the 1930s and 1970s, this style was the most popular choice.
Today, it is still an eligible choice. In fact, it seems that the style is going to make a comeback sooner or later. So, don't count the couch's popularity down, let alone out, yet.
The underlying design elements of the mid-century modern couch is clean lines and minimalist design. You can see these on the couch above. Notice how minimalistic the couch is. Notice also its clean lines.
The mid-century modern couch is designed to be comfortable and look good. Not surprisingly, this type of couch can fit in various home designs.
It might not be the most comfortable couch, but the mid-century modern couch certainly looks amazing. If you like the minimalist approach to décor, this couch will suit you really well.
10. Contemporary Mid-century Modern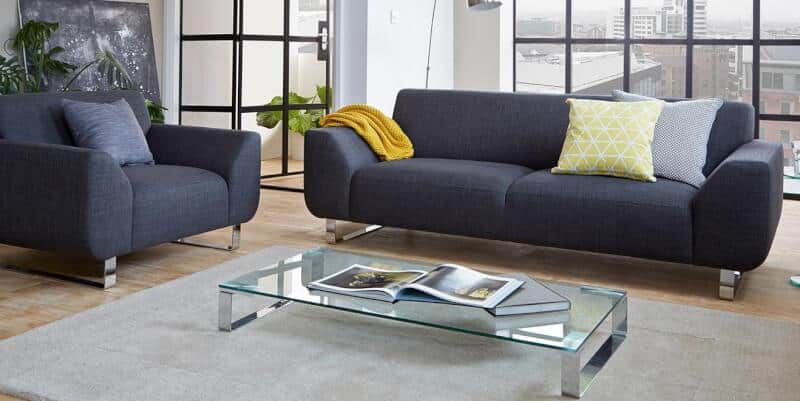 This one is more of a derivative style from the mid-century modern, but it is worthy to mention on its own.
As you can see, this type of couch has a very similar look to the mid-century modern couch. What makes it different is how it incorporate contemporary design elements.
For example, a sleek look, clean yet not sharp lines, and simple shapes, to name a few.
If you like a comfortable couch with a sleek look, the contemporary mid-century couch is definitely worth a look.
11. Recliner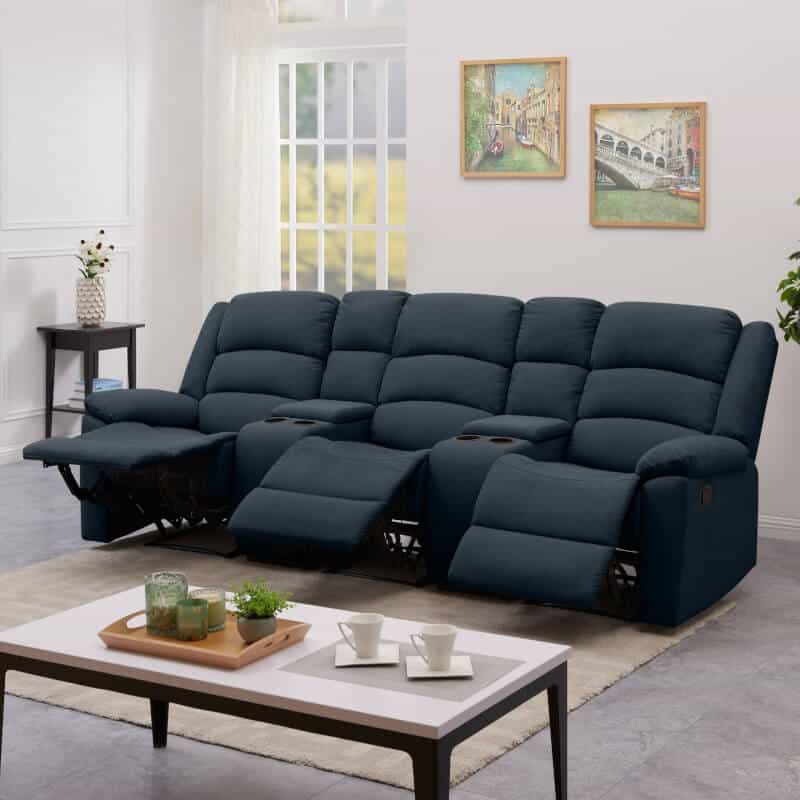 Some types of couches have existed for literal millennia, some others are recent. The reclining sofa is among the most recent ones.
However, despite being among the youngest types, the reclining couch is growing in popularity. After all, who wouldn't like to enjoy their favorite TV shows or books on a comfy couch like this?
One thing to note is that due to its focus on providing the utmost comfort, the reclining couch is not the best choice for a formal living room.
If, on the other hand, you're looking for a couch for media rooms or family rooms, the reclining couch is one of the best options.
Don't have a media room? Just add in two or three reclining couches and you will have one. Due to their design, the couches above make it as if you have your own movie theatre. Pretty awesome, isn't it?
12.  Sleeper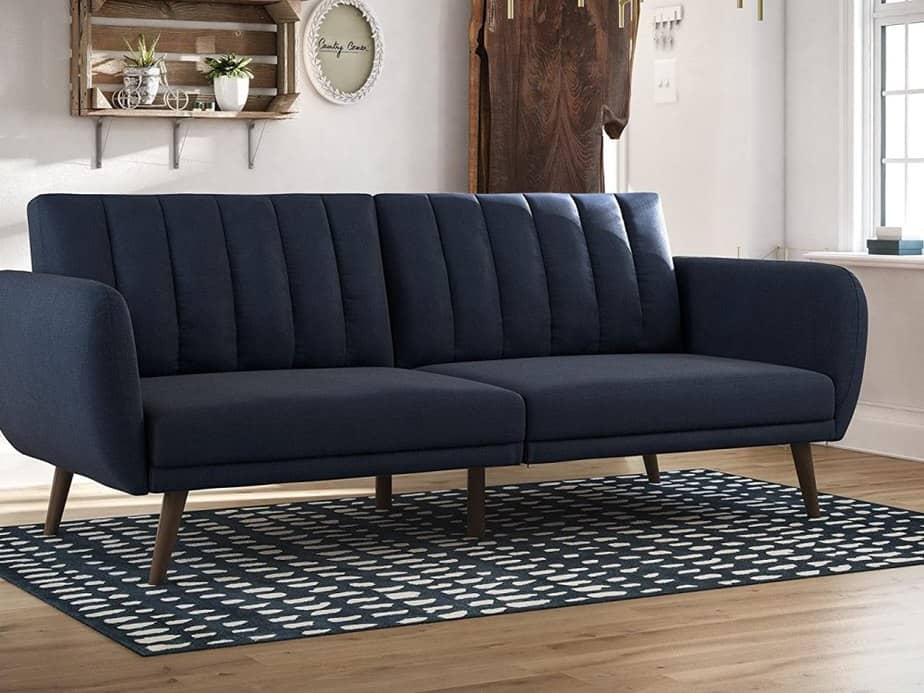 Sleeper couches come in three styles: pull-out sofa bed, convertible sofa, and futon. This one here is the futon-style sleeper couch. We explain each style below.
This is the most popular sleeper couch style. As the name implies, the couch has a retractable part that turns the sofa into a bed.
Because of its practicality and comfort, the pull-out sofa bed is a good choice to accommodate guests.
At a glance, the pull-out sofa bed looks very similar to the futon. Unlike the futon couch, the back of the pull-out sofa remains upright while the retractable sleeping surface is stored under the belly of the couch.
The convertible sofa is another style of sleeper couches. Unlike the pull-out sofa bed, the convertible sofa doesn't have a mattress as a sleeping surface. The sleeping surface is made of couch pillows.
The last style is the futon. The futon sleeper couch is actually a combination of a sofa and a bed. The back part of the couch can be either folded backward or released downward.
The fold or release creates a flat, cushioned surface large enough to be used as a sleeping surface.
As you can see from the futon couch above, the couch is made of pieces of cushions, some of which form up the mattress.
13. Loveseat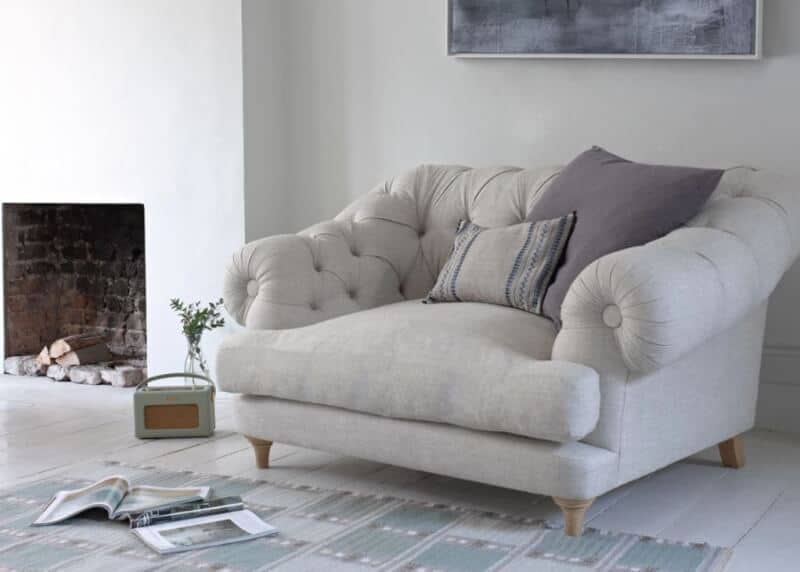 If you're looking for a couch for one or two people, look no further than the loveseat couch.
While most other types of couches on the list can accommodate several people, the loveseat couch can only accommodate two.
Because it can only accommodate two people, the loveseat has limited use. For example, to create a small sitting area for reading or relaxing.
14. Divan
Take a good look at this divan couch. What differentiates the divan from other types of couches? That's correct. The back, or rather, lack thereof.
A divan can be defined as a couch without a back. This is why, for the best comfort, you should place them against a wall. Then, arrange pillows on the wall so you have a cushioned back.
Although the divan is not the most practical couch, it is definitely worth a look if you're looking for versatility when it comes to pillow placement.
15. Settee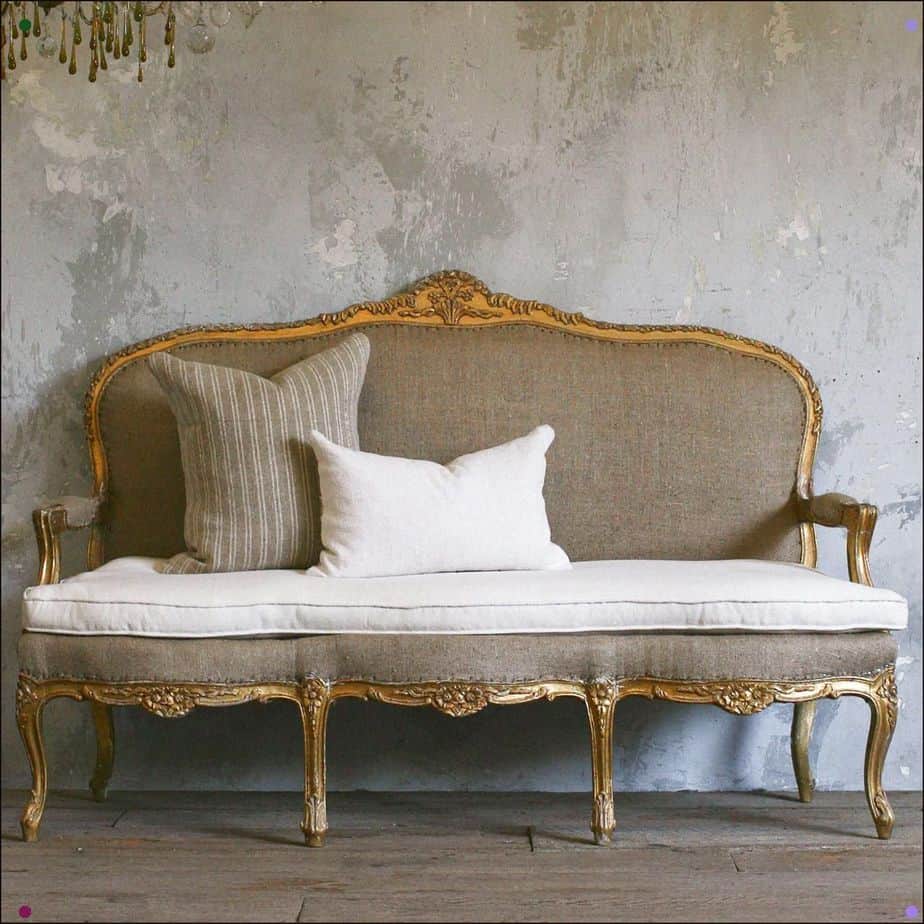 If you're looking for a couch that looks like a chair, the settee is your best option. No, seriously. A settee looks more like a wide chair than a sofa. Just look at this settee here. Looks like a chair, isn't it?
Today's settees look quite similar to loveseat couches. Yet, historically speaking, the former was narrower than the latter.
The settee is designed more for decorative purposes than comfort. If you look at the design, a settee resembles a wide dining room chair, only that it has arms.
If you're looking for a comfortable couch, a settee is not the best option. If, on the other hand, you want a focal point in the room, a settee is worth considering.
16.  Tuxedo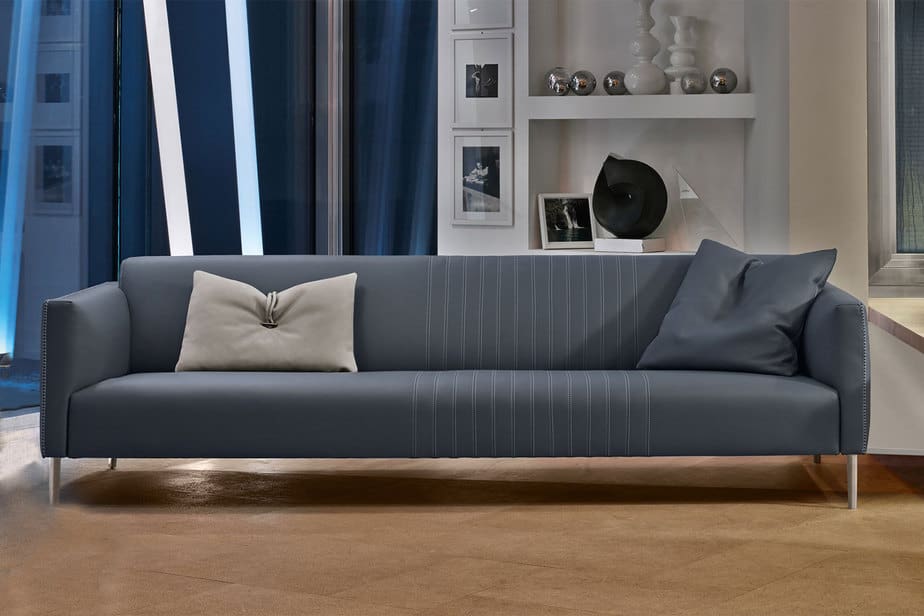 Craving for a uniform look in the room? In that case, you'd like a tuxedo couch. Typically, couches have arms that are much lower than their back. Not the tuxedo couch, however.
On a tuxedo couch, the difference in height between the arms and the back is minimal. This results in a uniform look. As you can see here, the arms of the couch are tall, almost level to its back.
The lack of reclining angle in the tuxedo couch gives a more uniform look. Yet, the same feature makes the couch less comfortable.  If you're looking for comfort, the tuxedo couch will not be the best option.
If you want to be stylish, then the tuxedo couch is a go-to option.
17.  Pallet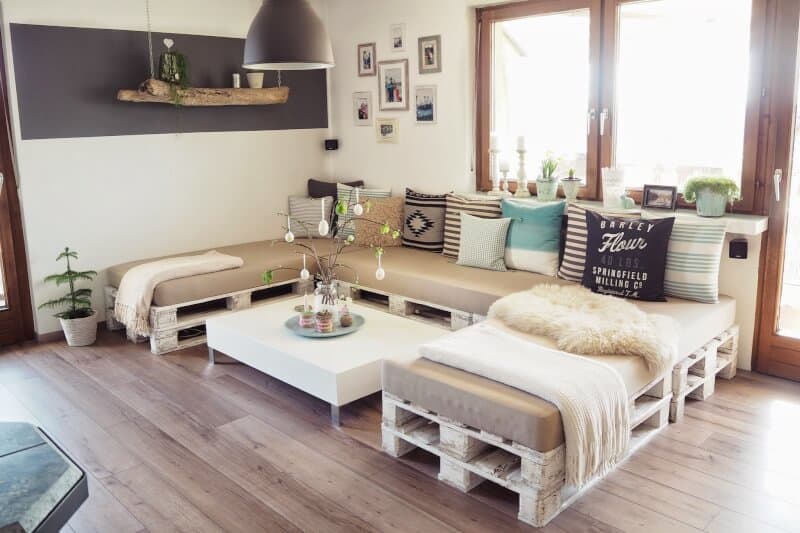 Ever heard of pallet furniture? This type of furniture becomes increasingly popular. In fact, most people their own pallet furniture themselves. Of course, that includes pallet couches as well.
Pallet couches tend to not have their own back. Due to this, it is best to place them against the wall. This way, you can put some pillows on the wall and make a comfy cushion from it.
Because this is the kind of couch that you can make yourself, you can add a back to it if you want to. A back makes a couch more comfortable, so it is always a welcome addition, pallet or not.
Don't worry. If you don't want to make a pallet couch, you can buy it. There are plenty of pallet couches out there you won't run out of options.
18.  Lounger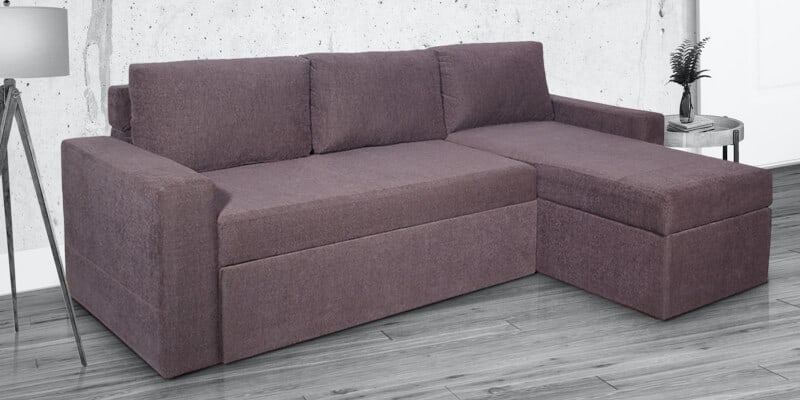 A sofa lounger is a sofa that has an extension where you can put your feet up comfortably. If you look at the lounger couch, you might notice it looks similar to a chaise lounge. You're definitely correct.
The sofa lounger comes in three styles: full sofa lounger, multi-sofa lounger, and single sofa lounger.
This couch is basically a sleeper couch while it is set on bed mode. Unlike a sleeper couch in bed mode, however, you can sit on a full sofa lounger.
A multi-sofa lounger is a couch that has more than one extension. Usually, a multi-sofa lounger has a U-shape.
A very common style of a sofa lounger, a single sofa looks simple but undoubtedly comfortable. The couch above is an example of a single sofa lounger.
19.  Low-seated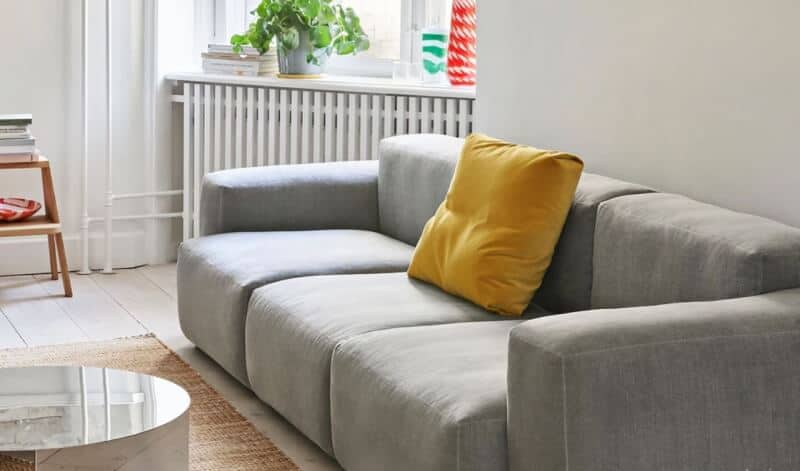 Last but not least, the low-seat couch. This is a type of couch that has low seating.
In general, the height of a couch is between 17 and 18 inches. The height of low-seat couches is lower than that.
Low-seat couches come in various styles, so you will be able to find one that fits your home design without any difficulty.
How to Choose the Right One
Now you know the 19 types of couches to choose from. The question is, which couch is the right one for you? To help you decide, below we tell you things to consider and tips for choosing a couch.
1. Things to Consider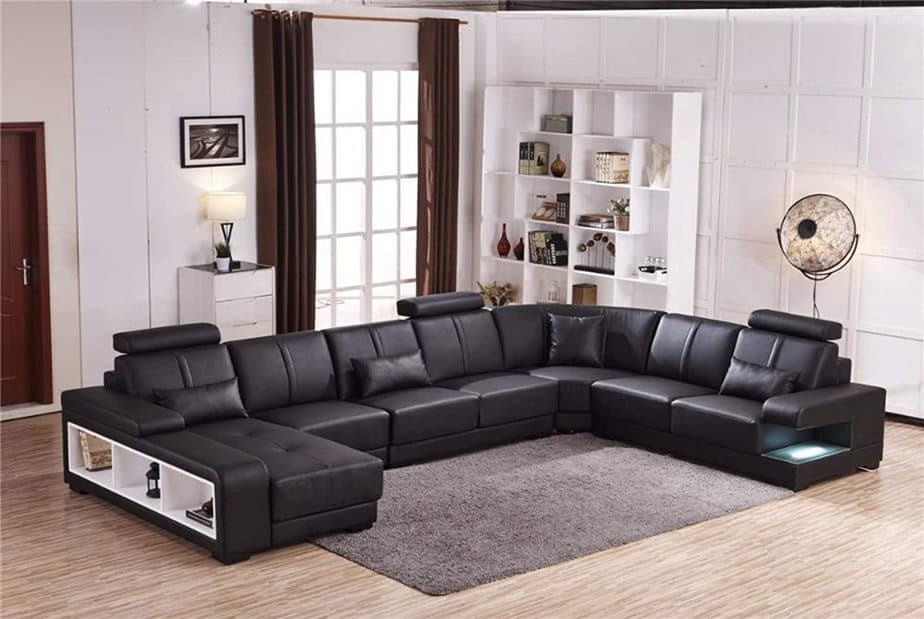 The first and foremost thing to consider is usage. That is, how will you use the couch?
Will the couch used mainly for everyday activities like watching TV, reading, or relaxing? Or perhaps it will be used less frequently and in a formal setting? You need to know these.
Also, who will be using the couch most? You should pay attention to special considerations, like height and health conditions.
If, for example, the couch will be used by a very tall person, a couch with deep seating is ideal. Likewise, a couch with shallow seating will accommodate someone with bad knees.
Types of couches vary greatly. So are the shapes. So, next is shape.
If the couch will be used for relaxation, a couch that is cushy and deep is the ideal option.
If the couch will be used for both informal and formal settings, a couch with arms that are lower than its back or a rolled arm couch is worth considering.
If you want a versatile couch, look no further than the sectional couch.
The size of the room and the couch is something you need to consider as well. First, you need to measure the room in which the couch will be placed.
Be sure to measure the entire room. Don't leave any spot unmeasured. Give extra attention to the wall against which the couch will be placed.
The size of the couch should not impede the traffic in the room. Nor should it overpower the room. This is why measuring the entire room is crucial.
Having a tiny space doesn't mean you can't have a couch in it. For a tiny space, a sofa with a tight back will be the ideal option. A sectional couch is a good option but you need to be creative with it.
If you have a larger room, consider the sectional couch as it can be configured in various ways.
Choosing the right fabric for a couch goes a long way. So, do take your time and don't rush.
In heavy usage areas, microfiber is the best fabric. It looks attractive and quite easy to clean. If you want high-maintenance fabrics, make sure they are limited to areas that are infrequently used.
Looking for longevity? In that case, you want a leather couch. Now that a wide selection of textures and colors are available for leather couches, your options are not limited to tans and blacks only.
What about the colors or patterns? Here you need to consider the colors or patterns of the room.
If you just want a couch that gets along well with the rest of the room, consider a neutral-colored couch. Neutral couches work well in just about any room.
If, on the other hand, you want to make a statement, you can choose a couch with bold colors and/or patterns.
When shopping for a couch, you want one that has a good quality. The question is, how do you check the quality of a couch?
The first is to check the weight. A good quality couch is heavier as it has sturdy frame made of kiln-dried hardwood. While the frame sturdy, you shouldn't be able to feel it through the couch's padding.
The legs of a good quality couch are part of the couch's frame, not screwed on it.
As for the cushion, a good quality couch's cushion will retain its shape for a long time. For the back, make sure that it doesn't feel hollow. A back that feels hollow tends to have a low quality construction.
A couch is not limited to indoor use only. There are couches suited for outdoor use, too.
In general, outdoor couches are sturdier and easier to clean than indoor ones. However, indoor ones tend to be more luxurious than their outdoor counterparts.
When it comes to cost, you can expect to pay between $700 and $2,500 for a basic couch. Regardless of your budget, try to buy the best quality couch you can afford.
A good quality couch might be expensive upfront but it lasts long, it is a good investment on your part.
Tips in Choosing
Measuring is very, very important when you're looking for a couch. Mistakes in measuring could be fatal. Of course, you don't want that.
So, to minimize measuring errors, you should measure and measure again. Measure the entire room. Yes, including the width, height, length of the room.
Also measure the hallways and doorways. After all, your couch will get into the room through these parts. You wouldn't want to buy your dream couch only to find out it can't get inside, would you?
When you shop around for your dream couch, be sure to put your lifestyle into consideration.
For example, if you have kids or pets, you want a couch that can be cleaned easily. Likewise, if you have a large family, you want a couch that accommodates everyone.
Or, if you want the couch for relaxation, pick one that offers comfort features like reclining back.
Determine the orientation
How will you orient the couch? You need to know this before going shopping. Will you place the couch in the center of the room? Or perhaps place it against the wall?
What if you want a sectional couch? Where will be the corner? Knowing things like this can help you choose the right couch.
Choose a color that works well with the space
The right couch either blends well with the space or stand out and make a statement. This is why choosing the color that works with the space is important.
There is no absolute right or wrong here. There's only colors that work and colors that don't.
Our advice is to choose whichever colors that you will not get tired of for many years to come.
Choose a style that suits the house
Similar to choosing a color, choosing a style is important, too. To choose the right couch style, you need to consider the existing design of the space.
Let's say you want to make the room feels and looks more contemporary. In that case, a modern couch is an ideal choice.
Of course, this doesn't mean mixing and matching styles is to be avoided. You can do so, if you like. As long as the result is an appealing and cohesive statement, all is good.
Be selective with the upholstery leather or fabric type
When it comes to upholstery, you want to be really selective about it. We can't overemphasize this.
Don't forget to do a bit of research about the upholstery fabric/leather type, upkeep recommendations, and cleaning codes of the couch you want. You will need this information in the future.
This is often overlooked but nonetheless important. When looking for the arms style, look for comfort. You want couch arms that are not only comfortable and look good but also firm and sturdy.
Our last tip is to test the seat cushions. The cushions come in various shapes and sizes. The level of comfort provided also differs from one cushion to another.
If you want comfort, consider seat cushions that provide a "sinking" feel. If, on the other hand, you want a couch for a formal setting, you want a couch with a structured and firm cushion.
Frequently Asked Questions about Couch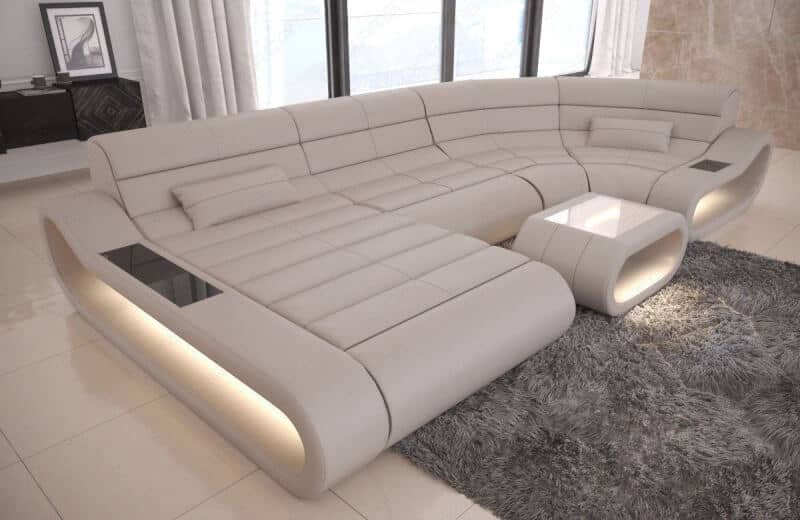 1. What is the standard size of a couch?
Couches are available in various sizes. Most couches have a standard length of about 6 to 8 feet. The standard depth of a couch is between 28 and 30 inches, measured from the back to the front of the arm.
As for the seat height, the standard is 15 to 20 inches for most couches.
When it comes to couches, the seat height and depth are the most important things to consider. Why? Because the two decide the ease of use and comfort of a couch.
For instance, for taller people, seats with more depth and taller heights will be ideal. Likewise, for short people, seats with shorter depth and shorter heights will be ideal.
2. How are couches measured?
Measuring a couch is important for many reasons. For example, to find out whether it is comfortable, whether it will fit the room nicely, or whether it will fit through the doorways.
But how do you do it? How do you measure a couch? To measure the width or length of a couch, measure it from one arm to another. From where? Make sure it measures it from the farthest point.
To measure the height, measure it from the ground up to the top of the couch's seat cushions. To measure the depth, measure it from the side of the couch.
3. Can couches get bed bugs?
The answer is, unfortunately, yes. Yes, couches can get bed bugs. Although they are "bed" bugs, bedding is not their only living habitat.
A bed bug infestation can often go unnoticed initially. This makes it even harder to determine how the bugs get on the couch in the first place.
Worse still, such an infestation can be hard to get rid of. The best ways to get rid of bed bugs are through repeated vacuuming and cleaning.
Having a professional exterminator clean the couch from bed bugs is also a good idea.
4. What materials are couches made from?
There are many materials used to make couches. For example, some couches' frame is made from wood while some others are made from plastic, steel, as well as other manufactured boards.
The same goes for the padding. Some couches use feathers, some use a durable foam material, and some others use a combination of these or other materials.
As for the covering, the most commonly used materials are linen, cotton, microfiber, nylon, corduroy, leather, and faux leather.
5. Can couches be dyed?
Yes, they can. In fact, all of the couch covering materials are dyed. Yes, that includes even leather. Dyeing is a good way to cover a couch that shows wear.
You can dye a couch yourself (there are many DIY tutorials to guide you through the whole process) or have a professional do it.
6. Can couches be sold?
Definitely. If you don't believe it, just look it up on your browser. You'd find there are plenty of used couches for sale. Yes, that includes even couches that are not in their best condition.
That said, most buyers will look for couches that look new or at least have been taken care of.
Those who are looking for an inexpensive couch for short-term use, are likely to settle with a sturdy couch, regardless of how it looks.
7. Can couch cushions be restuffed?
Just about any of the materials used for stuffing couch cushions can be replaced. Be it down, feathers, and even synthetic ones. You can find these materials easily.
So if you want to restuff your old couch or want more padding for your current couch, just look for the materials.
8. Can couch cushions be replaced?
Yes, you can replace couch cushions. Over time, couch cushions might show ear, are ruined, crooked, or sagging. Still love your couch? No worries. These cushions can be replaced.
Just open your browser and do a quick search. You will find there are plenty of replacements for these parts available. Well, not just available, there is a wide range of options to choose from.
Alternatively, if you can't find the right piece or love doing things yourself, you can make the piece yourself. It will be an excellent DIY project.
9. Can couch cushions be washed?
Yes, they can. Some couch cushions have zippers on them. That means you can remove the covers and wash them. When you wash the covers, make sure to do it gently and use air-drying so they won't shrink.
For couch cushions that don't have any zippers and/or removable, you can clean the back, arms, and sides using water and soap.
One thing to keep in mind: do not soak up the fabric. A bit of elbow grease, scrubbing, rinsing well, and air-drying will do the job.
10. Can couch cushions be dry cleaned?
Yes. If anything, some couches have labels instructing to only dry-clean the couches. If your couch has a label like that, it is best to follow the instruction.
If you clean a couch that should be dry-cleaned, your couch might fail altogether, either the seams are pulled apart or the couch shrink. Obviously, you don't want this to happen. Just stick to the instructions.
If you want to be safe, having a professional upholstery cleaner is a good idea. You can dry-clean your couch yourself if you want, of course. Just do it carefully.
11. Can couches be reupholstered or refurbished?
Yes, they can. Most couches can be reupholstered so long as their fame is in good shape. Like cleaning the couch, it is best to leave reupholstered to the professional, just to be safe.
As for refurbishing, it depends on what kind of repairs the couch requires. Minor repairs are sometimes successful. If the damage is too severe, refurbishing is not possible.
12. Can couches be recycled?
Yes, but not entirely. Some parts of a couch can be recycled, some others cannot. If you want your parts of your couch to be recycled, check with a recycling company and ask whether they can handle the parts.
Calling recycling centers is not a bad idea, either. Ask them and see if they have options for recycling a couch.
Alternatively, you can take apart the couch yourself. Then, recycle the reusable parts. For example, you can recycle any untreated wood and most metal parts of the couch's frame.
Which ones of these types of couches do you think fit your home best? Whichever it is, be sure to choose the ones that is most comfortable for you. A comfortable couch is a good couch, after all.