FARMHOUSE KITCHEN ISLAND IDEAS – Farmhouse kitchen island concepts emphasize on natural material, soft colors, and simple design. This stems from farmhouse interior design in general.
This particular kitchen island model doesn't limit itself to large or countryside kitchens. You can put this kitchen island style into practice for your modern kitchens. Find out how to realize this style through the list below.
Premium Farmhouse Kitchen Island Ideas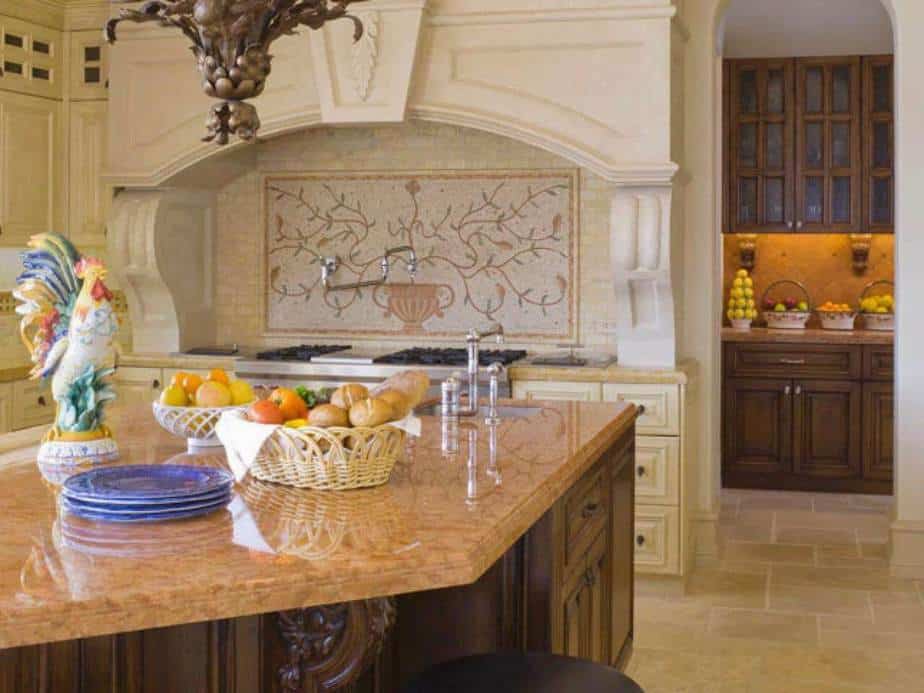 From countertop material to overall design, this kitchen island concept brings top example of what luxurious farmhouse kitchen island looks like. This kitchen island chooses brown, marble from natural stone as natural provider for glowing tone.
Solid and high-end, the countertop accommodates for washing dirty dishes, fruits and vegetables. The kitchen island uses pricey wooden materials for the pillar of the stand. The stand contains drawer and chest storage to keep items save.
The marble and the wooden materials best represent natural solidity bringer from nature. This kitchen island enhances the existing glam look in this kitchen.
Enticing Farmhouse Kitchen Island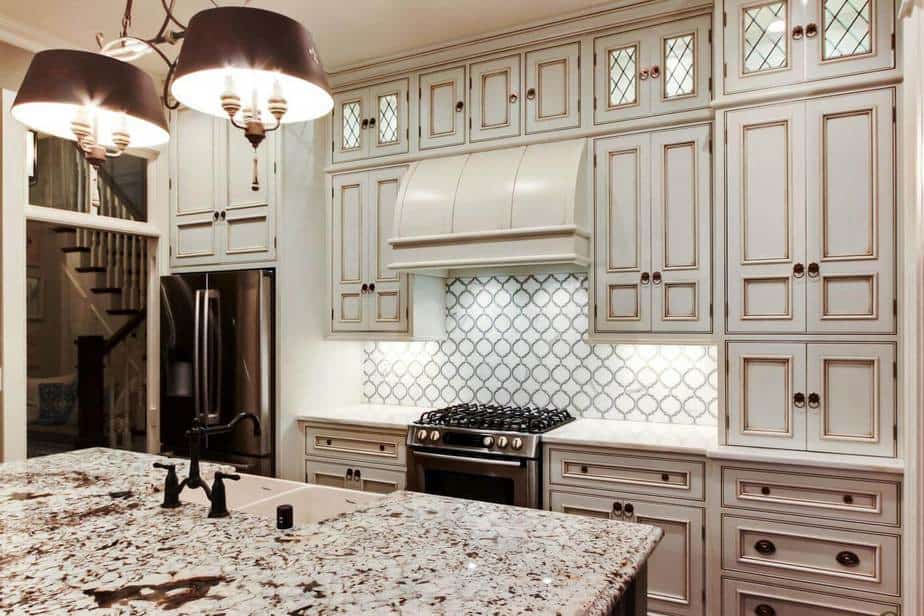 Our focus directly goes for brown-and-white marble that becomes countertop of this kitchen island. We think this marble is quite unique. Made from natural stone, the marble looks fresh and strong.
When looking at the whole kitchen island, we quickly realize the concept matches with the entire kitchen's look that practices brown and white as the themed colors. Interesting enough to notice that the kitchen island applies the simple concept.
This can be seen from the kitchen island that contains the sink unit only. You can later utilize the remaining space for placing groceries after shopping.
Conventional Farmhouse Kitchen Island
You probably often see this kitchen island. A set of mini dining serves as the kitchen island for this rustic kitchen. This kitchen island further shows you another option of recycling secondhand furniture.
You can utilize used furniture or hunt for one in an antique market. You can find that sample from the wooden stand or pillar that gets repainted in blue. You can either change the wooden countertop or not.
Complete the kitchen island with wooden chairs that look traditional and natural as suggested by this image.
Shabby Chic Farmhouse Kitchen Island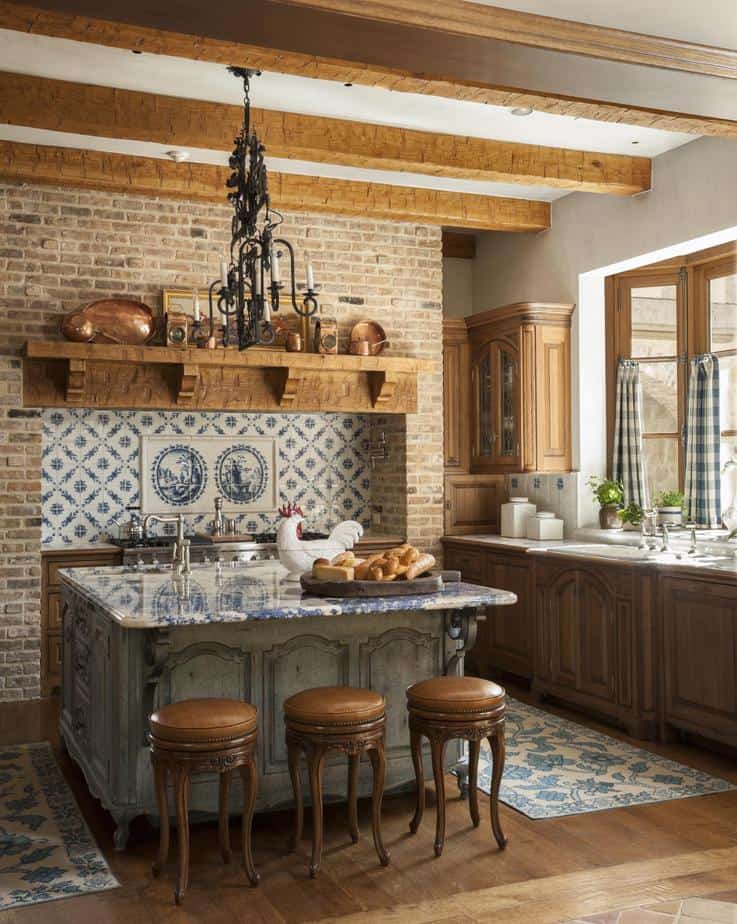 Like the third idea, this kitchen island invites you recycling used wooden storage. Instead of blue, the storage is painted in white. Apply this step for a strong start for your planned shabby chic kitchen island.
After that, use blue-and-white marble as the countertop for this kitchen island. This countertop looks beautiful and classic, another important element for shabby chic kitchen island.
With that reclaimed wooden storage, the kitchen island looks vintage, as well. Place cups of hot coffee or brownies for entertaining friends who drop by.
Simple Farmhouse Kitchen Island
Bring in farmhouse kitchen island into your modern kitchen. You don't necessarily need a big budget for this concept. Another benefit for this point is that this design can be placed in a small or narrow kitchen.
For modern farmhouse tone, choose the wooden material as seen in this image. The wooden material seems minimalist and graceful. Place white, marble as the countertop on the wooden-made pillar or stand.
The countertop can take up a tray of cookies and cups of hot coffee before carrying them into the living room.
Rustic Farmhouse Kitchen Island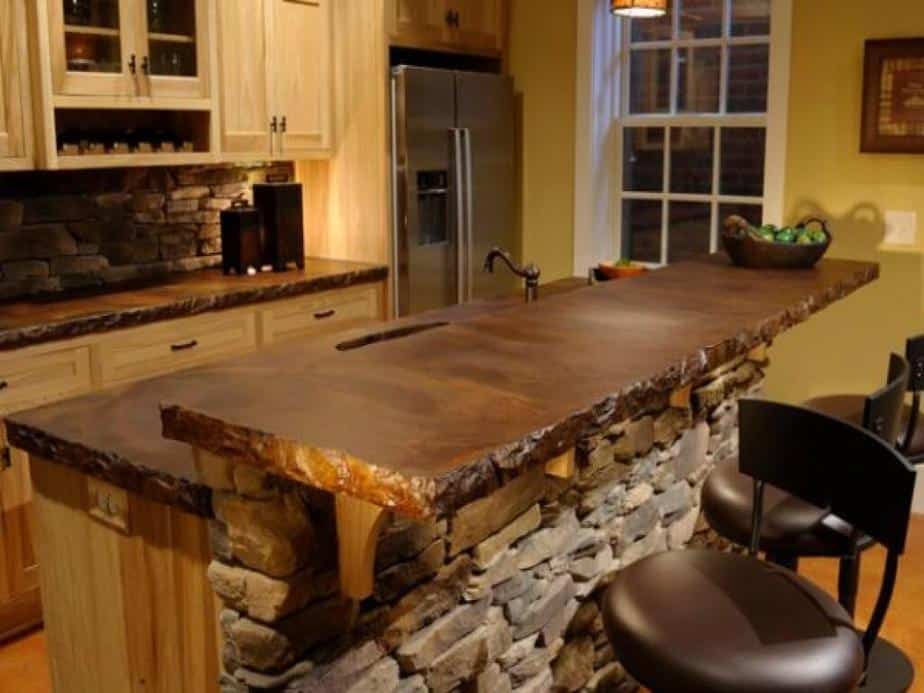 This modern kitchen does a good job to have put rustic material into a coffee bar design that mostly appears in many modern kitchens. You can see this kitchen island selects the high quality of wooden materials.
In addition, the kitchen island uses raw stones as pillars or stones for the countertop. With a sink, you can utilize this kitchen island for washing dirty cups or glasses after serving hot tea or chocolate for friends.
Totally in rustic ambiance, the overall kitchen tone brings up strong farmhouse color into the modern area.
Catchy Farmhouse Kitchen Island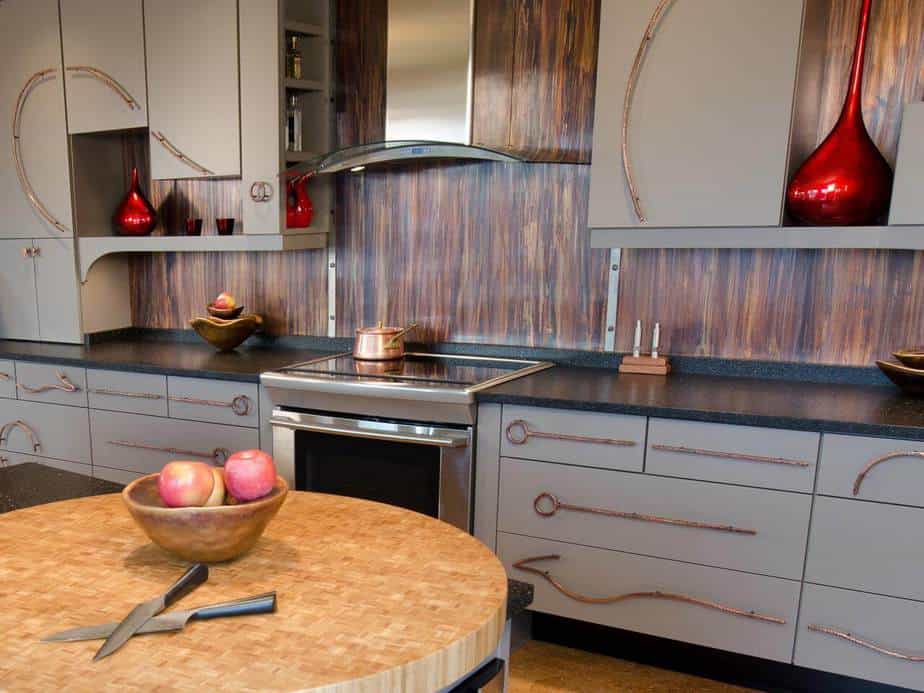 Still about wood, you can apply this particular farmhouse kitchen island. There lies a rounded kitchen island that is made from wood. This suffices for the fair level of rustic elements into this traditional-looking kitchen.
This kitchen island looks fair, neither large nor small. On that countertop, you can place fruits or spices for cutting as you are sitting on a chair. After all meals are ready to serve, put them all into a tray at the countertop.
Simply use one large tray that contains dinner meals so you don't have to pick each and every meal menu.
Neutral Farmhouse Kitchen Island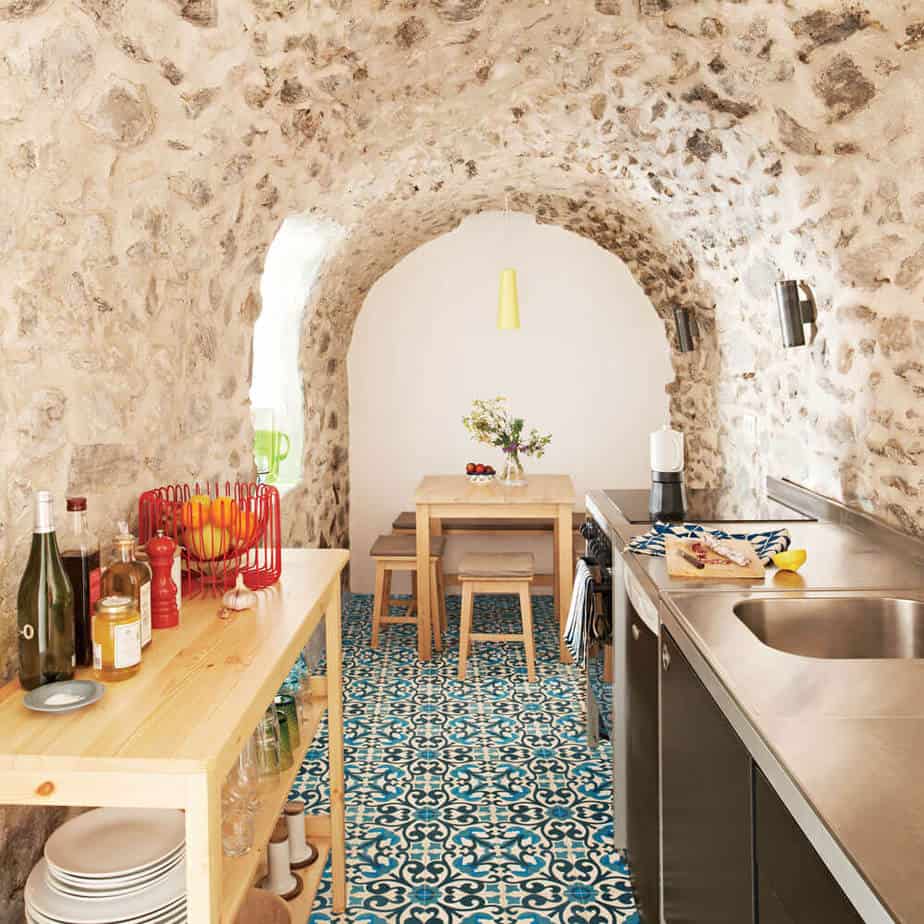 As this kitchen is strong in the farmhouse tone, you don't need bulky furniture or appliance made from natural elements. A light wooden table as seen from this picture suffices for farmhouse tone in this kitchen.
This kitchen island serves as a countertop and open storage. Feel free to fulfill this kitchen island. For the top layer, you can place fruits and cookies so that children can eat them right away after school. The lower shelf contains clean plates and glasses.
Pay attention to dust because this open storage can't keep them off from dust.
Vintage Farmhouse Kitchen Island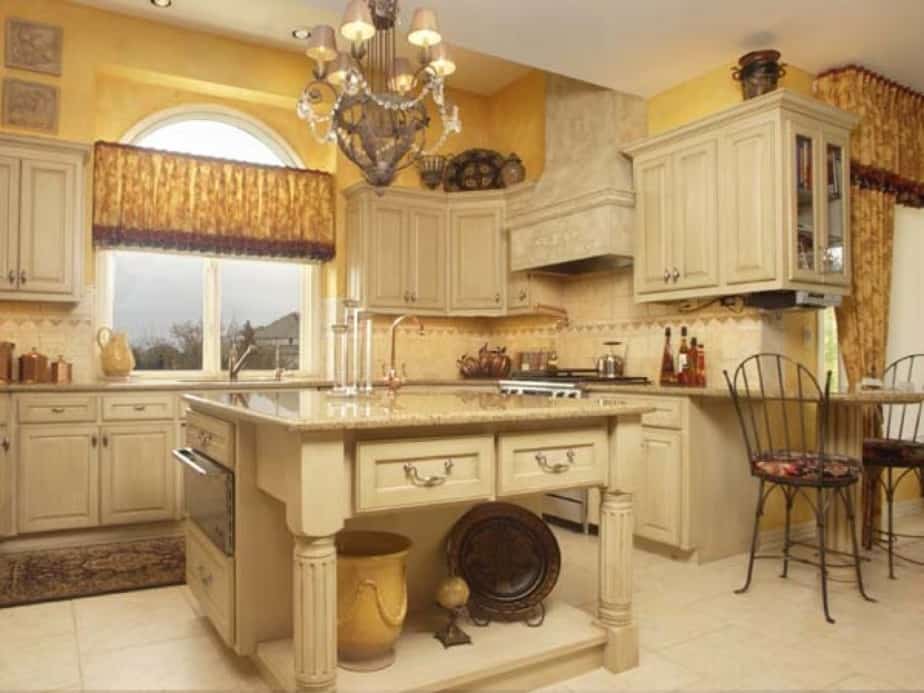 Some farmhouse kitchen islands can be looking vintage and glamorous. Take this image as an example. This kitchen island uses solid and pricey wooden materials as the pillars of the stand of it. The countertop utilizes marble that brings a fresh and glowing tone.
Beneath the countertop, you can see ceramics as decoration for this kitchen. Utilize drawers for keeping private documents or bills. This kitchen island is resourceful and graceful in general look.
Modern Farmhouse Kitchen Island
Our last recommendation resembles with the eighth tip because both use light, wooden materials. The difference lies in the design of the wooden kitchen island. This tip provides you a modern or upgraded version of that in the eighth idea.
Besides, the kitchen in our last suggestion is modern. You can practice the kitchen island concept when looking for one that can also function as a mini dining set. You can even dry wet cloth at the kitchen island. This kitchen island looks so homey.