Whether you want to build a home or went to renovate it, considering the architecture style gives ideas of the features and decorative details that are required. Here, some popular architectural styles to deliberate.
23 House Architectural Styles Ideas
1. Cape Cod House Style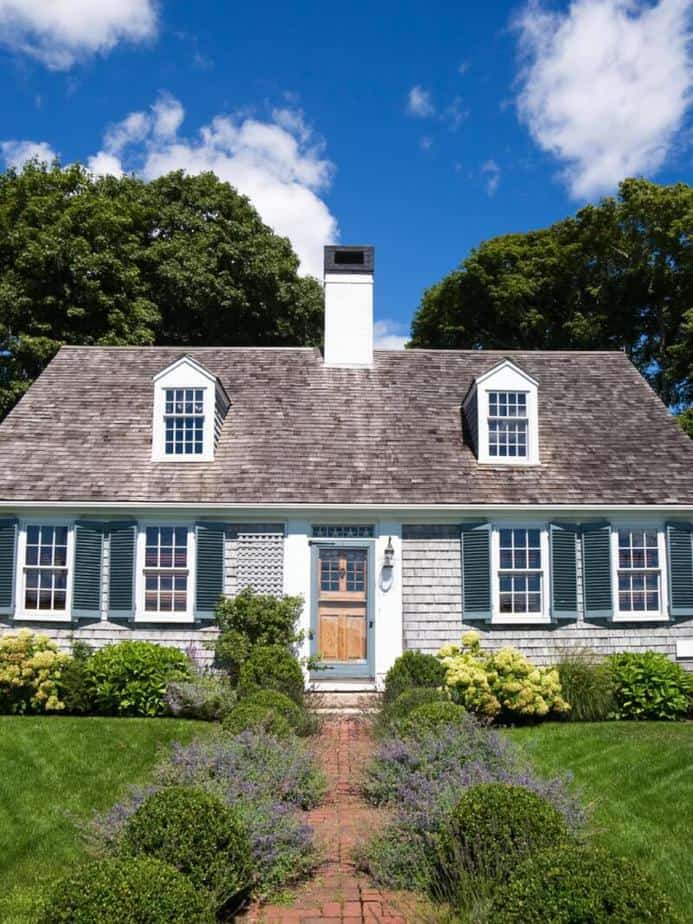 The name of Cape Cod belonged to Reverend Timothy Dwight IV during 1800 when he visited a Cape. This style is highly related to simplicity, symmetry, and functionality.
People often considered it to be one type of colonial house style because this house style correlated with British colonists. However, it has certain features that cannot be discovered in other house styles.
Some distinguishing features can help you to determine if a house applies a Cape Cod style. One of the main features from the beginning is that it has one floor.
However, there are also Cape Cod houses with one and a half floors. It has sloped dormer windows that are tucked into the roofline.
It comes with a gable roof with a medium slanting made the roofline extend suitably with the house width. It uses local materials such as wooden weatherboards, shingles, slates, and even natural stones.
Most of them even have a central chimney. On one side of the wall near the front door, there is likely a sash window or multi-paned windows. Some Cape Cod houses have a small porch.
2. Colonial House Style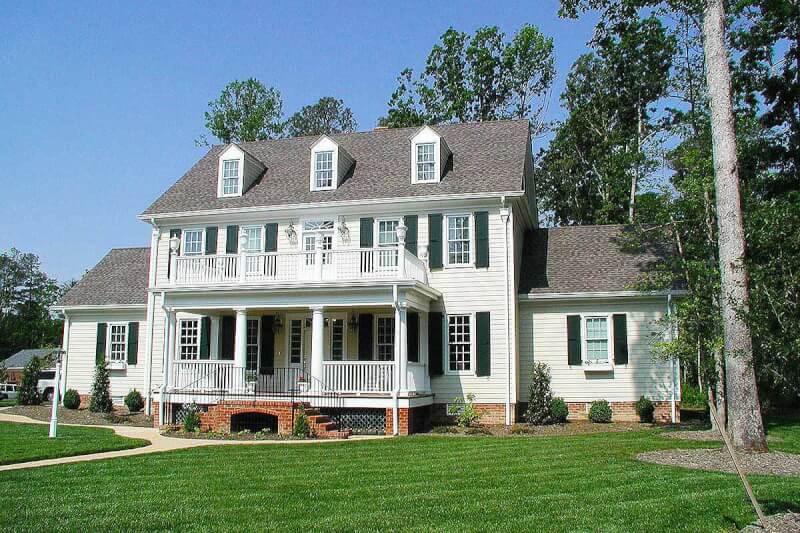 The colonial house style began in the 1600s and was greatly applied up to the 19th century. The initial design has two floors which each floor consisted of one room.
Further, it developed into two floors, on which each floor has four rooms. This is what we found in the recent colonial styles. Colonial house style in America changed and traversed into a wide variety of sub-styles.
In the first few decades of 20th century, the colonial style in America got a renewal resulting. It appeared to be more enormous, with the second floor and include small ornaments like a picket fence with white color.
Symmetry should be the basic characteristic of the house. Let's say the windows, columns, doors, and even landscaping. From the beginning, it and with two floors and recently two and a half floors version emerge.
A square or rectangular form enriches the house look. Uniquely, it has a portico on the front door. If not, the homeowners often make the front door is covered to some extent.
The covering system is also found in other parts, like windows. Most of them come with shutters. Typically, European Colonial house style includes either a central chimney or double chimneys.
3. Craftsman House Style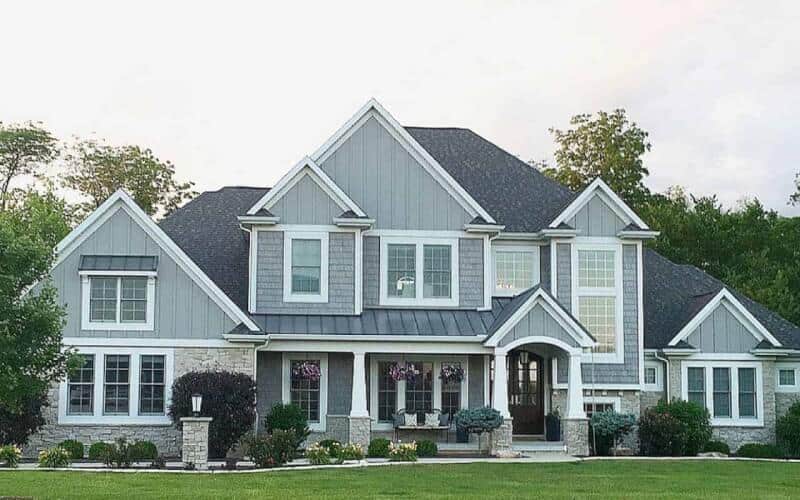 Craftsman styles are house architecture styles whose name coming from Craftsman Magazine, Gustav Stickley. Whilst its style was inspired by American Arts Crafts Movement.
This local American style was firstly built at the beginning of the 1900s and spread widely up to the 1930s, especially in Southern California regions. The compact model was called the California bungalow.
Craftsman got influences from the art movement and industrialized design during the Industrial Revolution. Nowadays, after getting many renewals and restorations, it still sticks to the simple concept and handicrafts.
Craftsman's main characteristic is natural materials like wood, natural stone, and brick. It comes with special low pitched gable roofs held by raw rafters with shingles covering them.
The roofs usually have steep overhanging beams and columns to support the roofs. Double-hung windows with a couple of panes are common whilst the first floor use dormer windows dominantly.
The external part of the house is pretty interesting with spacious front porches drawn out from the primary roofline as well as a half-glazed door installed in the entrance.
4. Georgian House Style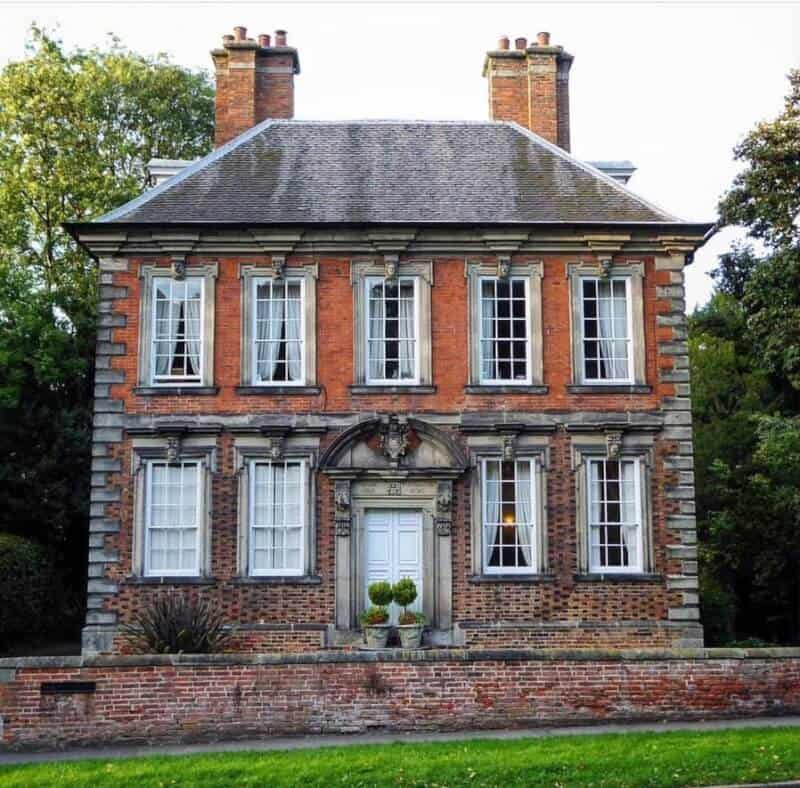 Georgian house style was initially built popular in the 18th century. It received strong influence from the classical architecture in the George I supremacy from 1714 to 1830 and famous architect, Sir Cristopher Wren.
The name of Georgian style was taken from the successions of George I to George IV where high-class colonists adapted the style European concept. It combined simplicity and grand with classical touches.
Georgian houses in Britain had special characteristics like hipped roofs that partially were covered by extension walls. It had double chimneys that are often placed on one side of the home.
Most houses came with columns, and porticos or pediments. Brick was also dominantly used either entirely or just on the upper floors. The Grande look obtained from the use of several floors, either three or four.
Smaller windows on often seen on the third or fourth floor, often used for maid rooms. Symmetrical forms used at external with white stucco walls. It came with a cellar or basement to the kitchen or service area.
Uniquely, Georgian style has bricked-up windows due to a window tax in the past. Otherwise, it had high sash windows with many small panes, sometimes with arches.
5. Ranch House Style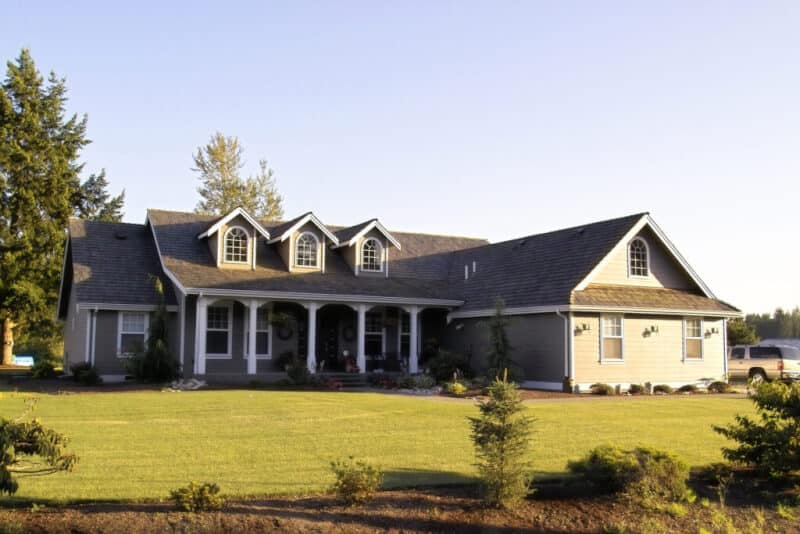 Originally came from the US, the Ranch house style was the most luxuriant among American house styles. Rooted from the Spanish Colonial style, it came with its long, dense ground profile and low-pitched roofs.
The ranch was a popular house of middle classes during the 1940s to 1970s but the firstly established precisely late 1920s. This style looks prominent with exposed spaces offering a laid-back ambiance.
There is no time limitation to consider if a house belongs to Ranch style. It comes with a single and open plan floor. Extended porches are commonly presented on their external.
Low-pitched roofs have become its distinctive feature that varies with cross-gabled, hipped, or side-gabled. The roofs are often paired with shallow overhanging eaves to prevent overheating.
This house use cladding materials to protect the exterior parts such as stucco, wood, brick, and natural stone. Those materials are also applied in the interior like wooden beams over the vaulted ceilings.
Sliding doors are frequently used as an entryway to spacious patios, paired with huge shuttered-windows. The airy atmosphere can be felt when entering the garage as well.
There is closely related to asymmetrical form, L-shaped, or U-shaped both in the interior and exterior.
6. Tudor House Style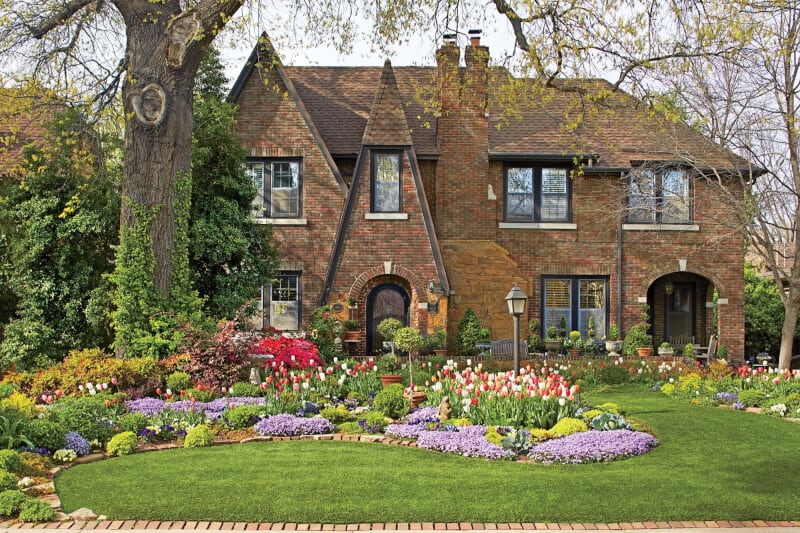 Like its name, Tudor is house architecture styles that got influence from medieval buildings, precisely during Tudor Era from 1485 to 1603 in the UK.
Tudor house style is easily noted from its monochrome façade and fascinating lopsided outlines. Meanwhile, in the US, Tudor style is the renewal of house design with medieval style.
Currently, Tudor houses are built with rough masonry on the interior or exterior part and deeply pitched roofs. Extended rows of casement windows become the characteristics of recent Tudor houses.
Some of them were half-timber which was established by a wooden frame containing daub and wattle. The daub refers to a mixture consisting of clay, sand, and often added with dung, which is further whitewashed.
It created a monochrome look on the house. Other special characteristics of the Tudor house style are a low arched entrance and high, slender leadlight windows. Sometimes, it used stunted thatched roofs.
The features in American Tudor involving deep pitched roofs with a couple of overlapping gables. It is stick to brick construction partnered with half-timber to represent the original wooden frames.
7. Victorian House Style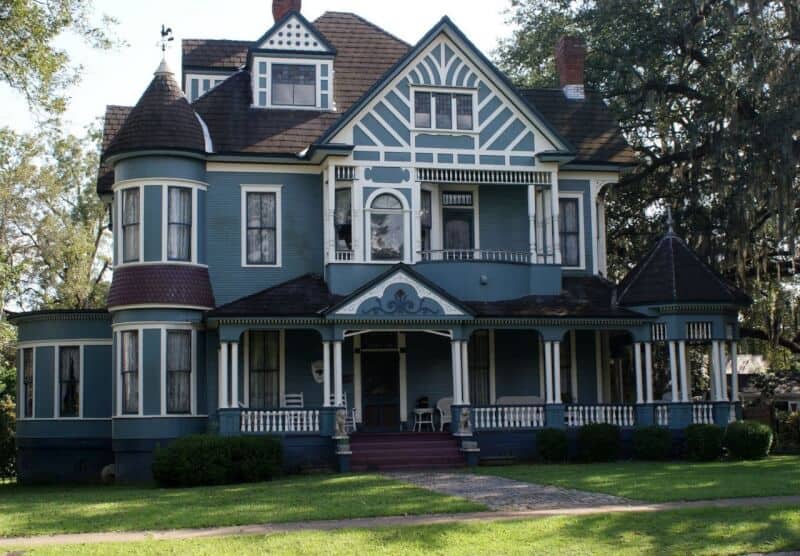 Victorian house style was first established through the period of Queen Victoria from 1837 to 1901. By the time, it got influence by Italianate style and Gothic Revival which ornaments added to the house.
Victorian houses were often designed with terraces and their main buildings made from natural materials like brick or stones. High pitched roofs from slate or substituted with clay tiles were their feature at that time.
Decorative roofs became look distinctive which occasionally paired with carved decors or a hip-knob. Not in the central façade, the front door with date stones on an upper part was located on either side of a house.
Carved wooden bargeboards matched well with dyed brickwork. It had sash or bay windows often decorated with arches. In more extravagant houses, the homeowners prefer using stained glasses.
Porches with spacious and intricate designs are found in bigger Victorian houses. Consists of three or more floors, Victorian houses came with additional features such as deep roofs decorated with towers or dormers.
8. Contemporary House Style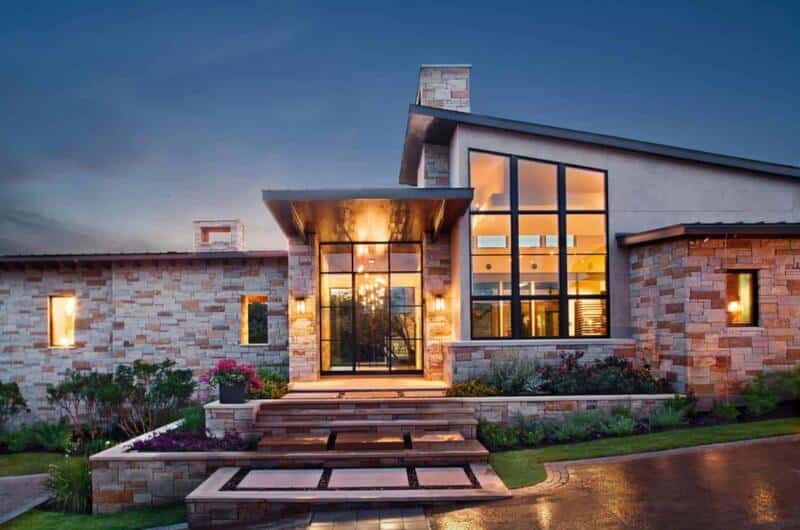 Contemporary house style is the prevalent modern-era houses used range from the 1960s to 1970s. Now, the contemporary style highlights simplicity, geometric, and asymmetrical forms.
This house style offers creative designs, dominant glass materials, and an open floor plan. Less of ornaments and details, its exterior combine's different kinds of materials and textures.
Contemporary houses have low-pitched roofs that appear flatter. Wood and stones are often added as decorations. In more modern design, new materials like iron, steel, or sheet glass are incorporated too.
It appears brighter since the design allows the natural light to broadly enter them. It's due to numerous huge windows and sliding doors used. It goes with clean lines and smooth textures both for home and landscape.
Contemporary style applies an open floor plan with L, H, T, or U shape and comprises either one or two floors as well as a flexible layout to suit the needs of homeowners.
Other interesting materials like recycled wood occasionally used in the buildings. Alternatively, eco-friendly materials such as bamboo partition or granite countertop are included in the house too.
9. Adobe Revival House Style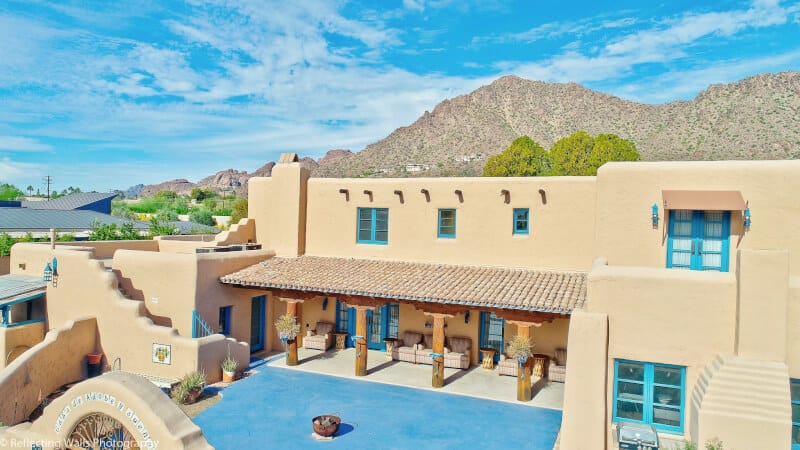 Adobe Revival is house architecture styles made from organic materials like mud that were used by the earliest buildings worldwide. That's why this style was named Adobe.
Most of the structures resemble rammed-earth buildings. In the past, it was widely employed by the locals in America, especially in the Southwestern and Andean regions.
The initial design of the house was fully made from adobe. Then, the Spanish started to substitute it with bricks in the 8th century. Adobe bricks came in a wide variety of sizes.
Some of them came with standard-size baked bricks while some others could extend from one to two yards, popularly known as adobines.
Several countries in the world were known to widely employed Adobe house style including Middle East regions as well as North and West areas in Africa.
10. Beach House Style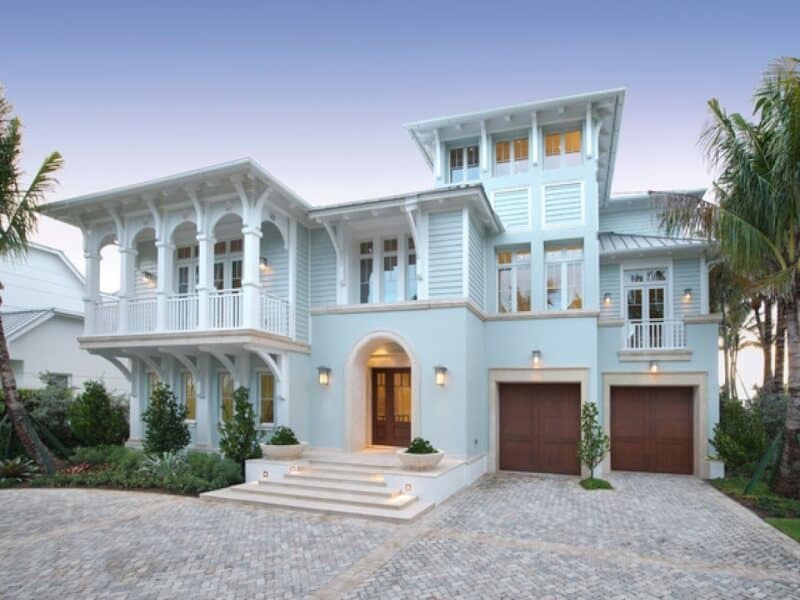 Beach house style refers to frequently raised up houses designed to follow the oceanfront landscape. That's why this kind of house is also called a seaside house.
This style is not only good to use by a house near water but also houses for vacation or the ones located in highland. Tidewater houses are a variation of beach house styles.
Tidewater style inspired from American Southeast coasts prior to 1800s, which created to suit both hot and wet climates on that region.
Tidewater houses feature spacious and eclectic porches that are built using wooden materials. The typical feature of this house is the main living room raised on one level.
Wide eaves and waterfront outdoor space are other features that can be found in Tidewater houses as well as Beach houses in common.
11. Country House Style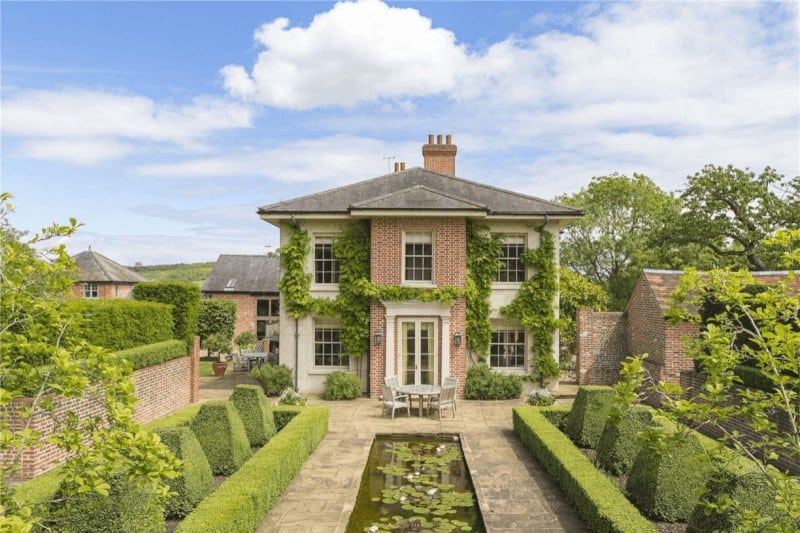 Country house style refers to grand European houses or mansions that likely come with wide grounds. In Europe, this kind of house is also known as a manor house.
The inspiration for the house is coming from the European feudal period in the past. During that time, the feudal estate possessed the surrounding land whilst the landowners in charge of the house.
Country houses in the past were the capital house within a manor, a basic unit of territorial organization in the European feudal system. It was often established in rural areas.
Country house style has several characteristics including lack of decorations and details and comes with a formal dining room. Meanwhile, the kitchen area becomes the center of activities in the house.
Mostly, country houses comprise two floors as well as bring simple and efficient floor plans. Country house style is also highly correlated with functional layout and rooms.
12. English Cottage Style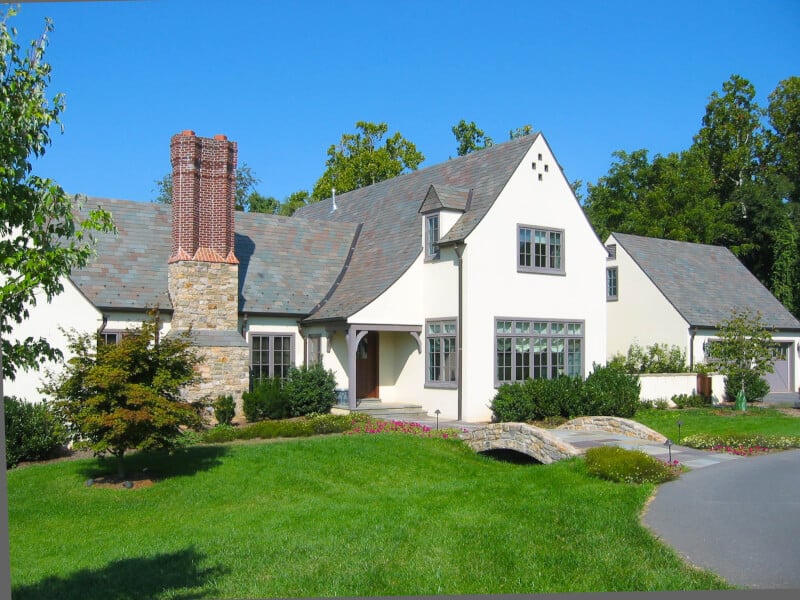 Hearing the cottage, we will think of a small and old-fashioned house that is commonly found in England's old village. Although known as a cottage, in some places in the UK formerly named it as a house.
In the recent architectural era, a cottage refers to a modest and cozy house that is typically established in both rural and semi-rural areas. In the UK, it defines a traditionally created small dwelling.
Conversely, in the US, a cottage is a term to identify a small holiday home. Several characteristics can define if a house applying the English cottage style.
English cottage offers rustic charm due to thatched roof as its distinctive feature. Occasionally, some houses replace it with steeply pitched roofs.
They appear to be half-timbered, which stones used until the first level and the rest is made from timber. The second floor is designed with interesting lattice-style sash windows.
The roofs of English cottages are unique too. It comes with stacked chimneys as well as beautiful bargeboards on the edge of gabled roofs.
13. Tuscan House Style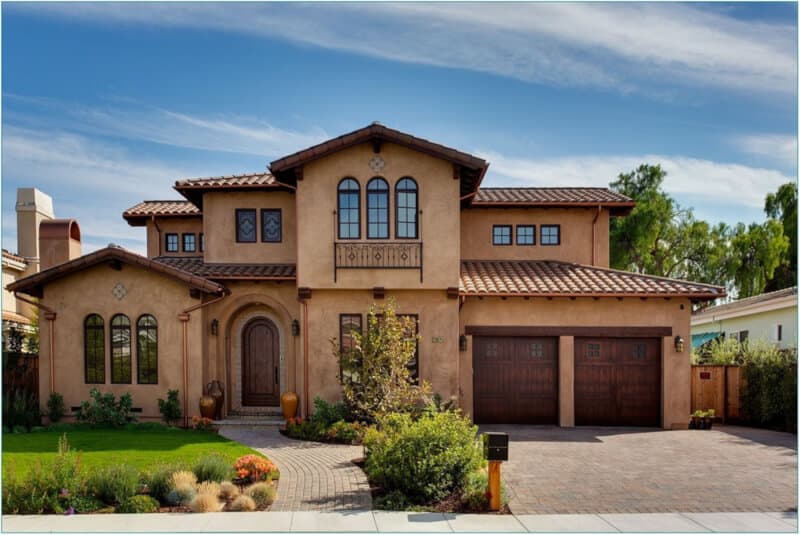 Tuscan houses are inspired by the traditional architecture in central Italy. Houses applying Tuscan style use several materials on the constructions including wood, stone, tile, as well as wrought iron.
Tuscan is house architecture styles that offer a combination of a rustic and stylish look. Inside the house, we can see that this style uses simple and clean lines, also designs inspired from the years back.
Tuscan traditional houses employ local materials such as limestone or shale, the best option to create foundations and walls. Hand-painted walls are unfamiliar to see in Tuscan houses.
Entering the house, you will see that most Tuscan go with stucco walls. It is an ideal wall for a warm climate because it can keep the cool air during the day and let the warmth go during the night.
It features textured ceilings where exposed beams are often used to exude warmth and a natural atmosphere inside the house. The wooden beams are likely refurbished from the barns or old farmhouses.
Tuscan houses apply mosaic flooring made from terracotta tiles or a combination of glass and stones. In more modern Tuscan homes, hardwood floors substitute terracotta tiles to create a warmer ambiance.
14. Farmhouse Style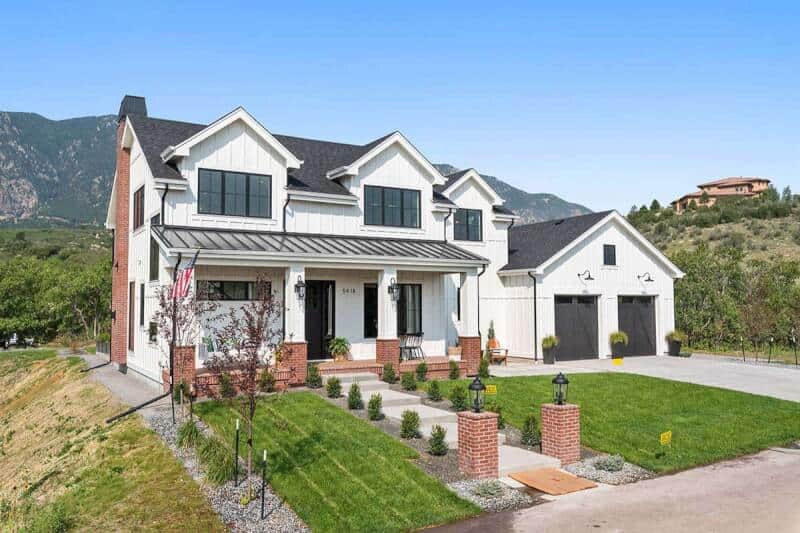 Farmhouses denote buildings that become the primary residence either in rural or agricultural areas. Traditionally, it was added with a housebarn to place animals. It's called courtyard for more than one barns.
Nowadays, Farmhouses regain their popularity and bring back the traditional look and design. People soon can identify farmhouses by their wraparound porches or porches extend on the front part of the house.
Farmhouses typically have steeply pitched roofs that suit the house's length and are occasionally added with gables or dormers. Horizontal siding or shutters can be found on the house exterior too.
Farmhouse style brings clean and practical design so that it offers an easier area for movement. It exudes a warm and inviting ambiance while few vintage items provide an exceptional charm to the house.
White shades of earthy neutrals like beige become the dominant colors used. Yet, you can find accent colors that are typically muted or bold. For accent, it highlights colors related to farms like grassy green.
Farmhouses rely on natural light to enter the house with its big windows. Thus, the rooms appear brighter and spacious. Window treatments such as curtains or valances are often used to manage the light.
15. Mediterranean House Style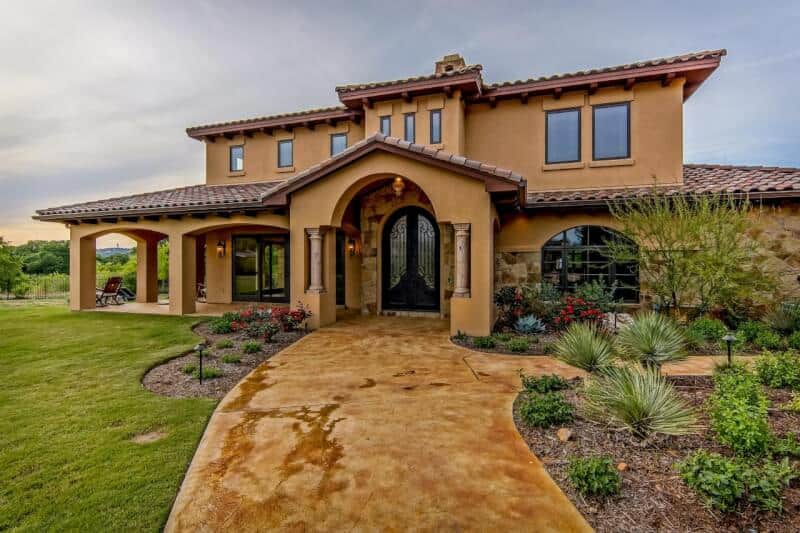 Mediterranean house style was inspired by the sunny countries that spread in the rims of Mediterranean coast. It received big influences of classic designs from both Italian and Greek styles.
This style is occasionally labeled as Spanish Modern due to some concepts that applied to it. The distinctive features of Mediterranean houses are often visible on their decorations and landscaping.
Let's say the exterior walls built from stucco and sloping roofs that are covered with tiles are the true signs of this house style.  It is often designed with large outdoor spaces for entertaining.
Mediterranean houses typically have open floor plans that are combined with high ceilings. They also feature arched windows and doors that provide easier access to a number of outdoor spaces.
The house itself is designed with large windows so that the breeze enables to flows thoroughly inside the house. The exterior doors are made from wood and the windows get wooden shutters as well.
Numerous Mediterranean residences have balconies, verandas, or other outdoor living spaces. Those areas provide a laid-back atmosphere where homeowners can enjoy their quality time.
White tones and sunny neutrals are highly represented Mediterranean style. While the roofs likely appear in red, the exterior uses salmon, peach, or yellow shades to create a cheerful and bright look.
16. Greek Revival House Style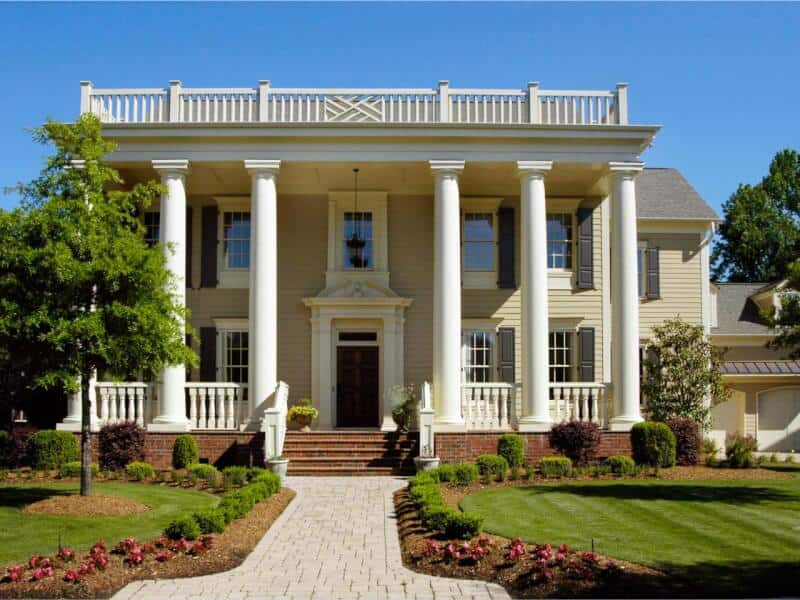 Greek revival house style was greatly used in Northern Europe as well as the US, approximately at the end of 18th until the beginning of 19th century. This style was renowned to be architectural movement.
This style has resulted from Hellenism, a study related to ancient Greek culture. Greek revival style also gets some touches from the end stage of Neoclassical.
The major characteristics of the house were seen from materials used on the exterior. Wood, stucco, and stones were the main typical materials offered similar look with marble and stone in traditional Greek home.
The most distinctive thing was Greek revival houses were painted using a white color that resembled the general style of the country. White faux finishes are implemented on the exterior instead of painted in white.
The shape of the roofs belongs to the typical features too. It is since the house applying Greek revival style comes with a low-pitched gable or hip roof. Back in 19th century, this house even used cedar shingles.
Alternatively, the roofs were constructed with standing seam tin which also became the main materials. Move to the interior, moldings were easily discovered inside, although outside parts included moldings too.
17. French Country House Style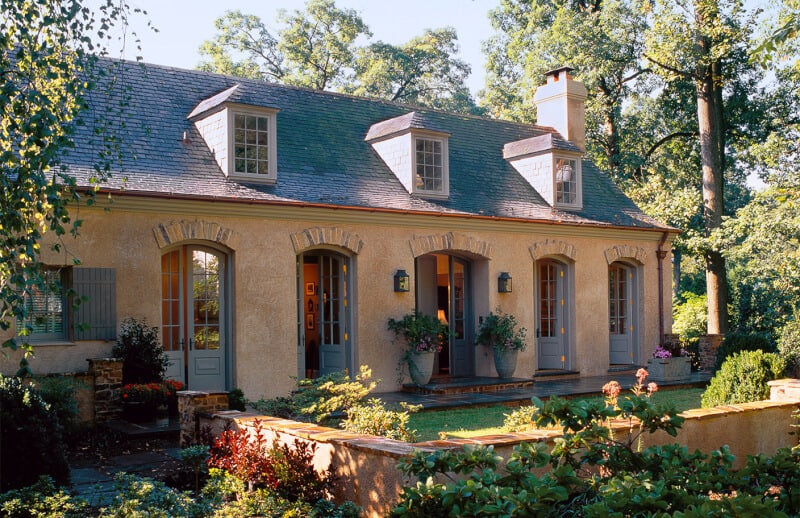 French Country get the most achievements among house architecture styles. This style was inspired by both country homes and farmhouses located in the rural areas of France.
French Country style gives you a warm and welcoming atmosphere that commonly feel in French Farmhouses. This style is flexible so that owners can modify to suit their personal needs and preference.
Initially, it might bring the traditionally rustic look and feel but you can add elegant and simple touches to the house. Most French Country houses have floors made from natural materials like stones or wood.
Decorative rugs add over the floor to add warmth into the rooms. Natural materials are dominantly used in the house. Besides stones and woods, wrought irons are often used for fixtures and fittings.
Special architectural features can denote if a home using French Country style including arched doors, large windows, and exposed beams.
French Country houses use a wide variety of colors and it can be seen on their interior décor. It also applies lighter shades including neutrals, pastels, and sunny yellows which are related to farms colors.
Some darker colors are used in the house such as deep green and deep red.
18. Log House Style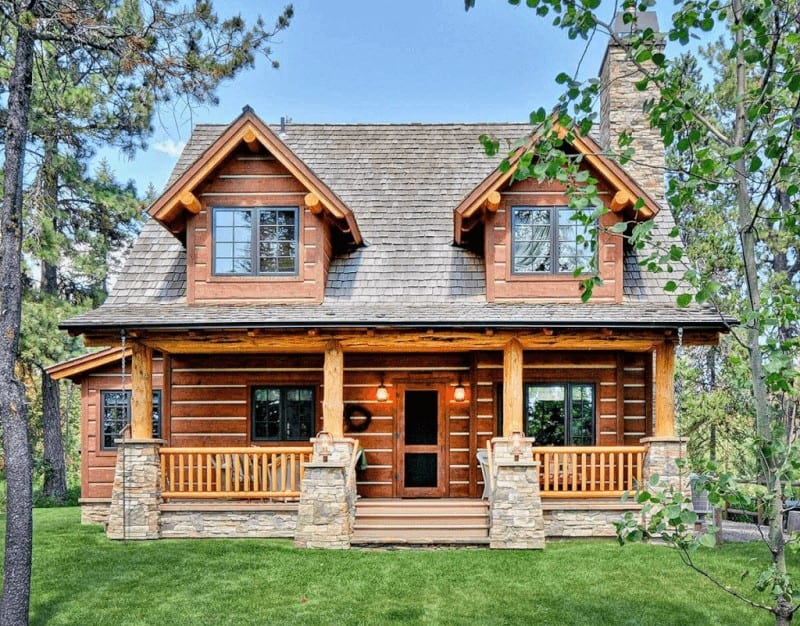 Log houses or often called log homes denote typical houses created from unmilled wooden logs. The structure of houses with log style is known to be similar to a log cabin.
However, the log cabin was not used to point out this style because most contemporary builders identify it as a smaller and additional rustic look houses, such as summer cottage or cabins for hunters.
Log construction is a common building technique that is widely used in several regions like Finland, Norway, and Sweden because they are located in areas packed with high coniferous trees like pine or spruce.
It becomes local construction used in many highlands in both and Europe and Asia to suit the climate conditions. Log houses offer calming and laid-back ambiance with plenty of space outdoors for entertaining.
A prominent characteristic of log houses is that they don't appear on more than one floor, although some modern design of log houses try to modify this rule. It resembles a functionality of a single family structure.
If you find any stair in log houses, it likely leads you to an upper bedroom, attic, or storage space on top of the house usually called a loft.
19. Modern House Style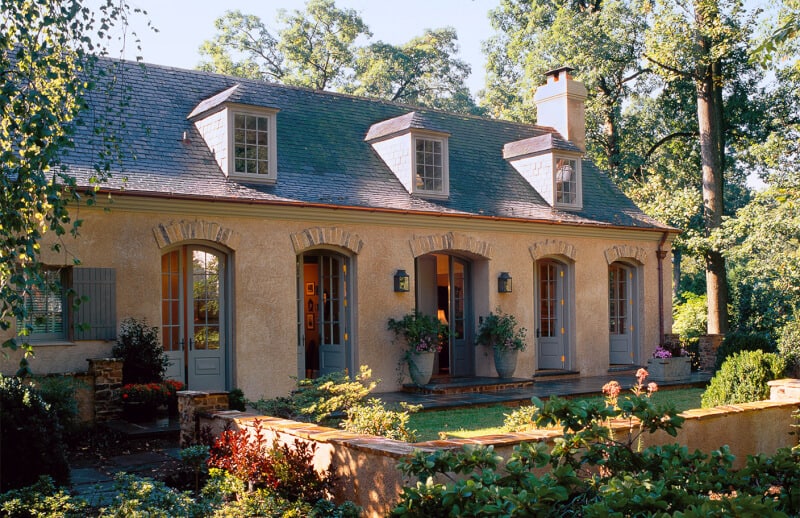 Modern house style emerged in the era post World War II and gained its popularity in that period and used for decades. This style seems developed from the Industrial Revolution like other modern art movements.
Its appearance was also correlated with the eclecticism and luxuriance in the Victorian Era. Early modern architecture was known to use new construction materials including iron and concrete.
Several characteristics can be used to identify a modern house such as an open floor plan. It provides a welcoming and comfortable feel with plenty of rooms divides by walls and doors in various sizes and forms.
Modern houses also stick to the energy efficiency concept. That's why the home is designed in such a way so that it can reduce the use of electricity, gas, as well as water bills.
Let's say by adding many large windows that allow natural lights to enter the house so that homeowners don't require the use of lightings to make rooms brighter in several parts of the house.
A house applying modern style uses striking materials like steel, concrete, and glass. The combination of plenty of natural light and those materials offer an industrial look with minimalist undertones.
Another characteristic of this style is a connected space lead to outdoor areas. Thus, it gives a feeling of inviting nature to the home.
20. Prairie House Style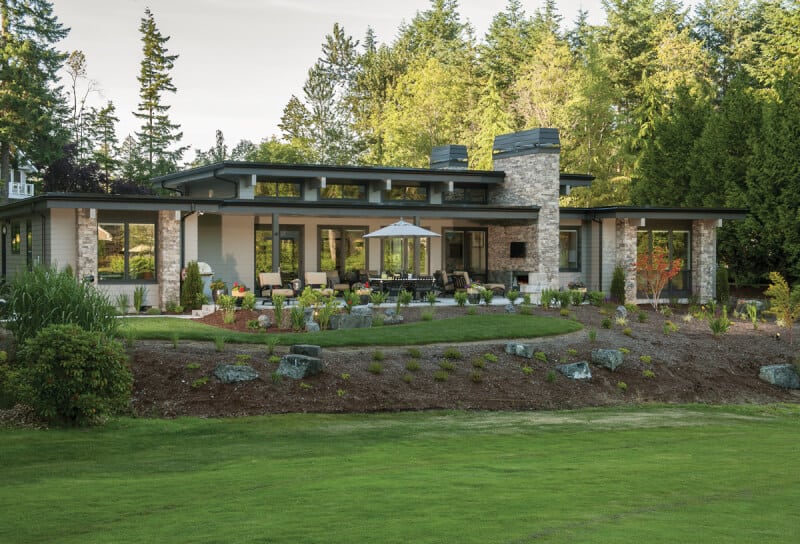 Prairie defines specific house architecture styles at the end of 19th century and the beginning of 20th century that were famous in Midwestern regions of the US. This house comes with hipped or flat roofs.
Its long and horizontal roofs often have overhanging eaves or sometimes roof space. Besides, horizontal lines were strongly used in this house, it was perhaps because the house initially suits the prairie landscape.
Prairie houses come with a number of windows that are made in a row and arrange together with the look of a glass wall. The windows likely have mullions, sometimes dividers in geometric patterns based on plants.
Prairie house style takes the benefit of using nature to build the architecture of the house. You also might find that it still used natural stains for coloring the house to incorporate the character of the wood.
This style stick to an open concept floor especially applied on the first floor. That's why it has both an open living room and dining room. Conversely, the kitchen was designed to be hidden in the back of the house.
The exterior parts of the house are constructed with either bricks or stucco walls. It uses nature-inspired themes such as a simple resemblance of a leaf. A huge and central chimney might be added too.
21. Traditional House Style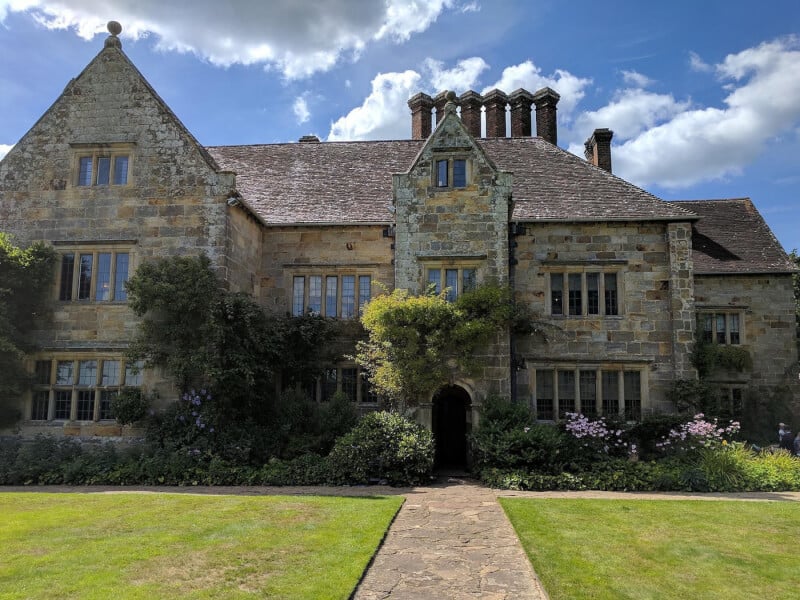 Traditional house style was known to be quite similar Tudor house style. It was because both of the house styles had front gable roofs and were also designed with a large chimney. Yet, few differences are visible.
Traditional houses reduced the amount of lower roof pitches but more explored detailing. This house was popularly applied to the architecture around 1940st to 1950s in the US to follow American lifestyles.
Traditional style is a combination of other house styles but preserving the basic features of tradition style itself, such as the simple concept, hipped roofs, and exterior stucco walls.
Single level floor plans are the characteristics of this house that commonly have open foyers and covered porches. Traditional houses usually have small and symmetrical windows with uniform size and shape.
Due to the design and size of the windows, the house needs artificial lightings to make the rooms inside brighter. The exteriors of the house provide warm and inviting atmosphere while the interiors keep practical.
Thus, the interiors are quite flexible to be designed based on homeowners' needs and preferences. Functionality is a key in traditional house style, so it's common to find a walk-in pantry inside the house.
22. Rustic House Style
Rustic House Style gets the inspiration from an old barn. Thus, it is not surprising if the look is just moving the entire barn inside the house, only with large open floor concept and interior also designed in rustic style.
Any additions in the house if visible are also made in original rustic style. Modern elements are totally out of this house so that it's unfamiliar for this house to use materials like metal, plastic, and synthetic fibers.
This house style highlights the house of natural materials and earthy feeling. It's common to find raw materials such as reclaimed woods or unfinished stones to make the architecture of a rustic house.
To get along with a natural theme, the furniture used in the house is handmade. It sticks to simple shape and design, and often oversized to look stand out. Heavy wood from logs or raw boards is familiarly used.
This house style combines various shapes, textures, and shades from the use of different natural materials. Hence, no wonder that the house is not only warm but also offers unique look that can't be found anywhere.
Neutral colors are greatly used in the house but still has space for bolder ones. However, all stick to earthy tones like green, brown, and grey so that they exude a warm feeling.
23. Queen Anne House Style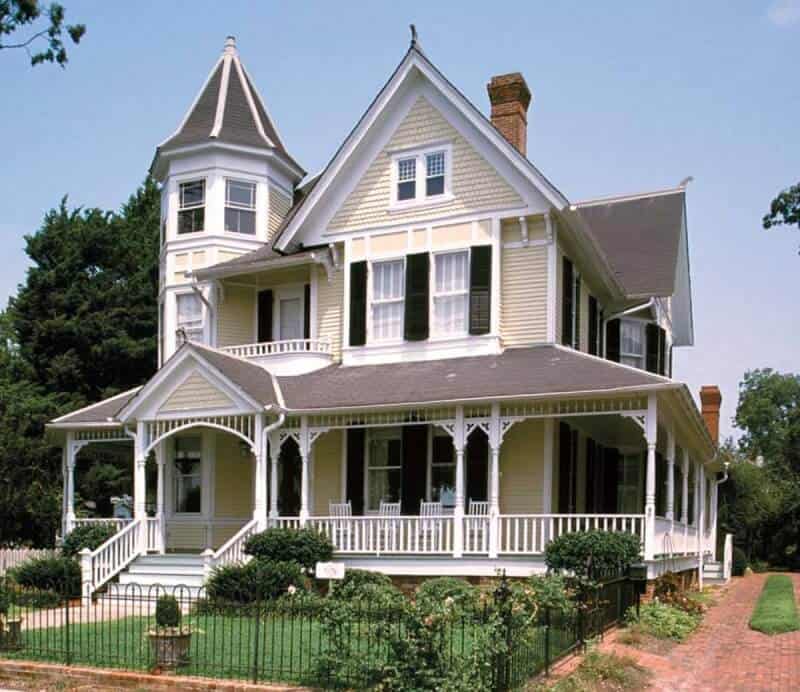 Queen Anne house style was predominant at the end of Victorian Era, precisely between 1880s and 1910. This house style looks really ornamental since intricate carving could be found in various parts of the house.
The main characteristics of Queen Anne houses were an eclectic concept, asymmetrical form, and contrast look. Every building employed a wide variety of surface textures, so both decorative and flat existed.
The house came with steeply pitched roofs with special Queen Anne style. Thus, it was visually pleasing to see dormers, towers, and gables were made in one roof. Towers are favorite features of this house style.
Many materials were included in the house patterned brick, stucco, wood shingles, and terracotta panels. Queen Anne houses were designed with large bay windows and oriels with simple surroundings.
The lower windows sashes were commonly made from single pane glass. Meanwhile, the upper sash windows consisted of multi panes or small square panes.
If you plan to remodel, build a second floor, or give your houses new touches, knowing the style that you want to apply is considered essential because it will help you to create and realize a successful plan.
So, make sure to have observations on potential house architecture styles and their features. Compare each other, short to a few matched with your style, and choose the best one suitable for your needs.